Posted By Norman Gasbarro on May 6, 2016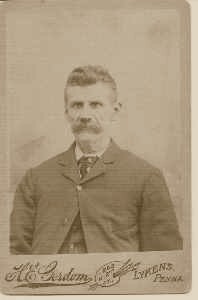 Jacob Zerby, Civil war veteran of the 9th Pennsylvania Cavalry, died on 19 November 1913.  His death was reported in the Harrisburg Telegraph of the next day: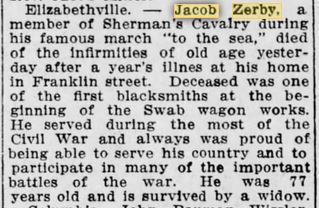 Elizabethville — Jacob Zerby, a member of Sherman's Cavalry during his famous march "to the sea," died of the infirmities of old age yesterday after a year's illness at his home in Franklin Street.  Deceased was one of the first blacksmiths at the beginning of the Swab Wagon Works.  He served during most of the Civil War and always was proud of being able to serve his country and to participate in many of the important battles of the war.  He was 77 years old and was survived by a widow.
The local newspaper, the Elizabethville Echo, also reported his death, summarized as follows:
Jacob Zerby died 19 November.  He was born 4 March 1837, a son of John Zerby and Barbara [Dietrich] Zerby.  He enlisted in the Civil War with Captain Savage.  He was a blacksmith in the service.  He was married 6 January 1867, to Angeline Rowe, daughter of Daniel Rowe and Susan [Frantz] Rowe, by Rev. Jeremiah Schindel.  He was a blacksmith, employed by Swab Wagon.  They had no children, but adopted George H. Rowe of Millersburg.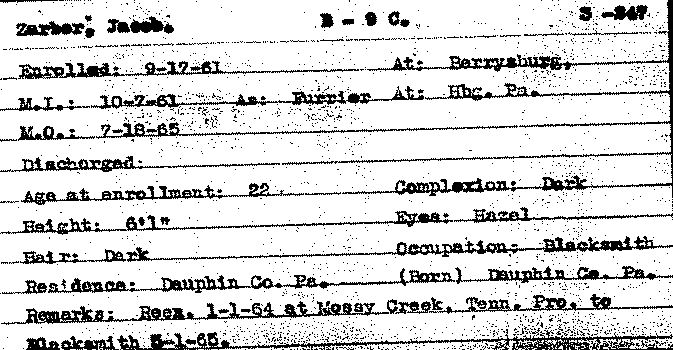 Some military records give Jacob's surname as Zarber, as does the Pennsylvania Veterans' Index Card (shown above) from the Pennsylvania Archives.  Jacob enlisted on 17 September 1861 at Berrysburg, Dauphin County, and was mustered into service in the 9th Pennsylvania Cavalry, Company B, as a Farrier, on 7 October 1861, along with many other who were from the Lykens Valley area who were in the same company.  At the time of his enlistment, he said he was 22 years old, but it is more likely he was 24.  He was tall at 6 foot, 1 inch in height.  He had dark complexion, hazel eyes and dark hair.  And, he was blacksmith who resided in Dauphin County, where he was also born.
On 1 January 1864, he re-enlisted at Mossy Creek, Tennessee, and was promoted to blacksmith on 1 May 1985, the rank at which he was discharged on 18 July 1865.
Jacob Zerby died on 19 November 1913 in Elizabethville, as was reported on his Pension Index Card, shown above from Fold3.  He first applied for a pension on 21 September 1889, which he received and collected until his death.  His widow, Angeline [Rowe] Zerby, then applied for benefits on 28 November 1913, which she received until her death on 24 April 1936.
On 4 May 1936, the Harrisburg Evening News reported the following: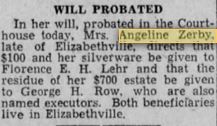 WILL PROBATED

In her will, probated in the Courthouse today, Mrs. Angeline Zerby, late of Elizabethville, directs that $100 and her silverware be given to Florence E. H. Lehr and that the residue of her $700 estate be given to George H. Row, who are also named executors.   Both beneficiaries live in Elizabethville.
George Henry Row, was born 13 March 1872 in Lancaster County, Pennsylvania, the son of Adam Row (also a Civil War soldier) and Sarah Viola [Keener] Row.  Adam was the brother of Mrs. Angeline Zerby, and therefore George was the nephew of Jacob and Angeline Zerby.  In 1880, at age of 8, George was living with the Zerby family in Washington Township and was named as a "servant"in the census.  In 1896, George H. Row married Orpha Della Schreiber, and together they had at least six children.  For most of their married life together they lived in Millersburg, but George did live in Elizabethville at the time of his aunt's death in 1936.  George died in 1945 in Elizabethville and is buried at Maple Grove Cemetery in Elizabethville.  While one of the obituaries of Jacob Zerby indicates that George was an adopted son, no evidence has been seen of a formal adoption.  Nevertheless, he appears to have been raised by the Zerby's who didn't have any children of their own.
Florence Lehr, one of the beneficiaries of Angeline Zerby, was born Florence Hoffner, 7 March 1895, the daughter of John Hoffner and Susanna [Snyder] Hoffner.  She married Paul Lehr of Elizabethville.  At this writing, not much is known about her or if she was related to Angeline Zerby or was just a friend.  Florence died in 1972 and is buried at Maple Grove Cemetery in Elizabethville.
Angeline [Row] Zerby had a sister Susanne Row, who married William Keiper.  One of Susanne's children, Weston Keiper, a nephew of the Zerby's, was executed by the Commonwealth of Pennsylvania for the murder of Charles W. Ryan, a Civil War veteran, during the Halifax Bank Robbery of 1901.  Weston Keiper and George Henry Row were first cousins.
For his service in the Civil War, Jacob Zerby is recognized on the Lykens G.A.R. Monument, as a veteran who was not a member of the Heilner Post.

Jacob Zerby and Angeline [Row] Zerby (sometimes referred to as Engaline) are buried at Maple Grove Cemetery in Elizabethville.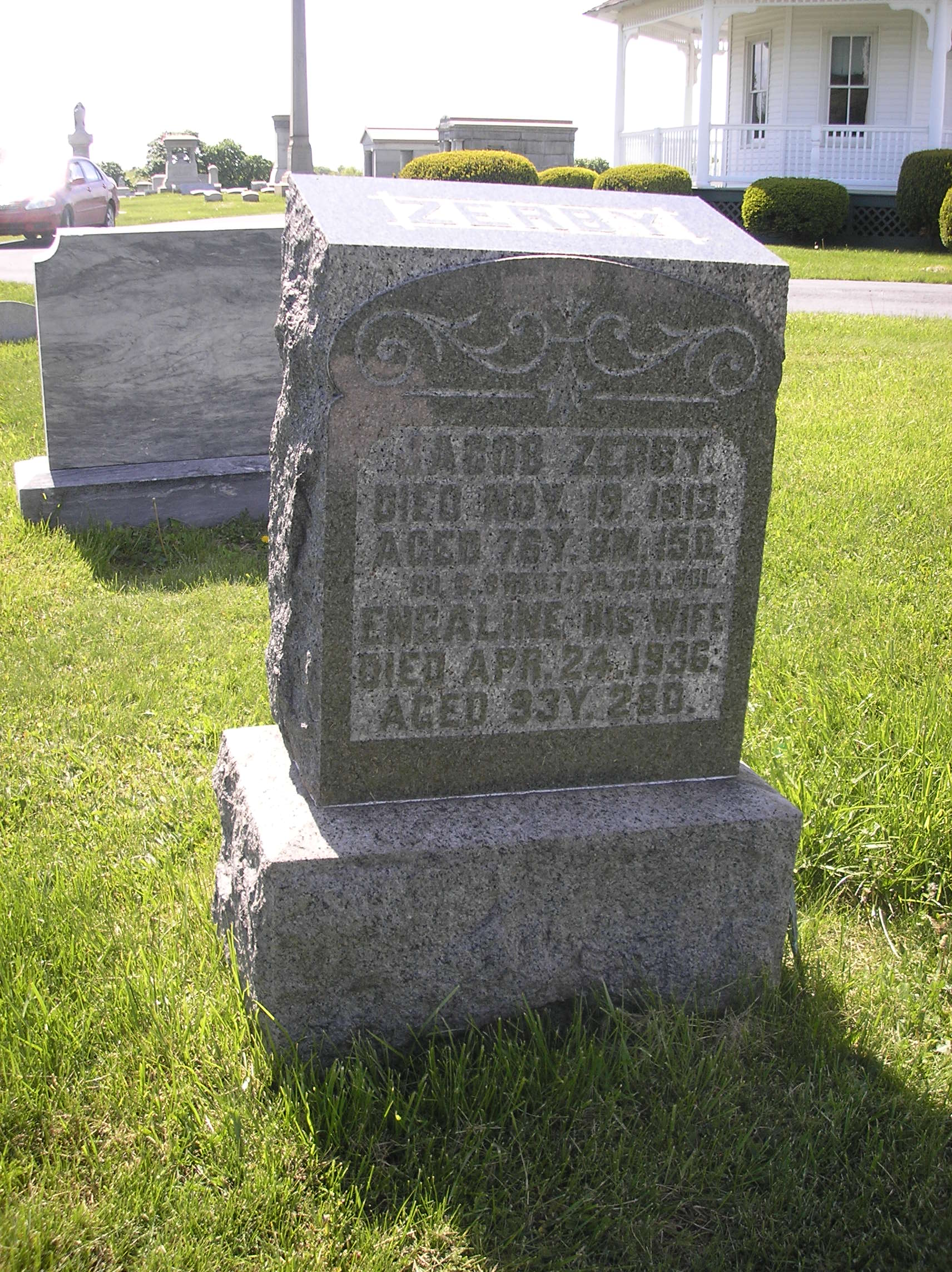 Another photograph of Jacob Zerby, taken later in life, was obtained from a family member: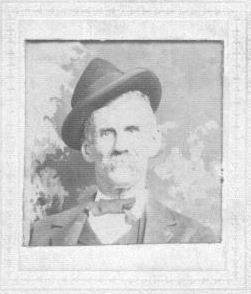 Jacob Zerby will be included in the Elizabethville Area Bicentennial List of Civil War Veterans, being prepared for the celebration to take place in 2017.  Additional information about him will be appreciated by the committee preparing for the Bicentennial and can be added to this post or sent via e-mail.