Posted By Norman Gasbarro on May 4, 2016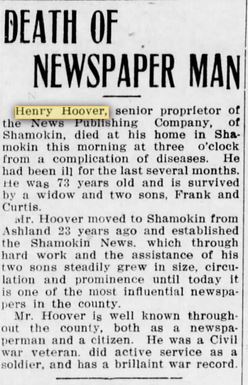 The Mount Carmel Item published the obituary of Henry Hoover on 5 March 1912:
DEATH OF NEWSPAPERMAN

Henry Hoover, senior proprietor of the News Publishing Company, of Shamokin, died at his home in Shamokin this morning at three o'clock from a complication of diseases.  He had been ill for the last several months.  He was 73 years old and is survived by a widow and two sons, Frank Hoover and Curtis Hoover.

Mr. Hoover moved to Shamokin from Ashland 23 years ago and established the Shamokin News, which though hard work and the assistance of his two sons steadily grew in size, circulation and prominence until today it is one of the most influential newspapers in the county.

Mr. Hoover is well-known throughout the county, both as a newspaperman and a citizen.  He was a Civil War veteran, did active service as a soldier, and has a brilliant war record.
A brief sketch of the life of Henry Hoover is included in the Northumberland County Biographical Annals, p. 282:
HENRY HOOVER, business manager of the News Publishing Company, of Shamokin, publishers of the Shamokin Daily News, has been a resident of that borough for over twenty years and in the latter part of 1893 founded the Daily News, with which he has continued his association to the present.

Mr. Hoover was born in 1834 in Shamokin Township, Northumberland County, where his parents, John Hoover and Mary Hoover, were pioneer settlers, moving thither from Berks County, Pennsylvania, in 1811.  He was one of a family of sixteen children.  Working on a farm until he reached the age of seventeen.  Mr. Hoover subsequently learned the trade of coachmaking at Catawissa and followed it until his enlistment in the Union Army in 1862.  He became a Private in the 5th Pennsylvania Cavalry, with which he served until the close of the war, the regiment being attached to the Army of the James until March, 1865, when it joined Sheridan's Cavalry Division, Army of the Potomac.  Mr. Hoover was wounded in the engagement near the Albemarle Sound, North Carolina, in October, 1863.  After the war he located at Ashland, Schuylkill County, Pennsylvania, where he was engaged in business until 1888, the year of his removal to Shamokin, where he has become recognized as a substantial and valuable citizen.

On 14 December 1893, in association with his son, J. F. Hoover, he founded the Shamokin Daily News, of which J. F. Hoover is managing editor.  In 1902, C. C. Hoover, another son of Henry Hoover, became a partner of his father and brother, acting as circulation manager of the News. They do business as the News Publishing Company.  A printing plant, for book, commercial and job work, is successfully maintained.  The location is at the corner of Lincoln and Liberty Streets, Shamokin.

On 30 December 1866, Mr. Henry Hoover married Mary E. Bindley, of Pottsville, Pennsylvania.
Henry Hoover's Civil War service is documented in several documents, presented below: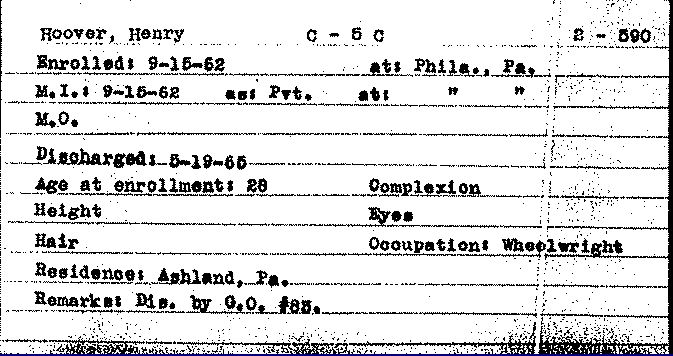 He enrolled in the 5th Pennsylvania Cavalry, Company C, as a Private on 15 September 1862 at Philadelphia, and was mustered into service on the same day and at the same place.  He gave his age as 28, his occupation as wheeelwright and his residence as Ashland, Schuylkill County.  He served until his discharge, which was by General Order, on 19 May 1865.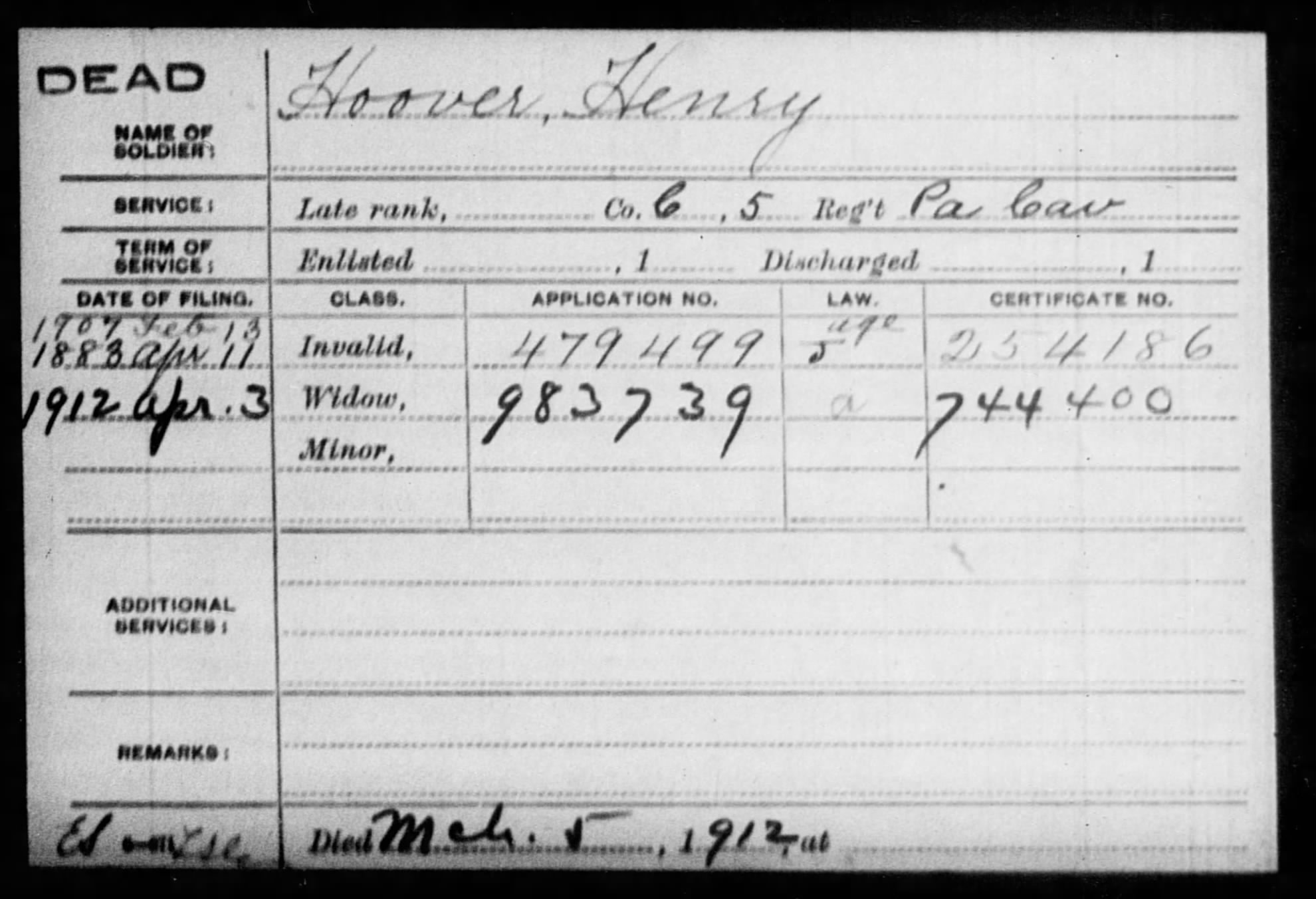 On 11 April 1883, Henry Hoover applied for a disability pension based on his service in Company C of the 5th Pennsylvania Cavalry.  He received the pension, which he collected until his death which occurred on 5 March 1912.  His widow, Mary E. [Bindley] Hoover then applied for benefits, which she received and collected until her death.  The above Pension Index Card is from Fold3.  The complete pension application file should be available from the National Archives in Washington, D.C.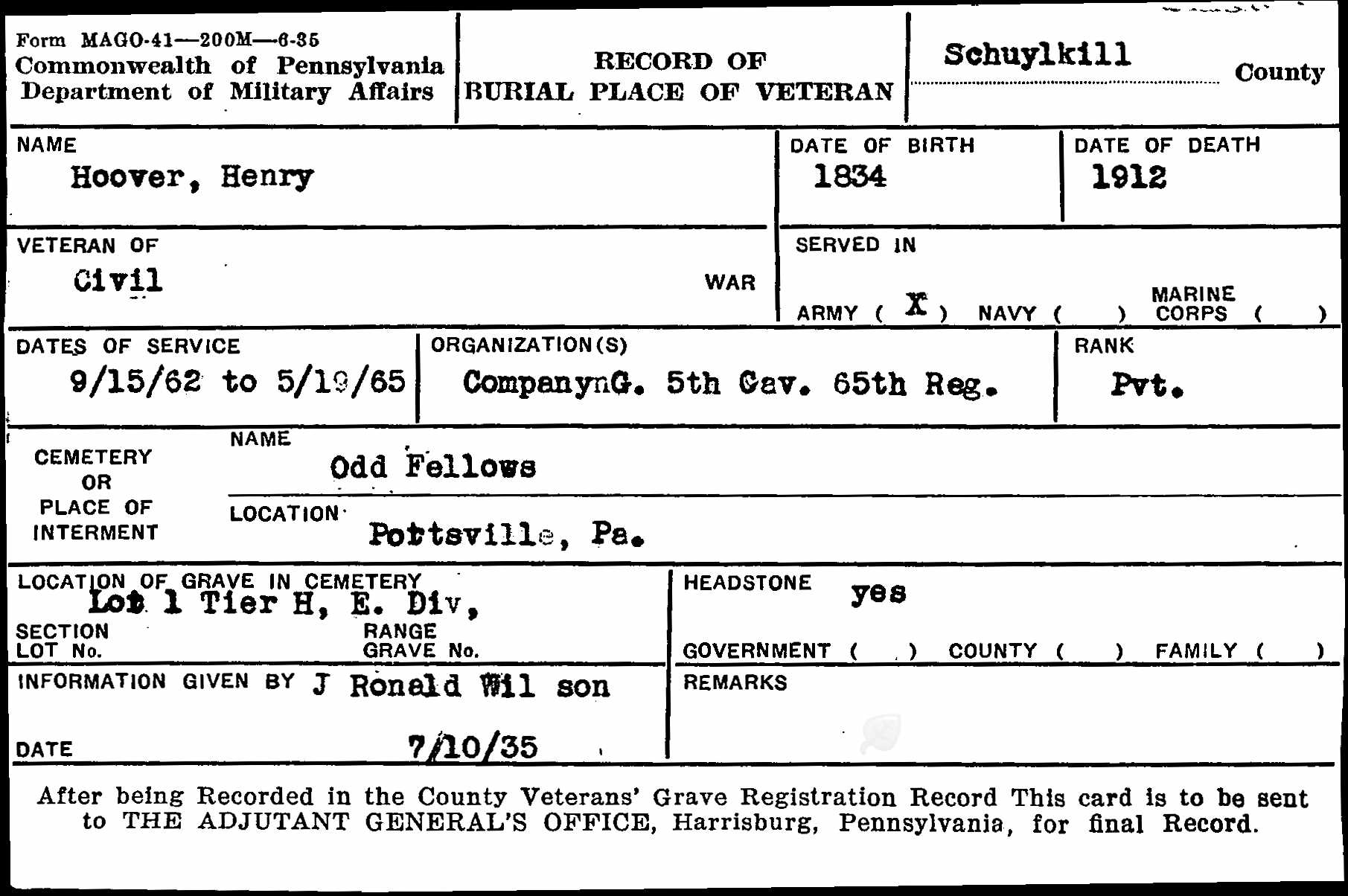 The Pennsylvania Veterans' Burial Card (shown above from Ancestry.com), indicates that Henry Hoover is buried at the Odd Fellows' Cemetery in Pottsville and confirms his birth and death years, his dates of service and his regiment and company of service.  A picture of his grave marker was not available at the time of the writing of this blog post, but some additional information about him is available at his Findagrave Memorial.
In the 1890 Veterans' Census for Shamokin [one page shown above, from Ancestry.com), Henry Hoover gave his regiment, company and dates of service [line 37] and then noted that the disability that he incurred was "chronic piles and ankle disabled."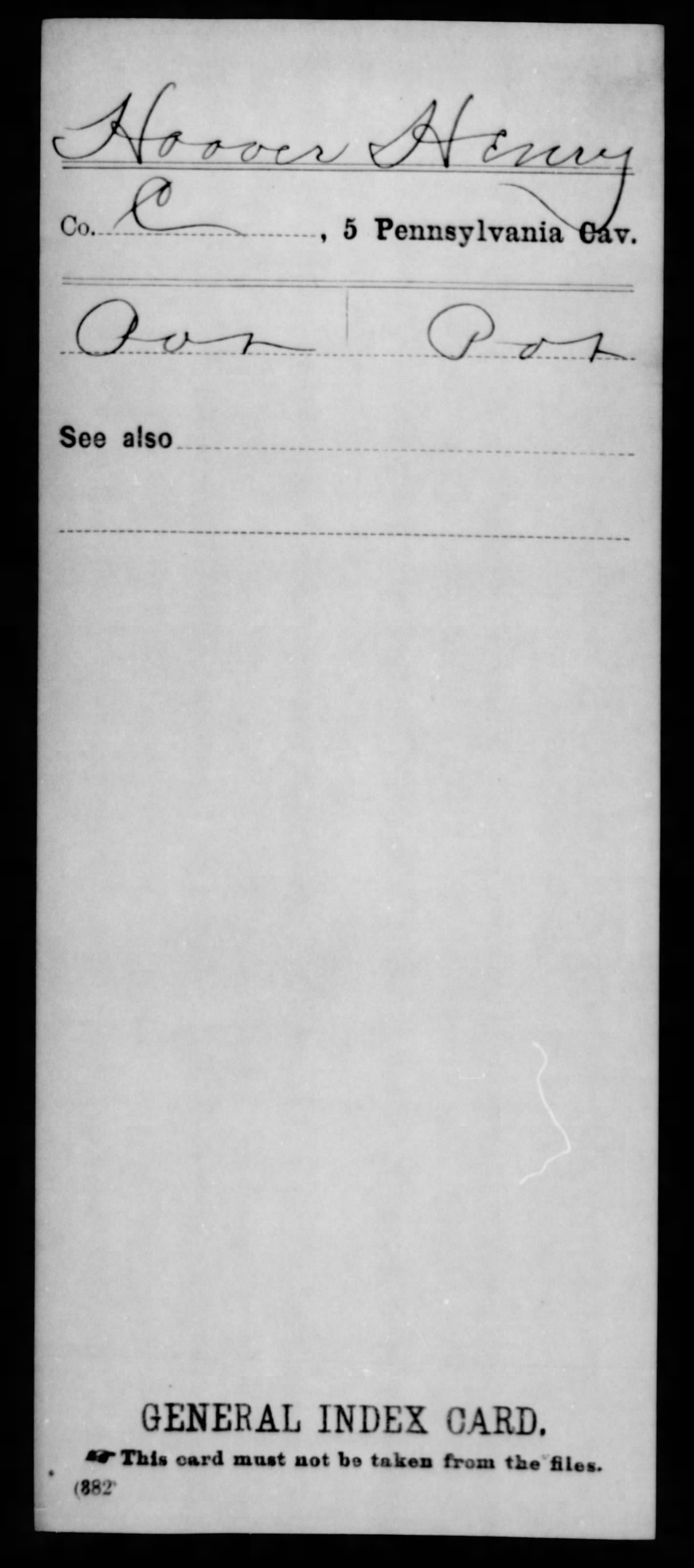 Finally, the Military Index Card, also known as "General Index Card," references the exact name, regiment and company under which the military index record cards are filed at the National Archives in Washington, D.C.  These cards contain a variety of information such as summaries from the actual muster sheets which were compiled every two months, records of hospital stays, prisoner of war records, enlistment and discharge papers, etc.  In the case of Henry Hoover, consultation of these cards will give more information about the injury and the treatment of the injury that he received near Albemarle Sound in October 1863.  The above card is from Fold3, but the summary information is also found on Ancestry.com in the database entitled, "United States Civil War Soldiers, 1861-1861," and on the database found on the National Park Service site.
Additional information is sought about this veteran who had an illustrious career as a newspaperman and publisher. In particular, a picture of him is desired!  Please add comments to this post or send pictures and documents via e-mail attachment.