Posted By Norman Gasbarro on April 27, 2016
Many veterans died tragic deaths.  These two men, having lived nearly 60 years after the close of the Civil War, died in 1924, one as a result of an accident and one as a result of suicide.
From the Harrisburg Evening News, 20 May 1924:

Gas from an open house to which he had gone for the purpose of preparing it for occupancy, caused the death of James M. Gibson, of Sunbury, a Civil War veteran.
From the Harrisburg Evening News, 22 March 1924: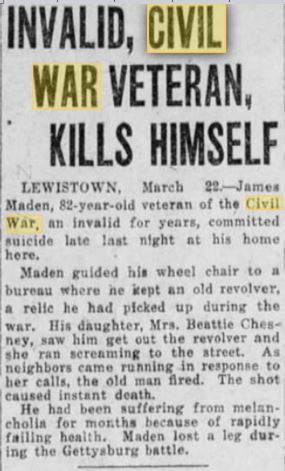 INVALID, CIVIL WAR VETERAN, KILLS HIMSELF

LEWISTOWN, 22 March 1924 — James Maden, 82 year-old veteran of the Civil War, an invalid for years, committed suicide late last night at his home here.

Maden guided his wheel chair to a bureau where he kept an old revolver, a relic he had picked up during the war.  His daughter, Mrs. Beattie Chesney, saw him get out the revolver and she ran screaming to the street.  As neighbors came rushing in response to her calls, the old man fire.  The shot caused instant death.

He had been suffering from melancholia for months because of rapidly failing health. Maden lost a leg during the Gettysburg battle.
———————————-
News clippings from Newspapers.com.