Posted By Norman Gasbarro on April 25, 2016
The obituary of Henry Lichtley appeared in the Harrisburg Telegraph, 31 March 1924: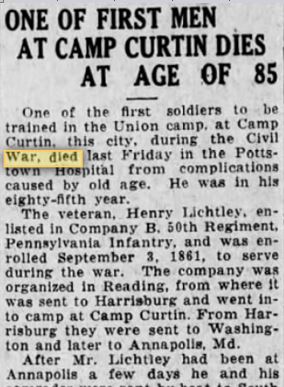 ONE OF FIRST MEN AT CAMP CURTIN DIES AT AGE OF 85

One of the first soldiers to be trained in the Union camp at Camp Curtin, this city [Harrisburg], during the Civil War, died last Friday in the Pottstown Hospital from complications caused by old age.  He was in his eighty-fifth year.

The veteran, Henry Lichtley, enlisted in Company B, 50th Regiment Pennsylvania Infantry [50th Pennsylvania Infantry], and was enrolled 3 September 1861, to serve during the war.  The company was organized at Reading, from where it was sent to Harrisburg and went into Camp Curtin.  From Harrisburg they were sent to Washington and later to Annapolis, Maryland.

After Mr. Lichtley had been at Annapolis a few days he and his comrades were sent by boat to South Carolina and while on the ocean they encountered a storm which lasted for two days and a half during which the vessel they were in shipped nine and a half feet of water, and lightning struck a mast.  Lichtley was thrown down a hatchway by the force of the lightning shock, sustaining a bad leg injury.

He figured in the first engagement his regiment took part in, however, at Fort Royal, South Carolina, where he was under fire three days and three nights.  Disabilities suffered then were responsible for his discharge on 30 November 1861, after less than two months service.
———————————–
News clipping from Newspapers.com.