Posted By Norman Gasbarro on April 11, 2016
John Henry Herring was living in Llewellyn, Schuylkill County, Pennsylvania, when he enrolled in the 50th Pennsylvania Infantry on 19 August 1961.  He was mustered into service in Company A as a Corporal on 9 September 1861, and at a date unknown was promoted to 1st Sergeant.  He remained with the regiment in that capacity until 1 January 1864 when he re-enlisted at Blaine's Crossroads, Tennessee.  On 18 March 1865 he was promoted to 1st Lieutenant and was honorably discharged with his company on 30 July 1865.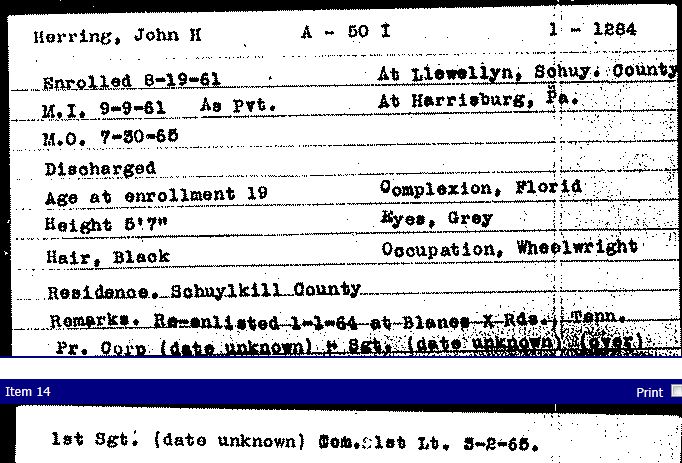 When he enrolled, he gave his age as 19 and his occupation as wheelwright.  He was 5 foot 7 inches tall, had a florid complexion, gray eyes, and black hair.
At some point after his Civil War service he first moved to Texas, where he is found in the 1880 Census of Throckmorton County.  He was then working as a wool grower.  In 1900, still in Throckmorton County, Texas, he was working as a farmer.
In 1910, he was in Long Beach, Los Angeles, California, where he was living on his "own income," presumably wholly or partly on a Civil War pension.  In that census, he indicated that he had been married for 20 years.  Other records show that his wife was Alice J. Lehman, who was born about 1857 or 1858 in Tremont, Schuylkill County.  Alice was located in the 1900 Census of Tremont, but appears with her husband in California in 1910.  She died in Los Angeles County on 10 July 1932, according to California death records.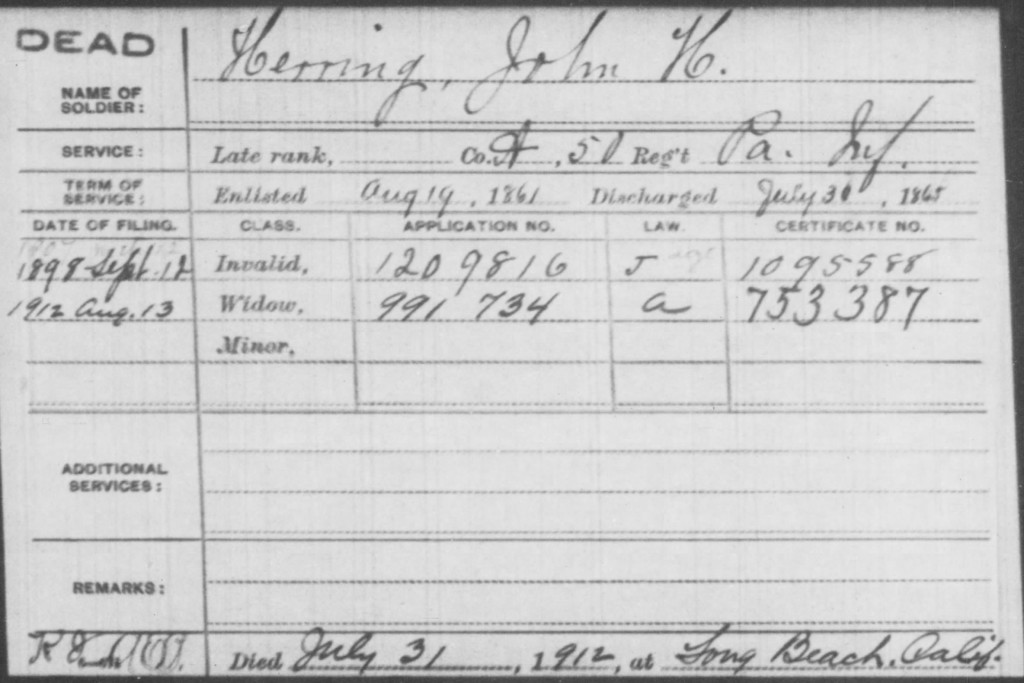 John H. Herring first applied for a pension on 12 September 1898, which he received and collected until his death on 31 July 1912,.  Alice J. [Lehman] Herring applied for widow's pension benefits shortly after her husband's death in 1912.  She collected until she died on 10 July 1932.  [Pension Index Card above from Fold3].
John Henry Herring is buried at the Sunny Side Cemetery, Long Beach, Los Angeles County, California.  Some additional information about him can be found at his Findagrave Memorial.
More information is sought on this 1st Lieutenant of the same company of the 50th Pennsylvania Infantry that was populated mostly with men from the Lykens Valley area.  Does any reader have a picture of him?   Please add comments to this post or submit via e-mail.
——————————-
The Pennsylvania Veterans' File Card is from the Pennsylvania Archives.