Posted By Norman Gasbarro on April 21, 2016

A brief notice appeared in the Pine Grove news column of the Lebanon Semi-Weekly News, 26 April 1926:
The late Daniel Hoy, whose remains were interred in the Ravine Cemetery, is survived by 59 grandchildren and 19 great-grandchildren.
The notice failed to mention that Daniel Hoy was a Civil War veteran.
However, his grave is marked at the St. Matthew's Lutheran Cemetery, at Pine Grove, with a military-issue stone which states that he served in the 17th Pennsylvania Cavalry.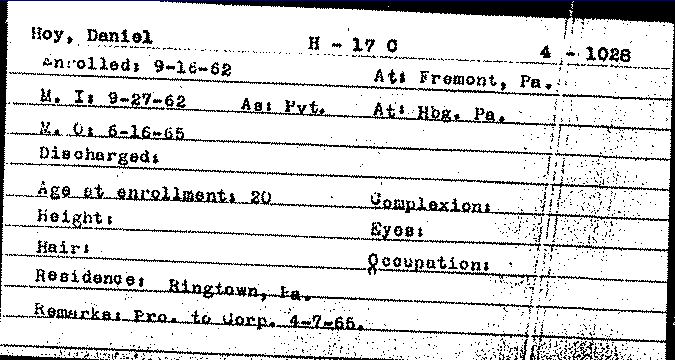 The Pennsylvania Veterans' File Card (shown above from the Pennsylvania Archives), notes that Daniel Hoy enrolled in the cavalry regiment at Fremont (should be Tremont), on 16 September 1862 and was mustered into service as a Private on 27 September 1862.  He gave his his age as 20 (which was correct according to other information) and his place of residence as Ringtown, Schuylkill County.  There is no other personal information on the card.  On 7 April 1865, Daniel Hoy was promoted to Corporal, the rank at which he was honorably discharged on 16 June 1865.
Daniel Hoy was born on 3 February 1842, the son of Daniel Hoy and Rachel [Zimmerman] Hoy.  After the Civil War about 1866, he married Mary Pauline Umbenhower (or Umbenhauer).  They had at least 11 children who are named in research done and posted on his Findagrave Memorial.  Daniel Hoy was a coal miner for most of his life.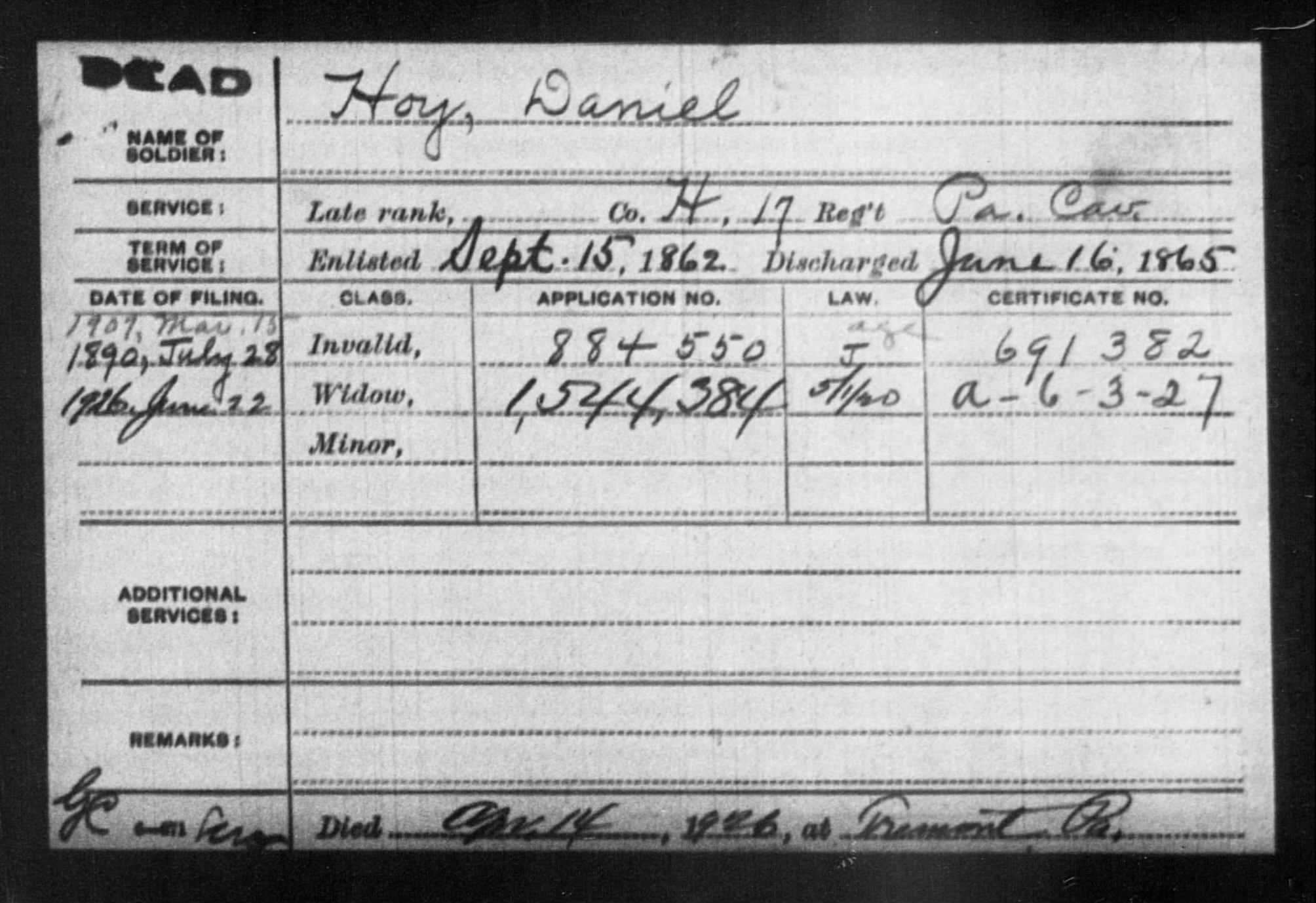 On 28 July 1890, Daniel Hoy applied for an invalid pension, which he received and collected until his death, which occurred at Tremont on 14 April 1926.  His widow then applied for benefits on 22 June 1926.  The date in the "Certificate No." column of the Pension Index Card (shown above from Fold3) is the date on which Mary Hoy died and it can be assumed that her application for benefits had not been completely processed and approved in time for her to get any money due her before she died.  Whether the benefits from the date of Daniel's death to the date of Mary's death went into Mary's estate or whether the government kept the benefits is not known, but can possibly be found out by looking at the widow's pension application file (available at the National Archives in Washington, D.C.).
More information is needed about this veteran – particularly any family stories, pictures of him, military records, etc.  It is possible that with all the children, grandchildren, and great-grandchildren and with his late date of death, that at least one picture of him has survived these many years.  Can anyone produce a picture?  Add comments to this post or send the information by e-mail.
——————————
The news clipping is from Newspapers.com.