Posted By Norman Gasbarro on March 28, 2016
William Hicks (1839-1904), who is buried at St. Paul (Bowerman's) Lutheran Cemetery in Enterline, Dauphin County, Pennsylvania, served in the 8th Illinois Infantry, Company D, as a Private.  There is conflicting data on his dates of service.  In one source, it is stated that he had three enlistments, while another source indicates his service as from 2 January 1864 through 4 May 1866.  In the 1890 Census for Waynesville, Wayne Township, Dauphin County, he gave his war-related disability as "wounded in thigh."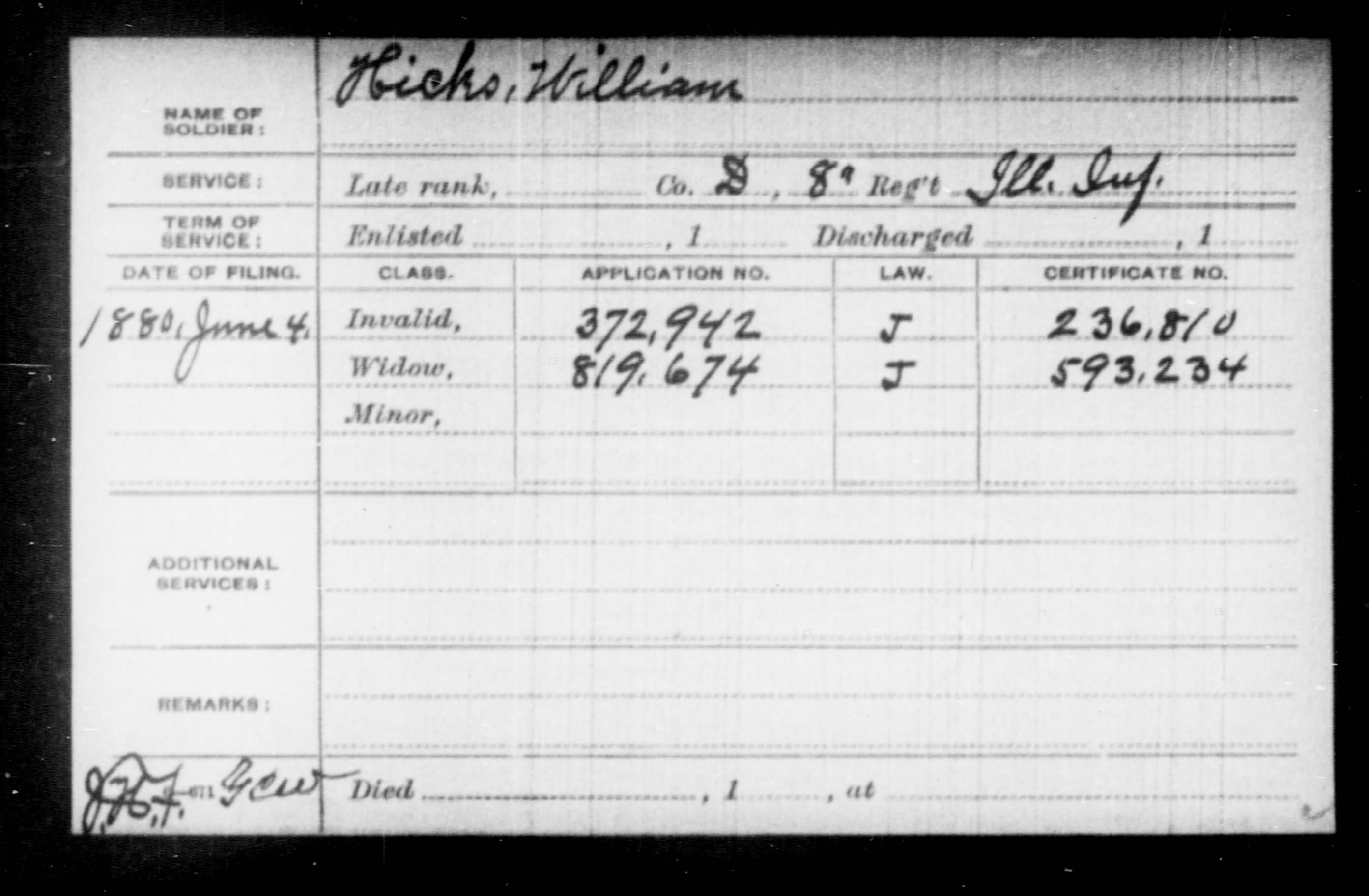 On 4 June 1880, William Hicks  applied for a disability pension, which he received and collected until his death, which occurred on 22 December 1904.  [above Pension Index Card from Fold3].  Following his death, his widow, Hannah [Bowerman] Hicks applied on 7 January 1905.  She received widow's benefits which she collected until her death.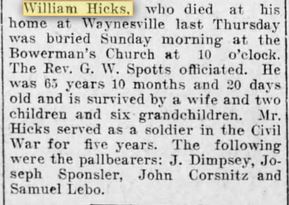 The Harrisburg Telegraph provided a brief notice of William Hicks' death in its 28 December 1904 edition:
William Hicks, who died at his home at Waynesville last Thursday was buried Sunday morning at the Bowerman's Church at 10 o'clock.  The Rev. G. W. Spotts officiated.  He was 65 years 10 months and 20 days old and is survived by a wife and two children and six grandchildren.  Mr. Hicks served as a soldier in the Civil War for five yeas.  The following were the pallbearers:  J. Dimpsey, Joseph Sponsler, John Corsnitz and Samuel Lebo.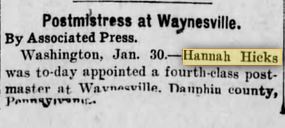 Within days, on 30 January 1905, the Harrisburg Daily Independent reported that the widow, Hannah Hicks, was appointed postmaster:
Postmistress at Waynesville

by Associated Press.

Washington, 30 January 1905 — Hannah Hicks was to-day appointed a fourth-class postmaster at Waynesville, Dauphin County, Pennsylvania.
It is not known why Mrs. Hicks was appointed so quickly.  Had she applied for the job prior to her husband's death?  Or, was her husband postmaster, and was she appointed to succeed him.  In checking the most recent census (1900), William Hicks' occupation was carpenter.  But that doesn't mean that he didn't become postmaster after the census was taken.  From the politics of the time, postmasters were appointed by the President, and the Republicans were in control in Washington at that time.  Another theory is that Mrs. Hicks' maiden name was Bowerman – and the Bowerman family had great influence in the Enterline–Waynesville area.
But, by 1910, Hannah [Bowerman] Hicks was living in Halifax and working as a servant.  By 1920, still a widow, she was working as a housekeeper.  She died on 17 April 1931 in Steelton, Dauphin County.
Several news articles have been located post-1905 where Hannah Hicks was involved in real estate transactions, both buying and selling, and one article was located where she served as the executor of an estate.
Hannah [Bowerman] Hicks was the daughter of John Bowerman (1809-1894) and Anna Mary "Polly" [Woland] Bowerman (1803-1854). At least two of her brothers were Civil War soldiers:  Dr. Solomon Belle Bowerman (1829-1905) and George Washington Bowerman (1841-1925).
At this writing, nothing is mentioned in the Findagrave Memorial for William Hicks that he was a Civil War veteran.
Illinois Civil War records report that at the time of his enlistment, William Hicks was living in Olney, Richland County, Illinois, was 24 years old, and was a farmer.  Little else is known about his Civil War service.
If any readers can supply additional information about William Hicks or Hannah [Bowerman] Hicks, please do so by adding a comment to this post or by sending via e-mail.
——————————
News articles are from Newspapers.com.