Posted By Norman Gasbarro on March 9, 2016

William Doubert Stites (1840-1915) is the "W. D. Stites" whose name appears on the Millersburg Soldier Monument.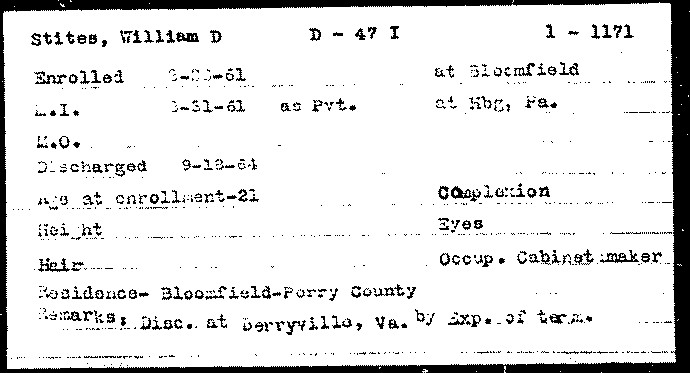 On 31 August 1861, William D. Stites was mustered into service at Harrisburg in the 47th Pennsylvania Infantry, Company D, as a Private.  At the time of enrollment, he gave his age as 21, his residence as Bloomfield, Perry County, and his occupation as cabinet maker.   He was discharged at the end of his term of service on 18 September 1864, at Berryville, Virginia, passing up an option to re-enlist.
In the 1890 Veterans' Census for Millersburg, Dauphin County, Pennsylvania (shown above from Ancestry.com), his name appears for his service in the 47th Pennsylvania Infantry.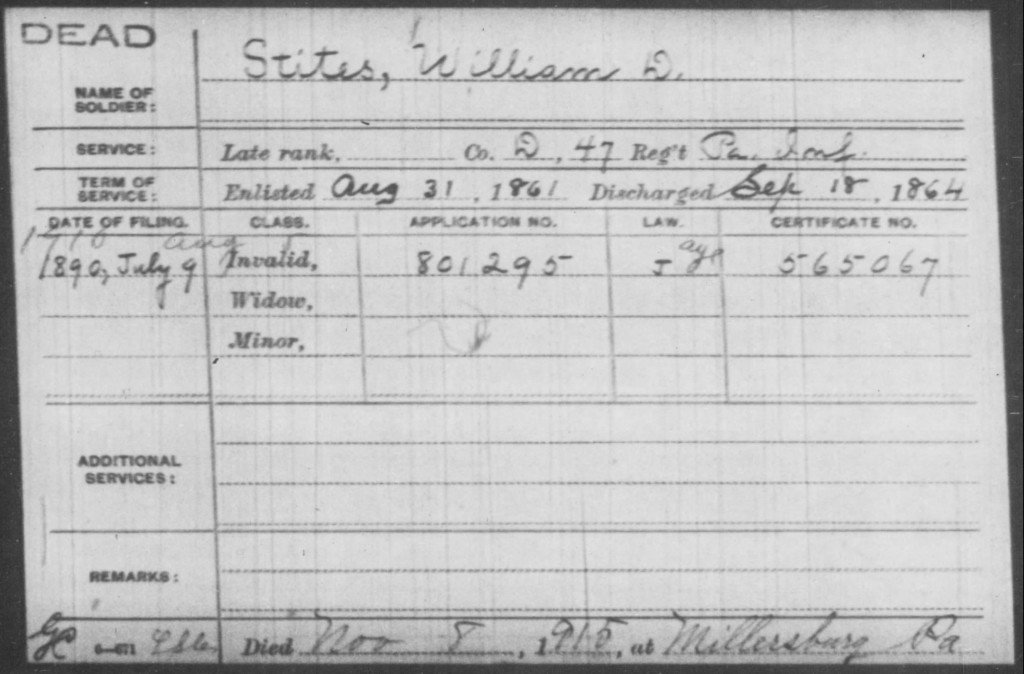 On 9 July 1890, William D. Stites applied for a Civil War pension (Pension Index Card from Fold3, above), which he received and collected until his death on 8 November 1915 at Millersburg.  He is buried at Oak Hill Cemetery at that place.
The father of William D. Stites, Dr. Samuel Stites, also saw service in the Civil War, but as a contract surgeon.  During the first seven years of his professional practice as a medical doctor, prior to the Civil War, he lived in and served the community of Fisherville, Dauphin County.  The information that he served in the Civil War was not found in any military records or in his obituary, but in a brief family history that was printed in a Harrisburg newspaper in 1903 [a transcript of that history appears below].  Dr. Stites is buried at the Peace Church Cemetery in Berrysburg and more information about him can be found in his Findagrave Memorial.
The brother-in-law of Dr. Samuel Stites was Dr. George Frederick Matter (1840-1897), who served in the Civil War in the 210th Pennsylvania Infantry.  He was the brother of Catherine Matter, the wife of Dr. Samuel Stites.  He was born in Mifflin Township, Dauphin County, and died in Schuylkill County.
More information is sought about each of of the men named above.
From the Harrisburg Daily Independent, 1 August 1903:
REUNION OF THE STITES FAMILY

Week of Pleasant Intercourse Among Members of the Different Branches Held at Millerstown Last Month

Brief History of the Family

Members of several branches of the Stites family will for a long time to come recall with pleasure a reunion week which was held by this family at Millerstown from 17 July to 24 July [1903].  As many of the members of the family as could conveniently arrange to do so spent the whole or a portion of the time with their relatives and many pleasant acquaintanceships were formed or renewed.

One branch of the family is now represented in this city, that of Dr. Harry Stites, of 825 North Sixth Street, and as the name has been more or less intimately connected with the history of this section of Pennsylvania, a brief sketch of the fathers is appended.

In tracing the history of the Stites family, the historian will find that in 1774, George Stites, Isaac Stites and William Stites, with their families, emigrated from England to this country.

It is supposed that Isaac Stites settled in Southern New Jersey.

George States found his way into the interior of Pennsylvania and settled a town at that time Stitesville, now Lebanon.

William Stites lived at Newton, Sussex County, New Jersey, until the breaking out of the Revolutionary War.  He entered into the Continental service and served up to the Battle of Princeton, 3 January 1777, when he was mortally wounded, and being removed to Paulus Hook, died.  His family consisted of a wife, and five children – three sons and two daughters.  Of the sons, William Stites located at Easton, Pennsylvania, where he married Sarah Rush, a descendant of Benjamin Rush, M.D., one of the signers of the Declaration of Independence.

The fruits of this marriage [William Stites and Sarah Rush] were thirteen children, five sons and eight daughters.  One of the sons was named Samuel Stites, who was born in Northampton County, 23 June 1816.  He chose as his life work the medical profession, and graduated from the University of Pennsylvania in 1850, and located in Fisherville, Dauphin County, where he practiced until the year 1857, when he moved to Millerstown, Perry County.  While in Dauphin County, he took an active interest in the State militia, being elected Lieutenant Colonel of his regiment.  When the Civil War broke out, being beyond the age of military duty, he nevertheless entered the Federal army as a contract or acting surgeon, and after the war was twice elected Coroner of Perry County, and at the time of his death in 1882, was serving in that office, at the age of almost 66 years.

Dr. Samuel Stites was twice married.  He first married a Miss Anna Doubert.  Two this union there was born two sons and two daughters.

Samuel Stites died in infancy.

William Stites is now residing in Millersburg, Dauphin County, and is a surviving veteran of the Civil War, having served three years and three months.

Sallie Stites, the wife of J. S. Gilbert, and Anna Stites, the wife of William Hartman, resided in Millersburg, Dauphin County, at the time of their death.

[The second wife of Dr. Samuel Stites] was Catherine Matter of Berrysburg, Dauphin County, daughter of Michael Matter of the same county, who was one of the original settlers of Lykens Valley, and a veteran of the War of 1812.  There were born of this marriage ten children, seven daughters and three sons….  [The three sons] were Dr. Harry Stites, Albert H. Stites, and Dr. George M. Stites.  [Three of the daughters were] Harriet V. Stites, Lydia Stites, and Clara C. Stites.

Dr. Harry Stites was born in Fisherville, Dauphin County, about 1854. About three years after his birth his father moved to Millerstown, where the doctor was sent to the public schools of the town, Juniata Valley Normal School, and Freeburg Academy, receiving the degree of B. E. at the last named.  He afterward entered the medical department of the University of Pennsylvania, from which in 1876, he graduated with the degree of M. D.  Since that time he has taken post-graduate courses in medical specialties in Europe and this country, with a view to making himself a specialist in certain lines which he has done and is today enjoying a lucrative practice in the city of Harrisburg.  He has been President of the Perry County Medical Society.  He assisted in organizing the Southern Dakota Medical Society and was afterward a member of the State Medical Society of Florida, and also a member of the Association of Railroad Surgeons of the United States.  He served five years as Contract Surgeon in the the United States Government in the Western Territories.  Afterward, he permanently located in Harrisburg, and subsequently visited leading hospitals of Europe.  He was married in 1876 to Mary J. Singer, and there has been born to them four children.  Jennie Catherine Stites, the oldest… died in infancy.  The other three, Mabel Clara Stites, Lillian Florence Stites, and George Samuel Stites, reside with their parents at this time.

Albert H. Stites was born at Millerstown in 1858, where he attended the public schools of the town and afterward graduated at the College of Pharmacy in Philadelphia.  About 1879 he moved to South Dakota and engaged in the drug business where he still resides.  He was married in Chicago in 1884 to Elizabeth Law of that place.  They have two children, Samuel L. Stites and Eda G. Stites.  Albert H. Stites has been mayor of his city, Sioux Falls, twice State Senator of his district, and was prominently mentioned for United States Senator at the time of the death of Senator Kyle.  He has extensive interests, both public and private, in his resident town.

George M. Stites was born at Millerstown in 1860.  He attended the College of Physicians and Surgeons at Baltimore, Maryland, from which school he graduated, and then took his father's practice at Millerstown for a few years, when he moved to Williamstown, Dauphin County, where he is now actively engaged in the practice of his profession.  He, like the other male members of the family, is an active citizen of his community.  At the present, he is a member of the United States Pension Board, the County Medical Society, and a director in the Williams Valley Bank.  He was married in 1887 to Hannah Durbin, and has three children living.  Joseph Stites and Louise Stites, born on the same day, and Harry Stites, who is named after his uncle.

Clara Stites has, since the death of her mother, made her home with [her brother] Albert Stites in Dakota; Lydia Stites lives with her brother George Stites; and Harriet Stites, who married M. M. Laughlin, Esquire, lives in Lewistown, Mifflin County.
——————————-
The news story was transcribed from a clipping obtained through Newspapers.com.  Portraits are adapted from public family trees available on Ancestry.com.