Posted By Norman Gasbarro on March 23, 2016
In the Genealogical and Biographical Annals of Northumberland County, by J. L. Floyd and Company, 1911, a biographical sketch appears of the ancestry of James F. Heckert (1855-1936).  James F. Heckert was too young to serve in the Civil War, but several his relations did serve.  They are mentioned in the biographical sketch.  [Note:  click on title for access to a free download from the Internet Archive].  Because of various spellings of the surname – including Heckert, Heckart, Heckerd, Heckard, Hecker, Hockert, etc. – this family is difficult to research in the records.
Noted in the biographical sketch are Casper Heckert (1837-1864), Uriah Heckert (1846-1865), and Henry W. Heckert (1841-1866).  Therefore, it is possible that there are more Civil War soldiers that can be connected to this family.  For now, this blog post focuses on the three named here, all of whose lives were shortened in some way by the Civil War and all of whom are buried at the Zion Church Stone Valley Cemetery in Hickory Corners, Northumberland County.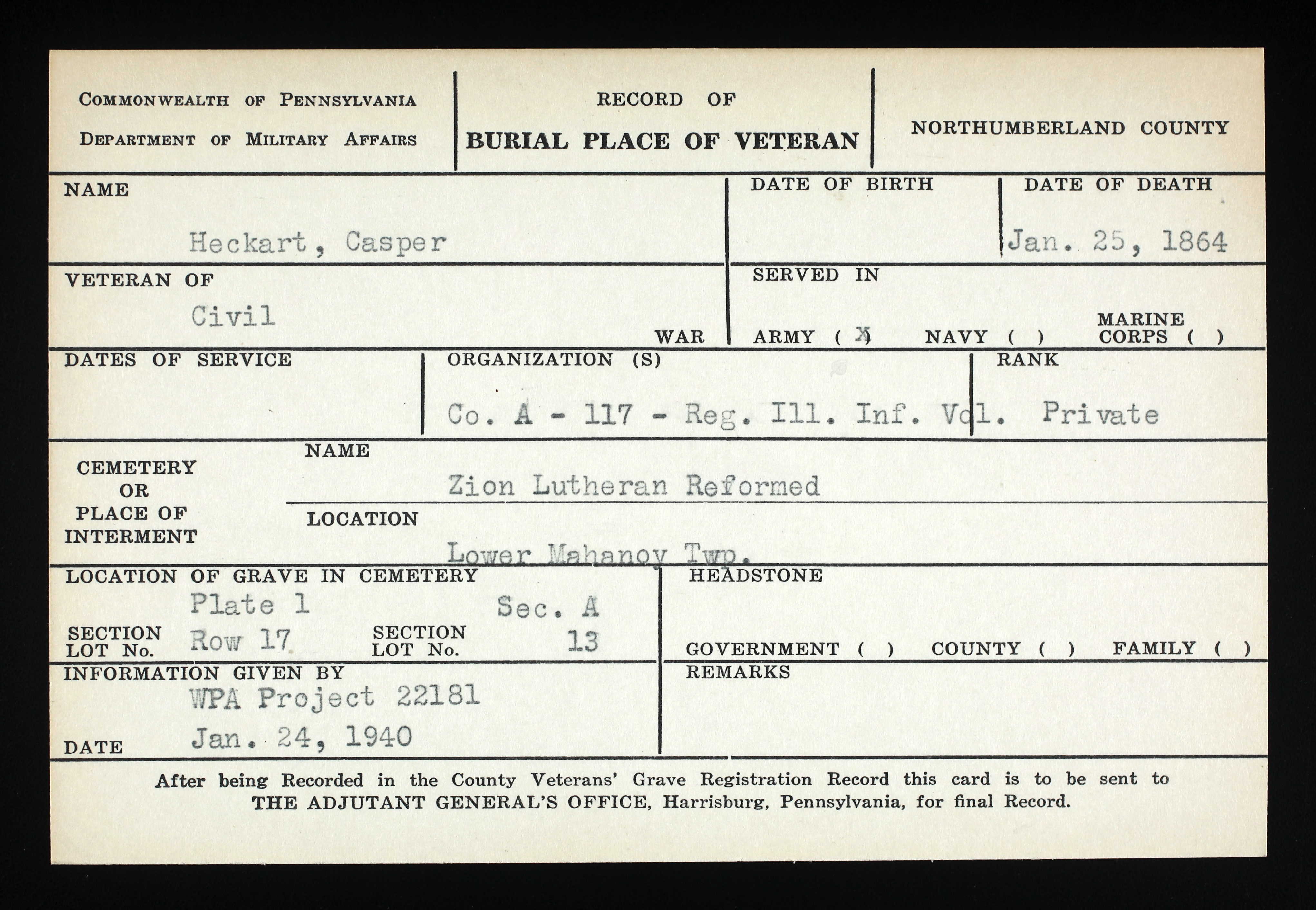 Casper Heckert was born 3 June 1837 in Northumberland County, Pennsylvania, and died on 25 January 1864 in Lower Mahanoy Township, Northumberland County.  The above Pennsylvania Veterans' Burial Card obtained from Ancestry.com, notes that Casper served in the 117th Illinois Infantry, Company A, as a Private.  Information from the Illinois Civil War Soldiers' Database, states that at the time of his enlistment on 7 August 1862, he was living in Funks Grove, McClean County, Illinois, and working as a farmer, but it is unknown why he moved there.  He appears with his parents in an 1860 Census of Lower Mahanoy Township.  Casper Heckert was mustered into service on 13 September 1862 at Camp Butler, Illinois, and was discharged for disability in October 1863.  It can be be presumed that following his discharge, he he went home to Pennsylvania and died there in late January of the next year.  He was single at the time of his enlistment and there is no record that anyone (mother or father) applied for pension benefits after his death.  If the information in the Northumberland County Annals is correct, Casper died of a disease contracted during the war.  For those wanting to find supporting evidence that this was the case, the information is probably in his military records which can be obtained at the National Archives in Washington, D.C.
———————————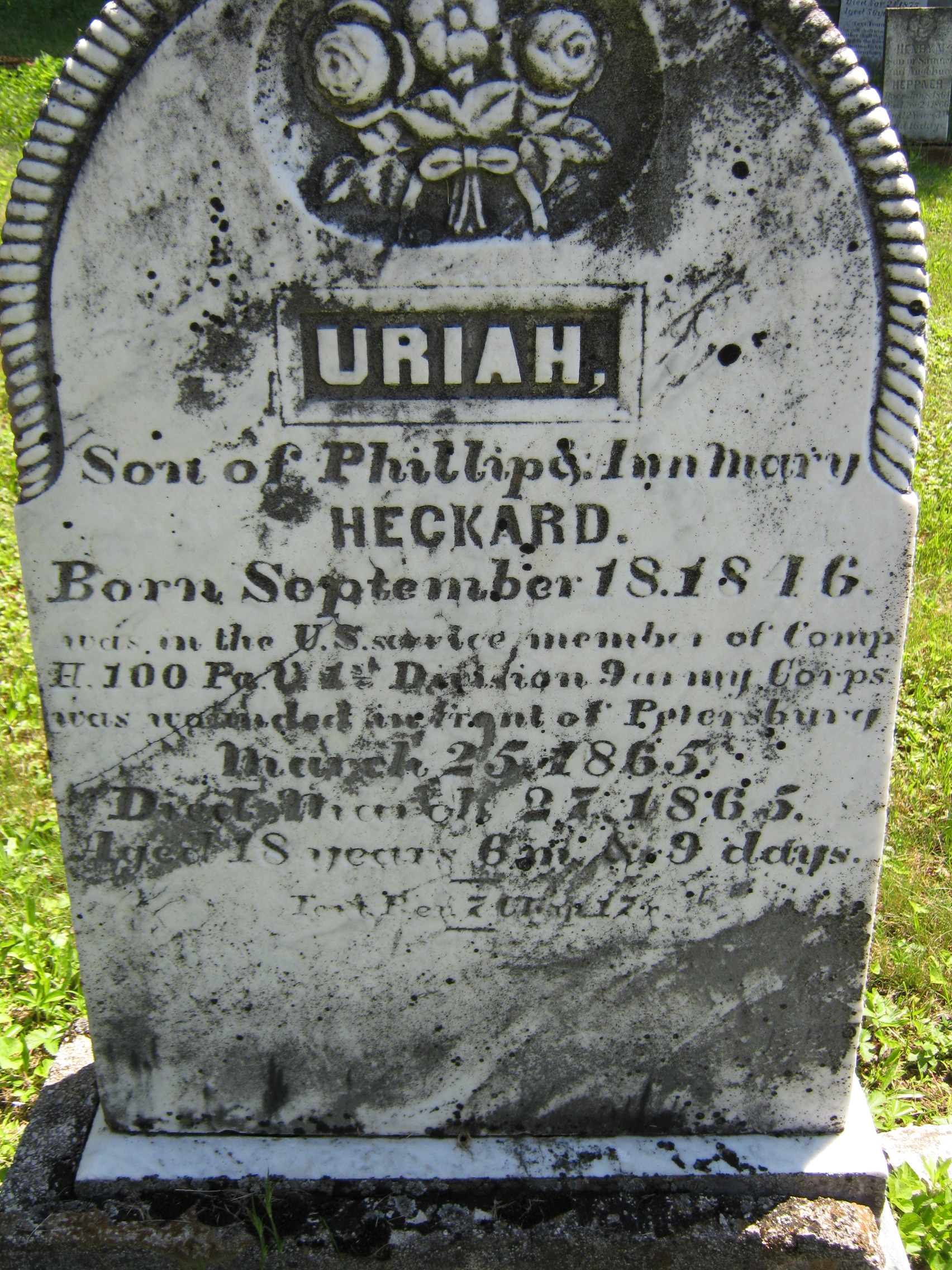 Uriah Heckert was born 18 September 1846 in Lower Mahanoy Township, Northumberland County, and died on 25 March 1865 at a General Hospital (possibly in Virginia or Philadelphia).   An examination of the military record summaries shows that he was mustered into service as a substitute on 6 March 1865 in the 100th Pennsylvania Infantry, Company H, as a Private, was wounded 21 days later at Fort Stedman, Virginia (in front of Petersburg), and died two days later of a gunshot wound to the head.  There is no record that he was married or that anyone applied for a pension for him.  His grave marker at Zion Church Stone Valley Cemetery (shown above from Findagrave) gives a brief description of his service and death.
——————————-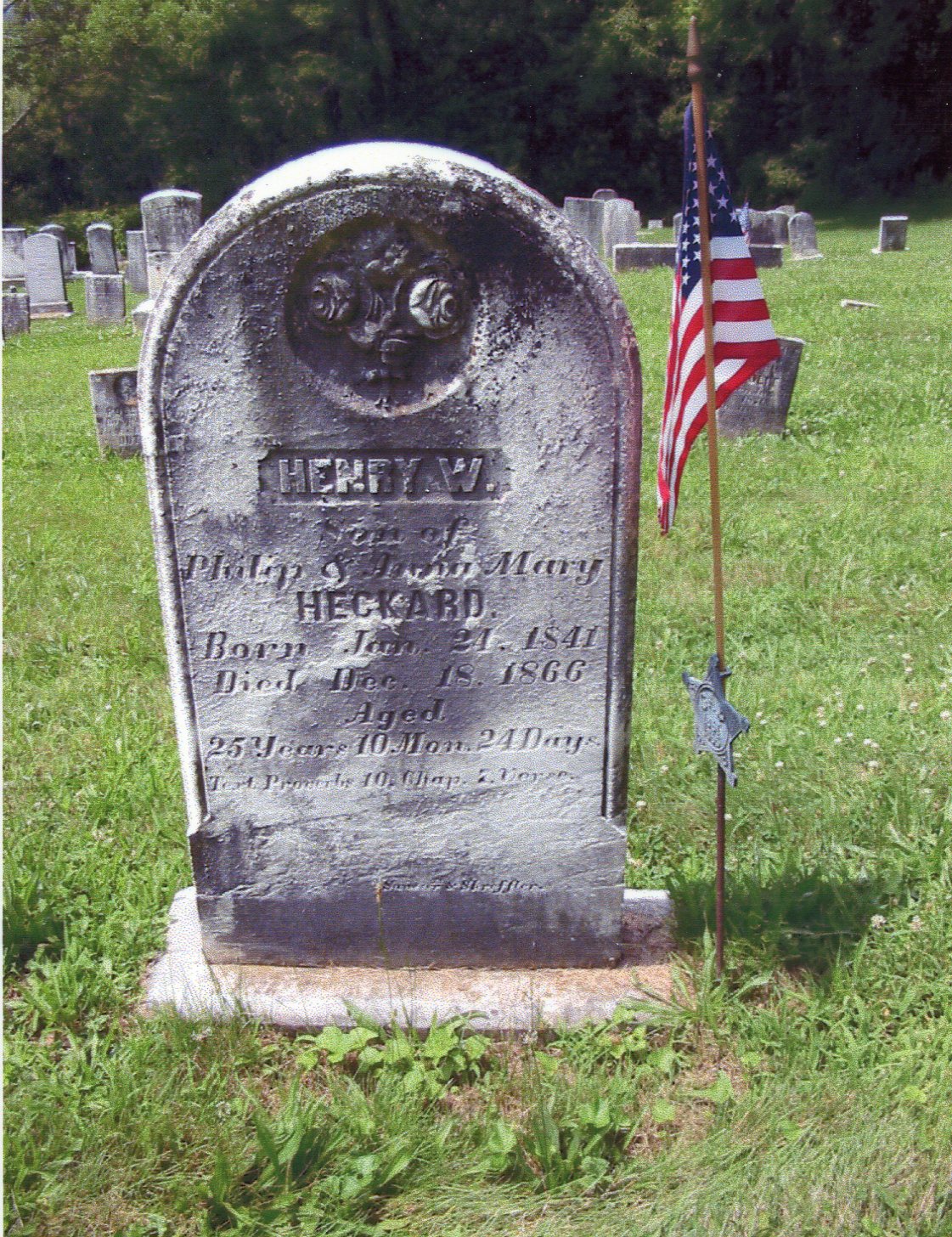 Henry W. Heckert was born 24 January 1841 and died on 18 December 1866.  His grave marker at Zion Church Stone Valley Cemetery at Hickory Corners (shown above from Findagrave) does not note that he was a Civil War soldier, but there is a G.A.R. star-flag holder at the grave site.  The Klingerstown Bicentennial Album identifies his service as the 5th Pennsylvania Cavalry, but a check of the pension application cards notes that the veteran who served in the 5th Pennsylvania Cavalry applied for a pension on 29 October 1875 and that he was survived by a widow, Elizabeth Heckert, who applied for benefits after his death on 20 May 1895.  Clearly, this is not the same person who died in December 1866.
A second Henry Heckert, also buried at Zion Stone Valley, was born about 27 October 1843 and died 8 December 1862, and, according to Findagrave information, was the son of Jacob Heckert and Sarah [Shaffer] Heckert.  While there is no evidence at the grave site that this Henry Heckert was a Civil War veteran, he does appear as such in a published Shaffer family history.  Some information about him, absent any possible Civil War service, can be found at his Findagrave Memorial.  This second Henry Heckert, with different parents, is not part of the same family as the first-mentioned Henry Heckert, whose parents are clearly identified as Philip Heckert and Anna Marie [Wert] Heckert.
So, who was the Henry Heckert who is mentioned in the Northumberland County Biographical Annals and in what regiment did he serve?  Research is still ongoing to determine that information.
——————————–
From the biographical sketch in the Northumberland County History: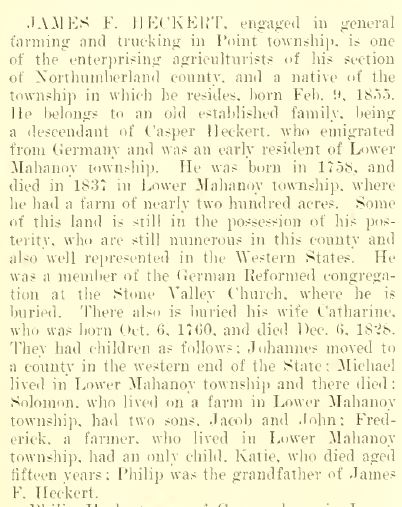 JAMES F. HECKERT, engaged in general farming and trucking in Point Township, is one of the enterprising agriculturists of his section of Northumberland County and a native of the township in which he resides, born 9 February 1855.  He belongs to an old established family, being a descendant of Casper Heckert, who emigrated from Germany, and was an early resident of Lower Mahanoy Township.

[Casper Heckert] was born in 1758 [in Germany], and died in 1837 in Lower Mahanoy Township, where he had a farm of nearly two hundred acres.  Some of this land is still in the possession of his posterity, who are still numerous in this county and also well represented in the Western States.  He was a member of the German Reformed Congregation at the Stone Valley Church, where he is buried.  There also is buried his wife Catherine Heckert, who was born 6 October 1760, and died 6 December 1828.  They had children as follows:

Johannes Heckert moved to a county in the western end of the State;

Michael Heckert lived in Lower Mahanoy Township and there died;

Solomon Heckert, who lived on a farm in Lower Mahanoy Township, had two sons, Jacob Heckert and John Heckert;

Frederick Heckert, a farmer, who lived in  Lower MahanoyTownship, had an only child, Katie Heckert, who died aged fifteen years;

Philip Heckert was the grandfather of James F. Heckert.  Philip Heckert, son of Casper Heckert, born in Lower Mahanoy Township, 9 December 1796, died 27 March 1872.  He was a farmer and had a large farm near County Line and the Stone Valley Church in Lower Mahanoy Township.  His wife, Anna Mary [Wert] Heckert, daughter of Henry Wert (whose wife was an Enterline), a pioneer at County Line, was born 2 June 1805, and died 16 Mar 1888, aged eight-two years, ten months, fourteen days.  Both are buried at Stone Valley Church, where Mr. Heckert was an official for many years. They had children:

Daniel Heckert;

Philip Heckert;

Susanna Heckert, married Philip Techupp [Philip Tschupp?];

Michael Heckert;

Mary Heckert, married Isaac Ressler;

Emanuel Heckert;

Rachel Heckert, died unmarried;

Casper Heckert, who was a soldier in the Civil War and died as a result of disease contracted in the service.  He was unmarried.

Catherine Heckert, married William Lemon; [and]

Henry Heckert, who was a soldier in the Civil War.

[Of the above-named children], Philip Heckert, Emanuel Heckert and Catharine Heckert are now the only survivors.

Philip Heckert, son of Philip Heckert, lives in Rockefeller Township, this county, near Augustaville, where he owns a small tract of land.  He is the oldest man in his township.  Born 13 September 1826, in Lower Mahanoy Township, he was reared to farm life.  In 1853 he moved to Point Township, where he farmed as a tenant thirty years, and for seven years farmed the old Thomas Baumgardner farm.  In 1883 he came to Rockefeller Township, purchasing the sixty-eight acre tract for $1600, where he has since lived.  He is a member of the Lutheran Church and has served the church officially in his time.  He is a remarkably well preserved man, and has a clear memory for dates and events.  He speaks both English and German.  To his marriage with Esther "Hettie" Kohl, daughter of John Kohl, late of Lower Mahanoy Township, were born children as follows:

Alexander Heckert, of Northumberland;

James F. Heckert;

A son that died in infancy (twin of James F. Heckert);

Urias Heckert, who died aged thirteen years;

Catherine Heckert, who keeps house for her father;

John Heckert… died in boyhood;

Philip Heckert… died in boyhood;

Charles Heckert, of Rockefeller Township; and

Ellen Heckert, widow of Francis Bloom.  Living in Sunbury, she has a son Claud Bloom.

Mrs. Heckert died 14 March 1904, aged seventy-six years.

James F. Heckert was educated in the public schools of his native township, and was reared to farming, which he began on his own account about 1880.  For several years he was a tenant farmer, in 1897 purchasing the property he now occupies and cultivates, a valuable tract of 125 acres in Point Township, nicely located.  It was formerly the Daniel Sterner homestead.  At one time Mr. Heckert had three peach orchards.  He devotes a large part of his land to garden truck, and attends the markets at Sunbury and Northumberland, where he has established an extensive trade, finding this branch of farming very profitable.  Mr. Heckert has found time to give to the public service, and has filled local office, having been Supervisor some years and School Director for six years.  He is a Republican in political opinion.

In 1880, Mr. Heckert married Orpha A. Gibbons, daughter of Abel Gibbons and Susan [Morgan] Gibbons, late of Point Township,  Seven children have been born to them, namely:

Abel Irwin Heckert;

Philip H. Heckert;

Martin L. Heckert;

Bertha M. Heckert;

Esther M. Heckert;

Susan M. Heckert; and

Daniel K. Heckert.

Mr. and Mrs. Heckert were married in the Lutheran Church at Northumberland, of which they and their family are members.  He is at present serving as deacon.