Posted By Norman Gasbarro on March 2, 2016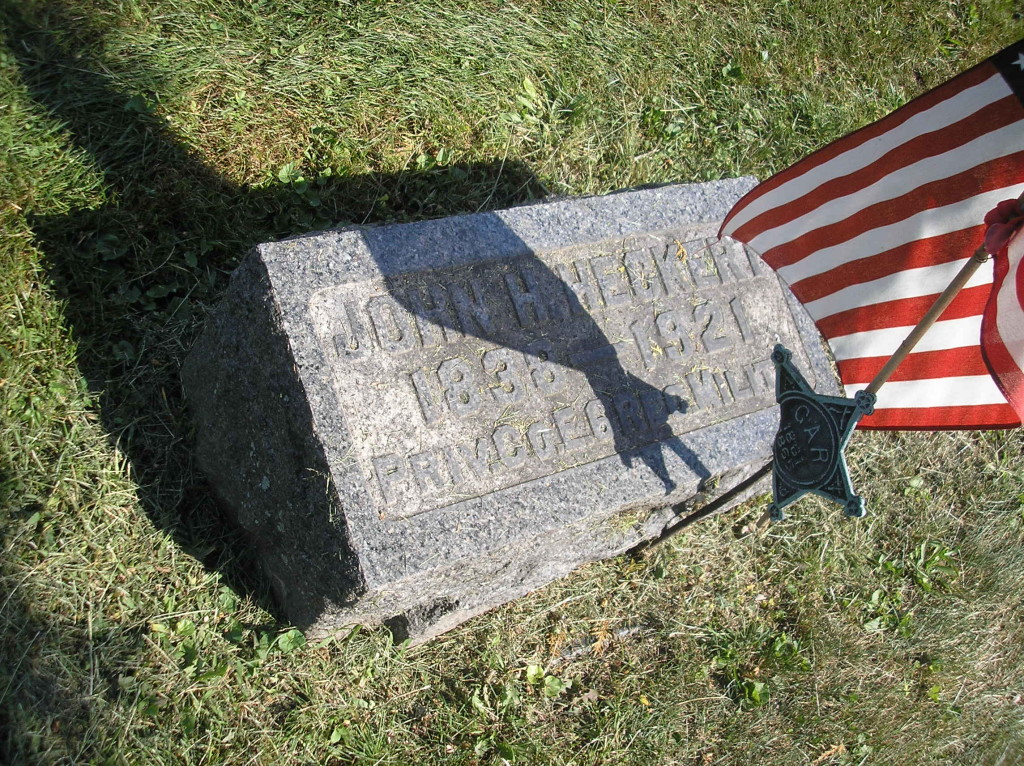 John H. Heckert (1838-1921) is buried at Oak Hill Cemetery, Millersburg, Dauphin County, Pennsylvania. At his grave there is a G.A.R. star-flag holder.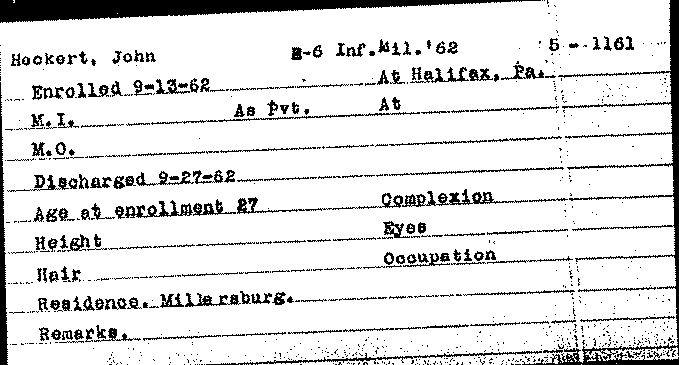 During the Civil War he served in the 6th Pennsylvania Infantry (Emergency of 1863), Company E, as a Private, serving from 12 September 1862 through discharge at the end of the emergency on 27 September 1862.  He had enrolled at Halifax, Dauphin County at age 27.  [Card above from Pennsylvania Archives].  For this short service of about two weeks, he was recognized in the community as a Civil War veteran.  However, because his service was less than three months in duration he was not eligible for a Civil War pension.  Pension applicants with less than three months service had to demonstrate that they had injuries directly related to their service.  Apparently, John H. Heckert was not injured during his service; there is no record that he ever applied for a pension.
The funeral was described in an article that appeared in the Harrisburg Evening News, 21 September 1921 [from Newspapers.com].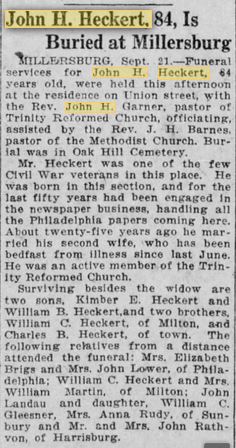 John H. Heckert, 84, Is Buried at Millersburg

MILLERSBURG — Funeral services for John H. Heckert, 84 years old, were held this afternoon at the residence on Union Street, with the Rev. John H. Garner, Pastor of Trinity Reformed Church, officiating, assisted by the Rev. J. H. Barnes, Pastor of the Methodist Church.  Burial was in the Oak Hill Cemetery.

Mr. Heckert was one of the few [remaining] Civil War veterans in this place.  He was born in this section, and for the last fifty years had been engaged in the newspaper business, handling all the Philadelphia papers coming here.

About twenty-five years ago he married his second wife, who has been bedfast from illness since last June.  He was an active member of the Trinity Reformed Church.

Surviving besides the widow are two sons, Kimbert E. Heckert and William B. Heckert, two brothers, William B. Heckert of Milton, and Charles B. Heckert of town.  The following relatives from a distance attended the funeral:  Mrs. Elizabeth Brigs and Mrs. John Lower of Philadelphia; William C. Heckert and Mrs. William Martin of Milton; John Landau and daughter; William C. Glessner; Mrs. Anna Rudy of Sunbury; and Mr. and Mrs. John Rathvon of Harrisburg.
John H. Heckert is recognized on the Millersburg Soldier Monument as J. H. Heckert:

For past blog posts that mention John H. Heckert, click here.
Additional information is sought about John H. Heckert including his family and his work.  Stories are especially welcome.  In addition, if anyone can provide a picture of him, it would be greatly appreciated!
Also, there is a good possibility that John H. Heckert was part of the group of Civil War veterans who were pictured at the dedication of the Millersburg Soldier Monument.  If a reader of this blog can identify any the persons in the picture, please do so!
Add comments to this post or send the information via e-mail.