Posted By Norman Gasbarro on March 30, 2016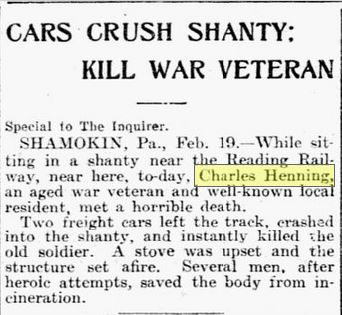 From the Philadelphia Inquirer, 20 February 1906:
CARS CRUSH SHANTY:  KILL WAR VETERAN

Special to the Inquirer

SHAMOKIN, Pennsylvania, 19 February 1906 — While sitting in a shanty near the Reading Railway, near here, to-day, Charles Henning, an aged war veteran and well known local resident, met a horible death.

Two freight cars left the track, crashed into the shanty, and instantly killed the old soldier.  A stove was upset and the structure set afire.  Several men, after heroic attempts, saved the body from incineration.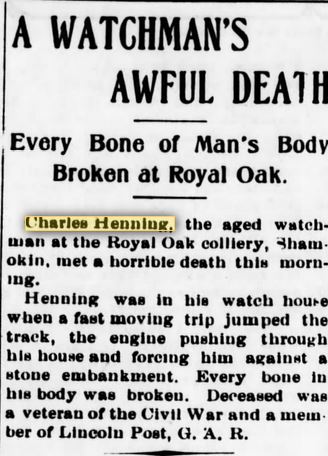 And, from the Mount Carmel Item, 19 February 1906:
A WATCHMAN'S AWFUL DEATH

Every Bone of Man's Body Broken at Royal Oak

Charles Henning, the aged watchman at the Royal Oak Colliery, Shamokin, met a horrible death this morning.

Henning was in his watch house when a fast moving trip jumped the track, the engine pushing through his house and forcing him against a stone embankment.  Every bone in his body was broken.  Deceased was a veteran of the Civil War and a member of Lincoln Post, G.A.R.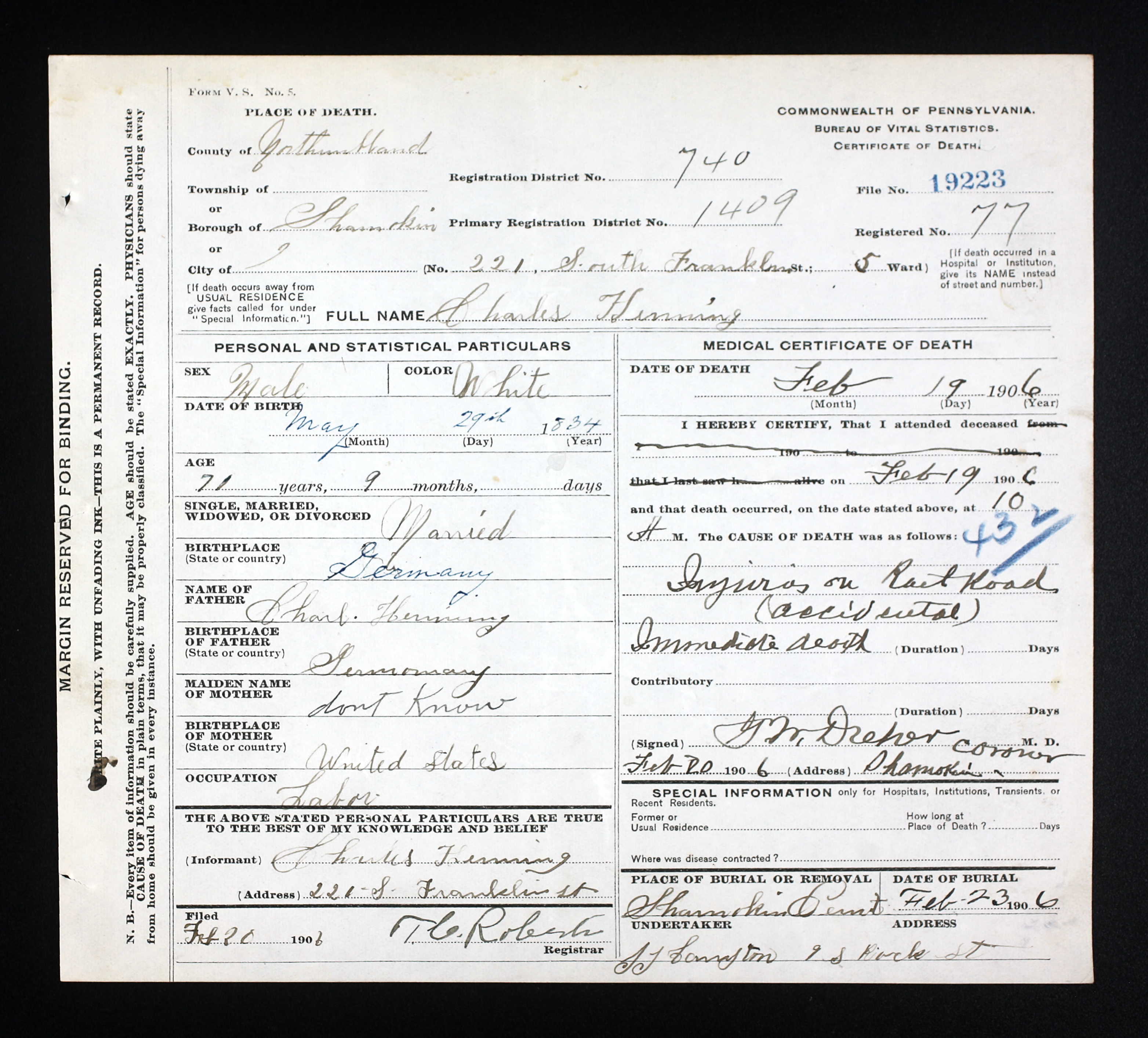 His death certificate notes that his death was accidental from injuries on the railroad, and that he died immediately.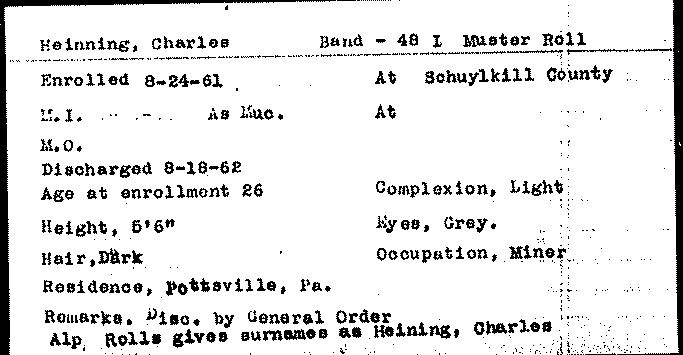 Pennsylvania Civil War records show that Charles Henning served in the 48th Pennsylvania Infantry as a member of the regimental band, with rank of Musician.  He enrolled on 24 August 1861 and he died on 18 August 1862.  He was 26 years old at the time of enrollment, was 5 foot 6 inches tall, was employed as a miner, and resided in Pottsville.  He had dark hair, a light complexion, and gray eyes.
Federal pension records show that Charles Henning applied for disability benefits on 17 July 1890, which he received and collected until his death.
Census and other records indicate that Charles Henning was born in Germany, 29 May 1834; he lived in Tremont in 1870 and was employed as a miner;  in 1880 he lived in Porter Township, as was employed as a coal miner.  By 1900, he was living in Shamokin, where he resided at the time of his death.  He is buried in Shamokin.
If any reader has additional information about this veteran who met a tragic death, please submit it via comment to this post or submit via e-mail.
——————————
Pennsylvania Veterans' File Card is from the Pennsylvania Archives.  News clippings are from Newspapers.com.  Death certificate is from Ancestry.com.