Posted By Norman Gasbarro on March 7, 2016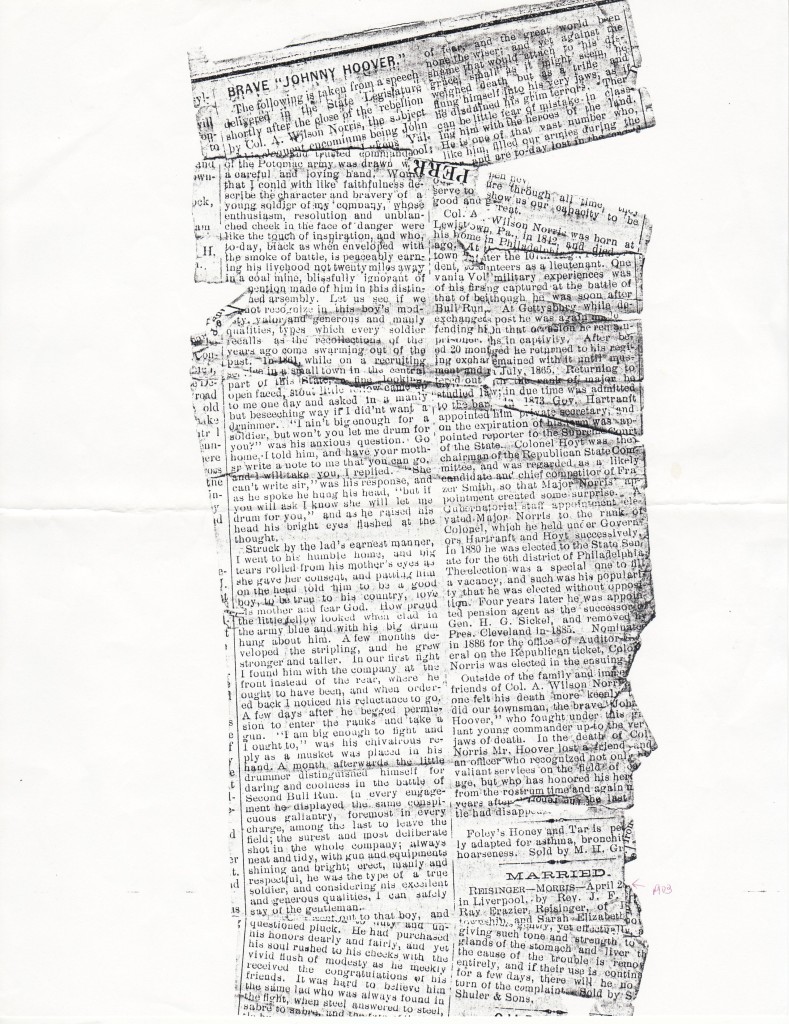 A photocopy of a crumpled newspaper story has been found in the Project files.  The clipping is entitled "Brave Johnny Hoover" and tells the story of a man from the Lykens Valley who is said to be the youngest soldier in the Union Army during the Civil War.  In addition to being named in the story as "Johnny Hoover," there are other presented facts that can help to identify exactly which John A. Hoover is described and determine whether he was actually from the Lykens Valley.  It became clear from the various documents found that this is the John A. Hoover (1847-1933) who served in the 107th Pennsylvania Infantry.
Is the news story true?  This blog has often presented stories of the war to which there has been a degree of embellishment – but nevertheless based on truth.  First, the news story will be presented as it best can be transcribed from the clipping.  Following the story, a fact checking will be performed.
BRAVE "JOHNNY HOOVER"

The following was taken from a speech delivered in the State Legislature shortly after the close of the rebellion by Col. A. Wilson Norris.  The subject of his eloquent encomiums being John A. Hoover, native of Lykens Valley, a now resident of Liverpool; in the eloquent address of General Devens last year, the portrait of one of the greatest and trusted commanders of the Potomac Army was drawn with careful and loving hand.

Would that I could with like faithfulness describe the character and bravery of a young soldier of my company whose enthusiasm, resolution, and and unblanched cheek in the face of danger were like the touch of inspiration and who today, black as when enveloped with the smoke of battle, is peaceably earning his livelihood not twenty miles away in a coal mine, blissfully ignorant of the mention made of him in this distinguished assembly.

Let us see if we can recognize in this boy's modesty, valor and generous and manly qualities, types which every soldier recalls as the recollections of the years ago came swarming out of the past.  In 1861, while on a recruiting service in a small town in the central part of this state, a fine looking, open faced, stout little fellow came up to me one day and asked in a manly but beseeching way if if didn't want a drummer.  "I ain't big enough for a soldier, but won't you let me drum for you?" was his anxious question.  Go home, I told him, and have your mother write a note to me that you can go and I will take you, I replied.  "She can't write Sir," was his response, and as he spoke, he hung his head.  "But if you will ask I know she will let me drum for you." and as he raised his head, his bright eyes flashed at the thought.

Struck by the lad's earnest manner, I went to his humble home, and big tears rolled from his mother's eyes as she gave her consent, and patting him on the head, told him to be a good boy, to be true to his country, love his mother and fear God.  How proud the little fellow looked when clad in the army blue and with his big drum hung about him.  A few months developed the stripling, and he grew stronger and taller.  In our first fight I found him with the company at the front instead of the rear, where he ought to have been, and when ordered back, I noticed his reluctance to go.  A few days after, he begged permission to enter the ranks and take a gun.  "I am big enough to fight, and I ought to," was his chivalrous reply, as a a musket was placed in his hand.

A month afterwards, the little drummer distinguished himself for daring and coolness in the Battle of Second Bull Run. In every engagement he displayed the same conspicuous gallantry, foremost in every charge, among the last to leave the field, the surest and most deliberate shot in the whole company; always neat and tidy, with gun and equipment shiny and bright; erect, manly and respectful, he was the type of a true soldier, and considering his excellent and generous qualities, I can safely say of the gentleman.

My heart went out to the boy, and there was no happier experience of my life than of the morning I told that brave little fellow he was Sergeant and he stepped out of the ranks in response to the cheers of the company who loved and were proud of the young soldier.  No man in the company envied the boy Sergeant for they knew he had won his promotion by soldierly, bearing the most persevering attention to duty and unquestioned pluck.  He had purchased his honors clearly and fairly, and yet his soul rushed to his cheeks with the vivid flush of modest as he meekly received the congratulations of his friends.

It was hard to believe him the same lad who was always found in the fight, when steel answered to steel, saber to saber, and the fate of the battle hung perhaps upon the points of a hundred trusty bayonets.

Look at the ____ first day's fight at Gettysburg.  Ordered to be down, the regiment is crouched behind a _____, while overhead the streaming shot and shell are whirling through the air and musket balls are pattering like rain against the barrier that shields that shields us from the foe.  He,alone of the company, is standing firing deliberately and cooly, while at his feet half dozen men loading the guns he discharged.  For thirty minutes, at least, he stood there, while about him whistled a perfect storm of bullets.  Get down, sergeant, get down, you will be shot! I cried.  "One shot more Sir," he answered, and again his powder-blacked cheek was laid across the gun and his hand sought the trigger.  As the smoke curled up from the muzzle, he whirled like a top, the gun in his hand went flying through the air, and staggering, the brave boy fell shot through the head.  Oh! how my heart ached as I raised him partly up and he smiled sadly and fainted away.  That night it was my misfortune to be captured, and the next morning I received a message from the brave little fellow, also in the enemy's hands, to come and see him die, but the rebels refused his petition, coupled, as it was, with my tears.  Often during my long imprisonment in the South my gallant boy Sergeant would appear to me blackened with the smoke of the fight, glancing along the polished barrel of his musket and speeding its vital bullet to its goal, and often it seemed to me I could hear its death wail and supplication come and see the brave boy die.

After my return, as I was sitting in my quarters near Washington, a stalwart young fellow stepped into my tent and, raising his hat, respectfully saluted me, I looked at him without a sign of recognition, when a peculiar smile lit up his features and springing to my feet I exclaimed, Great Heavens, who are you?  Do you come from the dead?  Are you not John Hoover?  "The same, Captain," he replied, "not, however, from the dead, but from the infernal invalid corps," which is the next thing to death for an active fellow who loves the excitement and perils of a campaign.

I need not tell you of my happiness when I held the brave fellow's hand and looked into his hones, handsome fave with not one feature marred, except the right eye, through which the dread bullet had passed that I thought had marshaled him with the dead.  Fame and honor were as dear to that boy as ever they were to an officer who buckled sword to his side.  Beneath his humble cap was head as honest and noble in all its thoughts as any that every wore a helmet or bore a knightly crest; beneath his blouse beat a heart as pure, unselfish, and guileless as a girl's, but filled with the loftiest courage, and the hand that poised his musket was as firm and true as any that ever splintered a lance in the courtly and chivalrous contests of old.  His sphere was lowly and narrow; his ambition scarcely dared to soar above his humble place in the company.  There were few to observe and know of his daring and speak his praises. He might have stepped from the ranks at the call of death or skulled away at the summons of fear, and the great world been none the wiser; and yet again the shame that would attach to his disgrace, small as it might seem, he weighed death but as a trifle and flung himself into his very jaws, as if he disdained his grim terrors.  There can be little fear of mistake in classing his with the heroes of the land.  He is one of that vast number who, like him, filled our armies during the war and who are today lost in the crowd.  _________.  _________. They served to show us our capacity to be good and great.
Basically, the facts of this story are true for a soldier named John A. Hoover, who is buried at Maple Grove Cemetery, Elizabethville, Dauphin County, Pennsylvania.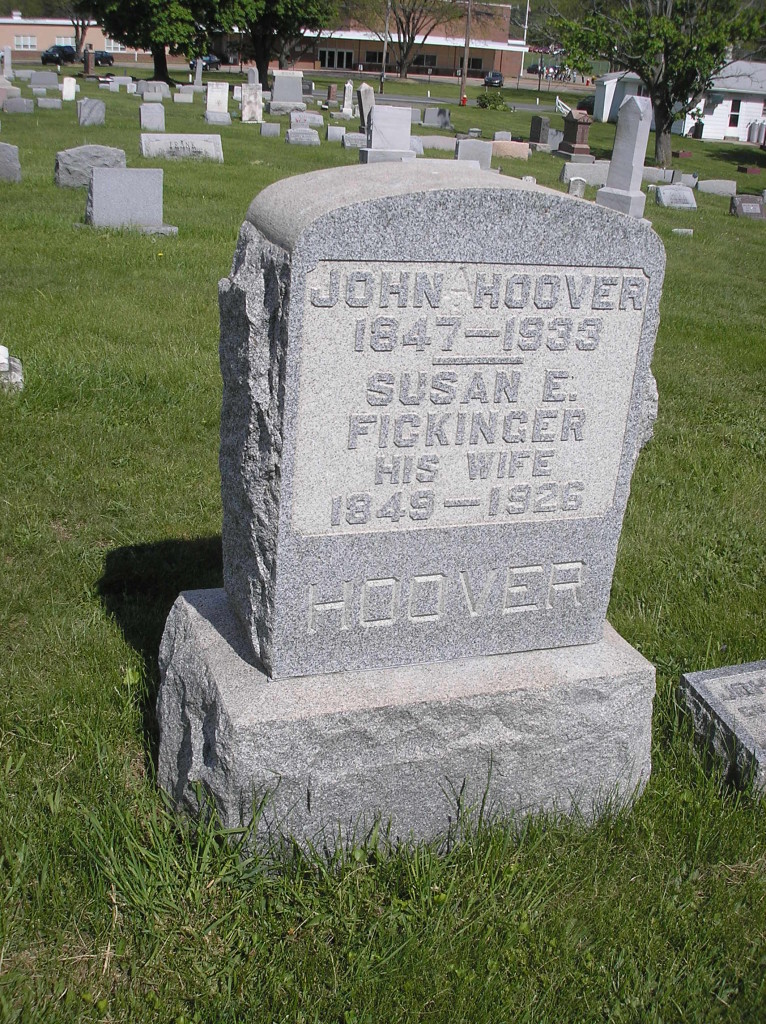 John A. Hoover (1847-1933) and his wife Susan E. Fickinger (1849-1926) are buried together.  Next to the main stone is an in-ground stone noting John's Civil War service: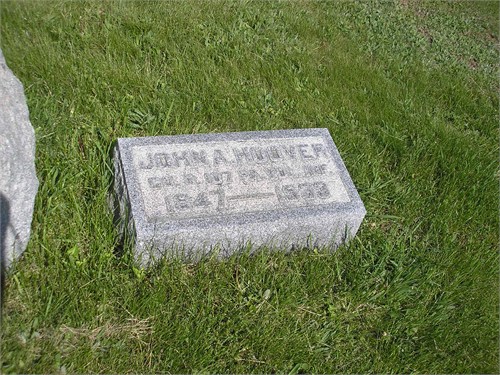 John A. Hoover served in the 107th Pennsylvania Infantry, Company D.  His rank is not given on the stone.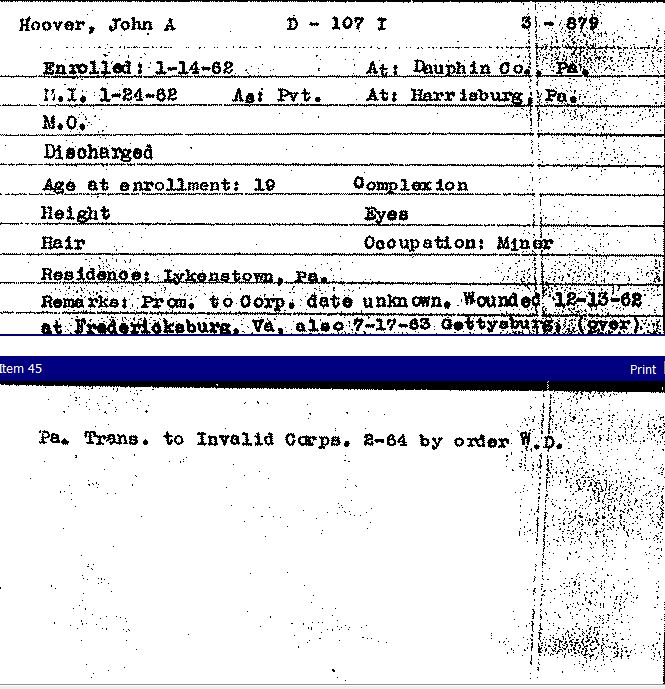 The Pennsylvania Veterans' Card (shown above from the Pennsylvania Archives) states that John A. Hoover enrolled on 14 January 1862 at Dauphin County, Pennsylvania (exact location not given).  He claimed to be 19 years old (not 15 as he actually was at the time),  He was employed as a miner and was living in Lykens.  On 24 January 1862, he was mustered into service in Company D, 107th Pennsylvania Infantry, as a Private (not as a Drummer Boy as is stated in the article).  The summary of the military record includes that he was promoted to Corporal (not Sergeant) at a date unknown.  He was wounded at Fredericksburg, Virginia, on 13 December 1862, and also at Gettysburg, on 7 July 1863.  The nature of his wounds is not specified on the card.  In February 1864, he was transferred to the Invalid Corps (a.k.a. the Veteran Reserve Corps).  A discharge date is not noted on the card.
In the portion of the Register of Pennsylvania Volunteers for the 107th Pennsylvania Infantry, Company D [shown above from the Pennsylvania Archives] John A. Hoover's enrolling officer is named as Capt. Norris, confirming the statement in the news article that it was Norris who recruited him.  While the Register says Hoover was recruited at Harrisburg, it was likely that he was actually recruited at a "small town" in Dauphin County, and when he arrived at Harrisburg to be mustered, he was credited to Norris.  Thus, the story of speaking to Hoover's mother for permission could be true.
Who was Norris?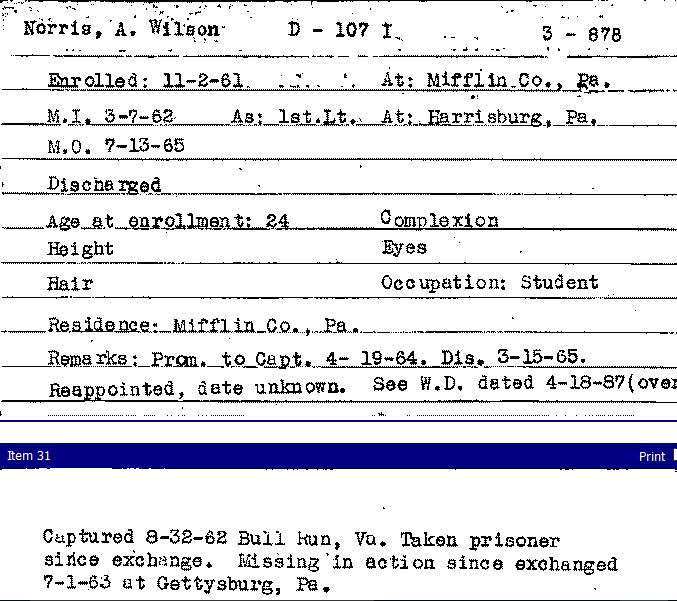 A. Wilson Norris was a student who enrolled in the 107th Pennsylvania Infantry on 2 November 1861.  However, his initial enrollment was as a 1st Lieutenant, and he was not promoted to Captain until 18 April 1864 (according to the card). He was twice captured – first at Bull Run, then exchanged, and second at Gettysburg, where afterward he was noted as missing in action.  The dates and battles conform to the story told by Norris in the news article.
The plaque shown above is from the Pennsylvania Monument at Gettysburg.  Note that both Norris and Hoover are named on the plaque.  However, there is an absence of a Captain in the company and Norris rank is 1st Lieutenant.  Hoover is a Corporal.
Some additional information:

On 6 May 1887, the Harrisburg Telegraph reported:
Johnny Hoover, "the brave soldier boy," whom Col. A. Wilson Norris characterizes in his speeches as the youngest soldier who enlisted in the Army of the Potomac, is now a resident of Millersburg.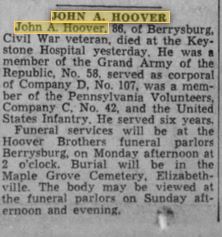 From the Harrisburg Evening News, 13 October, 1933, his obituary:
JOHN A. HOOVER

John A. Hoover, 86, of Berrysburg, Civil War Veteran, died at the Keystone Hospital yesterday.  He was a member of the Grand Army of the Republic, No. 58, served as Corporal of Company D, No. 107, was a member of the Pennsylvania Volunteers, Company C, No. 43, and the United States Infantry.  He served six years.

Funeral services will be held at the Hoover Brothers Funeral Parlors, Berrysburg, on Monday afternoon at 2 o'clock.  Burial will be in the Maple Grove Cemetery, Elizabethville. The body may be viewed at the funeral parlors on Sunday afternoon and evening.
From the obituary the other regiments in which Hoover served are noted, the fact that he died in Harrisburg and that he was a member of a Harrisburg G.A.R. Post, as well as his residence of Berrysburg.
It is not known at this time why he moved about but one result of his moving about is that not only Elizabethville can claim him as a veteran, but also Berrysburg, Millersburg, and Liverpool of Perry County.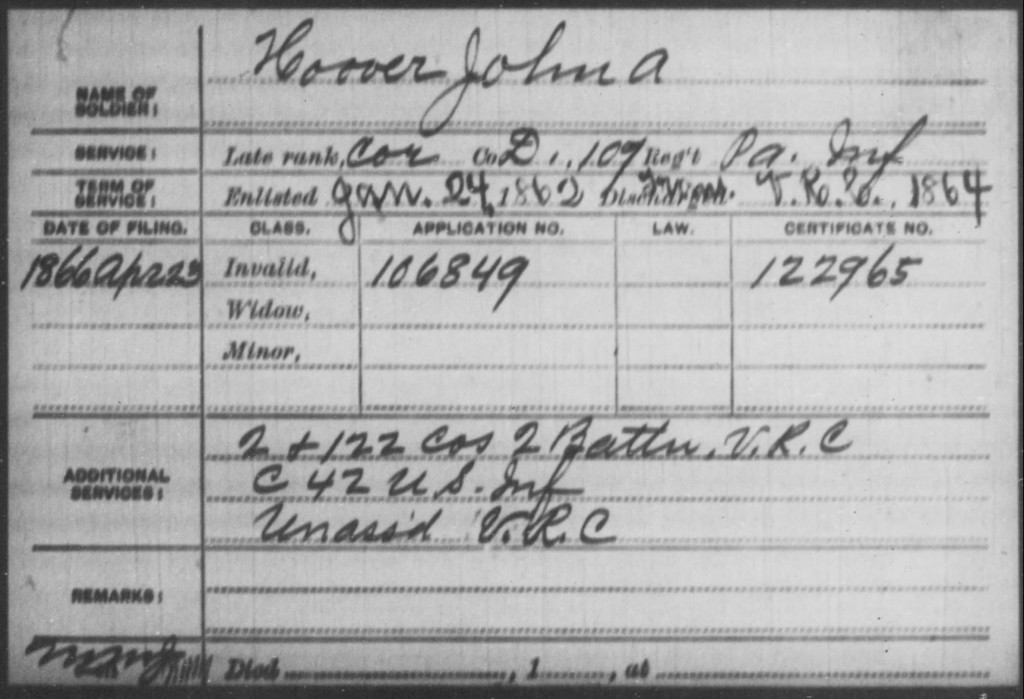 The Pension Index Card, shown above from Fold3, names the various regiments in which John A. Hoover served including Company C of the 42nd United States Infantry (which included post-war service), and the various designated units of the V.R.C. (Veterans Reserve Corps).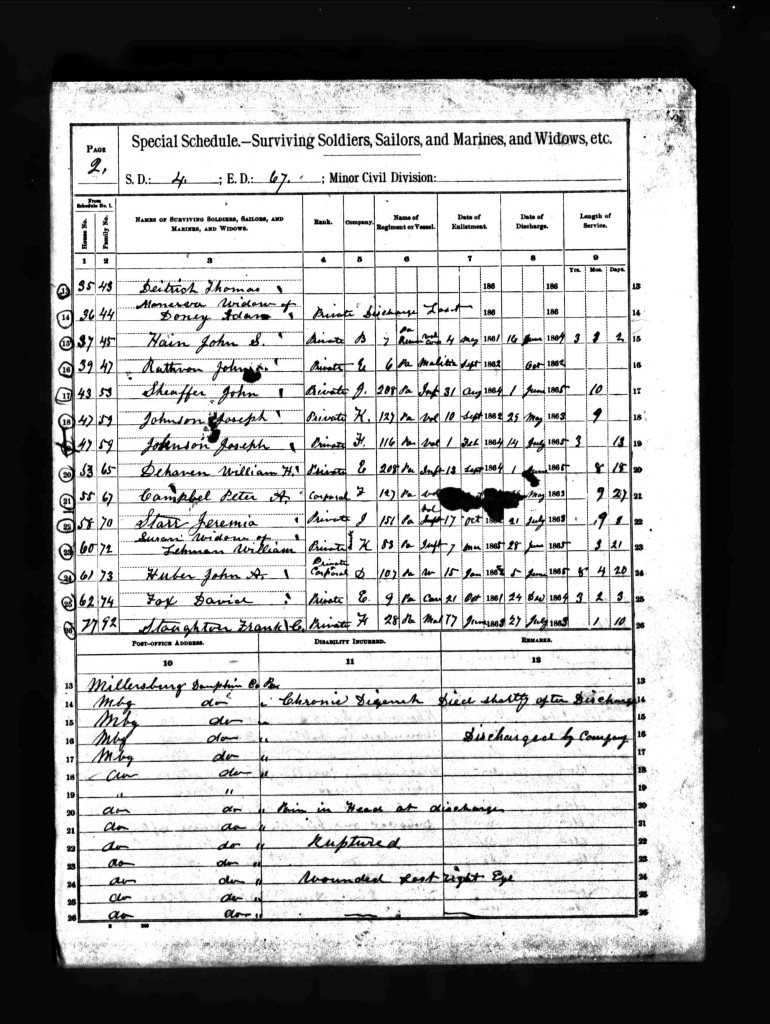 On the 1890 Veterans' Census, lines 34, top and bottom, name the regular Civil War regiment (107th Pennsylvania Infantry) and the incurred disability, "wounded – lost right eye."   The census sheet (above) is from Ancestry.com.  Note that in 1890, John A. Hoover was living in Millersburg.
Finally, from the Harrisburg Evening News, 26 October 1933:
Children of John A. Hoover, late of this city, are heirs to his $650 estate,  W. W. Hoover, Berrysburg, is named executor.
Therefore, for the most part, the facts of the story told by Col. A. Wilson Norris are correct, but at times embellished.
If the story was told many times as indicated in the May 1887 article (above), then it is possible that it was printed in other versions in other places.  It is beyond the scope of this blog post to search out every instance where the story was told or to see how it was nuanced over the years.  That is not to say that it wouldn't be worthwhile to continue to research John A. Hoover, his life and his military experiences.  As always, readers are invited to submit other information.  Particularly needed is a picture of John A. Hoover as it is hard to imagine how someone lived into the year 1933 and no picture of him has survived.  Because he is associated with Elizabethville which is having its bicentennial in 2017, it is desired to have his picture on a display of Civil War soldiers associated with that community.
Please add comments to this post or send information via e-mail.
For prior posts that included John A. Hoover, click here.