Posted By Norman Gasbarro on February 17, 2016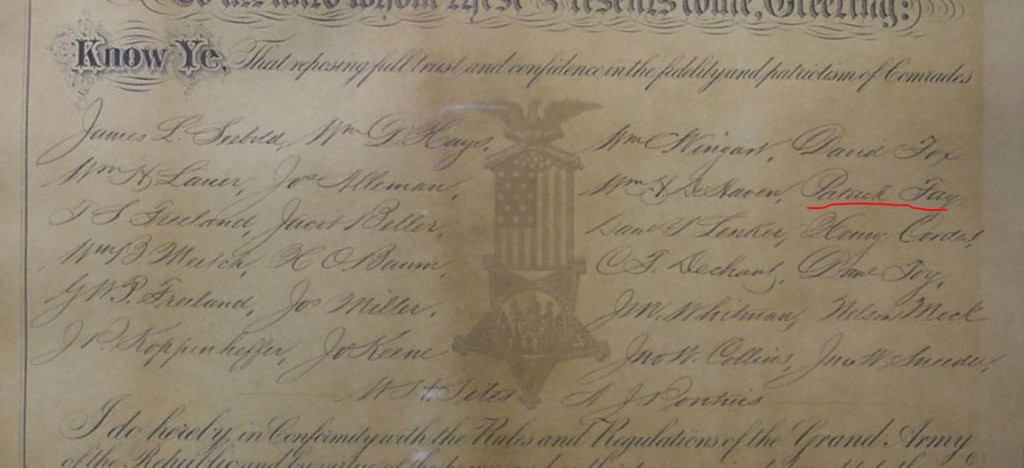 The name of Patrick Fay appears on the original Charter for the Millersburg G.A.R. Post, later named "Kilpatrick Post."  However, Patrick Fay does not appear on the Millersburg Soldier Monument.
Previously here, it was mentioned that another charter member of that G.A.R. Post, Charles T. Dechant, also does not appear on the monument.  At that time, it was stated:
"Official" representations continue to convey the impression that only 126 men from Millersburg and Upper Paxton Township served in the Civil War.
Since that blog post, it has been learned that both the V.F.W. in Millersburg and individuals are researching the omitted names to determine why they were omitted and to determine how they can be recognized going forward.  One of the individuals pursuing the additional names is National Park Service Guide and Historian Britt Charles Isenberg, a graduate of Millersburg Area High School, who presented a program at Millersburg on 11 November 2015.
For Patrick Fay, the first step is to determine his Civil War service.
Two Pension Index Cards for a person named Patrick Fay have been located on Fold3.  The first card, for a Patrick Fay who served in the 96th Pennsylvania Infantry, Company K, shows that his mother applied for a pension in 1863.  That one can be eliminated [he could not have been alive in the 1880s to help found the Millersburg G.A.R.].  The second card, shown below, is for a Patrick Fay who served in the 149th Pennsylvania Infantry, Company H.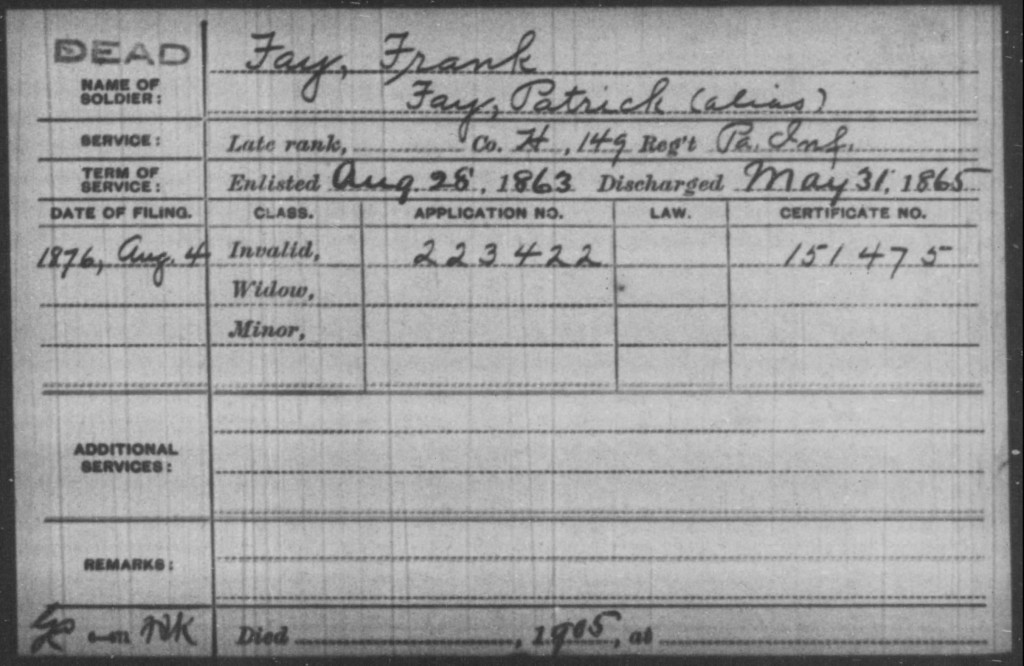 These facts on the Pension Index Card are noted:  (1) Patrick Fay served from 28 August 1863 through 31 May 1965; (2) He applied for a pension on 4 August 1876, which he apparently received; (3) No widow applied, indicating that he was either unmarried or his wife preceded him in death; and (4) He died in 1905.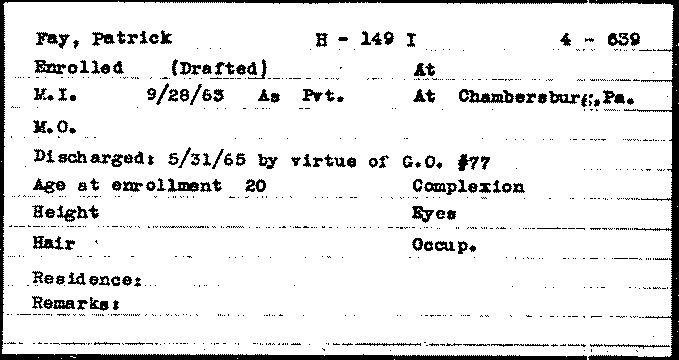 The Pennsylvania Veterans' File Card (shown above from the Pennsylvania Archives), indicates that Patrick Fay was drafted, that he was mustered into service at Chambersburg, Pennsylvania, and that he was 20 years old (born about 1845) at the time of enrollment.
One final fact has been found.  In the 149th Pennsylvania Volunteer Infantry in the Civil War, by Richard E. Matthews, there is the following, describing the Battle of the Wilderness, 5 May 1864:
Surgeon Harshberger was kept busy at his dressing table "until long after midnight."  Stretcher bearers removed the shattered bodies from the ambulances placing them on the ground outside the hospital tent.  Twenty-year old Patrick Fay, a substitute, was one of the many casualties with arm and leg wounds.  His was a musket ball wound through the left thigh….
No person with matching military record has been found in the 1890 Veterans' Census. It is possible that the person who served in the 149th Pennsylvania Infantry has been mis-filed under a different name, but he should appear somewhere in 1890 because he died in 1905.
So, is this the correct Patrick Fay, who apparently was born about 1845 and died 1905?
Research is still ongoing to determine whether this is the correct Patrick Fay.  No doubt there was a Patrick Fay who served in the 149th Pennsylvania Infantry and was wounded.  But does this Patrick Fay have a connection to Millersburg or was there another?
Help is sought in making a connection to Millersburg with anyone named Patrick Fay and a soldier who served in the Civil War.  Comments are invited or send the information via e-mail.
——————————–
Addendum
Two additional Pension Index Cards are shown below (from Ancestry.com), each showing service through a state other than Pennsylvania, but pension application made while living in Pennsylvania.  Assuming that the Patrick Fay who served in the 149th Pennsylvania Infantry is not the one associated with Millersburg, the clues in the cards below may lead a researcher to the correct one.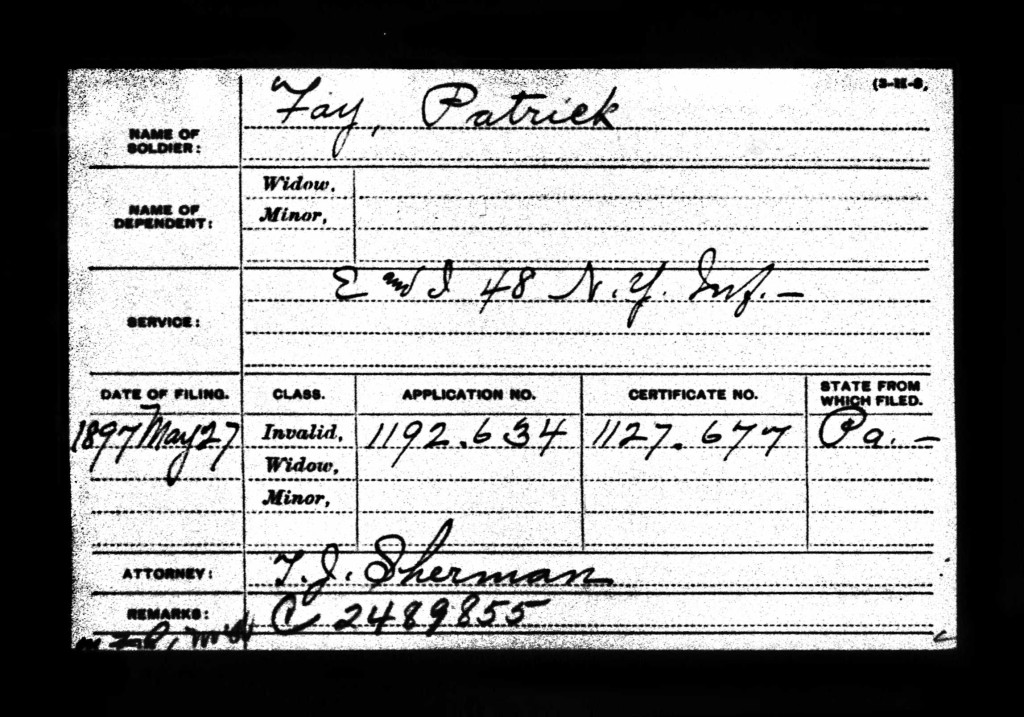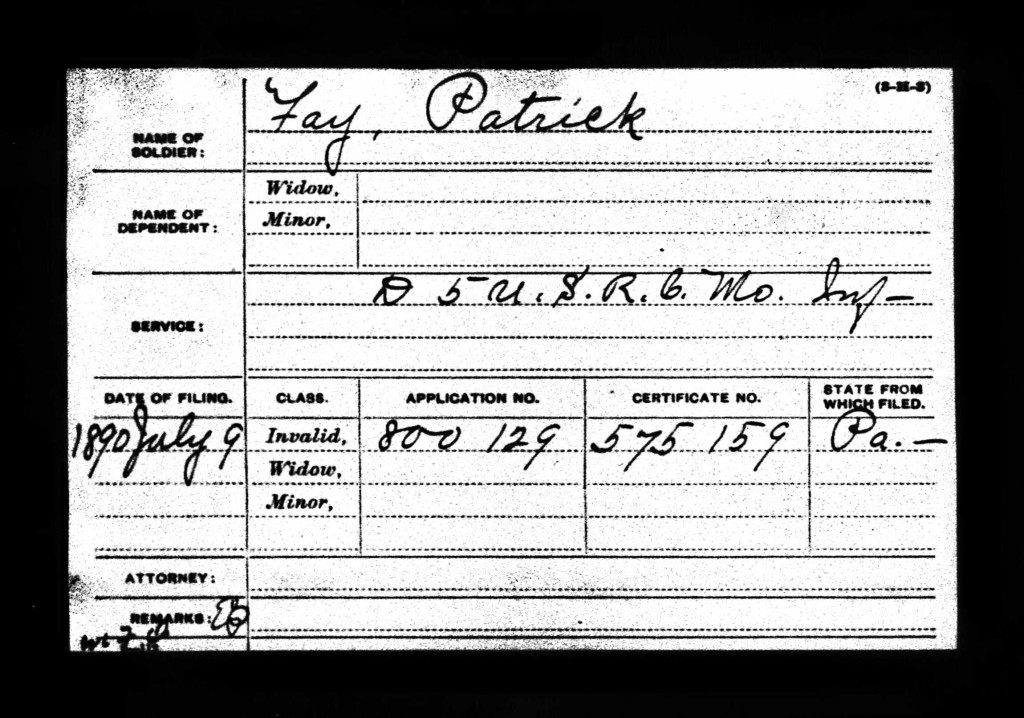 There are probably others who may fit, in some way, the Patrick Fay with the actual Millersburg connection.