Posted By Norman Gasbarro on February 15, 2016

The name Henry A. Higgins appears on the Lykens G.A.R. Monument as a Private who was not a member of the Heilner Post.  Finding information about many of the Civil War soldiers who are named on the Lykens plaque is often difficult owing to common names, spelling variations, and the fact that many died early or moved out of the area many years before the monument was erected.  However, in the case of Henry A. Higgins, he is buried in a section of the Lykens cemetery just a few blocks from the memorial.  That's a good place to begin!
His gravestone, a "military issue" is pictured below in a photo taken by John "Jack" Richter.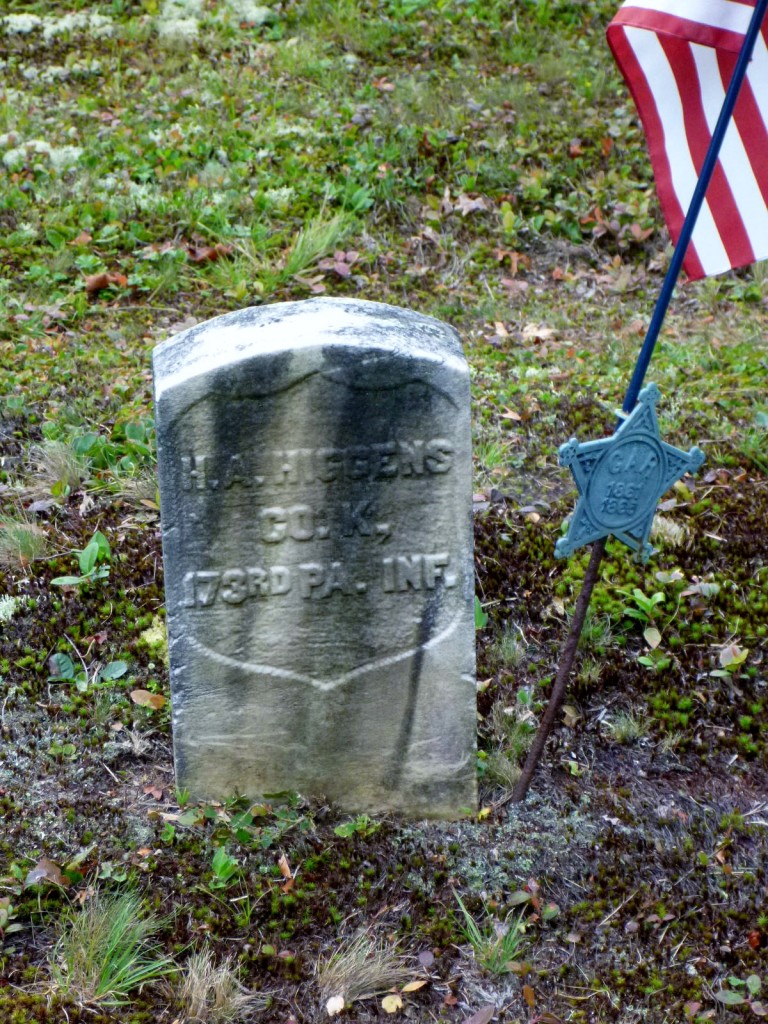 The marker notes that H. A. Higgens served in Company K of the 173rd Pennsylvania Infantry.  Note the variation of the surname spelling.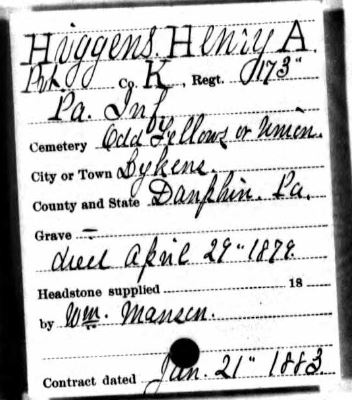 From the database, Headstones Provided for Deceased Union Civil War Veterans (from Ancestry.com), the above card was located noting that Henry A. Higgens died on 19 April 1879, that the stone was contracted on 21 January 1883, and that it was delivered to Lykens – either I.O.O.F. (Odd Fellows) or Union Cemetery.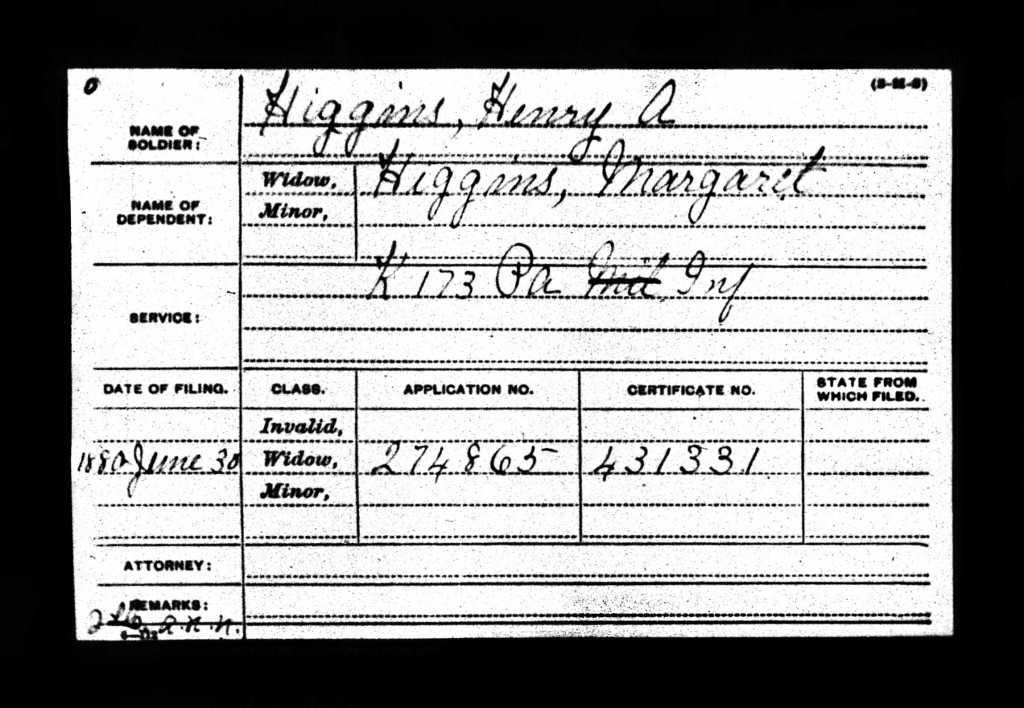 Henry A. Higgins did not apply for a Civil War pension, but his widow, Margaret Higgins, did apply on 30 June 1880, and received benefits.  [Above Pension Index Card from Ancestry.com].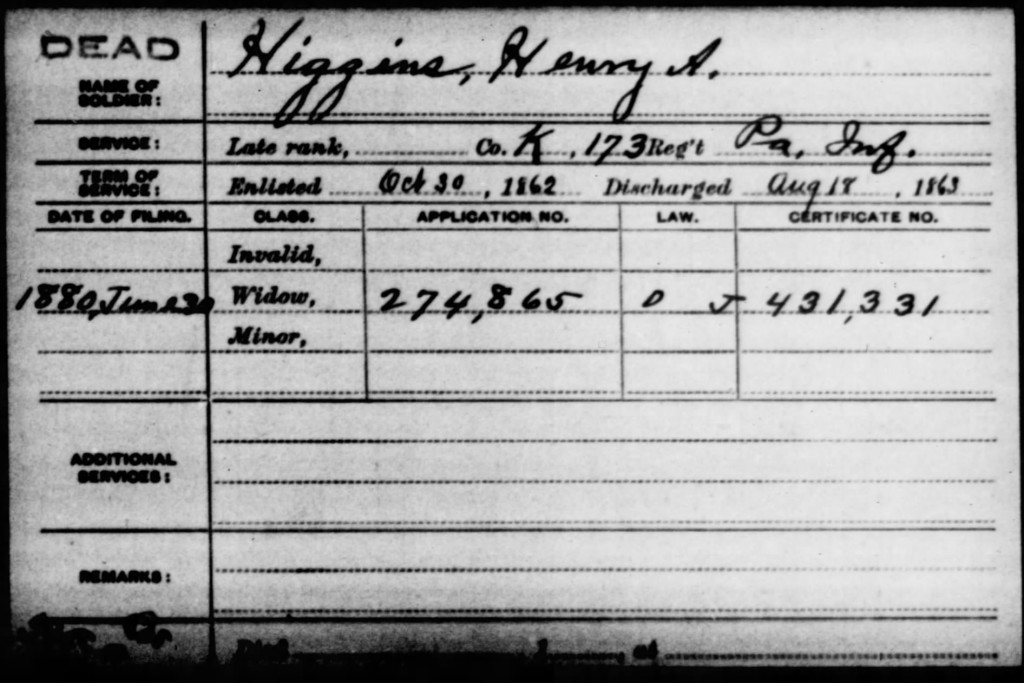 There is no additional information on the Pension Index Card from Fold3 (shown above).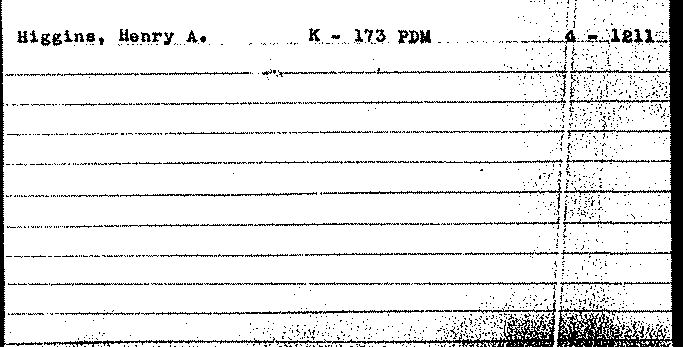 Information in Bates, was obtained through the reference "4-1211" obtained from the upper right corner of the Pennsylvania Veterans' Index Card available from the Pennsylvania Archives.  Henry A. Higgins was mustered into the 173rd Pennsylvania Infantry, Company K, as a Private, on 2 November 1862, and served for nine months, and was honorably discharged with his company on 18 August 1863.  This was a drafted militia as noted by the initials "PDM."
Additional information about Henry A. Higgins is found in the Register of Pennsylvania Volunteers, also available from the Pennsylvania Archives.  Note: Click on document above to enlarge.  Henry enrolled and was mustered in at Camp Curtin, and claimed he was 28 years old at the time (born about 1834).
An 1870 census for Wiconisco Township, Dauphin County, has been located that includes Henry A. Higgins, his wife Margaret, and some minor children.  Henry A. Higgins, head of household, age 35 (born about 1835) , a miner, born in New York; Margaret Higgins, age 27 (born about 1843), keeping house; Charles Higgins, age 10 (born about 1860); John Higgins, age 8 (born about 1862); William Higgins, age 4 (about 1866); Matilda Higgins, age 2 (born about 1868); and Edwin S. Higgins, age one month (born 1870).
In 1880, the family was still living in Wiconisco Township, minus Henry who had died in 1879, plus four children who had been born between the censuses.  Margaret Higgins, age 37, keeping house, born in Pennsylvania but both parents born in Ireland; John Higgins, age 18, a laborer; Willie Higgins, age 14, a laborer; Annie Higgins, age 8, afflicted with measles; Mary Higgins, age 6; Harry Higgins, age 4; and Joseph Higgins, age 1.  The pension application records, available from the National Archives in Washington, D.C., should give information about the five minor children (age 16 or under) who were left with the mother when the father died in 1879.  Normally, the applicant widow had to prove the birth of each child – giving certification that the children were hers and the veteran's – and that she was legally married.  The pension application files, unless available at the time of the writing of these blog posts, were not consulted – but should contain a treasure trove of information about this family!
Margaret Higgins next appears in the 1890 Veterans' Census for Pottsville, where she is reported as the widow of Henry A. Higgins who served in the 173rd Pennsylvania Infantry.  The actual census for 1890 was lost in a fire, but there is a substitute census for Schuylkill County for 1890, but it is not quite clear which Margaret Higgins is the correct one.  Between 1890 and 1900, a Margaret Higgins appears in several Pottsville city directories.
In 1900, Margaret Higgins, widow, age 55, is living in Scranton, Lackawanna County, Pennsylvania, with her three youngest children.  Margaret indicated that during her lifetime she had 10 children, 5 of whom were still alive.  The children living with her, all unmarried, were:  Harry Higgins, age 23, a day laborer; Joseph Higgins, age 21, also a day laborer; and May Higgins (most likely Mary), age 25, a silk weaver.
In 1910, Margaret Higgins, widow, age 63, was still living in Scranton, with the same three unmarried children.  However, some incorrect information was recorded by the census takers regarding the ages of the children and the total number of children Margaret had during her lifetime – then claiming she had only 5, all of whom were still alive.  Mary Higgins, then said to be 25, was working as a telephone operator; Henry Higgins, then said to be 27, was working as a salesman in a store; and Joseph Higgins, then said to be 22, was working as a laborer in a factory.  This is clearly the same family since other information matches.
It is at this point that the research on this family becomes more difficult.  No death certificate has been located for Margaret, which leads to a possible conclusion that either she re-married or moved to another state.  Also, the same can be said for each of the children who were living with her in 1910 – who when separated from the family unit are difficult to locate in censuses because of their common names.  No doubt, time and patience will produce results – or some one may come forward with some concrete information or clues as to where to look.
What also has not been researched is the following:  (1) Where in New York was Henry A. Higgins born, and where did he live in 1850 and 1860?  (2) Why did Henry move to Lykens?  (3) How did he die?  (4) The military records of Henry A. Higgins are available at the National Archives, and should be consulted.  (5) The pension application of the widow Margaret, is available at the National Archives?  (6) Why did Margaret move to Pottsville, and then to Scranton?  (7) Other than the fact that Henry is buried in a Lykens cemetery, did the family have any connection to Lykens after Margaret moved to Pottsville?  (8) Which two children other than the three in the 1900 and 1910 censuses, were still alive in those years and where were they living and did they have families/descendants?
An additional fact should be considered when researching this soldier.  He was most likely of the Roman Catholic faith.  A Findagrave Memorial has him buried at the Irish Catholic Cemetery in Lykens.  The first Roman Catholic church in the Lykens Valley was established at Lykens because of the large number of Catholics there associated with mining, but the records (birth, baptism, confirmation, death) are not published/available in the same way as the Protestant churches records are available.  However, the original parish, Our Lady Help of Christians, still exists and is adjacent to the cemetery where Henry is buried.  To find out what records are available, the church can be contacted through its web page.
Comments are welcome and can be added to this post or sent by e-mail.