Posted By Norman Gasbarro on February 12, 2016
One piece of information, a picture of a grave marker, has led to the solving of a mystery about a name found on the Tower City Veterans' Memorial.  As a result of finding the picture, much more is now known about Adam Hand, a Civil War veteran from the Tower City area.
In a 28 May 2015 post here and again on 7 August 2012 (picture of plaque below), the name "Adam Hand" was listed among veterans – but he was completely unknown.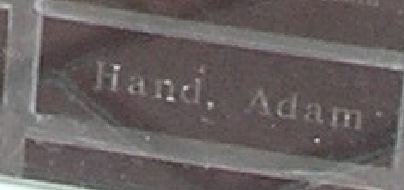 The grave marker, shown above from Riverside Cemetery, Sterling, Whiteside County, Illinois, indicates that an Adam Hand, who was born on 31 March 1843 and died on 10 February 1910, served as a 1st Lieutenant in Company B of the 184th Pennsylvania Infantry.  See:  Findagrave Memorial.
Using that information, a search was done on Fold3 to see if the Adam Hand who served in the 184th Pennsylvania Infantry applied for and collected a pension.  The Pension Index Card (shown below) revealed that he did, and that he also served in two other Pennsylvania regiments.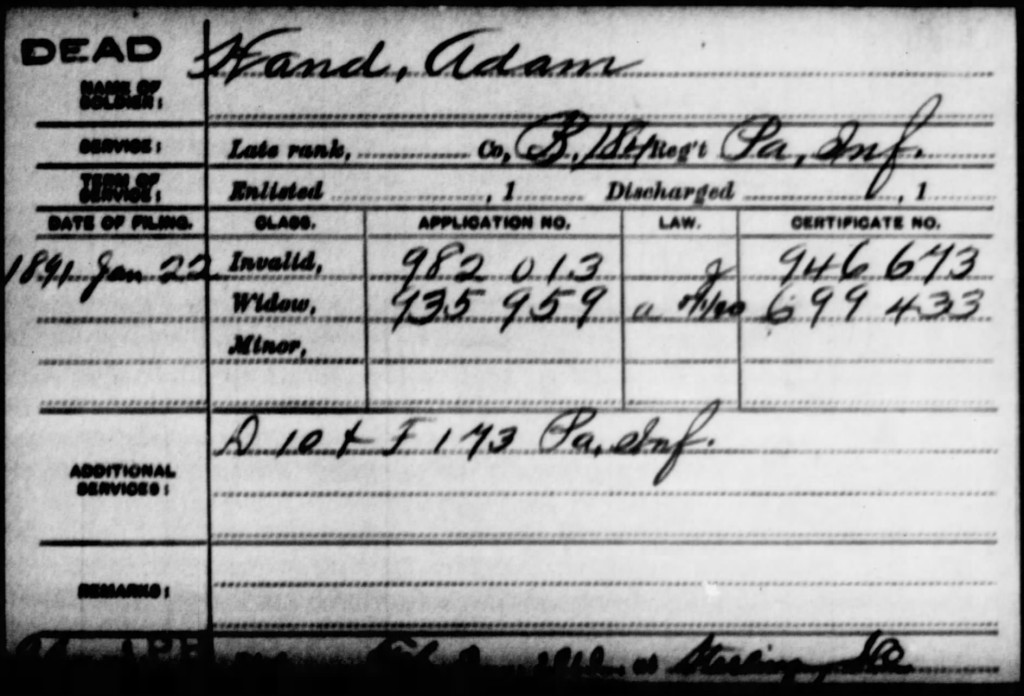 The Pension Index Card also confirms that Adam Hand died in February 1910 in Sterling, Illinois, that he applied for a pension on 20 January 1891, and that a widow applied after his death.
Researching the regiments in which this Adam Hand served, three Veterans' Index Cards were located (shown below from the Pennsylvania Archives):
Adam Hand enrolled in the 10th Pennsylvania Infantry at Pine Grove, Schuylkill County, and was mustered into three months service in Company D on 23 April 1861.  At the time, he was 19 years old, was working as a laborer, and was living in Pine Grove.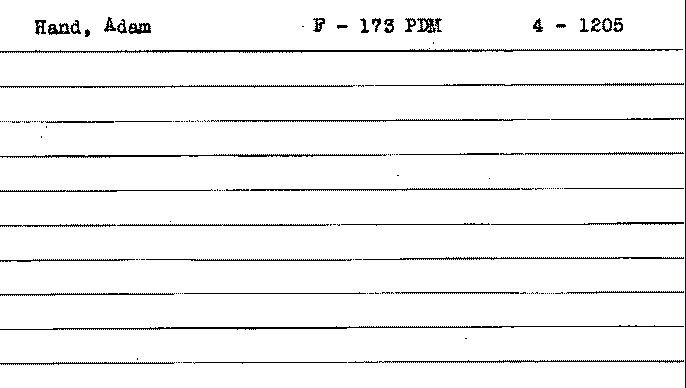 Adam Hand second enrolled in the 173rd Pennsylvania Infantry, Company F, as a Sergeant, and was mustered in on 1 November 1862, and served until 16 August 1863, when he was honorably discharged.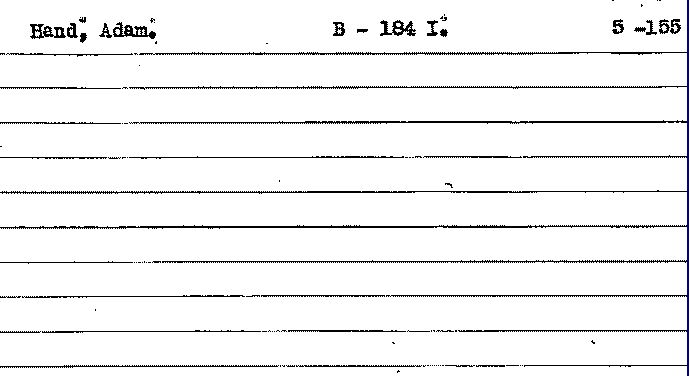 Adam Hand third enrolled and was mustered into the 184th Pennsylvania Infantry, Company B, as a 1st Sergeant on 4 March 1864.  On 14 December 1864, he was promoted to 1st Lieutenant.  He was discharged with his company on 9 June 1865.
The connection to the geographical area of this Research Project is established through his Pine Grove residence as given on the Pennsylvania card for the 10th Pennsylvania Infantry.
Some additional information that can be found about this soldier/veteran is as follows:
Adam Hand was located in the 1850 Porter Township Census, Schuykill County, living with his parents, Abraham Hand and Polly Hand, and siblings, two of whom also later served in the Civil War: Jesse Hand and Isaac Hand.
On 19 February 1876, Adam Hand married Ellen J. Welker in Ogle County, Illinois.  Ellen J. Welker was the daughter of Moses B. Welker and Hannah Trego.  She was born in Northumberland County, Pennsylvania about 1855.  The Moses Welker family was part of an earlier migration to Ogle County, an area in Illinois that seemed to attract a sizable number of transplants from Dauphin County, Pennsylvania.
In 1880, Adam Hand was living in Lincoln Township, Ogle County, Illinois.  He was living in a farmer's household as a servant and was working as a farm laborer.  His wife Ellen was also a servant.  The couple had two children:  Charles Hand, age 5; and Hattie Hand, age 2.
On 22 Jan 1891, Adam Hand applied for a pension from Illinois.  As shown on the Pension Index Card from Ancestry.com, after his death in 1910, his widow, Ellen J. Hand applied for benefits on 14 February 1910, also from Illinois.
In 1900, the family had moved to Sterling, Whiteside County, Illinois.  Daughter Hattie was no longer in the household, but Charles, age 24 and single, was.  Both Adam and his son were working as day laborers.
By 1910, Ellen J. Hand was a widow and living with her son Charles in Sterling.
By 1920, Ellen had re-married to Frank Hundatmark and moved to Ogle County, Illinois.  Son Charles was still in her household.  Presumably, as soon as Ellen re-married, she lost the pension she had been receiving through her fist husband's Civil War service.
The information obtained about Adam Hand is certainly not complete – but does show that one good clue (in this case the grave marker) can quickly lead to many documents.  As with all Civil War veterans researched through this Project, more is sought.  What more can be found about his Civil War service?  Why did Adam Hand move to Illinois?  Are there any pictures of him?  Etc….  Anyone who can add more to this story is urged to do so.  Send via e-mail, or add a comment to this post.