Posted By Norman Gasbarro on January 11, 2016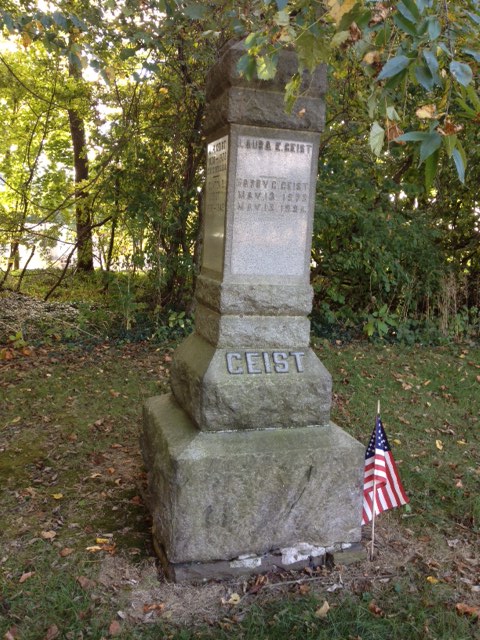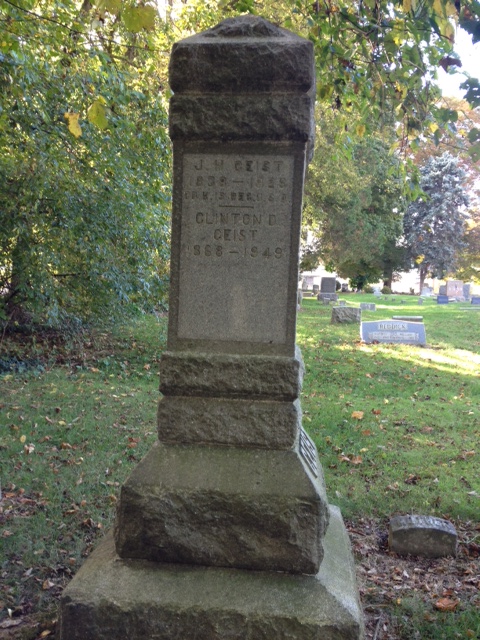 John Henry Geist (1838-1928) was the son of John Geist (1801-1880) and Susanna [Frederick] Geist, who were married in Millersburg, Dauphin County, Pennsylvania, on the 12 December 1824.  But, other than his parents' marriage, did John Henry Geist have a connection with Millersburg and the Millersburg area?
John Henry Geist was a Civil War veteran as documented by grave marker (shown above) and his Pension Index Card, from Fold3 (shown below).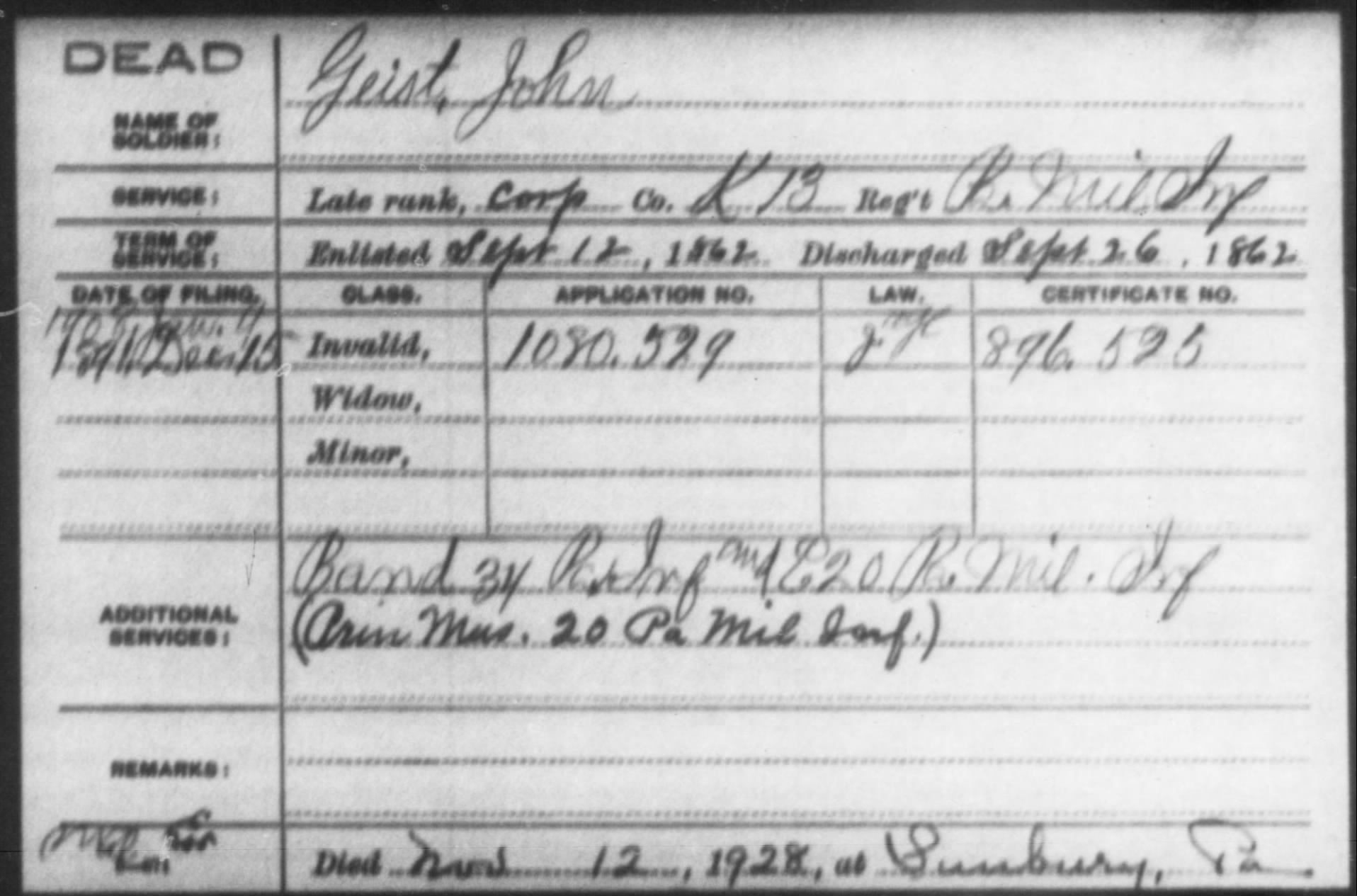 A biographical sketch of John H. Geist (1838-1928), appears in the Northumberland County Annals, page 551:
John H. Geist received his education in the common schools.  He learned the trade of blacksmith, and in 1866 entered the service of the Pennsylvania Railway Company as a tool dresser, being in the same employ in that capacity, for about thirty years, until he was retired and pensioned at the age of sixty-five.   He is a member of the Veterans Association of the Pennsylvania Company and wears a veterans' button.  Mr. Geist is a honorable and respected citizen and enjoys the good will of all who knew him.

During the Civil War, Mr. Geist was in the Union service eleven months, having enlisted at Northumberland in the band of the 5th Regiment, was one of the Emergency Men of the 20th Regiment, a member of the 13th Pennsylvania Militia and also in the Construction Corps in Sherman's Army.  He is a member of Bruner Post, G.A.R., and an honorary member of the Odd Fellows at Sunbury.  In religious connection, Mr. Geist is a Methodist and he served several terms as Steward of the church during his most active years.

In February 1867, Mr. Geist married Anna Elizabeth Kline, who was born 23 December 1844, daughter of DeWitt Kline, and died 23 October 1891, the mother of three children, namely:  (1) Clinton D. Geist, conducts a papering and painting business in Sunbury; (2) Laura Geist, who was an invalid, died unmarried; and (3) Harry C. Geist, lives in Sunbury, where he is engaged as agent for the Prudential Insurance Company….
In that same biographical sketch, the following statement was made about John Henry Geist's parents:
John Geist, son of John Geist and Elizabeth [Koch] Geist, was born 29 September 1801, and in early life learned the trade of tanner with a Mr. Ziegler in Sunbury.  He engaged in the business on his own account in Northumberland until the Old State Canal was built, when he sold out, the canal passing through the property.  He then bought a hotel in the Borough of Northumberland and conducted it for some years, after which he bought a boat and engaged in boating for a few years.  Selling out, he became a lock tender at Chapman, Snyder County, during the Civil War period, tending the locks there for a number of years.  He was toll tender at the North Branch at Northumberland Borough, for eleven years.  He died, on North Second Street, Sunbury, 8 January 1880, and is buried in Pomfret Manor Cemetery

On 12 December 1824, at Millersburg, Dauphin County, he married Susanna Frederick, who was born 25 November 1805, and died 5 February 1893.  She was a member of an old Pennsylvania family, and her parents were living in Philadelphia when the British entered that city, being obliged to take refuge in their cellar until the danger was over.  Eight children were born to Mr. and Mrs. John Geist:  (1) William F. Geist, born 28 September 1825, and died at Pottsville, Pennsylvania, in 1910; (2) Margaret F. Geist, born 6 January 1828, married John Clark; (3) Frederick Geist, born in 1833, died in infancy; (4) Amelia Geist, born 28 February 1835, married H. H. Hetzel, and they live in Williamsport, Pennsylvania; (5) John H. Geist, as mentioned…; (6) Catherine Geist, born 1 June 1840, married Henry Clement, and died 18 August 1899; (7) Michael F. Geist, born 22 October 1842, died in infancy; and (8) Caroline Geist, born 26 September 1846, died 9 May 1854.
Other than the Northumberland County Annals stating that the marriage of John Geist and Susanna Frederick took place in Millersburg, no other evidence has been seen of a connection to Millersburg.  A general connection to the Millersburg area can be assumed if the profession of John Geist was working on the canal in the period prior to the Civil War, and it is possible that Susanna Frederick's family was in Millersburg or the Millersburg area at the time of the marriage.
Returning to the Civil War record of John H. Geist, the service in the 13th Pennsylvania Infantry (Emergency of 1862), Company K, as a Musician, is easily established by the Pennsylvania Veterans' Index Card, shown below from the Pennsylvania Archives.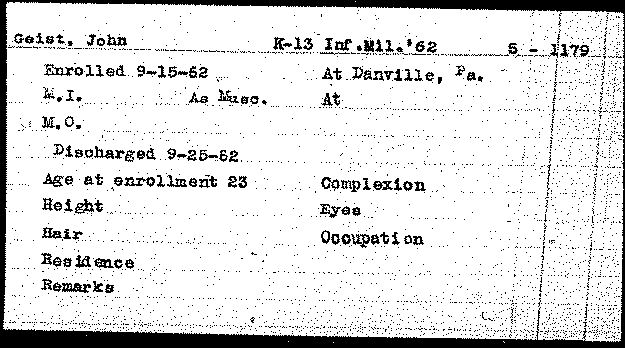 The card shows that this emergency service took place from 15 September 1862 through discharge at the end of the emergency on 25 September 1862.  He enrolled at Danville, Montour County, Pennsylvania, and was 23 years old at the time.  No personal, descriptive information is given on the card.
The other service, as noted in the Northumberland County Annals and on the Pension Index Card, is not as easily established.  For example, if he served in the 5th Pennsylvania Infantry, his name is not found in that regiment in the cards available at the Pennsylvania Archives, nor is it found in other on-line lists for the 5th Pennsylvania Infantry.  Likewise, if the regiment was erroneously referred to as the 5th Pennsylvania Infantry, when instead it was the 5th Pennsylvania Reserves, he was not located in that regiment either.  A similar problem occurs for the 20th Pennsylvania Infantry (Emergency of 1863) where he also is not located. However, a card was located for a John H. Geist in the 47th Pennsylvania Infantry (Emergency of 1863), Company A, as a Private, but this is probably not the same person since the age is off by at least 5 years and the enrollment took place in Lancaster County.
If John H. Geist was with Sherman's Army as it moved across Georgia to the sea, he could have been a civilian employee and those records, if they exist, would not be found among the the military records.  A descendant of John H. Geist has provided a digital image of a receipt of payment and "honorable discharge" to a John Geist who worked "one month and —- days" in the 3rd Corps Construction Division, with the discharge date of 17 May 1865 at New Bern, North Carolina. The header on the receipt was "United States Military Railroads."  This information might help other researchers locate additional records on John H. Geist and this non-military service.
Another place to look to confirm what exactly John H. Geist was doing during the Civil War, would be the pension application file, available at the National Archives in Washington, D.C.  That file has not been consulted for this blog post.  All of the regiments, companies, and ranks that he named in the application, were confirmed by the Pension Bureau and some evidence of service in each will be found in the files – perhaps even testimonials as to his exact service.  It does appear though that the pension was based solely on the claimed military service, and not on John H. Geist's service with the Construction Division.
As for his later career with the Pennsylvania Railway Company as noted in the biographical sketch, his gravitation toward this vocation may have had something to do with his wartime service, especially if the Construction Division was connected to the United States Military Railroads – and his wartime service may have had something to to with his earlier-learned trade of blacksmith.  This latter application of this trade to the Military Railroad Service is the first seen among those veterans researched for this Project, as blacksmiths usually ended up in cavalry regiments shoeing horses.
There are still many questions to be answered about this veteran and his connections to Millersburg.  As always, comments are welcome and can be attached to this post or sent by e-mail.
——————————-
Grave marker photos are courtesy of a family member.