Posted By Norman Gasbarro on January 4, 2016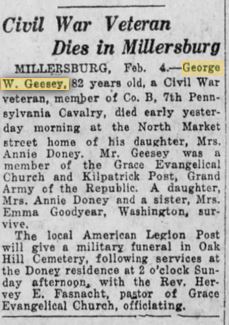 George W. Geesey, whose name appears on the Millersburg Soldier Monument as a Civil War veteran, died on 3 February 1927.  For much of his working life, he served as the janitor or custodian of the Millersburg train station/depot and was employed by the Pennsylvania Railroad.  He retired in 1915 after 30 years of service and was pensioned by the railroad.
His obituary contained the following information about him:
Civil War Veteran Dies in Millersburg

Millersburg, 4 February 1927 — George W. Geesey, 82 years old, a Civil War veteran, member of Company B, 7th Pennsylvania Cavalry, died early yesterday morning at the North market Street home of his daughter, Mrs. Annie Doney.  Mr. Geesey was a member of the Grace Evangelical Church and Kilpatrick Post, Grand Army of the Republic.  A daughter, Mrs. Annie Doney and a sister, Mrs. Emma Goodyear, Washington, survive.

The local American Legion Post will give a military funeral in Oak Hill Cemetery, following services at the Doney residence at 2 o'clock Sunday afternoon, with the Rev. Hervey E. Fasnacht, pastor of Grace Evangelical Church, officiating.  [From:  Harrisburg Evening News, 4 February 1927].
George W. Geesey is buried at the Oak Hill Cemetery in Millersburg. Some further information about him can be found at his Findagrave Memorial.
His Pennsylvania Veterans' File Card from the Pennsylvania Archives (above), states that he was a recruit into the service of the 7th Pennsylvania Cavalry on 8 February 1864 at Harrisburg at age 20, that he was born at Lancaster County, Pennsylvania [5 December 1844] and was mustered into Company B of that regiment on the same day that he enrolled.  At the time, he was 5 foot, 6 inches tall, had a light complexion, light hair, and blue eyes.  He was a farmer, then living in Dauphin County.
The Pension Index Card (above) from Fold3, indicates he applied for benefits on 30 July 1890, which he received and collected until his death, as noted on the card, 3 February 1927, at Millersburg.
An individual picture of Private Geesey has not been seen and would be appreciated to add to the Project collection.  Although he is most likely pictured on the G.A.R. photo (shown below) at the dedication of the Millersburg Soldier Monument, none of the members in that photo have been identified by name.  Anyone with a picture to contribute of George W. Geesey is requested to do so by sending it as a digital attachment to an e-mail, or identify him on the group photo below.