Posted By Norman Gasbarro on January 13, 2016
The three men whose obituaries appear below all served in the 2nd Company G of the 103rd Pennsylvania Infantry as Privates.:
——————————–
Adam Flinchbaugh Geesey (1841-1921):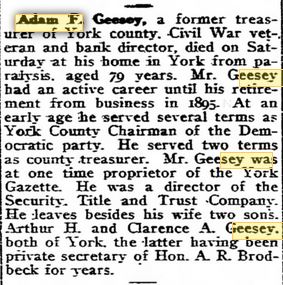 Adam F. Geesey, a former treasurer of York County, Civil War veteran and bank directory, died on Saturday at his home in York from paralysis, aged 79 years. Mr. Geesey had an active career until his retirement from business in 1895.  At an early early age he served several terms as York County Chairman of the Democratic Party.  He served two terms as county treasurer.  Mr. Geesey was at one time proprietor of the York Gazette.  He was a Director of the Security, Title and Trust Company.  He leaves besides his wife two sons, Arthur H. Geesey and Clarence A. Geesey, both of York, the latter having been private secretary of Hon. A. R. Brodbeck for years.  [From: Gettysburg Compiler, 5 March 1921].
———————————-
Edwin Daniel Geesey (1836-1900):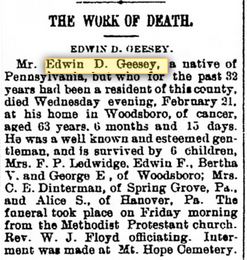 THE WORK OF DEATH

EDWIN D. GEESEY.

Mr. Edwin D. Geesey, a native of Pennsylvania, but who for the past 32 years had been a resident of this county, died Wednesday evening, 21 February 1900,at his home in Woodsboro, of cancer, aged 63 years, 6 months and 15 days. He was a well known and esteemed gentleman, and is survived by 6 children:  Mrs. F. P. Ledwidge, Edwin F. Geesey, Bertha V. Geesey, and George E. Geesey, of Woodsboro; Mrs. C. E. Dinterman, of Spring Grove, Pennsylvania; and Alice S. Geesey, of Hanover, Pennsylvania.  The funeral took place on Friday morning from the Methodist Protestant Church, Rev. W. J. Floyd officiating.  Interment was made at Mt. Hope Cemetery.  [From:  The News (Frederick, Maryland), 26 February 1900].
————————————-
Benjamin Franklin Geesey (1825-1905):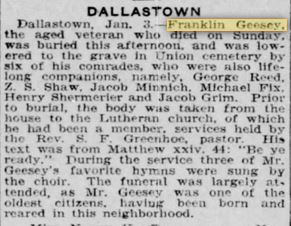 DALLASTOWN

Dallastown, 3 January 1905 — Franklin Geesey, the aged veteran who died on Sunday, was buried this afternoon, and was lowered to the grave in Union Cemetery by six of his comrades, who were also lifelong companions, namely, George Reed, Z. S. Shaw, Jacob Minnich, Michael Fix, Henry Shermerier, and Jacob Grim.  Prior to burial, the body was taken from the house to the Lutheran Church, of which he had been a member, services held by the Rev. S. F. Greenhoe, pastor.  His text was from Matthew XXIV, 4: "Be ye ready."  During the service three of Mr. Geesey's favorite hymns were sung by the choir.  The funeral was largely attended, as Mr. Geesey was one of the oldest citizens, having been born and raised in the neighborhood.  [From: York Daily, 4 Jan 1906].
——————————
News clippings are from Newspapers.com.