Posted By Norman Gasbarro on December 23, 2015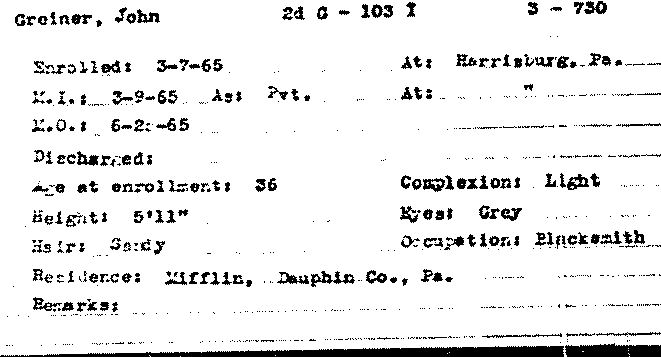 John Greiner, who was about 36 years old (born about 1829) when he enrolled in the 103rd Pennsylvania Infantry, Company G, as a Private at Harrisburg on 7 March 1865 and was mustered into service at the same place two days later, was 5 foot eleven inches tall, had sandy hair, a light complexion, and gray eyes.  He indicated that he was a blacksmith by occupation and that he resided in Mifflin Township, Dauphin County.
He apparently was awarded an honorable discharge in June 1865 when he was mustered out with his company.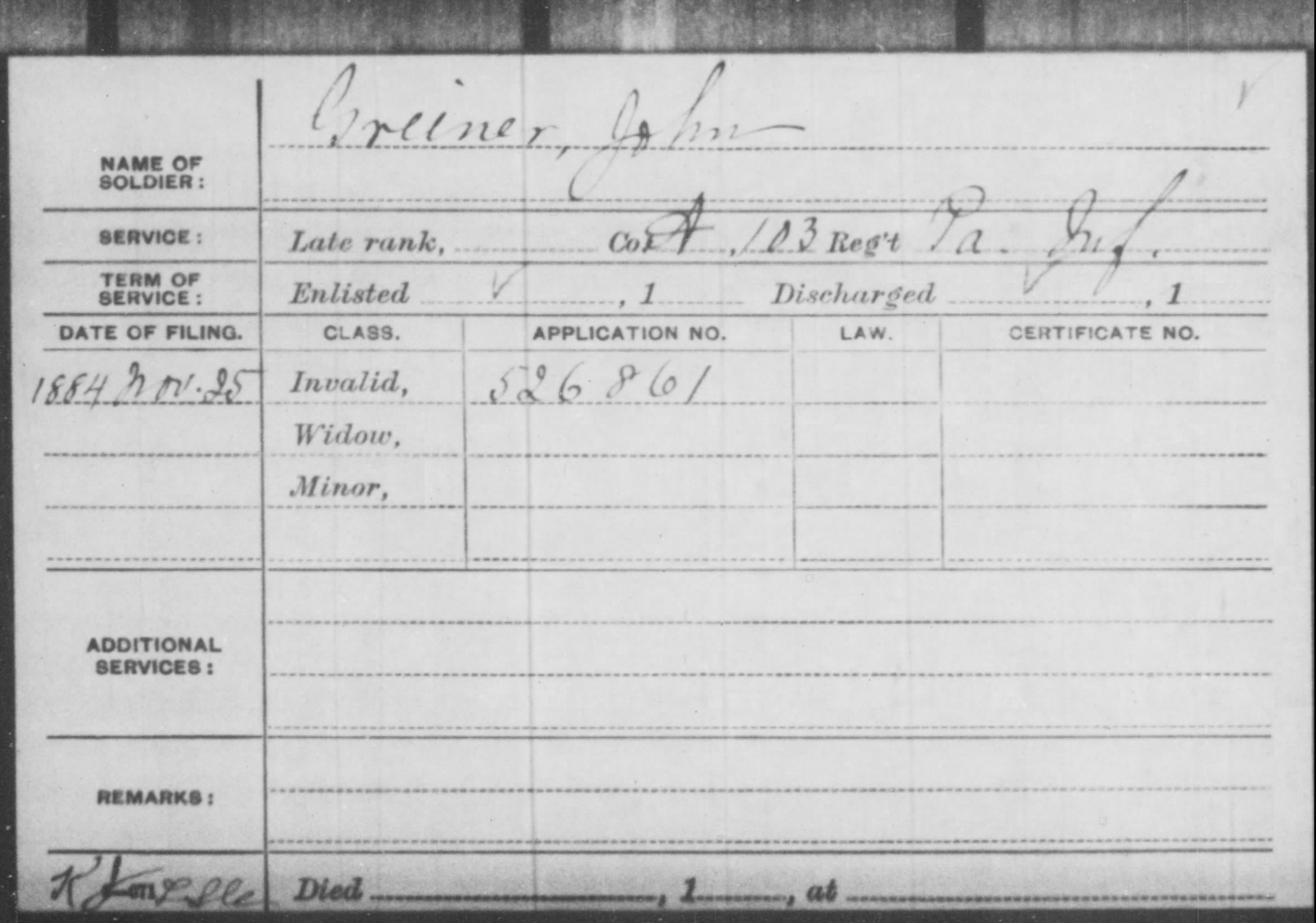 On 25 November 1884, he applied for an invalid pension, which, according to the Pension Index Card (from Fold3), was not awarded to him. No death date appears on the card.  There is no evidence that a widow ever applied.
In 1890, in Williams Township, Dauphin County, John Greiner appeared in the Veterans' Census, in which he named the 103rd Pennsylvania Infantry as his Civil War service, with dates of service consistent with those dates that appear on the Pennsylvania Veterans' Index Card (from Pennsylvania Archives).
At this time, not much else is known about him.  When did he die?  Where is he buried?  Was he married and to whom?  Who were his parents?  Did he have children?  Did he live in any other communities in the Lykens Valley area?
In 1860, there was a John Greiner, age 31, living in Washington Township, Dauphin County, and working as a laborer.  Also in the household, were a wife, Margaret Greiner, age 27, and two children:  Mary J. Greiner, age 8, and George H. Greiner, age 5.  Is this the same John Greiner?
In 1880, there was a John "Grenier", age 51, living in Williamstown, Dauphin County, working as a coal miner. His wife Margaret, age about 47, was in the same household.  Is this the same John Greiner?
There is a John Greiner buried at Seybert's Cemetery in Williamstown, but the Findagrave Memorial does not indicate Civil War service.  That John Greiner was born on 4 April 1829 and died on 17 January 1896.  There is also a Margaret Greiner buried at the same cemetery, born 26 December 1832, and died, 15 March 1896.  The Findagrave Memorial does not mention a wife for John and does not picture a grave marker for either Margaret or John.  Is this the same John Greiner?  In a recent photographic trip to Seybert's Cemetery, neither grave was seen, but the maintenance of this cemetery is not too good and the stones could have been missing, unreadable or broken.
It seems as if the John Greiner who was married to Margaret is the same person as the one who served in the Civil War, but more conclusive proof is needed.   Readers are invited to provide research notes by adding comments to this blog post or by sending an e-mail to the Civil War Project.
———————————
Note:  If the Civil War veteran is the same John Greiner who lived in Washington Township in 1860, then he belongs in the revised, comprehensive list of Civil War veterans that is being compiled for the Elizabethville (and area) Bicentennial in 2017.  Related photographs are also appreciated.