Posted By Norman Gasbarro on December 20, 2015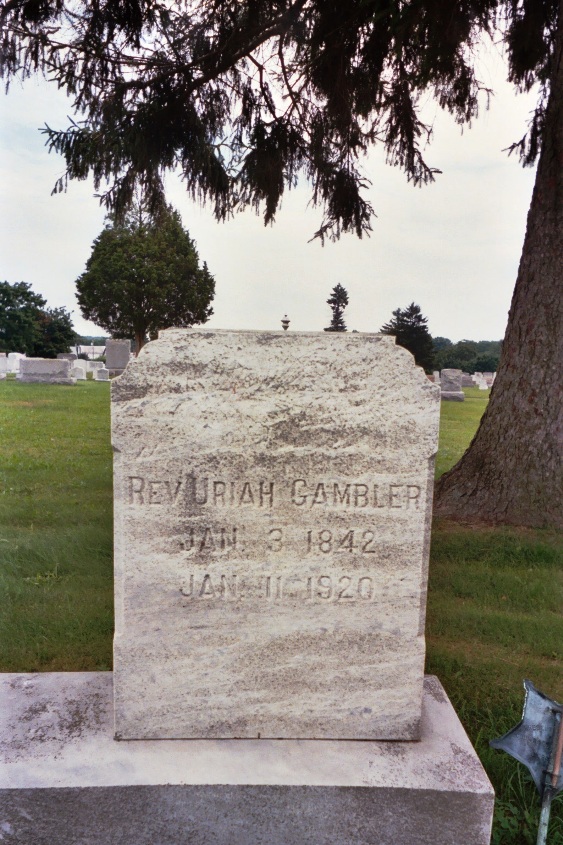 Originally, the name of Uriah Gambler was added to the Civil War Project as a result of his name being found in the Berrysburg, Dauphin County, Veterans' Census of 1890.  After researching him further and his grave and obituary located, it was found that he was born in Berks County, that he was a United Brethren minister, and that he spent most of his career in Lebanon where he is buried at the Covenant Grenwood Cemetery in Ebenezer.  It was through one of his obituaries (shown below), that it was discovered that he also served churches in Elizabethville, Dauphin County, and Tower City, Schuylkill County, two communities well within the geographical area of the Civil War Research Project.
Elizabethville will be celebrating its Bicentennial in 2017 and an effort is being made in advance of that celebration to identify all Civil War veterans with some connection to that community.  Pictures of these veterans are being sought for a display.  If anyone reading this post has access to a picture of the Rev. Uriah Gambler, at any stage in his life, and can share that picture, a digital copy is desired that can be printed and used for the display.  Please send as an attachment to an e-mail.  Clearly, if Rev. Gambler had some affiliation with one of the churches in the Elizabethville area, he should be recognized!
The obituary is from the Lebanon Daily News, 12 January 1920: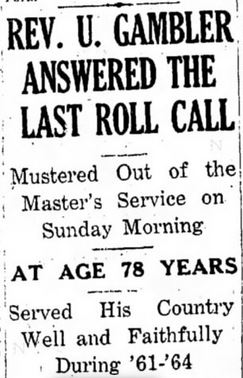 REV. U. GAMBLER ANSWERED THE LAST ROLL CALL

Mustered Out of the Master's Service on Sunday Morning

AT AGE 78 YEARS

Served His Country Well and Faithfully During '61-'64

Rev. Uriah Gambler, one of Lebanon's most highly respected and esteemed retired ministers, and an exponent of the old-time practical system of religion, died on Sunday morning at 4 o'clock, at his home at 826 Church Street. In despite of the fact that he passed his 78th birthday anniversary on January 3rd of this year, he enjoyed remarkable health until Christmas week. On the day before the big celebration, he was taken ill with what appeared to be an attack of lagrippe. Although the malady did not seem serious at first, it soon developed into complications, and medical aid was unavailing in the efforts to restore him to health.

Born in Berks County

Mr. Gambler was born and raised in Berks County. He spent his early years as a stone mason. When the war broke out he enlisted in Company I, 128th Pennsylvania Volunteers [128th Pennsylvania Infantry], and upon the expiration of his first enlistment, went back into the army again as a member of Company B, 205th Infantry [205th Pennsylvania Infantry]. He had an honorable record, and besides being wounded, was imprisoned for a time. He saw many experiences quite out of the ordinary.

After the war he took up the work of a local preacher, and was later ordained into the ministry of the United Brethren Church.

Came to Lebanon 36 Years Ago

Thirty-six years ago he came to Lebanon to assume the pastorate of Salem United Brethren Church, Ninth and Church Streets.  After service of several years he was transferred to other points under the old itinerant system, and twenty-three years ago he was assigned to the pastorate of the church at West Lebanon. He was there but a short time when he was incapacitated by failing health, and has lived a retired life ever since.

Old Time Exhorter

He was one of the old time ministers of un-ostentatious manner and a direct and practical type of theology.  He was widely known, and was held in highest regard by all who knew him.  His death is deplored.  He leaves his wife, nee Susan Baum.  There are no living children, but five grandchildren mourn his loss, together with two brothers, William Gambler, of Reading, and Joseph Gambler of Lebanon, and sister Mrs. Louise Philphot, of Radnor, Pennsylvania.

G.A.R. Veteran

Mr. Gambler was a member of the McLain Post of the Grand Army of the Republic, of Reading.  The funeral will be held on Thursday afternoon, at 1:30 o'clock from the house, and with services in Salem United Brethren Church of which he was the pastor when he came to Lebanon.
————————————–
The information that Rev. Gambler served churches in Elizabethville and Tower City came from a brief notice of his death that appeared in the Reading Times, 15 January 1920: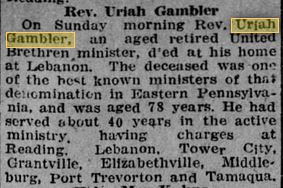 Rev. Uriah Gambler

On Sunday morning Rev. Uriah Gambler, an aged retired United Brethren minister, died at his home at Lebanon. The deceased was one of the best known ministers of that denomination in Eastern Pennsylvania, and was aged 78 years.  He had served about 40 years in the active ministry, having charges at Reading, Lebanon, Tower City, Grantville, Elizabethville, Middleburg, Port Trevorton and Tamaqua.
At this time it is not known which churches he served in those communities or if there are any surviving pictures of him from those church histories.
—————————————
The information that Uriah Gambler lived in Berrysburg comes from the 1890 Veterans' Census of that place, which states his Civil War record.  He did not indicate at that time that he had any disabilities resulting from his service in the war.
—————————————
About three weeks after the death of Uriah Gabler, Mrs. Gambler died.  Her obituary appeared in the Lebanon Evening Report on 4 February 1920: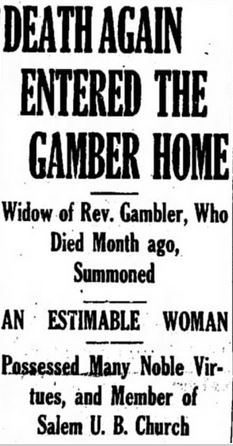 DEATH AGAIN ENTERED THE GAMBLER HOME

Widow of Rev. Gambler Who Died Month Ago, Summoned

AN ESTIMABLE WOMAN

Possessed Many Noble Virtues, and Member of Salem U. B. Church

Death on Tuesday evening, at 7:25 o'clock, again entered the Gambler home, and this time claimed as a victim, Mrs. Susan Gambler, who died nearly a month ago, 11 January, at the same place.  Mrs. Gambler was afflicted with an attack of influenza or grippe, on Wednesday of last week.  The malady speedily developed into pneumonia, and medical aid was unavailing in the effort to restore her to health.

Salem U. B. Member

The deceased was a daughter of the late John D. Baum and Maria R. Baum, of Reading.  She was united in marriage with the minister over a half century ago, and their 54th marriage anniversary was celebrated last October.  She was a member of Salem United Brethren Church, of which her husband was the pastor for a term of years.  The couple lived in Lebanon thirty years, in different periods of time, as Mr. Gambler was a pastor of different churches during his career.

Those Who Survive

She leaves an adopted daughter, Mrs. Emma Palmer; five grandchildren, and the following sisters and brothers:  Charles R. Baum, of Reading; Mrs. Sarah Duffy, Allentown; Mrs. Emma Clark, Reading; John Baum and William Baum of Reading; and Lettitia, a married sister, also of Reading.
——————————-
Additional information about Rev. Uriah Gambler can be found at his Findagrave Memorial.
News clippings are from Newspapers.com.