Posted By Norman Gasbarro on December 28, 2015
Of the three grave stones pictured above, only the one on the right bears a flag representing military service in the Civil War.  The stones, found in the Lexington Cemetery, Lexington, Kentucky are from left to right, marking the graves of: (1) Michael Bernard Gratz (1822-1889); (2) Hyman Cecil Gratz (1836-1866); and (3) Captain Cary Gist Gratz (1829-1861). The three men, buried side by side at Lexinton Cemetery, were brothers.
A brief biography of Michael Bernard Gratz was found in the History of Kentucky, pages 628-629, and contains the following information about his Civil War service:
He also had a military record, being an officer on General Buell's staff in the Union Army.  He rode, starting at sun-up and arriving before dark, the 110 miles from Big Hill to Louisville on his thoroughbred Old Mike to notify the Federal authorities of the advance of the Confederates in their effort to capture Louisville and succeeded in rallying sufficient support to repel that invasion.  He was once asked to go into Wolford County and requisition horses from Confederate sympathizers.  His reply was characteristic:  "I'll take the horses of Bernard Gratz [i.e., his own horses] but will not take those of my old friends, even if they are Confederates."
Michael Bernard Gratz was the son of Benjamin Gratz (1792-1884) of Philadelphia.  His father's brother was Simon Gratz (1773-1839), the founder of Gratz, Pennsylvania, and his first cousin was Theodore Gratz (1811-1863), the first mayor of that town.  Several of the sons of Theodore Gratz were soldiers in the Union Army and these men, who Michael Bernard Gratz probably did not know because of the geographic separation, were first cousins, once removed, of his.  Michael Bernard Gratz had connections with the Gist family, through his mother, Maria Cecil [Gist] Gratz, whose father was Nathaniel Gist (1733-1796) of Revolutionary War fame.  For further information on the Gist family, see:  Civil War Descendants of Nathaniel Gist.
But did Michael Bernard Gratz serve in a regiment in the Civil War or did he only have Union sympathies?
One military record card has been located in the National Archives records available at Fold3 and is shown below: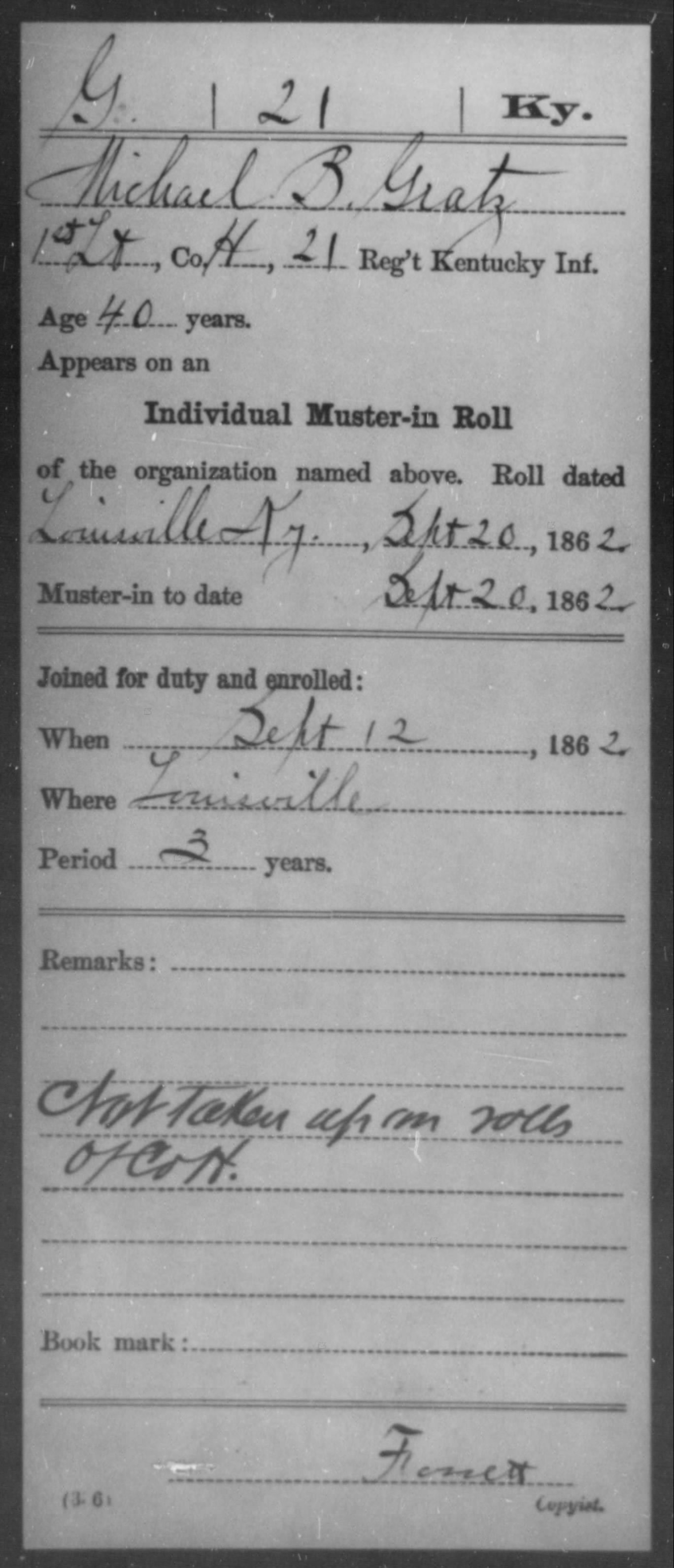 The Military Index Card notes that he joined for duty and enrolled on 12 September 1862 at Louisville, Kentucky, but was not mustered into service until 20 September 1862 into Company G of the 21st Kentucky Infantry, as a 1st Lieutenant.  In the remarks section of the card there is the following:  "Not taken up on rolls of Company H."  Regimental histories give the organizational dates as December 1861 and January 1862 and indicate that most of the members of this fighting group were part of a state guard known as "The Old Infantry."  The date on which Michael Bernard Gratz is credited with enrolling falls within the period when the regiment was marching to Louisville, Kentucky in pursuit of Confederate General Braxton Bragg (20 August 1862 to 19 September 1862), and the muster in date for service falls within the period when the regiment was in pursuit of General Bragg into Kentucky (1 October 1862 to 22 October 1862), with the Battle of Perryville occurring during that latter time period on 8 October 1862.
To date, no other military record has been located for Michael Bernard Gratz through Fold3.
On Ancestry.com, the following evidence of military service was located:  (1) In the database, American Civil War Soldiers, Michael Gratz is credited with enlisting on 12 September 1862 at Louisville, Kentucky, on the Union side, serving the state of Kentucky;  (2) In the database, United States Civil War Soldiers, 1861-1865, Michael B. Gratz, is credited with service for the state of Kentucky on the Union side, in the 21st Kentucky Infantry, Company H, with rank in as 1st Lieutenant, and rank out as 1st Lieutenant; and (3) In the database, U.S. Civil War Soldier Records and Profiles, Michael B. Gratz is credited with enlisting on 12 September 1862 as a 1st Lieutenant serving the state of Kentucky.  Normally, the 2nd and 3rd databases named above give both the enlistment date and discharge dates, but in these cases, only the enlistment date was given, and normally, all three databases give the name of the regiment and company, but in this case, only the 2nd one provided that information.
One additional Civil War record has been located on Ancestry.com, that of the United States Civil War Draft Registration of July 1863.  In that record, the 41 year old farmer from Woodford County, Kentucky, Michael Gratz, registered as single and gave no record of then-current or prior military service.
No record that a Michael Bernard Gratz ever applied for a Civil War disability pension has been seen despite an exhaustive search on both Fold3 and Ancestry.com.  However, this alone would not be strong evidence that he did not serve in Civil War regiment, because he died in 1889, one year before the Federal government significantly relaxed the pension rules making old age a good enough reason to get pension benefits.
At this point, all evidence points toward Michael Bernard Gratz enrolling and being mustered into service as 1st Lieutenant in the 21st Kentucky Infantry, but without any further information, his continued service in that regiment is questionable.
The biographical sketch of Michael Bernard Gratz that appeared in the History of Kentucky (cited above), may give some more insight into his life for those wishing to pursue this matter further, so, some selected portions are given below:
Bernard Gratz was a particularly lovable and big-minded Kentucky gentleman of the finest of social and family connections, and while he never married..any tribute that might be paid his memory would be read with appreciation by the many friends who recall his life and deeds.  The old homestead where he lived most of his life is known as "Canewood" located on the Frankfort Pike fifteen miles west of Lexington in Woodford County…. The estate has been in the Gratz family since 1840.  The house itself is a rambling structure, made up of a series of large rooms and dates back for fully a century….
Then follows a sketch of Benjamin Gratz, the father, of whom it was said "was a staunch Union man" and was a Whig "opposed to secession" but afterwards was a "conservative democrat."  The second marriage of Benjamin Gratz, was also noted – to Anna Bowell Shelby – but there was no mention of Anna's son, Joseph Shelby (1830-1897), who Benjamin Gratz raised in his home as a step-son along with his own children, thus making Michael Bernard Gratz the step-brother of the Confederate General Jo Shelby who the subject of the blog post here entitled:  Cinco de Mayo, the Confederacy, and General Jo Shelby.  See also:  Civil War Descendants of Nathaniel Gist. and on the blog of Susan Sklaroff, A Civil War Tragedy, in which she related the story of the half-brothers Cary Gratz and Joseph Shelby fighting on opposite sides at Wilson's Creek, which is where Cary died.  Cary is buried at Lexington Cemetery and is the third grave pictured at the top of this post.
Continuing the excerpts from the biographical sketch as it appeared in History of Kentucky:
The full Christian name of the late Bernard Gratz was Michael Bernard Gratz, who was born in 1822 and died in 1889, spending most of his life at "Canewood."  Originally this farm comprised 180 acres, being art of the old Alexander estate, but Bernard Gratz had increased the acreage to over 900 when he died.  He became a note thoroughbred horseman as well as a general farmer, and his success in business enabled him to express in practical manner the warmhearted interest and consideration he always felt for the welfare of others.  He had friends both among the rich and the poor and there were none too poor or destitute to escape his care and thoughtfulness.

The foundation and start of his career as a thoroughbred horseman was given him by his aunt, formerly Miss Gist, the wife of Frank Blair, a Washington editor.  She gave him a fine mare, but in later years his stables produced many great horses… He owned his racing sables, but his horses were raced under another name.  He was best known as a breeder, and some of his choicest stock was sold as yearlings.

Bernard Gratz was interested in everything affecting the community, yet was a man of retiring disposition.
When Michael Bernard Gratz died on 18 March 1889, his obituary appeared in the Courier-Journal of Louisville, Kentucky, the next day: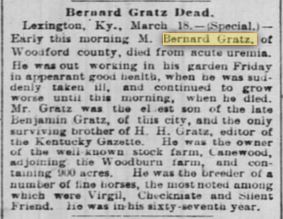 Bernard Gratz Dead

Lexington, Kentucky,18 March 1889 — (Special.) — Early this morning M. Bernard Gratz of Woodford County, died from acute uremia.  He was out working in his garden Friday in apparent good health, when he was suddenly taken ill, and continued to grow worse until this morning, when he died.  Mr. Gratz was the oldest son of the late Benjamin Gratz, of this city, and the only surviving brother of H. H. Gratz, editor of the Kentucky Gazette.  He was the owner of the well-known stock farm, Canewood, adjoining the Woodburn farm, and containing 900 acres.  He was the breeder of a number of fine horses, the most noted among which were Virgil, Checkmate and Silent Friend.  He was in his sixty-seventh year.
Nothing was mentioned in the obituary of Civil War service.
Also, nothing is mentioned in the above-cited sources of whether Michael Bernard Gratz or his father Benjamin Gratz were slave owners, and that issue has not been researched for this blog post.  In reading between the lines in the sources, it could be concluded that the loyalties of at least some members of the family, if not the neighbors in Woodford County, Kentucky, had some slave owner sympathies which were connected to their Confederate positions during the war.  The description of the horse requisitioning incident that appeared in the History of Kentucky, may have been a way for the family of Michael Bernard Gratz to show that he was not a traitor to his friends and neighbors while at the time conceding that he he supported the winning side.  Whether he actually did supply any horses to the Union cause, even from his own farm, is an open question and no evidence has been seen either way.
Additional information is sought from readers who may have additional information about the Civil War service of Michael Bernard Gratz.  At the very least, he must be given credit for enrolling in the 21st Kentucky Infantry, regardless of his motives at the time.  Whether he actually served for any period of time and was honorably discharged or transferred, is still an unresolved issue.
Please add comments to this post or send the information via e-mail.
——————————–
The news clipping is from Newspapers.com.  A free download of History of Kentucky is available from Google Books.