Posted By Norman Gasbarro on December 11, 2015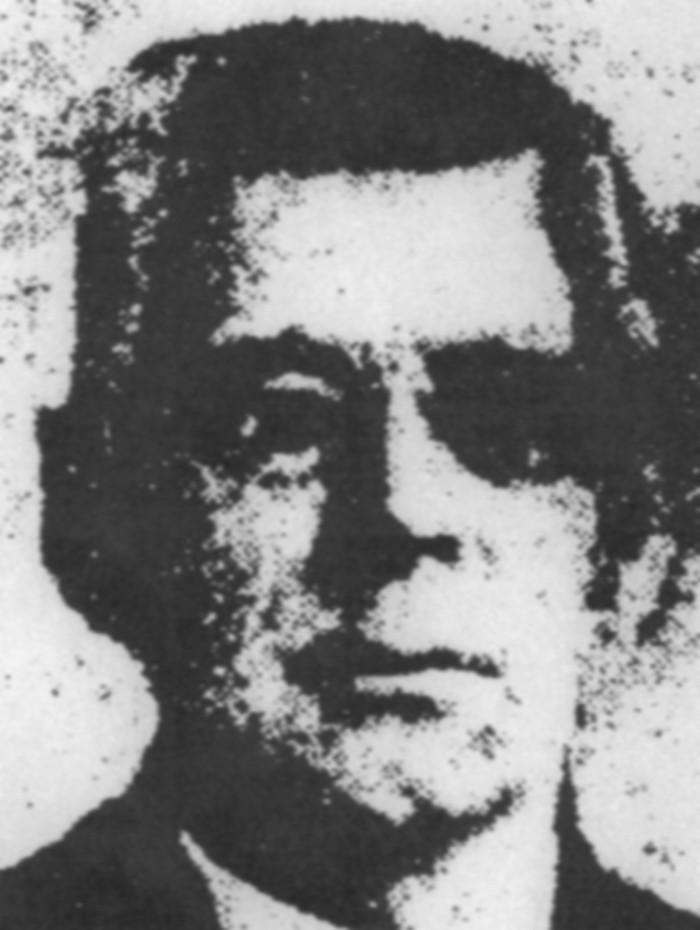 In a brief mention in the Lebanon Daily News (Lebanon, Pennsylvania), 14 April 1913, it was stated that, "as a result of wounds in his head received in the battlefield in the Civil War, Hiram Focht, of Reading, has lost his eyesight."  Hiram Focht is also found in the records as John Hiram Focht, Hiram J. Focht, and J. Hiram Focht.
Hiram Focht died on 21 February 1921 in Reading, Berks County, and was buried in Tremont, Schuylkill County.  The information on his funeral was reported in the Harrisburg Evening News, 24 February 1922:
Former Tremont Citizen To Be Buried Tomorrow

TREMONT, 24 February 1922 — Hiram Focht, a former citizen of this place, died at his home in Reading on Tuesday morning from the infirmities of age.  The body will be brought to Tremont tomorrow morning at 9:27 and taken to the Evangelical Church where services will be held.  Burial will be in the Lutheran Cemetery.  Mr. Focht is survived by his widow and six children:  Minnie Focht, at home; Mrs. Jacob Messner, Philadelphia; Mrs. Joseph Seiger, Blackwood; three sons, Herman Focht, Robert Focht, and John Focht.
During the Civil War, Hiram Focht first served in the 39th Pennsylvania Infantry (Emergency of 1863) from July 1863 through 2 August 1863.  On 1 March 1864, he was mustered into the service of Company A, 50th Pennsylvania Infantry, as a Private, and on 3 May 1864, he was transferred to Company I of the same regiment.  The records indicate that he was mustered out with his company on 30 July 1865. The Pennsylvania Veterans' File Card (shown below) from the Pennsylvania Archives confirms his dates of service in the 50th Pennsylvania Infantry.  But that record does not indicate that he was a prisoner, nor that he was wounded.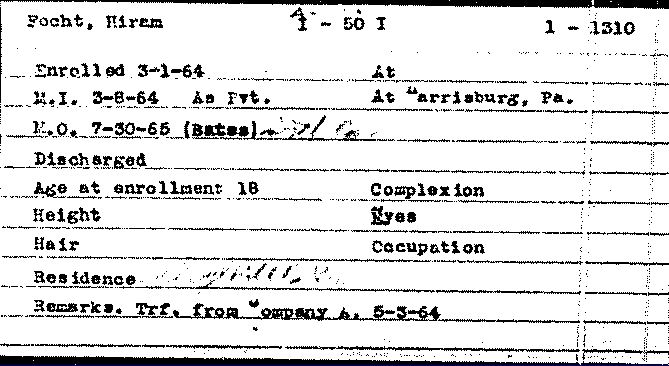 In the 1890 Census of Tremont, Hiram Focht reported that he was wounded during the war and that he was held prisoner for eight months in Andersonville, Georgia.  in 1887, Hiram spent some time at the National Soldiers' Home at Hampton, Virginia, and the record there indicates that during the war he received a gunshot wound to the right thigh and an unspecified injury to the head.  At the time of his admission he gave his occupation as miner and his father's name as Michael Focht, but nothing was recorded about loss of sight.  Discharge from the home came at his own request.
Following the brief notice that informed the public of Hiram's loss of sight (see top of post), an article appeared in the Reading Times, 17 August 1914: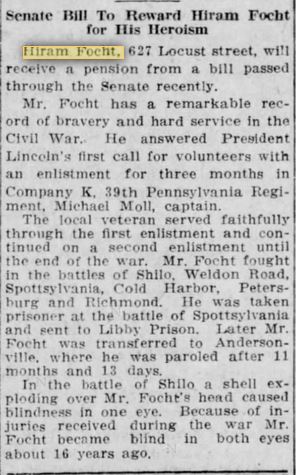 Senate Bill To Reward Hiram Focht for His Heroism

Hiram Focht, 627 Locust Street, will receive a pension from a bill passed through the Senate recently.

Mr. Focht has a remarkable record of bravery and hard service in the Civil War.  He answered President Lincoln's first call for volunteers with an enlistment for three months in Company K, 39th Pennsylvania Regiment, Michael Moll, Captain.

The local veteran served faithfully through the first enlistment and continued on a second enlistment until the end of the war.  Mr. Focht fought in the battles of Shiloh, Weldon Road, Spottsylvania, Cold Harbor, Petersburg and Richmond.  He was taken prisoner at the Battle of Spottsylvania and sent to Libby Prison.  Later Mr. Focht was transferred to Andersonville, where he was paroled after 11 months and 13 days.

In the Battle of Shiloh, a shell exploding over Mr. Focht's head caused blindness in one eye.  Because of injuries received during the war, Mr. Focht became blind in both eyes about 16 years ago.
The information in the above records and articles appears to be inconsistent with the facts.  What is not in dispute is that Hiram Focht was blind.  What is in dispute is the sequence of events in which it was claimed that Private Focht participated.
First, the Emergency Force of 1863 in which Hiram Focht participated was not in response to President Lincoln's call for troops at the beginning of the war.  It was in response to Governor Andrew Curtin's call for militia units to defend Pennsylvania against the invasion by Gen. Robert E. Lee's army in the Gettysburg Campaign.  That emergency service lasted only about 6 weeks in 1863, not 3 months in 1861 as is stated in the article.
Second, Hiram Focht did not begin service in the 50th Pennsylvania Infantry until 1 March 1864.  Therefore, he could not have participated in the Battle of Shiloh which took place in April 1862 in Tennessee.  Besides, the 50th Pennsylvania was in South Carolina during the Battle of Shiloh.  If Hiram Focht was wounded and taken prisoner at Spottsylvania, which occurred in May 1864, and then spent either 8 or 11 months in prison camps, he would not have been available for Cold Harbor, June 1864.  The other two battles mentioned, Petersburg and the Richmond Campaign, took place over a longer period of time during his enlistment, and it is possible that he did see some action during that time – but he would have had to recover from his wounds at Spottsylvania and from any debilitation as a result of being held prisoner before returning to his regiment.  There is also a question about where he was held prisoner, if he was held prisoner, in that no Prisoner of War record has been seen for him.  Hiram's record of service in the 50th Pennsylvania Infantry includes about 17 months between 1 March 1864 and 30 July 1865, but some clarity is needed on where he was during that time and how and if he was mustered during each of the two month intervals for pay.  That information should be on the original muster sheets and should be indexed at the National Archives in Washington, D.C. as part of his military records.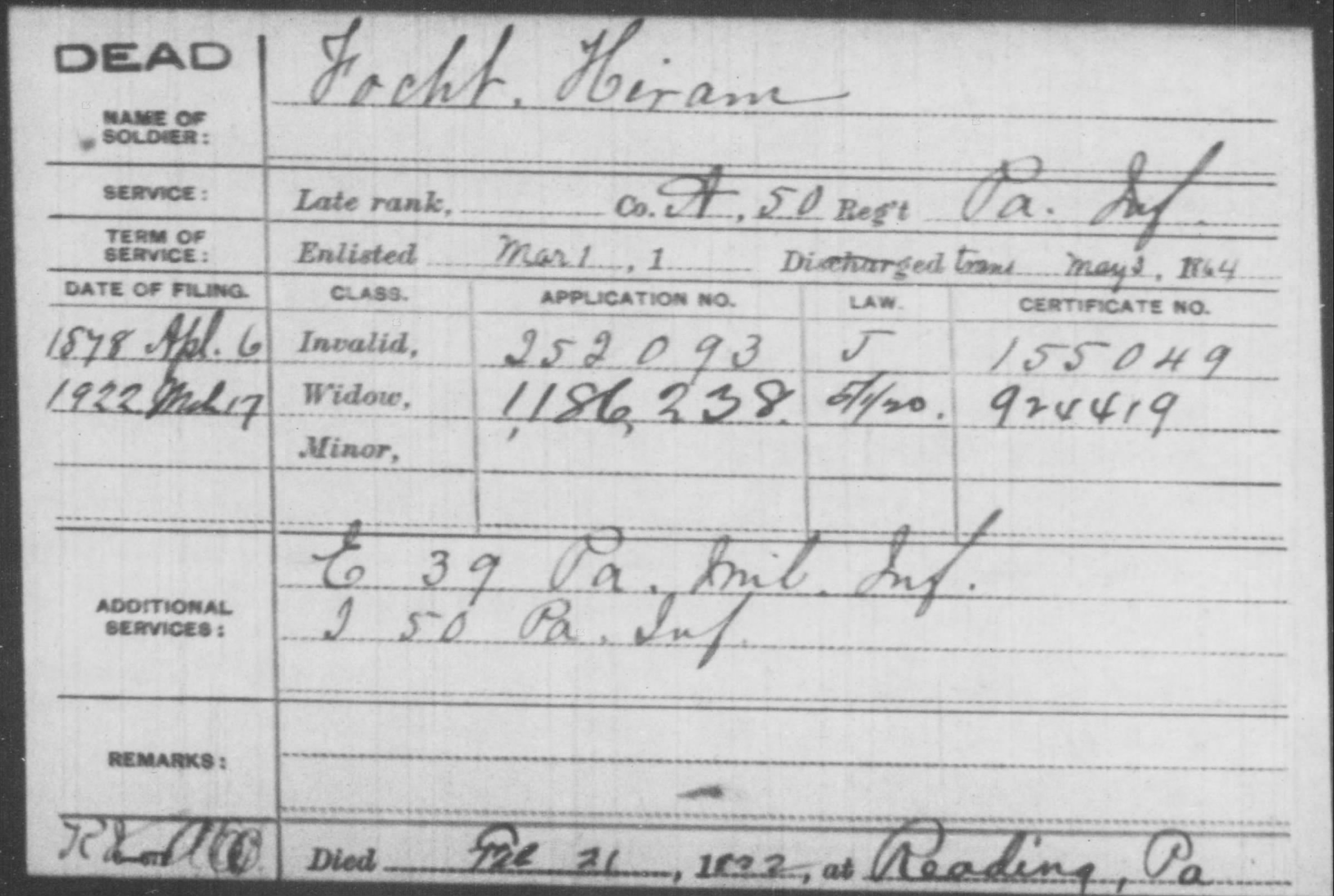 One of the Pension Index Cards (from Fold3) for Hiram Focht is shown above.  The regiments and companies previously noted appear on the card.  Surprisingly, for whatever injuries Hiram received during the war, they weren't serious enough for him to apply immediately for a pension upon discharge.  He waited until 6 April 1878 to apply, but did receive benefits based on that application.  The actual pension application papers can be obtained at the National Archives in Washington, D.C.  They were not consulted in researching for this blog post.
If any reader of this blog has seen the military index cards and/or the pension application papers and is willing to give answers to some of the questions raised here, a response would be greatly appreciated!  Either comment directly to this post, or send by e-mail.
——————————-
The portrait of Hiram Focht at the top of this post is from a public family tree on Ancestry.com.