Posted By Norman Gasbarro on December 2, 2015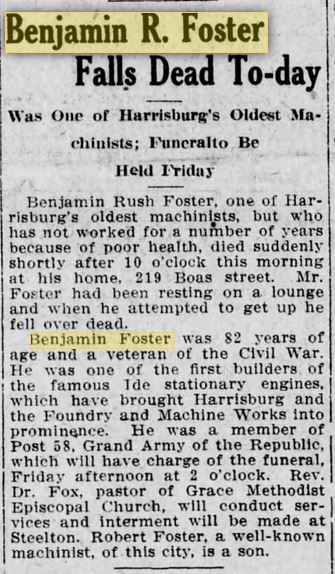 The obituary of Benjamin R. Foster appeared in the Harrisburg Telegraph, 8 February 1911.  While his Civil War service was mentioned, it was not noted in the obituary that he had ties to at least three communities in the Lykens Valley area.
Benjamin R. Foster Falls Dead Today

Was One of Harrisburg's Oldest Machinists

Funeral to Be Held Friday

Benjamin Rush Foster, one of Harrisburg's oldest machinists, but who has not worked for a number of years because of poor health, died suddenly shortly after 10 o'clock this morning at his home, 219 Boas Street.  Mr. Foster had been resting on a lounge and when he attempted to get up he fell over dead.

Benjamin Foster was 82 years of age and a veteran of the Civil War.  He was one of the first builders of the famous Ide Stationary Engines, which have brought Harrisburg and Foundry and Machine Works into prominence.  He was a member of Post 58, Grand Army of the Republic, which will have charge of the funeral, Friday afternoon at 2 o'clock.  Rev. Dr. Fox, Pastor of Grace Methodist Episcopal Church, will conduct services and interment will be made at Steelton.  Robert Foster, a well-known machinist, of this city, is a son.
According to information given at the time of his military enrollment, Benjamin R. Foster resided in Lykens Borough in 1862 when he joined the 127th Pennsylvania Infantry, Company D, as a Private and in 1863 when he joined the Emergency Militia, the 26th Pennsylvania Infantry, Company D, as a 1st Sergeant to help repel Lee's invasion of Pennsylvania.  In 1865, when he served in the 103rd Pennsylvania Infantry, Company G, as a Corporal, he gave his residence as Washington Township, Dauphin County.  According to his military records, he was born in Philadelphia, his death certificate giving his birth date as 18 October 1829, and during each of enrollments he gave his occupation as "railroader."
In 1852, Benjamin R. Foster married Abigail A. Shepherd in Bridgeton, Cumberland County, New Jersey.  The family was living in Lykens Borough in 1860 and Benjamin was working as a fireman on the railroad.  By 1870, he had moved to Wiconisco Township and was working as a locomotive engineer.  In 1880, he was living in Williams Township along with his wife and four children and he was working as a machinist.  For the 1890 Veterans' Census, he was enumerated in Williamstown.  Some time after 1890, he moved to Steelton where he appears in the 1900 census, and later to Harrisburg, where he appears in the 1910 census.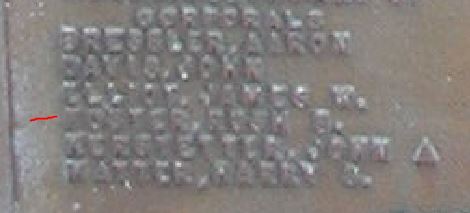 Benjamin R. Foster was recognized on the Lykens G.A.R. Monument as "Rush B. Foster" – someone who served as a Corporal in the Civil War, but who did not join the Heilner Post at Lykens.  Initially, it was thought that Rush and Benjamin were two different people, but the confirmation in the census that Benjamin lived in Lykens and Wiconisco Township, as well as the identification of Benjamin's middle name confirm that they are the same person.  The digital files in the Civil War Research Project have been merged to reflect that discovery.
As always, additional information is sought about Benjamin R. Foster – including his military and pension records, pictures, stories, etc.   Anyone who has information can submit it by adding a comment to this post or by sending it via e-mail.
——————————–
The news clipping is from Newspapers.com.