Posted By Norman Gasbarro on November 13, 2015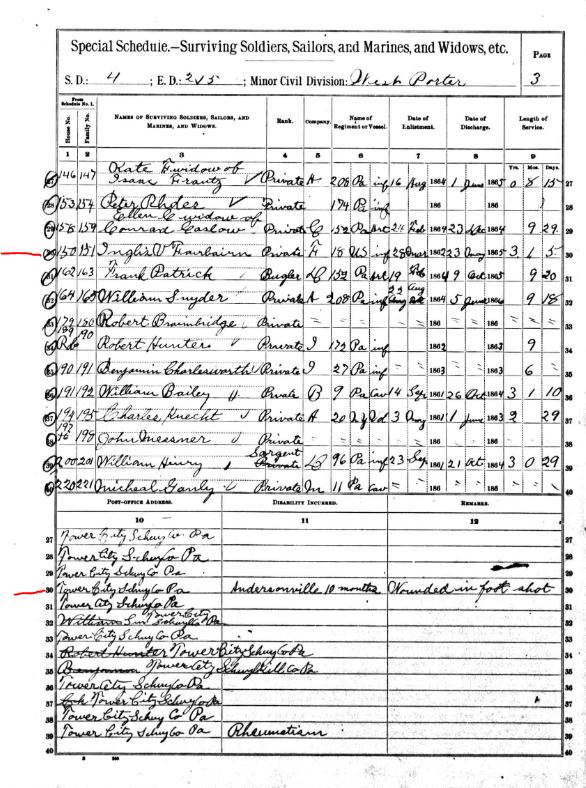 Today's post features another Civil War soldier about whom not much is known.  On the 1890 Veterans' Census for Tower City, Schuylkill Count (shown above from Ancestry.com), the name of Inglis V. Fairbairn appears.  He claimed service in the 18th United States Infantry (Regular Army) from 28 March 1862 through 23 May 1865.  During that time he served as a Private in Company F.  In the two note columns at the bottom of the census sheet, Inglis reported that he was a prisoner at Andersonville for 10 months and that he was wounded/shot in the foot.
A prisoner record for him has been located in Ancestry.com in the database Andersonville Prisoners of War and is shown above.  There is confirmation that he served in the 18th United States Infantry, Company F, that he was captured at Resaca, Georgia on 14 May 1864, and that he was paroled on 24 February 1865, at Northeast Ferry, North Carolina.  In the "More Information" field, the word "Yes" indicates that there is additional information about him in the records.  The death date of 2 July 1921 is also given in this database, which is generally unusual since it occurred more than 55 years after his release and probably did not have much to do with his status as a prisoner at Andersonville.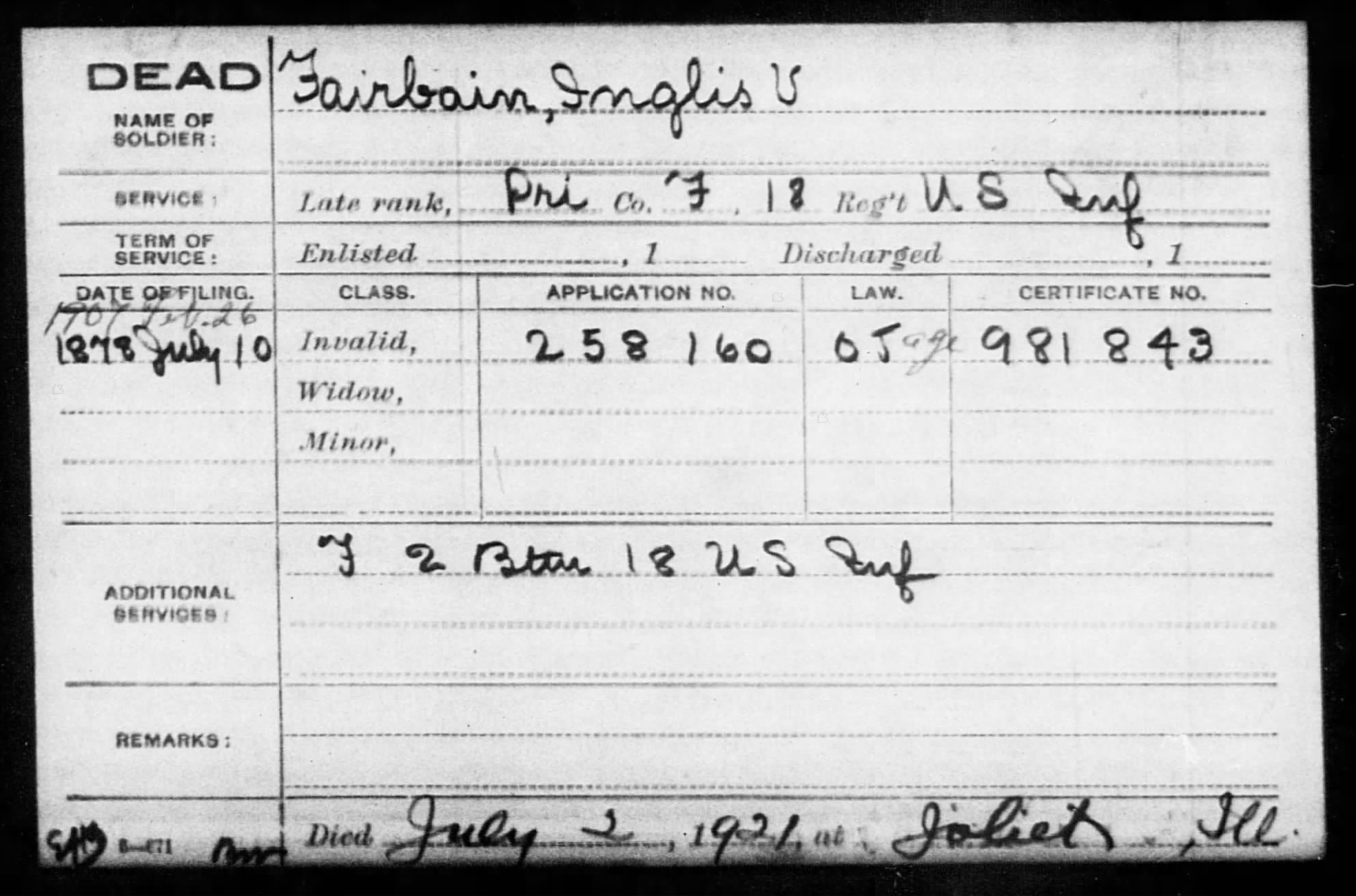 The Pension Index Card from Fold3 also confirms his death date as 2 July 1921, but notes that he died at Joliet, Illinois.  Whether "Illinois" is an error, is not known at this time.  Joliet, Schuylkill County, Pennsylvania, is nearly "next door" to Tower City, so it is possible that the transcriber wrote the wrong state on the card.  In any event, there is a pension application file for him under Inglis V. Fairbain, a slightly different spelling of the surname.  Inglis applied for the pension on 10 July 1878, which he received and collected to his death – with no widow applying for benefits.  The Ancestry.com version of the Pension Index Card does not indicate the state from which he applied, but that information should be in the pension application file which has not been seen in composing this blog post.
If any reader of this blog has seen the complete pension application file and or the complete Andersonville Prisoners of War database and is willing to add information to the story of Inglis V. Fairbain it would be greatly appreciated!   The information can either be sent via e-mail or added in a comment at the end of this post.   Since he was a resident of Tower City in 1890, he definitely should be recognized locally for his service and for his confirmed status as a Prisoner of War.  At the present time, he is not named on the Memorial in Tower City.
Additional information sought about him includes:  (1) birth place and date of birth; (2) family members; (3) locations where he lived; (4) stories, pictures, family reminiscences, etc.; (5) military record, including more information about how he was wounded, captured, paroled, and the time he spent at Andersonville; (6) where is he buried? and (7) what is his association with Tower City?