Posted By Norman Gasbarro on November 11, 2015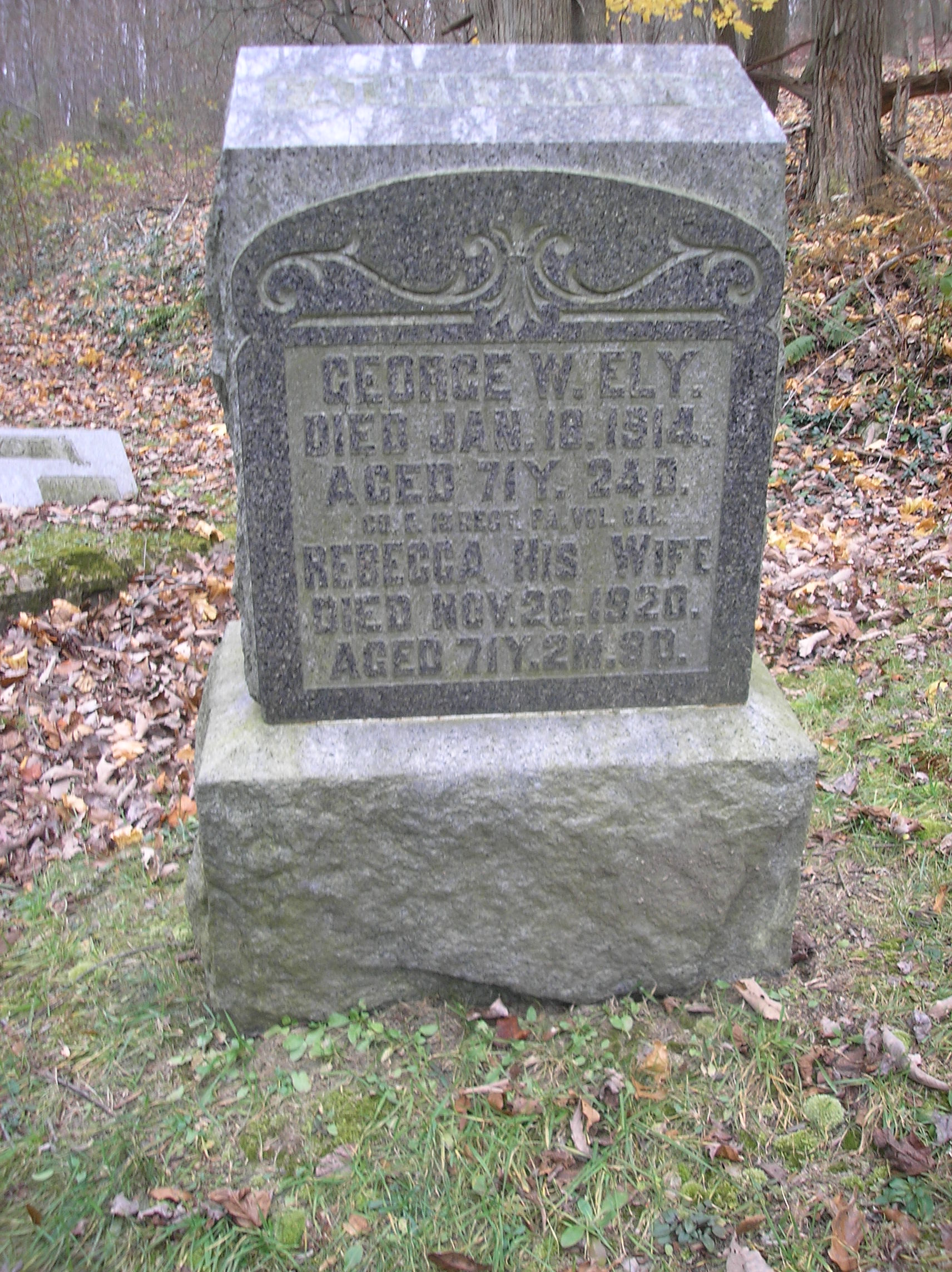 George Washington Ely died on 18 January 1914 in Lykens Borough, Dauphin County, Pennsylvania.  As a member of the United Brethren Church in Lykens, his name was inscribed into the memorial book there and his obituary was attached to his memorial page.  The page, which is shown below, incorrectly gives his name as "George Edward Ely," but the other other information is correct.  The notation, "His name, "George Washington Ely, mistake of printer," also appears on the memorial page.  The grave marker in the Odd Fellows Cemetery in Lykens (shown above), correctly gives his middle initial as "W" – for Washington.
Text of the obituary as it appeared in a local newspaper at the time of his death:
George Edward Ely of North Street, died suddenly of apoplexy at about 4:50 p.m. Sunday while conversing with John H. Keen, of Wiconisco, in the engine room of Keen and Kniley's Hosiery Mill.  Mr. Ely had attended the U.B. Sunday School and shortly after 4 o'clock told his wife that he would go over and talk to Mr. Keen until supper was ready, the hosiery mill being directly opposite his home.

Upon entering the mill he found Mr. Keen was doing some work on an engine and sat down on a bench near him.  After conversing for a few minutes Mr. Keen failed to hear Mr. Ely reply and spoke louder.  Then not receiving a reply he walked around to where Mr. Ely had been and saw him sitting on the floor, one arm resting on the bench.  Mr. Keen noticed that Mr. Ely had suffered a stroke of some kind and notified the family.  He was carried to his home and Dr. H. A. Spencer of Wiconisco, was summoned who pronounced that death was instantaneous and caused by apoplexy.

Deceased was born in Fishing Creek Valley, Dauphin County, on 25 December 1842, bringing his age to 71 years and 23 days.  He came here with his parents when four years of age and has resided here ever since.  In 1866 he was united in marriage with Miss Rebecca Rudisill, and the aged couple anxiously awaited the celebration of their golden wedding two years hence.  Five children were born to the couple, two having preceded him in death.  The surviving children are Anna Ely (Mrs. John Renshaw), Lykens; Ella Ely, at home; and T. Edward Ely, Lykens, who with the widow mourn the loss of a kind and indulgent father and a faithful husband.  He is also survived by two brothers, Francis Ely and Edward Ely of Lykens; and three sisters – Mrs. Sarah Myers and Mrs. Matilda Bainbridge of Lykens; and Mrs. Barbara Woland of Shamokin.  Five grandchildren also survive.

Mr. Ely was a veteran of the Civil War, having served as a Private in Company C, 13th Pennsylvania Cavalry, for a little more than a year, when he was honorably discharged on account of the cessation of hostilities. He was a member of the G.A.R., the Junior O.U.A.M., the United Brethren Church and the recently organized Bible class thereof.

The funeral services were held at his late home at 2 p.m. yesterday and were conducted by his pastor, Rev. H. S. Kiefer.  Burial was in Odd Fellows Cemetery with military honors, the G.A.R., Sons of Veterans, and the P.O.S. of A. Drill Team paying the last tribute of respect to a "departed defender of our nation."

For expressions of sympathy and for assistance rendered, the family desire to thank neighbors and friends.
For his service in the Civil War, George Ely received a pension, which he applied for on 27 March 1885, as shown on the Pension Index Card (below, from Fold3).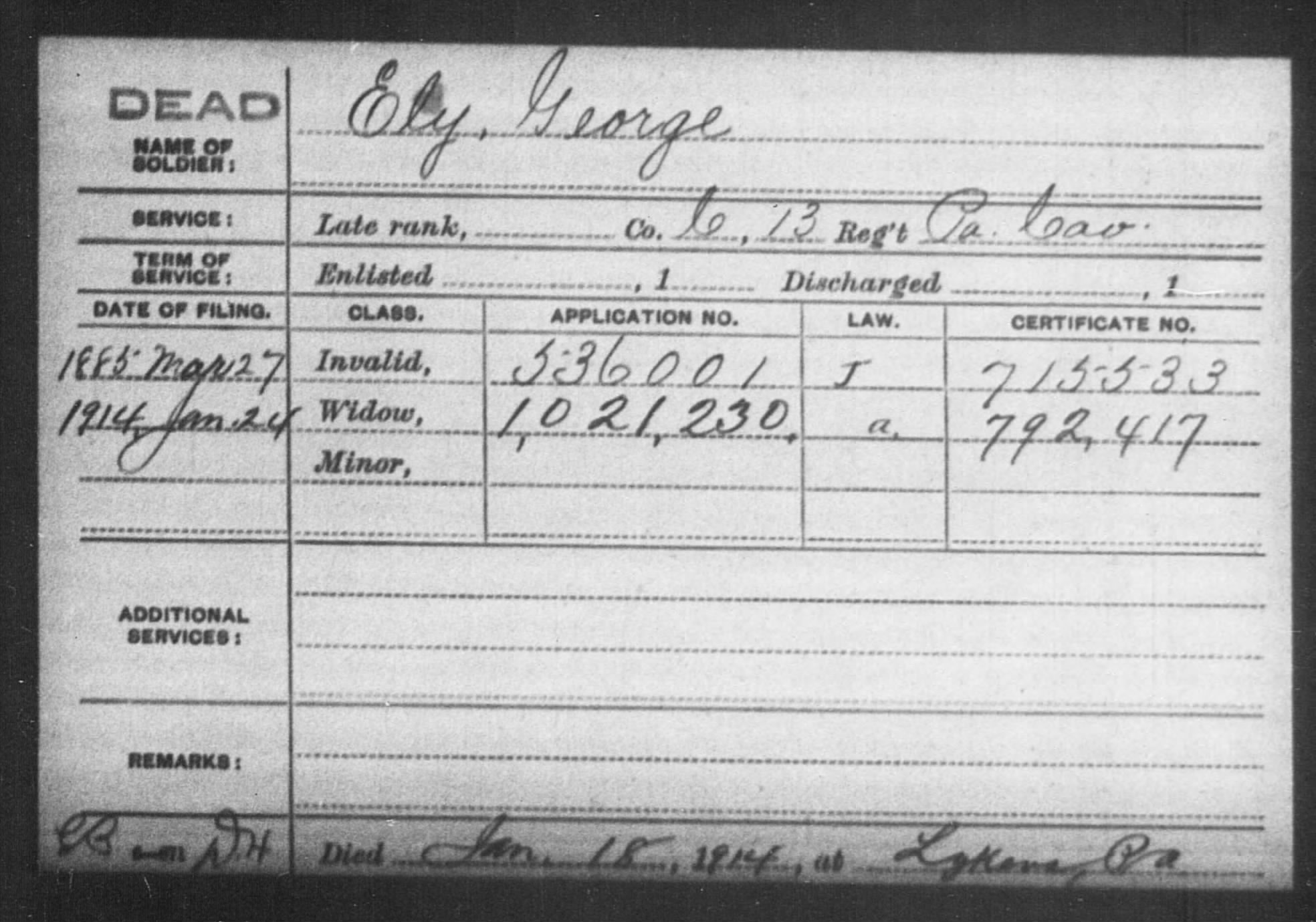 The Pension Index Card also gives the date of death as 18 January 1914, and the place of death as Lykens.  Within a week Rebecca [Rudisill] Ely applied for benefits, which she collected until her death.  According to her death certificate, she died at Lykens on 20 November 1920.  She was the daughter of David Rudisill and Susan Row and was born on 12 September 1848 in Washington Township, Dauphin County.

In addition to the church book memorial, George W. Ely is also remembered on the Lykens G.A.R. Monument as a veteran who joined the Heilner Post after its organization.
Additional information is sought about George W. Ely – including photographs, stories, more information about his military service, family history, etc.  Please attach comments to this post or send the information via e-mail.
——————————–