Posted By Norman Gasbarro on November 20, 2015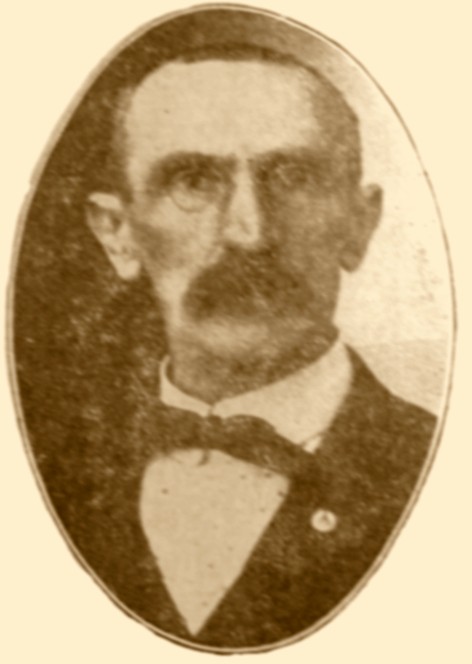 Henry Feindt (1843-1914), a Civil War veteran of the 10th Pennsylvania Infantry (26th April 1861 – 31 Jul 1861)  and the 9th Pennsylvania Cavalry (7 October 1861 – 18 July 1865), was Postmaster of Lykens in 1907 when an "earthquake of vast extent" hit the Upper Dauphin County area of the Susquehanna Valley.
Feindt was previously profiled here in two posts: Lykens Postmaster Henry Feindt and Death of Henry Feindt, Postmaster of Lykens.
As a government official, the postmaster was called upon to describe what had happened in Lykens and his account appeared in the Harrisburg Telegraph on 10 January 1907:

LYKENS AND OTHER DAUPHIN COUNTY TOWNS SHAKEN BY EARTHQUAKE OF VAST EXTENT

Whole Upper and Lower Stretches of the Susquehanna Valley, Except Immediate Harrisburg District, Feel Three Distinct Shocks; Windows Shaken, Dishes Rattled and People Frightened From Their Beds; No Damage Done

TREMORS ARE FELT IN SWEDEN, RUSSIA AND ELSEWHERE

Lykens, the whole upper portion of Dauphin County and the Susquehanna Valley north of Harrisburg were shaken by a series of earthquake shocks early this morning which rattled dishes and window sashes, displaced pictures on walls and sent frightened residents scurrying to the open with thoughts of the San Francisco disaster in their minds.

The shock occurred about 5:45 o'clock.  First came a report like an explosion in the distance, followed by two lighter shocks, the whole occupying perhaps fifteen seconds.  In some places people thought the disturbance due to a heavy explosion, but in others the shocks were so distant as to be plainly those of an earthquake and people forsook their houses until sure all danger was past.

Telephone messages to The Harrisburg Telegraph tell of the quake having been felt in Williamsport, Lock Haven, Sunbury, Lykens, Tower City and numerous other places in that district.  In no place was there any damage done, but in every case the shocks were accompanied by a noise which resembled a terrible explosion in the distance, followed by earth motions from side to side.

Apparently the Dauphin County disturbances were a part of a similar disturbance reported from Sweden, Russia and other faraway portions of the world today.  The upper part of the Susquehanna Valley was shaken but Harrisburg escaped.  Farther south along the Susquehanna the quake was distinctly felt, but there as above no danger resulted.

The Shock in Lykens

Henry Feindt, Postmaster of Lykens, says that in his town there was but one heavy shock recorded about a quarter to six this morning.  He and his family were at breakfast.  Suddenly there came a shock and the windows on the second floor of his home rattled to such an extent that he thought somebody must be trying to rob the house.  The family searched the second floor but found nobody and then neighbors came in with similar reports and the town awakened to the fact that it had a real earthquake.

At Millersburg

At Millersburg nobody noticed any shock but the whole country roundabout felt the quake as messages were received all morning inquiring as to the cause.

Severe at Sunbury

The shocks at Sunbury were so severe that people thought a powder mill must have exploded at some distant point. Here, too, the first was heard at 5:45, and was followed by two distinct tremors within fifteen seconds.  People were awakened from their sleep, dishes rattled and loose window sashes clattered.  F. K. Hill, the postmaster, says scores of people visiting his office today told of the disturbance.

Reports reached Sunbury of similar shocks at Williamsport, Lock Haven, and other upriver points.
Less than a year prior, on 18 April 1906, the Great San Francisco Earthquake and Fire resulted in significant damage and loss of life.  That earthquake was referred to in the above article.  But, four days after the Lykens earthquake, on the sunny afternoon of 14 January 1907, the cities of Kingston and Port Royal in Jamaica, West Indies, were destroyed by a earthquake that took more than 800 lives.  According to some reports, the Jamaican earthquake was considered at the time to be one of the deadliest in recorded history.
The first detailed reports to the Susquehanna Valley of the destruction in Jamaica appeared in the York Daily (York, PA), 16 January 1907, which also indicated that a seismograph in Washington, D.C. had detected a mild earthquake there at 3:38 p.m. on 15 January 1907, and that another earthquake was felt throughout Norway at about the same time.  In the Harrisburg Daily Independent, also of 16 January 1907, much of the conflicting information coming out of the island was reported.  Neither newspaper made any connection to the earthquake felt north of Harrisburg four days prior.
—————————–
News articles are from Newspapers.com.