Posted By Norman Gasbarro on November 16, 2015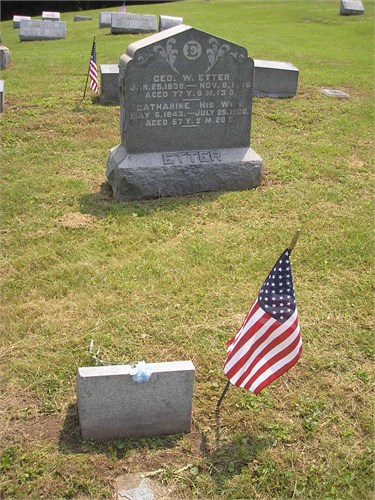 George Washington Etter (1838-1915) is buried at the Halifax United Methodist Church Cemetery in Halifax, Dauphin County.  There is a larger headstone on his plot which includes birth and death information for him and for his wife Catharine [Lebo] Etter, but at the foot of the plot, there is a smaller stone with a G.A.R. star (in the ground) and an American flag.  On the Findagrave Memorial for George, there is a note, that indicates he was "Civil War."
George W. Etter died in Philadelphia on 8 November 1815 and a brief obituary appeared in the Harrisburg newspapers, followed by information about his funeral.
AGED HALIFAX CITIZEN DIES

George W. Etter, Retired Bridge Builder Succumbs in Philadelphia

(Special to the Star-Independent)

Halifax, 9 November 1915 — George W. Etter, aged 80 years, a retired bridge builder of this place and one of the most prominent residents, died last evening at the home of his son, Theodore I. Etter, Philadelphia.

Mr. Etter went to visit his son about a month ago and shortly after took ill.  He is survived by three sons, George W. Etter Jr., Camden, New Jersey; Theodore I. Etter, Philadelphia; and M. W. Etter, of this place.  No arrangements for the funeral have yet been made, but the body will be brought here for interment.  [From:  Harrisburg Daily Independent, 9 November 1915].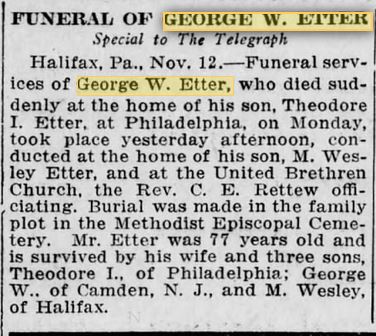 FUNERAL OF GEORGE W. ETTER

Special to the Telegraph

Halifax, Pennsylvania — 12 November 1915 — Funeral services of George W. Etter, who died suddenly at the home of his son, Theodore I. Etter, at Philadelphia, on Monday, took place yesterday afternoon, conducted at the home of his son, M. Wesley Etter, and at the United Brethren Church, the Rev. C. E. Rettew officiating.  Burial was made in the family plot in the Methodist Episcopal Cemetery.  Mr. Etter was 77 years old and is survived by his wife and three sons. Theodore I. Etter, of Philadelphia; George W. Etter, of Camden, New Jersey; and M. Wesley Etter of Halifax.
No mention was made in either of the above articles of Civil War service.
In the recently published Volume III of the Enders Genealogy, George W. Etter appears on page 60 as "1-7-8-1" in the Enders family numbering system.  There is no mention in the brief information given about him that he ever served in the Civil War.
In searching the Civil War-era records, a 1863 draft registration page was found for Mifflin Township, Dauphin County:

The draft information indicates that he was 24 years old at the time, was married, and was a carpenter.  However, there is no comment to note that he actually served in any regiment in the war.
There are some persons named George Etter found in the military records, and one appears to have died in Philadelphia on 16 May 1914, more than a year before the George W. Etter who is buried at Halifax.  That George Etter served in the 69th Pennsylvania Infantry, Company I, and two of his records are shown below: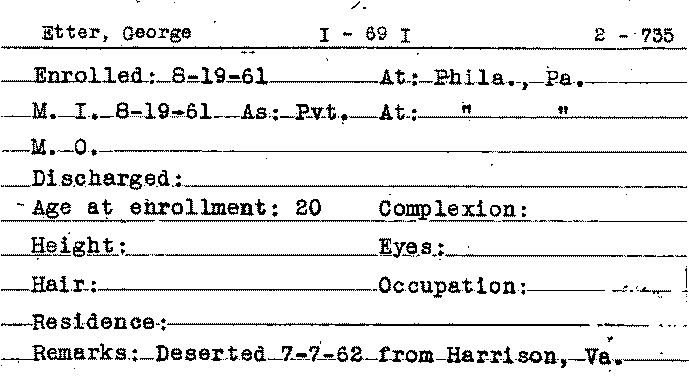 The first record is from the Pennsylvania Archives and notes that this George Etter was mustered into service on 19 August 1861, at the age of 20.  He deserted on 7 July 1862 from Harrison, Virginia.  The age is about four years off – and other than the fact that he enrolled and mustered in at Philadelphia, there is most likely no connection.
The second record – from Fold3 –  shows the date of death of 16 May 1914 – off by about a year and a half – and the fact that a widow applied for a pension on 22 May 1914 – which she received, so it is unlikely that this is the same person who is buried at Halifax.
For the George W. Etter who is buried at Halifax, no pension index card has been located.  While it is still possible that he served in a regiment during the war – perhaps in the emergency militia – there is still no record that has been seen to confirm that.  Emergency militia records were not as carefully kept as the regular infantry regimental records, nearly all of which have been preserved and indexed at the National Archives in Washington, D.C.
The final document shown here for George W. Etter is his death certificate, which was found on Ancestry.com: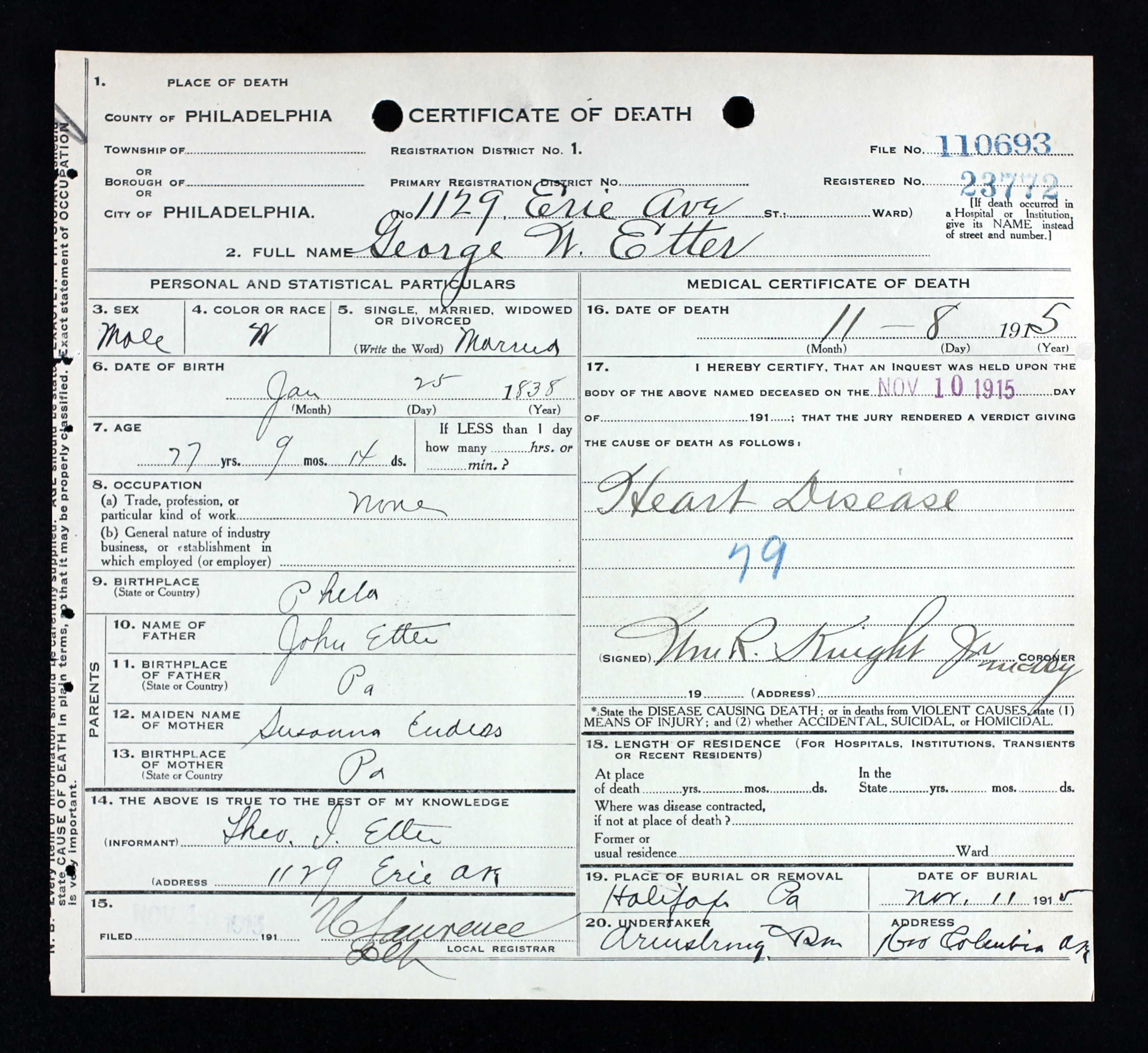 Note that the death certificate states that George was "Married" at the time of his death – not "Widowed."  The funeral information from the notice that appeared in the Harrisburg Telegraph on 12 November 1915 also states that he was survived by a widow.  However, the stone at the Halifax United Methodist Church Cemetery indicates that his wife, Catherine [Lebo] Etter died in 1900.  This information is confirmed in the Enders genealogy quoted above – which only gives one wife for George.  Was George W. Etter married a second time and did that second wife survive him?
Answers to these questions are sought and if any reader of this blog post can supply information, it would be greatly appreciated!  Either add a comment to this post or send by e-mail.