Posted By Norman Gasbarro on November 27, 2015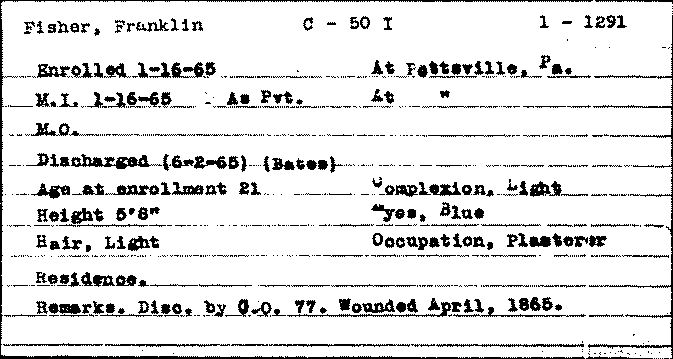 In researching Franklin E. Fisher who served in Company C of the 50th Pennsylvania Infantry, and who died in Reading, Berks County, on 25 December 1932, it was discovered that after Franklin's first wife died, he married Sarah [Irving] Fotheringill, the widow of Joseph W. Fotheringill of Lykens, Dauphin County, also a Civil War veteran.  Both Fisher and Joseph Fotheringill had previously been included in the Civil War veterans list.  As a result of making the connection between the two, Richard Fotheringill. the brother of Joseph,was discovered, also as a Civil War veteran.  He too should be in the list, because of the Fotheringill connection to Donaldson and Frailey Township in Schuylkill County.  Also discovered as part of this research was that Sarah [Irving] Fotheringill was the sister of two Civil War veterans who also were in the research list, William Irving of Lykens, and George Irving of Lykens and later of Tower City.
The card shown above indicates that a 21 year old Franklin Fisher enrolled in the 50th Pennsylvania Infantry on 16 January 1865 at Pottsville and was mustered into Company C as a Private on the same date.  He gave his occupation as plasterer; his physical description included blue eyes, light complexion, and light hair; and he stood 5 foot, 8 inches tall.  According to the Pennsylvania Veterans' File Card, he was wounded in April 1865 and he was discharged on 2 June 1865.
A search of the Reading newspapers produced many articles on Franklin E. Fisher (or F. E. Fisher as he was sometimes referred to).  Some of those which are good for genealogical purposes are shown below: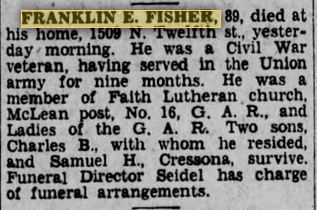 FRANKLIN E.  FISHER, 89, died at his home, 1509 N. Twelfth St., yesterday morning.  He was a Civil War veteran, having served in the Union army for nine months.  He was a member of Faith Lutheran Church, McLean Post, No. 16, G.A.R., and Ladies of the G.A.R.  Two sons, Charles B. Fisher, with whom he resided, and Samuel H. Fisher, Cressona, survive.  Funeral Director Seidel has charge of funeral arrangements.  [From:  Reading Times, 26 December 1932].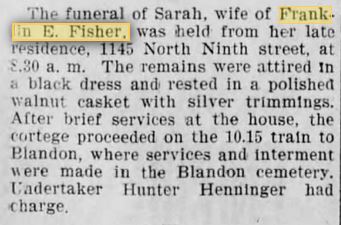 The funeral of Sarah, wife of Franklin E. Fisher, was held from her late residence, 1145 North Ninth Street, at 8:30 a.m.  The remains were attired in a black dress and rested in a polished walnut casket with silver trimmings.  After brief services at the house, the cortege proceeded on the 1o:15 train to Blandon, where service and interment were made in the Blandon Cemetery.  Undertaker Hunter Henninger had charge.  [Reading Times, 25 January 1903].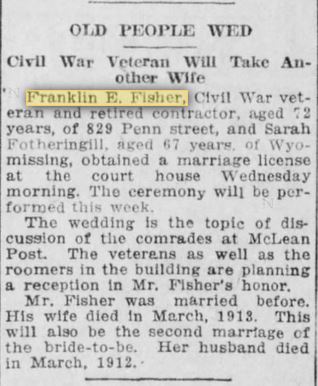 OLD PEOPLE WED

Civil War Veteran Will Take Another Wife

Franklin E. Fisher, Civil War veteran and retired contractor, aged 7 Years, of 829 Penn Street, and Sarah Fotheringill, aged 67 years, of Wyomissing, obtained a marriage license at the court house Wednesday morning.  The ceremony will be performed this week.

The wedding is the topic of discussion of the comrades at McLean Post.  The veterans as well as the roomers in the building are planning a reception in Mr. Fisher's honor.

Mr. Fisher was married before.  His wife died in March 1913 [sic].  This will also be the second marriage of the bride-to-be.  Her husband died in March 1912.  [From:  Reading Times, 11 November 1915].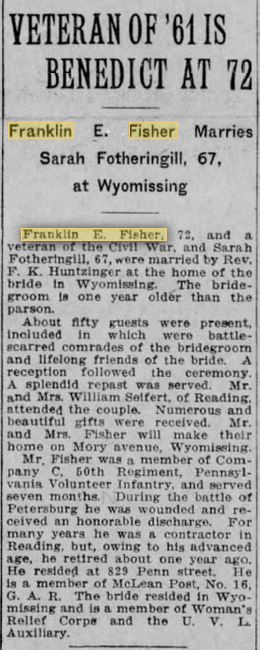 VETERAN OF '61 IS BENEDICT AT 72

Franklin E. Fisher Marries Sarah Fotheringill, 67, at Wyomissing

Franklin E. Fisher, 72, and a veteran of the Civil War, and Sarah Fotheringill, 67, were married by Rev. F. K. Huntzinger at the home of the bride in Wyomissing.  The bridegroom is one year older than the parson.

About fifty guests were present, included in which were battled scarred comrades of the bridegroom and lifelong friends of the bride.  A reception followed the ceremony.  A splendid repast was served. Mr. and Mrs. William Seifert, of Reading, attended the couple.  Numerous beautiful gifts were received.  Mr. and Mrs. Fisher will make their home on Mory Avenue, Wyomissing.

Mr. Fisher was a member of Company C, 50th Regiment, Pennsylvania Volunteer Infantry [50th Pennsylvania Infantry], and served seven months.  During the Battle of Petersburg he was wounded and received an honorable discharge.  For many years he was a contractor in Reading, but, owing to his advanced age, he retired about one year ago.   He resided at 829 Penn Street.  He is a member of McLean Post, No. 16, G.A.R.  The bride resided in Wyomissing and is a member of Woman's Relief Corps and the U. V. L. Auxiliary.  [From:  Reading Times, 6 December 1915].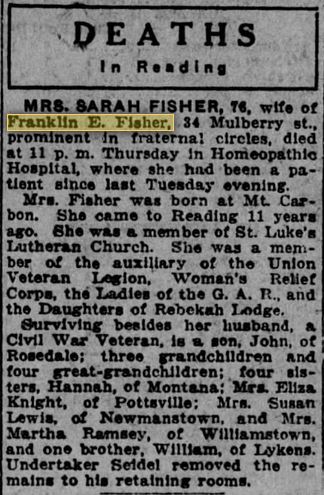 DEATHS IN READING

MRS. SARAH FISHER, 76, wife of Franklin E. Fisher, 34 Mulberry St., prominent in fraternal circles, died at 11 p.m., Thursday in Homeopathic Hospital, where she had been a patient since last Tuesday evening.

Mrs. Fisher was born at Mt. Carbon.  She came to Reading 11 years ago.  She was a member of St. Luke's Lutheran Church.  She was a member of the auxiliary of the Union Veteran Legion, Woman's Relief Corps, the Ladies of the G.A.R., and the Daughters of Rebekah Lodge.

Surviving besides her husband, a Civil War Veteran, is a son John [John Fotheringill], of Rosedale; three grandchildren and four great-grandchildren; four sisters, Hannah [Hannah Irving], of Montana; Mrs. Eliza Knight [Elizabeth Irving], of Pottsville; Mrs. Susan Lewis [Susan Irving], of Newmanstown; and Mrs. Martha Ramsey [Martha Irving], of Williamstown; and one brother, William [William Irving], of Lykens.  Undertaker Seidel removed the remains to his retaining rooms.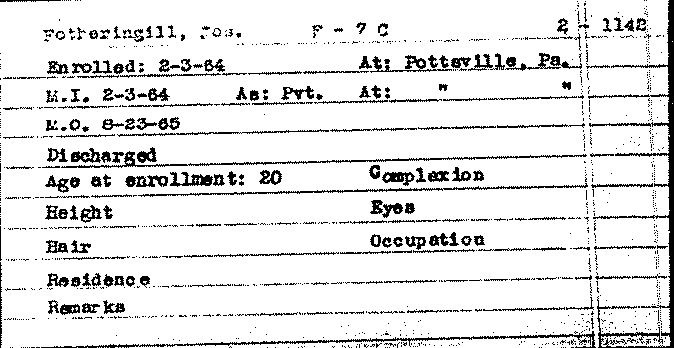 Joseph W. Fotheringill was the first husband of Sarah Irving.  On 3 February 1864, he enlisted at Pottsville in the 7th Pennsylvania Cavalry, Company F, and was mustered into service the same day at the same place.  The only personal information about him on the Pennsylvania Veterans' File Card (shown above from the Pennsylvania Archives) is that he said he was 20 years old at the time of enrollment.

Joseph Fotheringill appears on the Lykens G.A.R. Monument as a Private who was a member of the Heilner Post.
According to information found in Ancestry.com and on his Findagrave Memorial, Joseph Fotheringill was born about 1846 in England and died on 3 March 1913 in Lykens.  He is buried in the Patriotic Order of the Sons of America [P.O. S. of A.] Cemetery in Lykens.  He appears in the 1850 census of Frailey Township, Schuylkill County, with his father, Joseph Fotheringill, a coal miner, and several siblings, including a Richard Fotheringill, who is said to be the same age as Joseph (both are age 15).
At some point between 1870 and 1880, the family moved to Lykens.  Joseph Fotheringill married Sarah Irving of Pottsville and they had at least three children in Lykens:  William Fotheringill, born about 1869; Cora Fotheringill, born about 1877; and John Fotheringill, born about 1880.  After Joseph died, his widow Sarah moved to Berks County, where she is found in the Reading Directory of 1915.  As told above, Sarah second married Franklin E. Fisher.  Her obituary only mentions one child surviving her – John Fotheringill.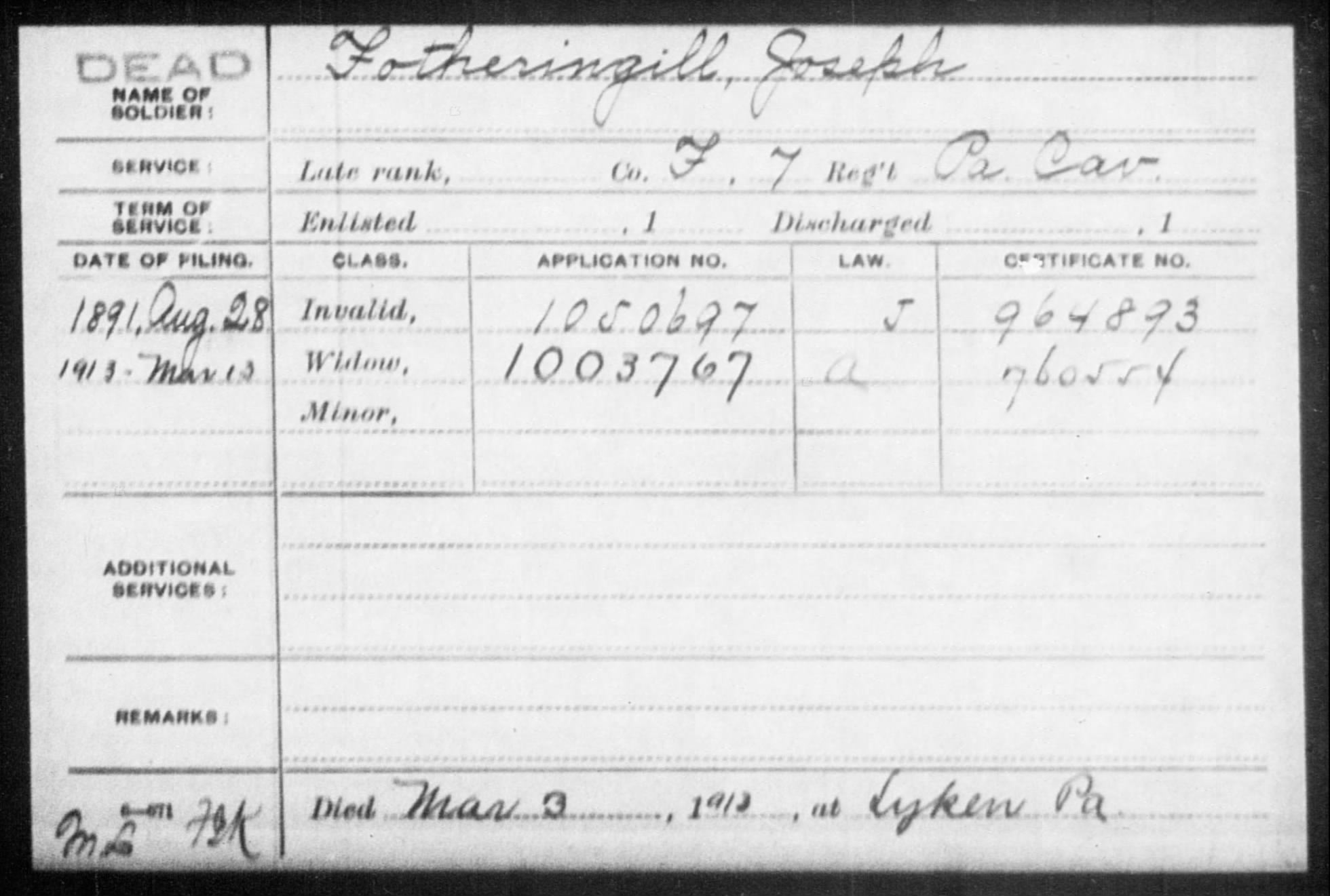 The Pension Index Card from Fold3 includes the death date of 3 March 1913 and the place as Lykens.  It also shows that Joseph Fotheringill first applied for a pension on 28 August 1891, and after his death, his widow applied – which according to the Pension Index Card, she received.  But, it is known from other sources that the widow of Joseph was Sarah Irving, who in 1915, married Civil War veteran Franklin E. Fisher.  Therefore, according to policy then in effect, upon her marriage to Fisher, the widow's pension that she was receiving was immediately terminated.  If she had lived past Franklin E. Fisher, as a widow with no means of support, she could have either applied to have the Fotheringill pension re-enstated, or apply for Fisher's pension.  But she died before Fisher, and he left no widow as a survivor.  So, the issue became moot.
While doing research on Richard Fotheringill, who was of Civil War-service age, it was discovered that he served in the same regiment as did his brother.  However, his service was for the duration of the war.  The following Veterans' Index Cards were located at the Pennsylvania Archives: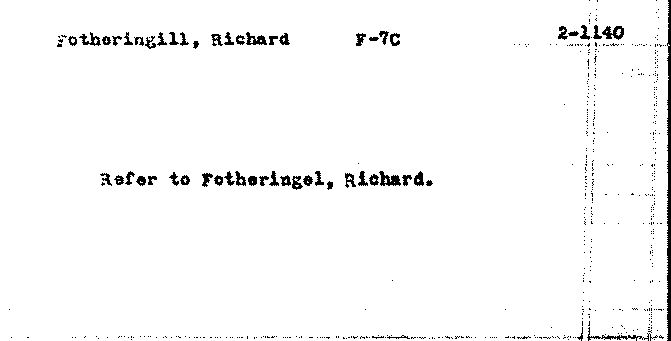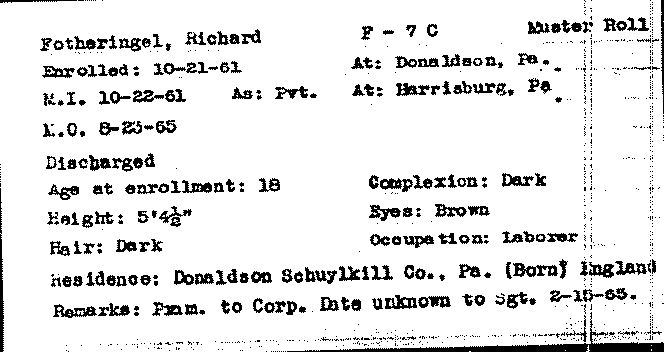 It is clearly the same person who was found as the brother of Joseph Fotheringill in the 1860 census of Frailey Township, Schuylkill County.  Richard was 18 years old at the time of his enlistment at Donaldson, Schuylkill County on 21 October 1861.  He was mustered into service the next day at Harrisburg as a Private in Company F, 7th Pennsylvania Cavalry.  At some point during his service he was promoted to Corporal, and later on 15 February 1865, as a Sergeant.  At the time of his enlistment, he said he was working as a laborer and that his residence was Donaldson, Schuylkill County.  He was 5 foot, 4.5 inches tall, had dark hair, dark eyes, and brown hair.  Like his brother, he was born in England.
In the 1880 census, Richard was living in Frailey Township with his wife Mary Ann.  That census also reported that he was a broom maker and was blind.
No record has been seen to indicate whether his blindness was a result of the Civil War, and it was not until after Richard died that his widow applied for a pension.  However, other records show that Mary Ann had re-married to a man named Taylor.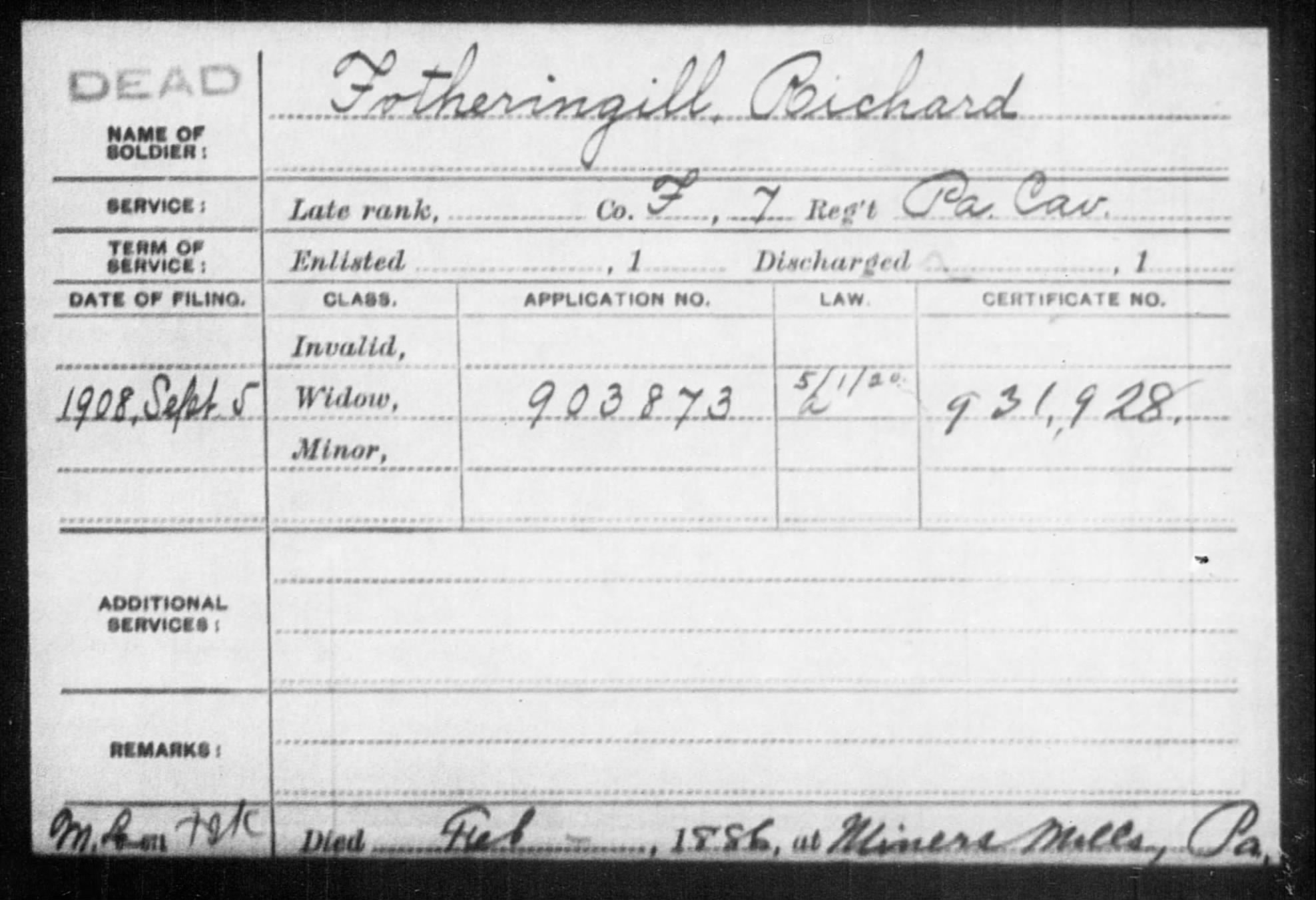 The Pension Index Card from Fold3 (shown above), gives Richard's death information as February 1886, at Miner's Mills, Pennsylvania.  Noted on the card is the date Mary Ann applied for a widow's pension – 5 September 1908.  It can be speculated from this that she married Taylor shortly after Richard Fotheringill died – and when Taylor died (sometime before 5 September 1908), she applied for her first husband's pension.  At this time, nothing more has been seen about Taylor.
Of course all this information should be available in the pension application file, available at the National Archives – which was not consulted for this blog post.
Another confirmation of Richard's death is a news article that appeared in the Wilkes-Barre Times Leader, 6 April 1886 explaining a line item in the Luzerne County quarterly statement – the burial cost for indigent soldiers: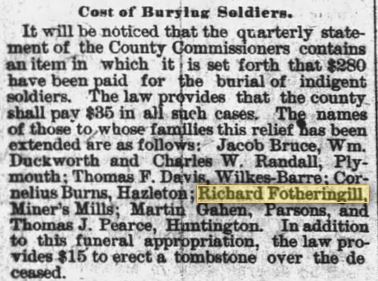 Cost of Burying Soldiers.

It will be noticed that the quarterly statement of the County Commissioners contains an item in which it is set forth that $280 have been paid for the burial of indigent soldiers.  The law provides that the county shall pay $35 in all such cases.  The names of those to whose families this relief has been extended are as follows:…. Richard Fotheringill, Miner's Mills….  In addition to this funeral appropriation, the law provides $15 to erect a tombstone over the deceased.
Another piece of information about Mary Ann [Mason] Fotheringill Taylor is her obituary, which was published on 9 August 1926 in the Wilkes-Barre Record: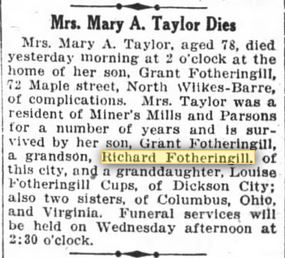 Mrs. Mary A. Taylor Dies

Mrs. Mary A. Taylor, aged 78, died yesterday morning at 2 o'clock at the home of her son, Grant Fotheringill, 72 Maple Street, North Wilkes-Barre, of complications.  Mrs. Taylor was a resident of Miner's Mills and Parsons for a number of years and is survived by her son, Grant Fotheringill, of this city, and a granddaughter, Louise Fotheringill Cups, of Dickson City; also two sisters, of Columbus, Ohio, and Virginia.  Funeral services will be held on Wednesday afternoon at 2:30 o'clock.
Thus, with a little research a connection was established between the second wife of Civil War veteran Franklin E. Fisher, and her first husband, Joseph Fotheringill of Lykens.  That second wife also was the sister to two Civil War soldiers from Lykens, William Irving and George Irving.
Previously on this blog, William Irving was profiled in:  (1)  William Irving – First Defender;  (2) Military Funeral for Comrade William Irving;  (3) William Irving – First Defender;  (4) Gen. Francis A. Stitzer Dies in Colorado at Age 99; (5) Story of the First Defenders as Told in 1935; (6) The 1935 Reunion of the First Defenders; (7)
And, George Irving was profiled in: Tower City, Porter and Rush Township Civil War Veterans – Part 5.
———————————–
News clippings are from Newspapers.com.