Posted By Norman Gasbarro on October 12, 2015
The obituary of James E. Lambert appeared in the Harrisburg Telegraph on 31 March 1924:
CIVIL WAR VETERAN DIES

Millersburg, 31 March 1924 — James E. Lambert, aged 81, died Saturday.  He is survived by his widow and one daughter, Mrs. Cushing E. Frank, of town; also one sister, Mrs. Mellie Gregory, of Greenwich, Missouri.  Mr. Lambert was born at Waterloo, New York, and became a resident of Millersburg in 1882. He was a member of the Knights of Malta, the Knights of the Golden Eagle, and the Grand Army of the Republic [G.A.R.].  During the Civil War for nearly three years he served as a member of the 50th New York Engineers.  Funeral services will be held at the late residence on Wednesday, at 2 o'clock.  Burial in Oak Hill Cemetery, the Rev. Henry S. Noon, of the Methodist Church officiating.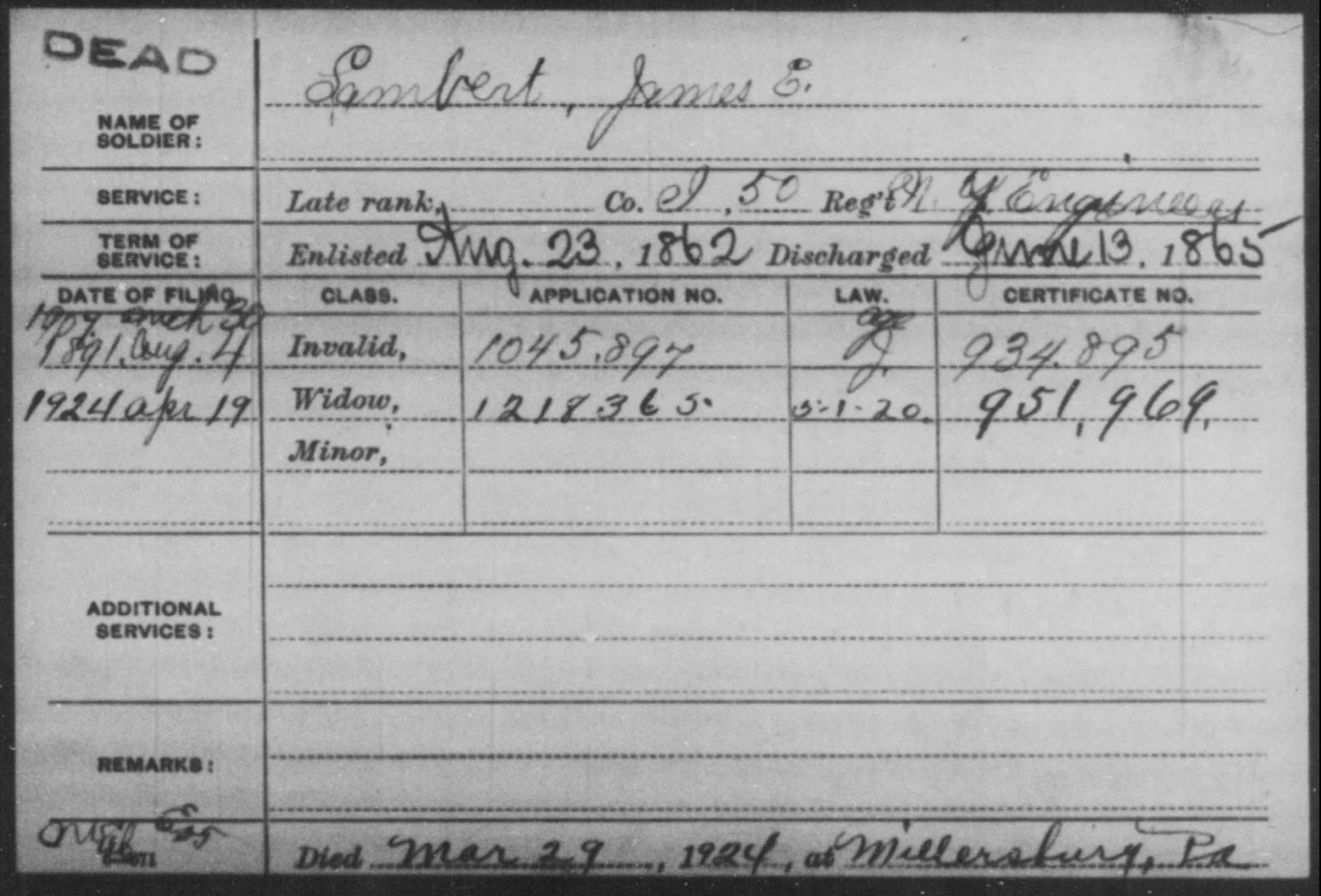 The Pension Index Card for James E. Lambert (shown above from Fold3), indicates he died on 29 March 1924 at Millersburg.  He first applied for a pension on 4 August 1891, which he received and collected until his death.  His widow applied on 19 April 1924 and was awarded benefits.

For his service in the Civil War, James E. Lambert is recognized on the Millersburg Soldier Monument as J. E. Lambert.
—————————–
The news clipping is from Newspapers.com.