Posted By Norman Gasbarro on October 19, 2015

When John Dowdle (1844-1910) died in Philadelphia on 12 June 1910, the Philadelphia Inquirer of that same date included the following information on him in its "Death Notices:"
DOWDLE – On 12 June 1910, JOHN, husband of Annie Dowdle.  Relatives and friends, also League of the Sacred Heart of St. Ann's Church and members of 50th Regiment Pennsylvania Volunteers [50th Pennsylvania Infantry], are invited to attend the funeral on Friday at 8:30 A.M. from late residence, 2529 E. Lehigh Avenue.  Solemn requiem mass at St. Ann's Church at 10 A.M.  Interment at St. Ann's Cemetery.
John Doudle, as he was known in Schuylkill Haven where he resided at the time of the Civil War, was also memorialized in The Call of that place:
John Doudle of Philadelphia, a former resident of town, died at his home on Sunday and was buried on Friday Morning.  Mr. Doudle was a veteran of the Civil War having served as a Corporal of Co. C, 50th P.V.  He enlisted from Schuylkill Haven on 14 August 1861.  On 12 May 1864 at Spotsylvania Court House, he was captured by the Rebels together with twelve other Schuylkill Haven men and suffered imprisonment at Andersonville and Libby Prison from which he was paroled in 24 February 1865.  A most entertaining history of his experiences was published in The Call during the summer of 1908.  Mr. Doudle is survived by his widow and three sons and three daughters, Frank Doudle, Will Doudle, Agnes Doudle and Florence Doudle at home, and David Doudle and Mrs. McVeigh, all of Philadelphia.  He was a brother of the late Alex Doudle of town and had a host of friends here.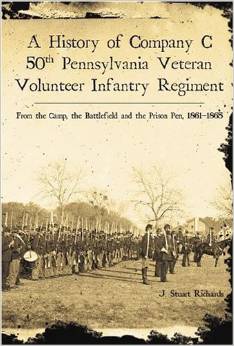 The experiences of John Doudle in the Civil War, as noted in the obituary, were first printed in The Call in 1910.  In 2006, when he published his book A History of Company C, 50th Pennsylvania Veteran Volunteer Infantry Regiment:  From the Camp, the Battlefield and the Prison Pen, 1861-1865, J. Stuart Richards, reprinted much of what Doudle said in 1910.  According to Richards, "Corporal John Doudle is one of the main contributors to this book.  His history of Company C up to his capture and of his own time spent in Andersonville prison is an excellent narrative."