Posted By Norman Gasbarro on October 9, 2015
The Harrisburg Telegraph of 11 August 1874 reported the following death resulting from an accident at Short Mountain Colliery.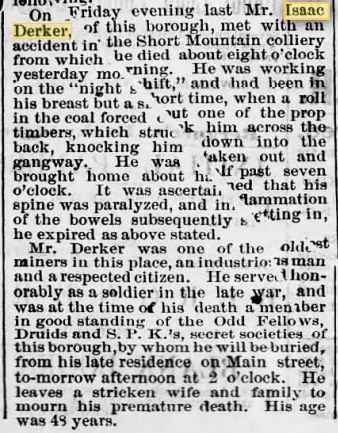 On Friday evening last Mr. Isaac Derker, of this borough, met with an accident in the Short Mountain Colliery from which he died about eight o'clock yesterday morning.  He was working on the "night shift" and had been in his breast but a short time, when a roll in the coal forced out one of the prop timbers which struck him across the back, knocking him down into the gangway.  He was taken out and brought home about half past seven o'clock.  It was ascertained that his spine was paralyzed, and inflammation of the bowels subsequently setting in, he expired as above stated.

Mr. Derker was one of the oldest miners in this place, an industrious man and a respected citizen.  He served honorably as a soldier in the late war, and was at the time of his death a member in good standing of the Odd Fellows, Druids and S.P.K.'s secret societies of this borough, by whom he will be buried, from his late residence on Main street, tomorrow afternoon at 2 o'clock.  He leaves a stricken wife and family to mourn his premature death.  His age was 48 years.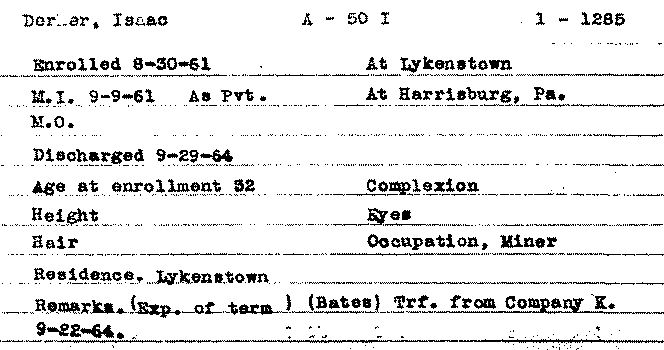 As stated in the news report, Isaac Derker [or Isaac Darker, as he was sometimes known] was a Civil War veteran.  On 30 August 1861, Isaac enrolled at Lykenstown in the 50th Pennsylvania Infantry, Company K,  and was mustered into service as a Private on 9 September 1861.  The personal information about him the Pennsylvania Archives Record Card, pictured above, included his age of 32, his residence of Lykens, and his occupation – a miner.  On 22 September 1864, seven days before he was mustered out of service at the expiration of his term, he was transferred to Company A.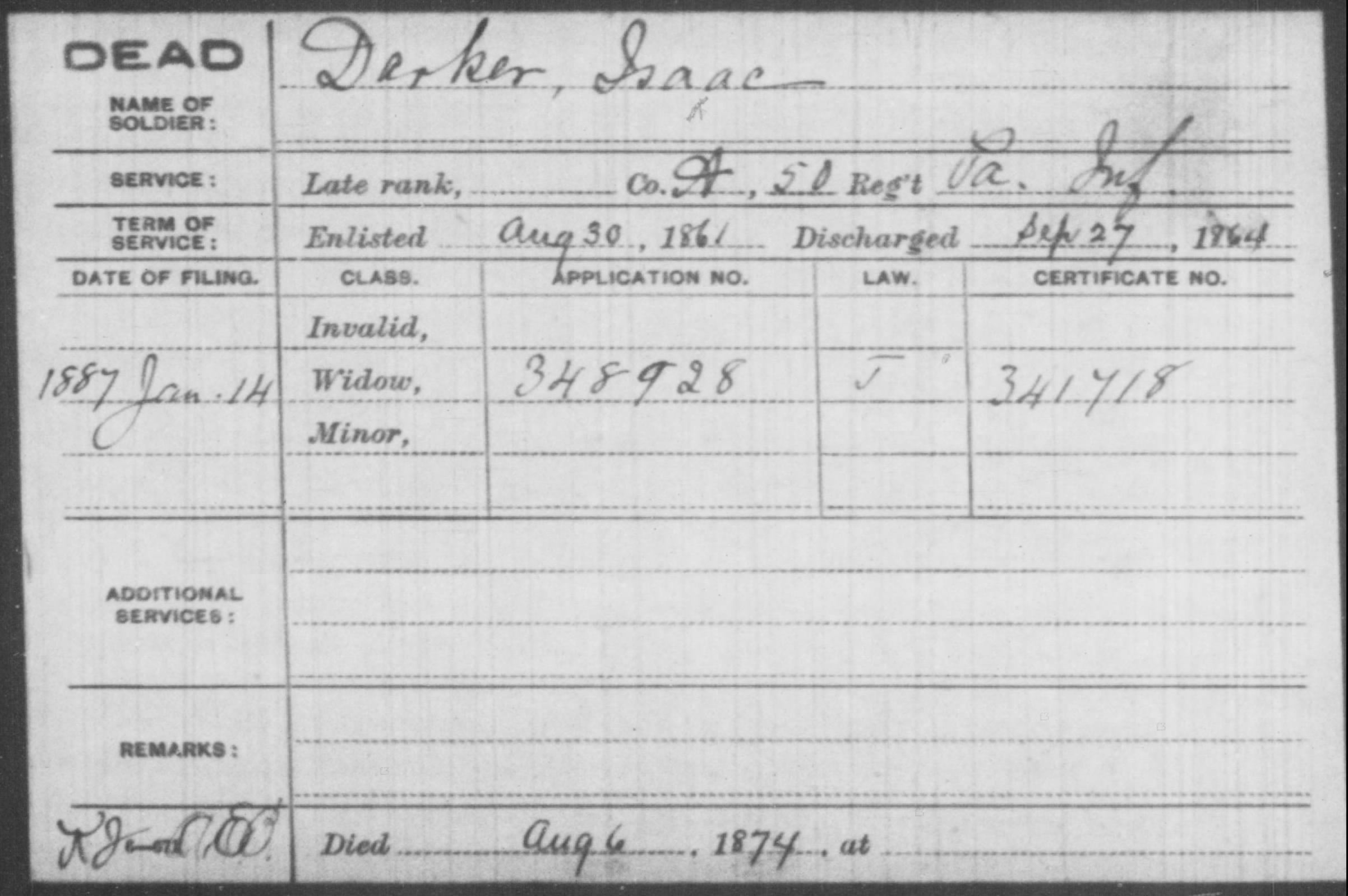 On 14 January 1887, Isaac's widow Mary  applied for pension benefits as shown on the above Pension Index Card from Fold3.  She was awarded a widow's pension.  Isaac's death date of 6 August 1874 is also noted on the card.

Not much more is known about Isaac Darker except that in the early 20th Century when the Lykens-Wiconisco G.A.R. Monument was erected, his name was included on the plaque.
Additional information is sought about Isaac Derker or Darker, including details about his Civil War service and more about his family.  Please add comments to this post or send an e-mail to the Civil War Research Project.
——————————–
The news clipping is from Newspapers.com.