Posted By Norman Gasbarro on September 18, 2015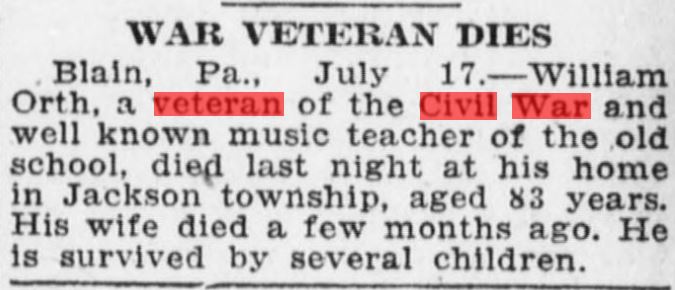 The above obituary, announcing the death of William Orth, appeared in the Harrisburg Telegraph on 17 July 1917:
WAR VETERAN DIES

Blain, Pennsylvania, 17 July 1917 – William Orth, a veteran of the Civil War and a well known music teacher of the old school, died last night at his home in Jackson Township, aged 83 years.  His wife died a few months ago.  He is survived by several children.
The Harrisburg Patriot of 18 July 1917 also noted his death in its reporting of "News of Blain."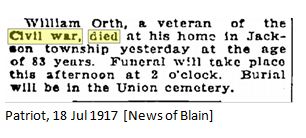 William Orth, a veteran of the Civil War, died at his home in Jackson Township yesterday at the age of 83 years.  Funeral will take place this afternoon at 2 o'clock.  Burial will be in the Union Cemetery.
William Orth was born on 24 January 1836 in  Ayr Township, Fulton County, Pennsylvania, the son of Conrad Orth, a farmer, and Katherine Orth.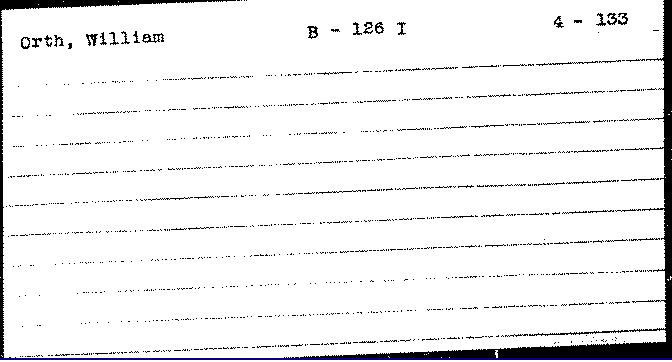 On 5 August 1862, William Orth was mustered into service in the 126th Pennsylvania Infantry, Company B, as  a Private at Harrisburg.  He gave his age as 27, which would be consistent with information from other sources indicating he was born in 1836.  There is very little information available about him in the Registers of Pennsylvania Volunteers (Pennsylvania Archives) other than his muster out date, with his company, of 20 May 1863.  However, in the Pennsylvanians in the Civil War Database, it is stated that he deserted on 21 October 1862 and then returned on 1 April 1863.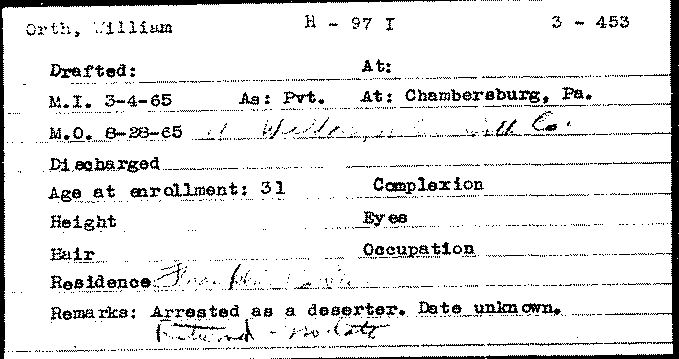 A second enlistment occurred on 4 March 1865, in which he is noted as a draftee.  On that date he was mustered into service as a Private in Company H of the 97th Pennsylvania Infantry, at Chambersburg.  At the time he said he was 31 years old.  Some other difficult-to-read information is written on the Pennsylvania Veterans' File Card (shown above from the Pennsylvania Archives).  For the muster out information, occurring 28 August 1865, the place appears to be added, as well as the words "with company." His residence is Franklin County, Pennsylvania.  And, following the typed information that he was "arrested as a deserter – date unknown" are the words "returned – no date."  His desertion is confirmed in the Pennsylvanian in the Civil War Database with the words, "drafted, deserted, returned, mustered out with company."
Thus, in the two terms of service, William Orth was said to be twice a deserter and twice a returnee.
On 10 March 1870, William Orth married Elizabeth Ann Thomas (1847-1917).  They are found in the 1870 Census of McConnellsburg, Fulton County, Pennsylvania, where he is working as a farm laborer.  But by 1880, the family had moved to Blain, Perry County, where William was working as a laborer and the couple was raising four children.
In the Veterans' Census of 1890, still in Blain, William only reported his service in the 97th Pennsylvania Infantry and stated that he was disabled with "lumbago" as a result of that service.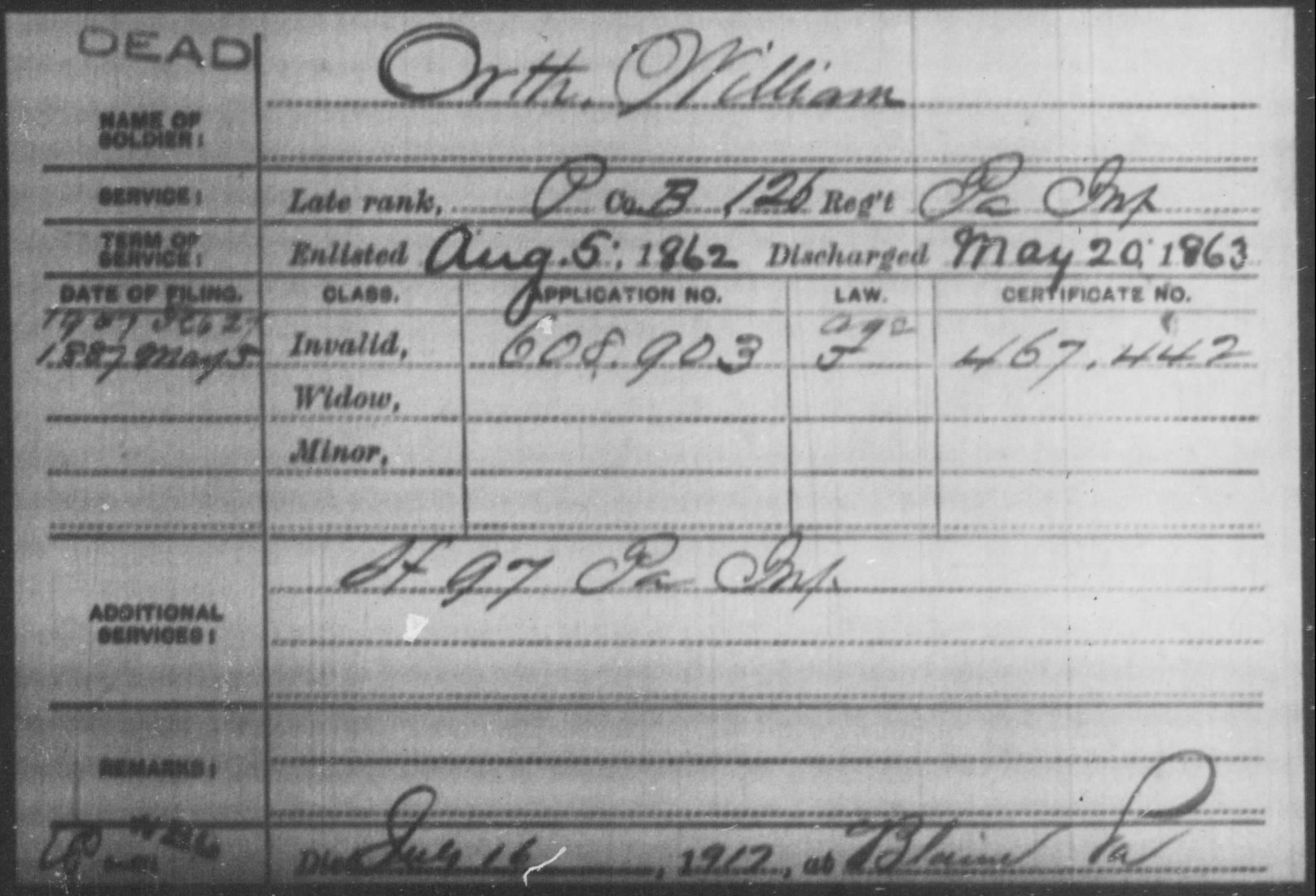 The Pension Index Card (shown above from Fold3) indicates that William Orth applied for a disability pension in May 1887 and that he gave both regiments of service.  He did receive the pension.  Because the actual pension application file was not consulted for this blog post, it is not possible to tell if the desertions played any part in the evaluation of his service.  Perhaps a reader of this post has seen the application file and can explain how William was "excused" from the desertions and "proved" he received an honorable discharge (a requirement for the pension).
The death date of 16 July 1917 and place, Blain, Pennsylvania, is consistent with other sources.  He is buried at Blain Union Cemetery in Perry County.
In examining the census records of 1900 and 1910, William reported that he was a laborer (1900) and living on his "own income" (1910).  His Pennsylvania Death Certificate from 1917, gives his occupation as laborer and broom maker.  Other than the obituary found in the Harrisburg Telegraph (see top of post), no other confirmation has been found that he was a music teacher of "the old school."
As with most research on Civil War soldiers, a combination of official records and family records must be consulted to fill in gaps.  The skeletal outline given above of the life of William Orth needs much more research to fully understand this veteran.  Comments are welcome and can be added to this post or sent by e-mail.
——————————-
News clippings are from Chronicling America or the on-line resources of the Free Library of Philadelphia.