Posted By Norman Gasbarro on September 29, 2015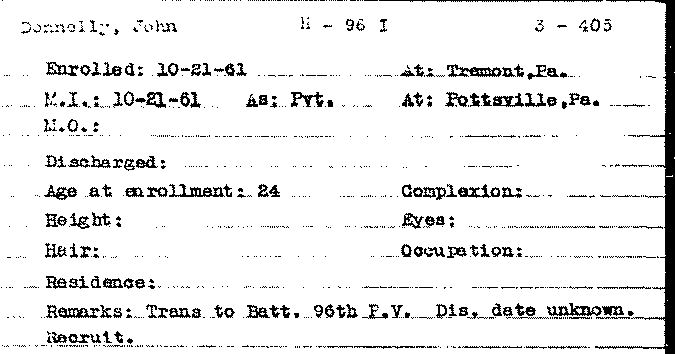 The above Pennsylvania Veterans' Index Card from the Pennsylvania Archives give some of the information that is know about John Donnelly (sometimes referred to the records as John Donnely).
John Donnelly was about 24 years old (born about 1837) when he enrolled in the 96th Pennsylvania Infantry, Company H, as a Private, at Tremont, Schuylkill County, on 21 October 1861.  On the same day, he was mustered into service at Pottsville.  At some point during his service he was transferred to the Battery (Artillery) of the same regiment.  His discharge date is not stated on the index card.
From the 1890 Veterans' Census (available on Ancestry.com), the same regiment and muster date is given, but the discharge date of 22 October 1864 is noted – indicating that John Donnelly served the full three years of his enlistment and then chose to be discharged rather than re-enlist.  From the history of that regiment, it is known that those who did re-enlist were consolidated into the 95th Pennsylvania Infantry.  John did not report any Civil War-related disabilities to the 1890 Census and he gave his post office address as Joliett, Schuylkill County.
From the Pennsylvania Memorial at Gettysburg, we learn that John Donnelly served as a Corporal at the Battle of Gettysburg.
From the two versions of the Pension Index Card, the following is determined: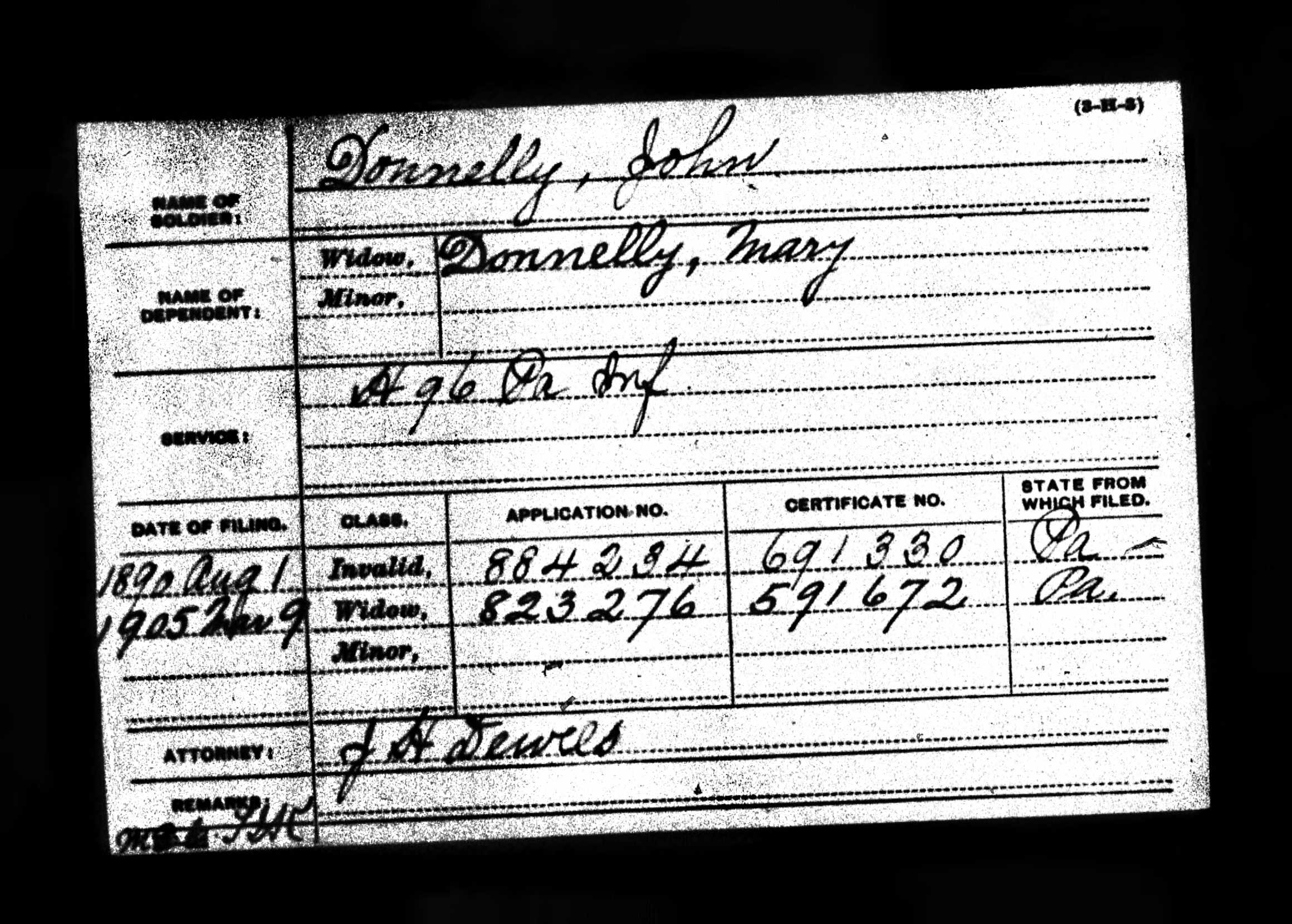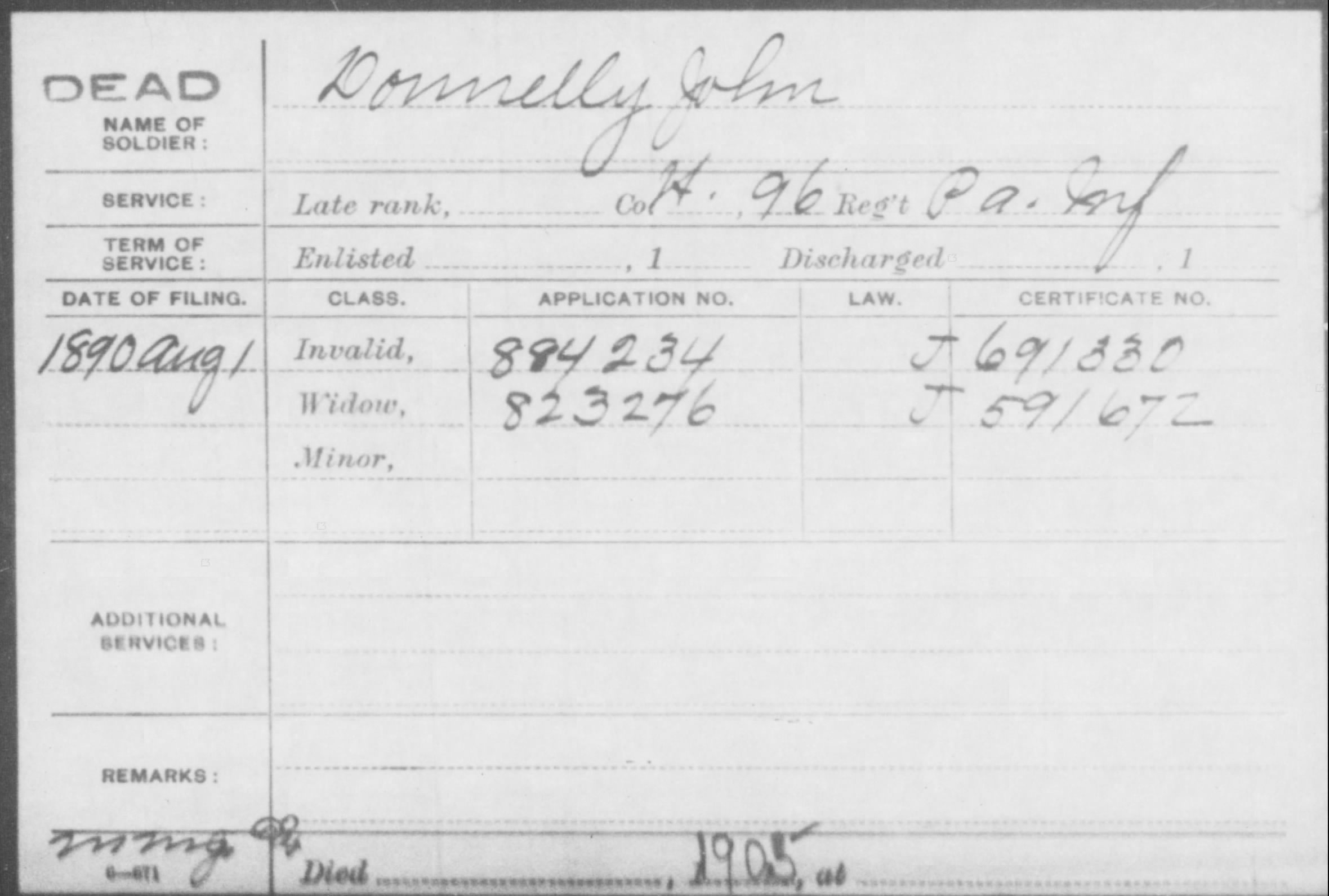 The Ancestry.com version notes that John Donnelly applied for a disability pension from Pennsylvania on 1 August 1890, which he received, and his widow Mary Donnelly applied on 9 March 1905.  She also received the pension, which she collected until her death.
The Fold3 version confirms John's application date and granting of the pension, notes that a widow applied (without giving her name) and also received a pension until her death, and gives the year of 1905 as John's death.
For those who wish to research John Donnelly further, the pension application file numbers on the two above cards are necessary for locating the files at the National Archives in Washington, D.C.  Perhaps a reader of this blog has already obtained the pension application files and would be willing to share the information in those file with others – by adding comments to this post or by sending an e-mail to this Project.  Any other information about John Donnelly, from any source, will be greatly appreciated!