Posted By Norman Gasbarro on September 25, 2015
Henry Dietrich (or Dietrick), who was born about 1836, was previously mentioned in a post here on 21 April 2012 as a discovered addition to the Civil War Research Project.  Since that time, one error was discovered in that prior post. The Henry Dietrich who was married to Bridget was not the same person who was profiled at that time, and with the finding of the Pension Index Card for him on Fold3, it is now known that Bridget was the widow of a Henry Dietrick who fought in the Spanish-American War, and died in 1898 of disease contracted in that war.
What we do know about the Henry Dietrich who served in the Civil War is the following: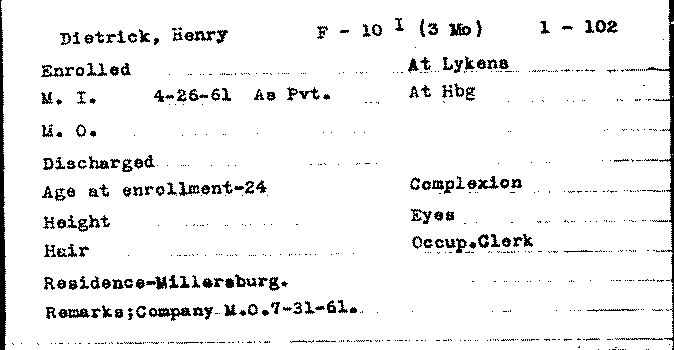 Henry Dietrick, a resident of Millersburg, enrolled in the 10th Pennsylvania Infantry, Company F, as a Private in Lykens Borough, Dauphin County.  He was 24 years old at the time of his enrollment and was working as a clerk.  He was mustered into service at Harrisburg on 26 April 1861.  He was mustered out with his company on 31 July 1861.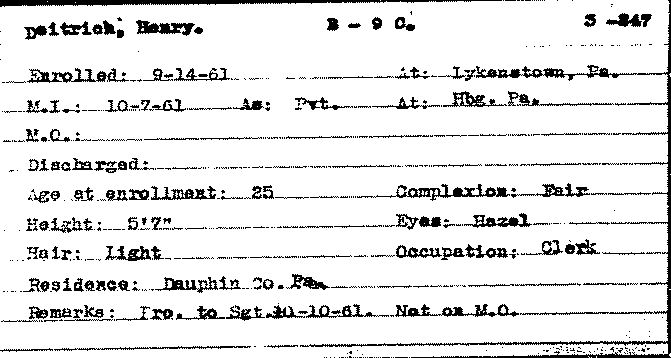 For a second enlistment, on 14 September 1861, at age 25 at Lykenstown (Lykens Borough), he joined the 9th Pennsylvania Cavalry, Company B, as a Private.  He was mustered into service on 7 October 1861 at Harrisburg.  Personal information about him is that he was 5 foot, 7 inches tall, had hazel eyes, a fair complexion and light hair.  He gave his residence as Dauphin County, Pennsylvania.  On 10 October 1861, he was promoted to the rank of Sergeant.  However, his name does not appear on the muster out roll.
Prior to the Civil War, no record has been seen which clearly identifies this Henry Dietrich.
And, after the Civil War, Henry Dietrich seems to disappear from the records.
His name is not mentioned in Yankee Cavalrymen, a history of the 9th Pennsylvania Cavalry, based on the Diary of William Thomas, who was also a member of Company B.
No Pension Index Card has been located for him.  This is an indication that he died prior to 1890 when the pension rules were relaxed – and also an indication that if he was married, his wife died before him.
The only Dietrich named on the Millersburg Soldier Monument is T. E. Dietrich.  Although Henry Dietrich claimed residence in Millersburg at the time of his first Civil War enrollment, his name is omitted from the memorial.
Henry Dietrich is also omitted from the Lykens G.A.R. Monument.  This is even more strange that the omission from the Millersburg Monument in that the person who was responsible for the compiling of the names for the Lykens Monument was Henry Keiser – who served in the same 10th Pennsylvania Infantry regiment as Henry Dietrich.  Henry Dietrich twice enrolled at Lykens indicating that he lived in the area later covered by the Lykens-Wiconisco Heilner G.A.R. Post which was responsible for the erection of the monument.
If any reader of this blog can provide any answers to the question of what happened to Henry Dietrich, please do so by adding a comment to this post – or by sending the information by e-mail.
——————————
Pennsylvania Veterans' File Cards are from the National Archives.