Posted By Norman Gasbarro on September 4, 2015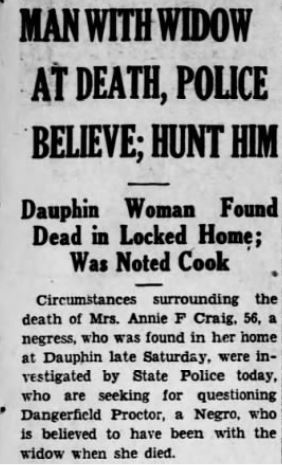 Less than five years after the death of Leonard P. Craig, his widow was found dead in a locked home in Dauphin Borough, Dauphin County, Pennsylvania.  Leonard P. Craig was a Civil War soldier who was previously profiled here in a post entitled:  Leonard P. Craig – Foreman, Philadelphia and Reading Railroad.
During the Civil War, Leonard P. Craig served as a Private in the 2nd United States Colored Cavalry, Company M, from 19 February 1865 to 11 February 1866.    He died on 7 September 1923.
From the Harrisburg Telegraph, 26 March 1928:
MAN WITH WIDOW AT DEATH, POLICE BELIEVE;HUNT HIM

Dauphin Woman Found Dead in Locked Home; Was Noted Cook

Circumstances surrounding the death of Mrs. Annie F. Craig, 56, a Negress, who was found in her home at Dauphin late Saturday, were investigated by State Police today, who are seeking for questioning Dangerfield Proctor, a Negro, who is believed to have been with the widow when she died.

Mother Receives Note

A note received by Mrs. Mary Bair, 21 South Sixteenth Street, mother of the dead woman, with whom Mrs. Craig lived part of the time, explained that Proctor intended to leave Harrisburg to get work. State Police believe that he was with Mrs. Craig when she became ill and then placed two pillows under her head and a comforter over her. He became alarmed and fled. An autopsy showed no marks of violence.

Mrs. Craig was last seen Wednesday night. She had spoken to neighbors about work around her home and explained that two men were to come there. Proctor was believed to have visited her. The next day Mrs. George F. Landis discovered that the Negress had failed to report for housework as she had promised. Later Mrs. Clayton C. Manning, a neighbor, discovered the chickens had not been fed Saturday night and investigated.

Find Key on Mat

A key to the house was lying on a mat at the door.

No Disorder in Rooms

The door was locked. There was no disorder in the rooms on the first floor, but on the second floor, between two beds, was found the body of Mrs. Craig. The pillows under her head and the comforter over the body led authorities at first to believe in foul play, but later death was believed to have resulted from natural causes.

Funeral Tomorrow

Two nieces, Mrs. Lizzie Page and Mrs. Ruth James; and two nephews, Wallace S. Bair and Leonard Craig, all of Harrisburg, also survive her.

Funeral services will be held at the Walter J. Hooper Funeral Parlor, 604 Forster Street, tomorrow morning at 10 o'clock.  The Rev. Luther Blalock, Pastor of the Wesley African Methodist Episcopal Zion Church, will officiate. Burial will be in Dauphin Cemetery.

Noted as Cook

Mrs. Craig was noted as a cook. She was the widow of Leonard Craig, a pensioned soldier and retired employee of the Reading Company.
An article appearing in the Harrisburg Evening News on the same day noted that although Dangerfield Proctor was not suspected of foul play in Mrs. Craig's death, police still wanted to question him.  According to the article, Proctor had slipped a note and ten dollars under the door of his landlady indicating that he wanted her to hold his room for him until he returned from seeking work.  He had been previously employed as a waiter at the Pennsylvania Railroad Station and at the Penn-Harris Hotel in Harrisburg.
According to the evening article, Mrs. Craig died of a cerebral hemorrhage and heart disease.  The coroner believed that Proctor left because he was frightened.
No news article was located that indicated that Dangerfield Proctor was ever found and questioned.  However, a Pennsylvania Death Certificate was located for a waiter named Dangerfield G. Proctor, born 10 April 1870 in Alexandria, Virginia, son of Thomas Proctor and Agnes Neuby, and died 27 October 1959, in York County, Pennsylvania.
——————————-
The news article was found on Newspapers.com.