Posted By Norman Gasbarro on September 16, 2015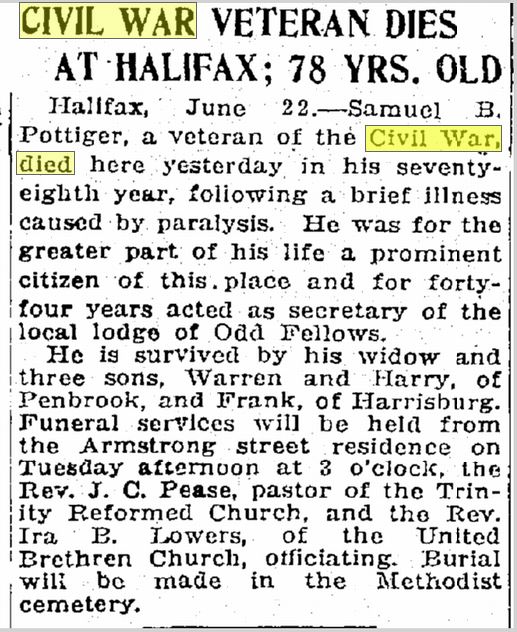 CIVIL WAR VETERAN DIES AT HALIFAX; 78 YEARS OLD

Halifax, 22 June 1919 — Samuel B. Pottiger, a veteran of the Civil War, died here yesterday in his seventy-eighth year, following a brief illness caused by paralysis.  He was for the greater part of his life a prominent citizen of this place and for forty-four years acted as secretary of the local lodge of Odd Fellows.

He is survived by his widow and three sons: Warren Pottiger and Harry Pottiger, of Penbrook; and Frank Pottiger, of Harisburg.  Funeral services will be held from the Armstrong Street residence on Tuesday afternoon at 3 o'clck, the Rev. J. C. Pease, pastor of the Trinity Reformed Church, and the Rev. Ira B. Lowers, of the United Brethren Church, officiating.  Burial will be made in the Methodist Cemetery.  [Harrisburg Patriot, 23 June 1919].
Samuel B. Pottiger, also found in the records as Poteiger and Pottieger, was listed in the Halifax Area 175th Anniversary Book as a Civil War veteran.  The obituary of him, transcribed above, gave his cause of death as "paralysis" and indicated the survivors in his family.
The Pennsylvania Death Certificate (shown below from Ancestry.com) provides additional information:
Additional information provided in the Death Certificate: (1) Names of his parents – John Pottiger and Susan [Witman] Pottiger, both of whom were born in Pennsylvania; (2) Cause of Death – Cerebral Apoplexy; (3) His Occupation -Retired Carpenter; (4) Place of Burial – Halifax (although a specific cemetery is not given); (5) He was born in Pennsylvania on 3 August 1840 and died in Halifax on 21 June 1919.
The military service of Samuel B. Pottiger is noted on the Pennsylvania Veterans' File Card, available from the Pennsylvania Archives: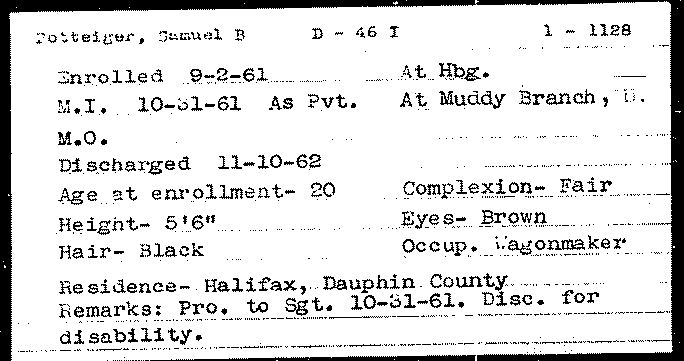 Samuel enrolled in the 46th Pennsylvania Infantry at Harrisburg, on 2 September 1861.  On 31 October 1861 he was mustered into Company D as a Private at Muddy Branch, Maryland.  On the same day, he was promoted to Sergeant.  He served until 10 November 1862, when he was discharged on a Surgeon's Certificate of Disability.  This record does not indicate the disability for which he was discharged.
At the time of his enrollment, Samuel B. Pottiger was a wagon maker; he claimed to be 20 years old; he stood 5 foot-6 inches tall, had black hair, a fair complexion, and brown eyes; and he gave his residence as Halifax.
The Pension Index Card from Fold3 (shown below) confirms that Samuel only served in the 46th Pennsylvania Infantry.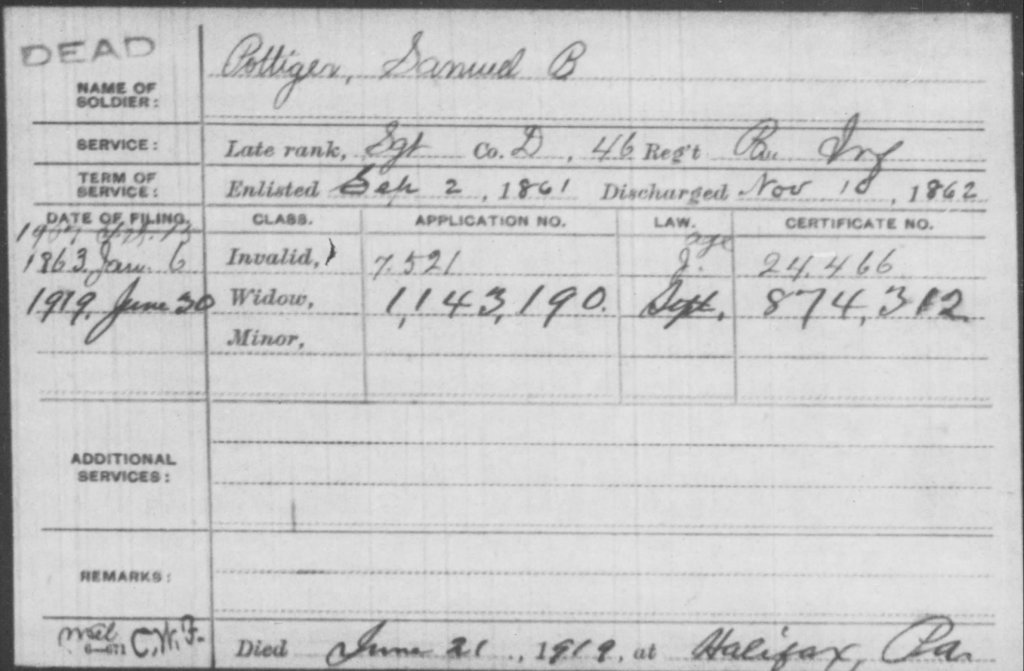 Additional information given on the Pension Index Card:  (1) The dates of service in the 46th Pennsylvania Infantry are 2 September 1861, which begins at his enlistment rather than his muster date, and end on 10 November 1862 (consistent with the dates on the Pennsylvania Veterans' Index Card); (2) He applied for a disability pension on 6 January 1863, an indication he was disabled in the war; (3) He received the pension, which he collected until his death, whereupon his widow, Mary J. [Boyer] Potteiger, applied and collected until her death; (4) Samuel B. Potteiger died on 21 June 1919 (which is consistent with date on his Pennsylvania Death Certificate.
The final document examined for this blog post is the 1890 Veterans' Census for Halifax (not shown) which is available through Ancestry.com.  That document notes his service in the 46th Pennsylvania Infantry, with rank and dates of service consistent with the other records, but also gives the nature of his disability:  "Wounded in right foot."
Samuel B. Pottiger and his two wives are buried at Halifax United Methodist Cemetery.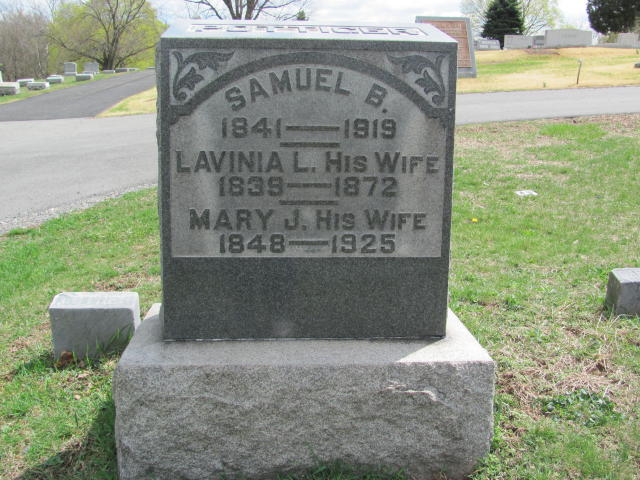 The first wife of Samuel was Lavinia L. Lortz (1839-1872) and the second wife was Mary J. Boyer (1848-1925).
Additional information is sought on Samuel B. Pottiger – his Civil War service and his family.  Stories and pictures are particularly appreciated!  Add comments to this blog post or send via e-mail.
——————————–
The news clipping was obtained through the on-line service of the Free Library of Philadelphia.
1890V-wounded in right foot