Posted By Norman Gasbarro on September 7, 2015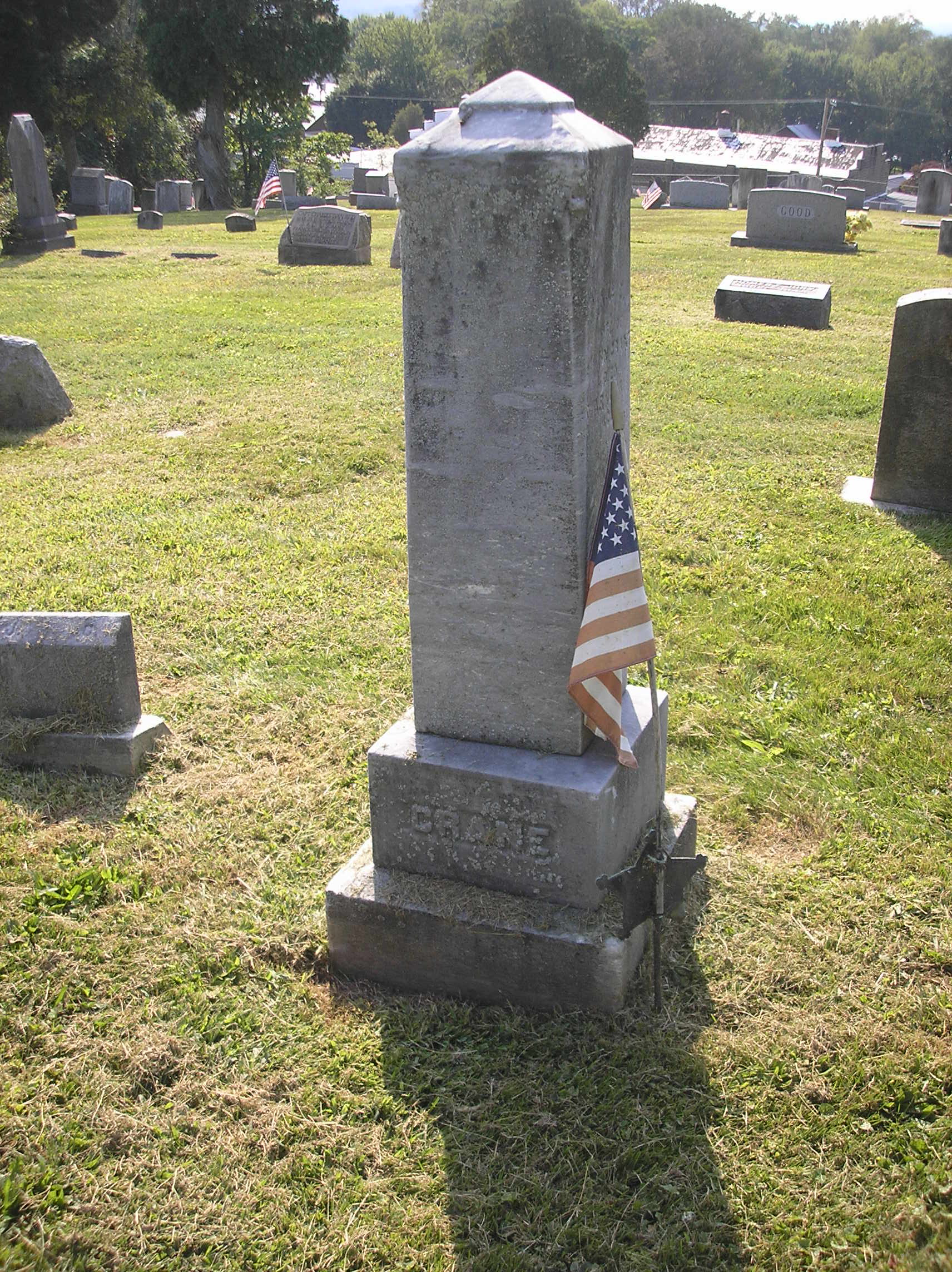 John Crane, who is also found in the records as John Crain, is buried at Oak Hill Cemetery, Millersburg, Dauphin County, Pennsylvania.  At his grave there is a G.A.R.-Star-Flag Holder indicating service in the Civil War.  However, his name does not appear on the Millersburg Soldier Monument.
There is a John Crane who served in the 192nd Pennsylvania Infantry, Company H, as a Private, from 1 March 1865 through 24 August 1865, as noted in the 1890 Veterans' Census of Lykens Borough.  It can be assumed that this is the same John Crane whose name appears on the Lykens G.A.R. Monument on North Second Street in Lykens Borough.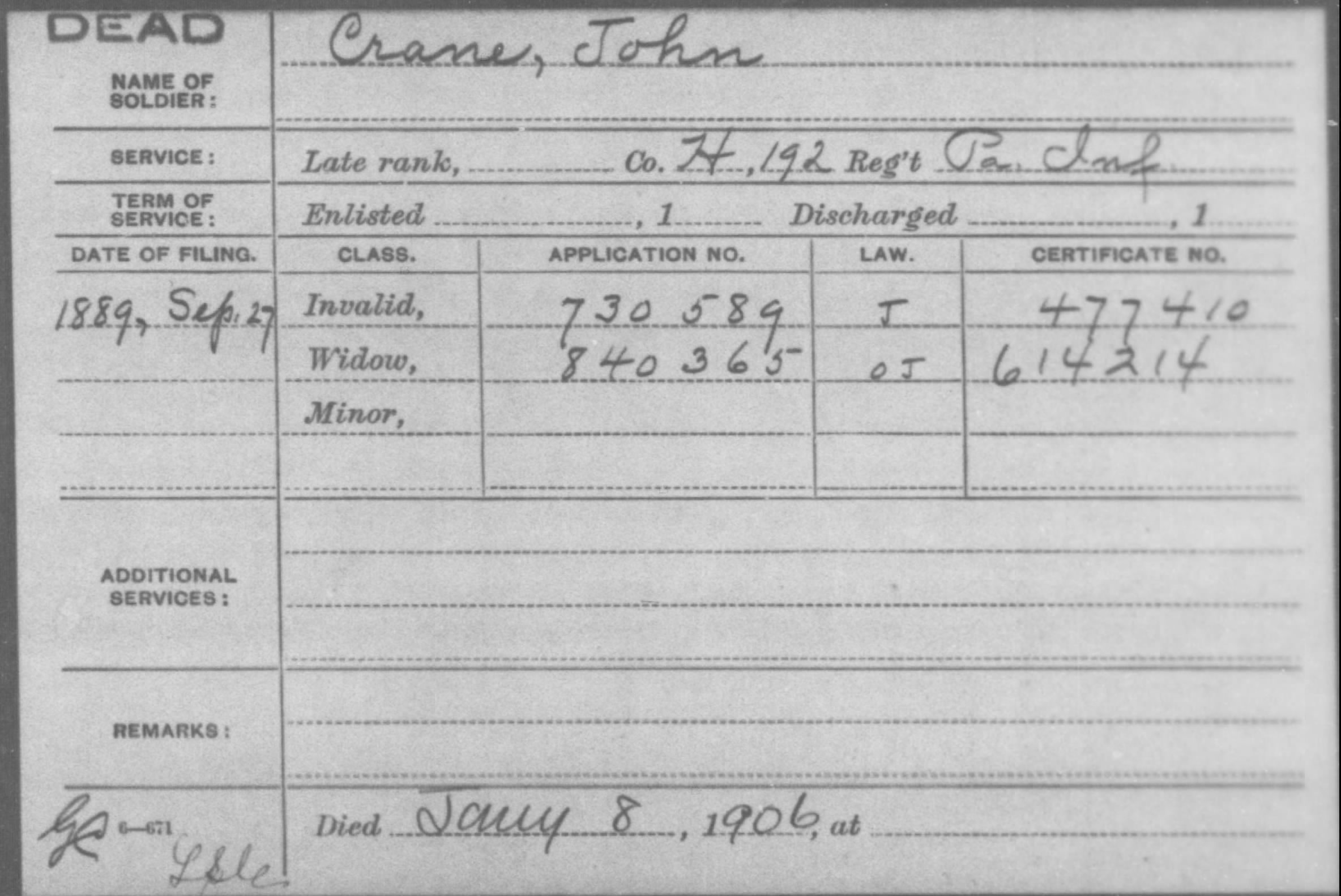 In the Pension Index Card file on Fold3 (shown above), a record was found indicating that this John Crane died on 8 January 1906.  That card notes that a widow applied for benefits, but does not give the date of her application.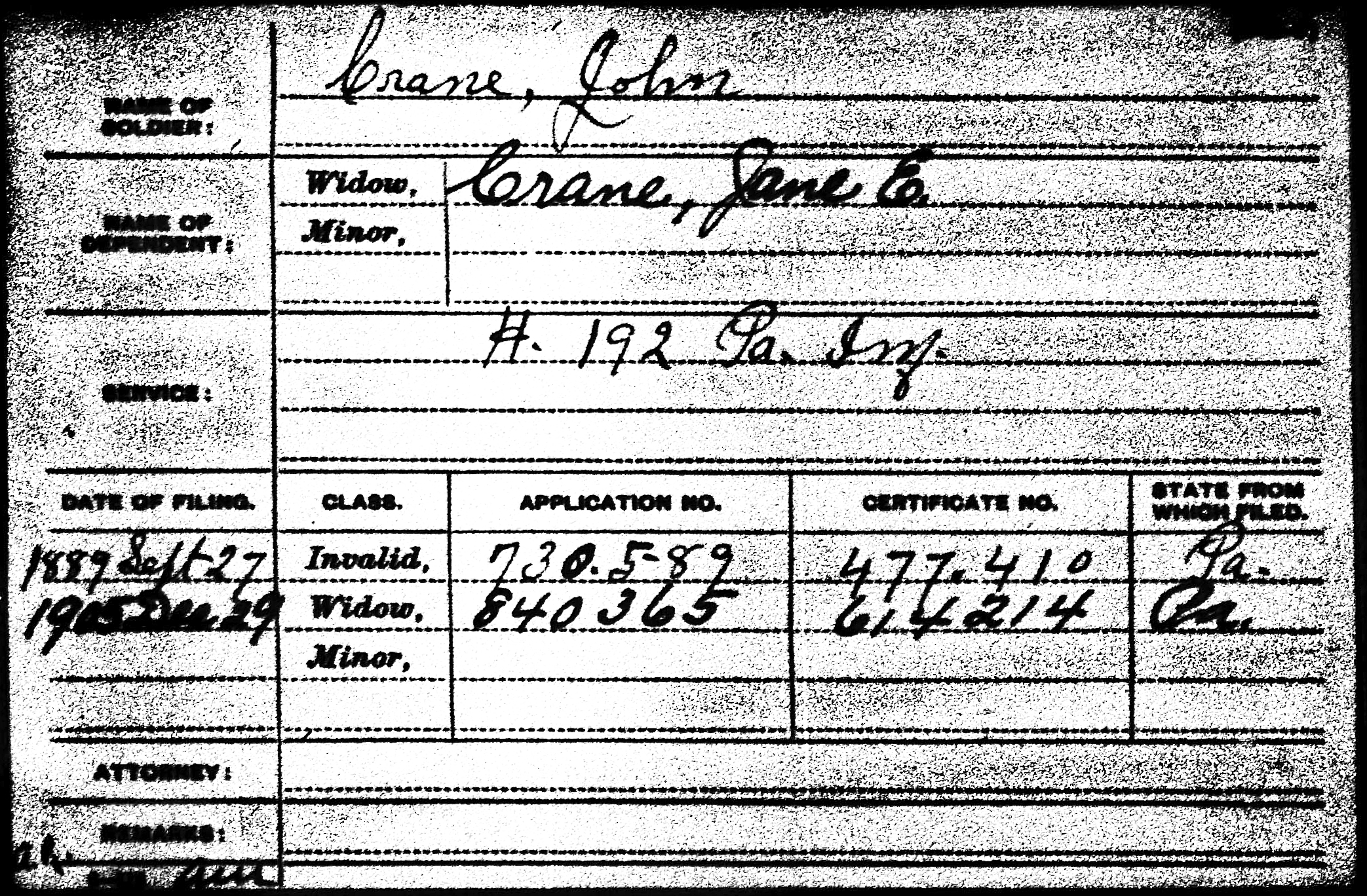 In the Pension Index Card file on Ancestry.com, the information is slightly different – indicating that the widow, Jane E. Crane, applied for benefits on 29 December 1905.  Could this be an error?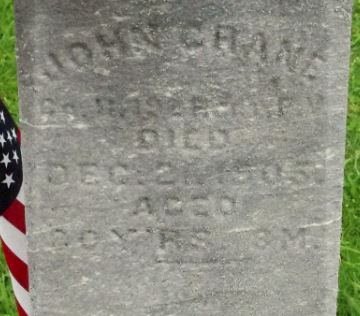 Turning back to the grave marker at Millersburg (enlargement above), the death date of John Crane appears to be 21 December 1905 – which is consistent with the application date of the widow as it appears on the Ancestry.com version of the Pension Index Card.
Since the more accurate death date is established in December 1905, the death occurred just days before Pennsylvania began keeping state-wide death records – which required a death certificate, most of which are now available on Ancestry.com.  Therefore, there is no Pennsylvania Death Certificate for John Crane.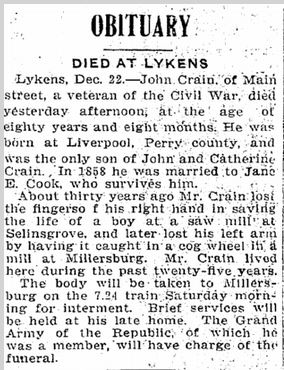 But, the Harrisburg Patriot of 23 December 1905 did print an obituary for John Crain – which was available through the on-line resources of the Free Library of Philadelphia:
OBITUARY

DIED AT LYKENS

Lykens, 22 December 1905 — John Crain, or Main Street, a veteran of the Civil War, died yesterday afternoon, at the age of eighty years and eight months.  He was born at Liverpool, Perry County, and was the only son of John Crain and Catherine Crain.  In 1858 he was married to Jane E. Cook, who survives him.

About thirty years ago Mr. Crain lost the fingers of his right hand in saving the life of a boy at a saw mill at Selinsgrove, and later lost his left arm by having it caught in a cog wheel in a mill at Millersburg.  Mr. Crain lived here during the past twenty-five years.

The body will be taken to Millersburg on the 7:24 train Saturday morning for interment.  Brief services will be held at his late home.  The Grand Army of the Republic, of which he was a member, will have charge of the funeral.
The accidents referred to in the obituary were also reported in the Harrisburg newspapers:
From the Harrisburg Daily Independent, 29 June 1883:
Last Monday while John Crane was engaged in drawing logs into John L. Freck's stave mill he met with a serious accident.  In the act of drawing in a log Mr. Crane reached up to adjust the rope, by some means getting his hand caught in a pair of cog wheels.  His arm was drawn into the cogs and crushed from the fingers up to above the elbow before he succeeded in extricating it.
And from the Harrisburg Telegraph of the same day:
Arm Crushed at Millersburg

On Monday last while John Crane was at work in John L. Freck's stave mill, in Millersburg, the belting caught his shirt sleeve and drew his left arm into the cog wheel, completely crushing his arm, necessitating amputation, the operation being performed by Drs. Weiser and Bowman.  Mr. Crane is between fifty and sixty years of age, and several years ago had the fingers on his right hand taken off by a circular saw.
In 1880, John Crane can be found in the Millersburg Census with occupation given as "works in saw mill."  In 1890, he is found in the Lykens Borough Veterans' Census; he reported no Civil War-related disabilities, although it is clear from the news articles that he had disabilities as a result of the circular saw accident and the cog wheel accident at the stave mill.  On 27 September 1889, John Crane applied for a disability pension based on his Civil War service.  At this writing, his pension application has not been seen to determine whether his job-related injuries contributed to his receipt of a pension.  And in 1900, John Crane is found in the Lykens Borough Census, where he gave his occupation as "notions peddler."
Jane [Cook] Crane died in Lykens on 14 March 1918 of a cerebral hemorrhage.  It is assumed that she was supported in her later years by her husband's Civil War pension.   No children have been identified for this couple.
As already stated, John Crane is named on the Lykens G.A.R. Monument.  Shown above is his name, listed with Privates who were members of the Heilner G.A.R. Post.  His name is probably not included on the Civil War Memorial at Millersburg, because he was a G.A.R. member at Lykens – but it should have been included there because he lived there, suffered his second serious accident there, and is buried there.
More information is sought on John Crane, including his military record, his pension application information, and any interesting stories about him.  Readers can contribute to the comments section of this post or send the information by e-mail.
——————————–
Some of the news articles were obtained through Newspapers.com.