Posted By Norman Gasbarro on September 14, 2015
In January 2013, in a post entitled They Served Honorably in Company H, 210th Pennsylvania Infantry, it was incorrectly reported that Daniel W. Tobias moved to Illinois after the war.  It is now known that the man who served in Company H was most commonly known as Daniel Tobias and the man who served in Company A of the same regiment was most commonly known as Daniel Wiest Tobias – clearly two different people!  The man who served in Company H, Daniel Tobias, did move to Illinois after the war and died in Forreston, Illinois, on 20 February 1922.  The one from Company A, Daniel Wiest Tobias, died on 22 September 1906, in Pennsylvania, and is buried in Messiah Lutheran Church Cemetery, Fisherville, Dauphin County.
As can be seen from the above photograph from the Messiah Cemetery (found on Findagrave), the Tobias stone is broken and lies upside down on the family plot.
A wider view of the stone with G.A.R. star and marker (also from Findagrave), shows the extent of the damage.
An examination of some of the pension application papers available to the Civil War Research Project shows that when Daniel Wiest Tobias applied for a pension on 4 September 1883 he reported the following:
I was drafted once. I did not claim exemption. I furnished a substitute. I did not wish to go in service then.  Afterwards my neighbor formed a company and expecting to be drafted again, I enlisted in the 210th Pennsylvania Volunteers [210th Pennsylvania Infantry].
His reason for applying for a pension was as follows:
I claim pension for loss of hearing in right ear which I lost in Chester Hospital near Philadelphia about June 1865. I contracted a severe cold just after the surrender of General Lee in April 1865… It settled in my head and affected my hearing but after I got to Washington it got better until I got to Chester Hospital and there my ear became affected again worse. It would buzz and bing and I had pain on that side of head and before I left hospital I could not hear out of that ear at all.
And in testimony for him, Cornelius Bixler, the county commissioner stated the following:
I remember the claimant was broken down and debilitated about the time of Gen. Lee's surrender and was sent to hospital. I did not know what ailed him and did not see him until he returned home when he looked like a skeleton.

He complained of his hearing as soon as he was able to get about – said he lost one ear – that is the hearing in hospital. I cannot say how soon after discharge – whether within a month, a year or longer. He would kind of turn his head to one side when listening and that lead me to believe his hearing was bad. He was badly used up when he came home but I cannot describe what particular disability ailed him. I should judge that he has complained of defective hearing….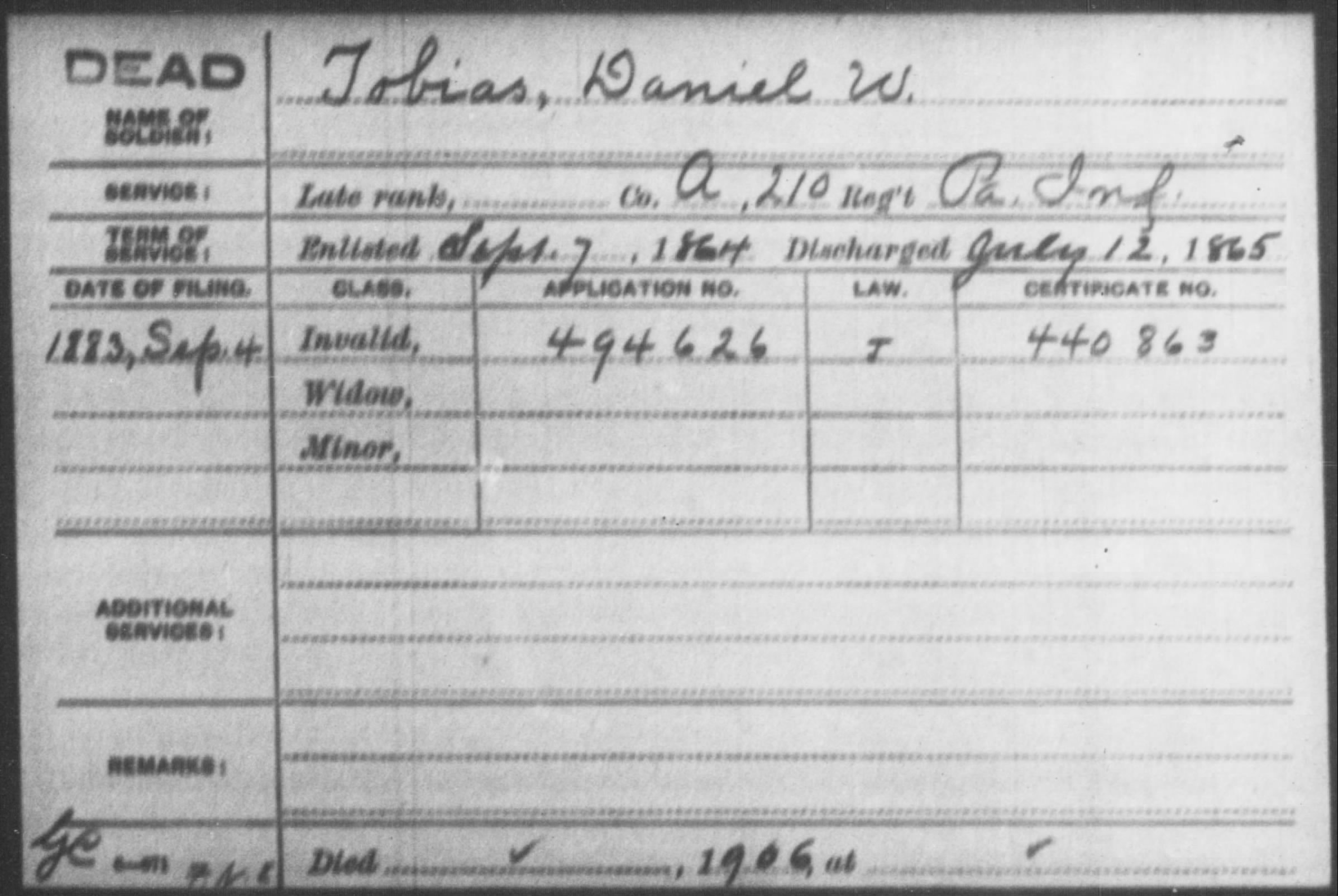 The Pension Index Card (above, from Fold3) confirms Daniel W. Tobias's term of service as 7 September 1864 through 12 July 1865, his initial pension application date of 4 September 1883, and his death date of 1906.  Daniel was married to Mary A. Klinger who died Christmas Eve, 1898.  He did not re-marry, so no widow survived him to collect pension benefits.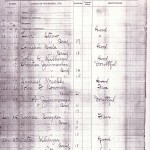 One of the papers in the pension application file lists the number of witnesses who testified for Daniel and gives the reliability of each.  Cornelius Bixler's testimony (given above) was deemed to be "Good" as was the testimony of Levi Straw, John G. Killinger, Samuel Meckley, Peter Klinger, and Emanuel Forney.  Testimony that was considered "Doubtful" was given by Christian Zimmerman, Jacob Zimmerman, and Isaac Hoffman.  "Fair" testimony was given by John F. Bowman and James Snyder.  The weight of the evidence was in favor of granting the pension, which Daniel W. Tobias received shortly after his application and collected until his death in 1906.
Daniel W. Tobias was a farmer most of his life, but in the 1900 Census for Jackson Township, Dauphin County, his occupation is given as "shopkeeper."
Also recently discovered is that Daniel W. Tobias was appointed Postmaster of Enders, Dauphin County, on 1 November 1865.  The partial document shown below is from the collection entitled "U.S. Appointments of Postmasters" and is available on-line through Ancestry.com.
The document also shows that he was replaced on 25 April 1867 by Christian B. Miller.  There is no explanation given for the replacement.
Finally, in a new collection of documents available on Ancestry.com, "Pennsylvania Wills and Probate Records," information was given about the location of the records of the Estate of Daniel W. Tobias, which was probated in 1907 in Dauphin County Orphans Court.
This post is a good example of how researching a Civil War soldier is never complete.  There are always mistakes made, so it is always best to present findings for critical review and follow all suggested leads – and, as in this case and in many other cases, new information is constantly made available on-line.
—————————