Posted By Norman Gasbarro on August 19, 2015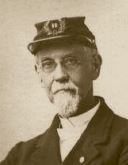 William W. Davidson was born in South Manheim Township, Schuylkill County, Pennsylvania, the son of John H. Davidson and Elizabeth [Schwenk] Davidson, on 18 December 1842.  In the 1860 Census he was single, living in Millersburg, and working as a tanner.
In September 1862, William responded to the emergency presented to Pennsylvania by joining the 4th Pennsylvania Infantry (Militia), Company B, as a Corporal.  This approximate ten day service was not reported to the Pension Bureau when he later applied for benefits on 23 June 1898.  The only service he claimed at that time was the 210th Pennsylvania Infantry, Company A, as a Private, from 16 September 1864 at Harrisburg, to his honorable discharge at Arlington Heights, Virginia, 30 May 1865.
Following his release from the military, he married Susan Elizabeth Zimmerman at Fisherville Lutheran Church, Jackson Township, Dauphin County, on 9 November 1865.  The couple had three children:  Frank E. Davidson, born 21 December 1866; Clara May Davidson, born 6 March 1868; and John H. Davidson, born 5 July 1870.
By 1870, the family was living in Harrisburg, where William was employed at a saw mill, and by 1880, he joined the railroad, where he worked until retirement.  In 1890, he did not report any Civil War-related disabilities.
His death was reported in the Harrisburg Evening News on 24 December 1923:
CIVIL WAR VETERAN DIES ON VISIT TO DETROIT

While on a visit with his wife in Detroit, William W. Davidson, 81 years old, 1211 North Third Street, died yesterday afternoon.  He was a retired Pennsylvania Railroad employee and a Civil War veteran.

Mr. Davidson was born in Schuylkill Haven, but moved to this city when he was a boy. At the time of his retirement by the Pennsylvania Railroad, six years ago, he was yardmaster at the Maclay Street Yards.

He served with the Federal Army during the Civil War, having enlisted in a Pennsylvania volunteer regiment.  He was wounded on several occasions.  Following the war he was active in organizing the Grand Army of the Republic in this State, and for a number of years he was a staff officer of the State Department of the G.A.R.  He was also a member of the Knights of Malta and the Messiah Lutheran Church.

He is survived by his wife, a sister, Mrs. Emma E. Donnelly, of Lemoyne, and one daughter, Mrs. Charles Stauffer of Dauphin.  The body was sent to this city from Detroit today.
Funeral arrangements were described in the Harrisburg Evening News of 26 December 1923:
WILLIAM W. DAVIDSON

Funeral services for William W. Davidson, 81 year old Civil War veteran, of 1211 North Third Street, who died Sunday in Detroit, were held this afternoon at 1 o'clock, from Messiah Lutheran Church.  Burial was in the Fisherville Cemetery, the Rev. Carl Rasmussen officiating, assisted by the Rev. Charles Bauslin.

Davidson was a retired employee of the Pennsylvania Railroad, and was at Detroit with his wife, visiting relatives over the Christmas holidays.  He had only been in the city eight hours before he died.

The body was brought here Christmas morning.  Davidson is survived by his widow, a sister, Mrs. Emma N. Donnelly, of Lemoyne, and daughter, Mrs. Charles Shaffer, of Dauphin.  Mrs. Davidson was accompanied east by a daughter and a son, Mrs. Grant Cannon and Leigh H. Smith, both of Detroit.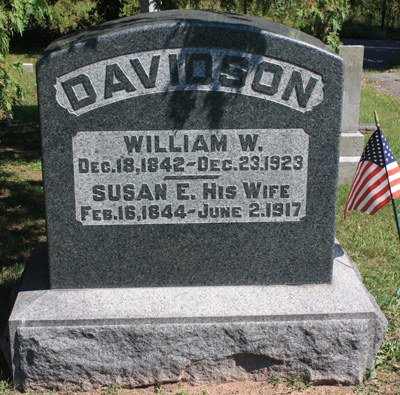 Additional information about William W. Davidson can be found at his Findagrave Memorial.
Four pages from the pension application file are also presented below for those wishing to do further research.  Click on thumbnails to enlarge the documents: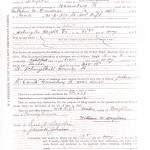 "Declaration for Pension" including nature and details of military service.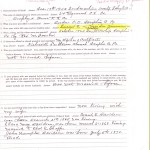 Update of personal information required by Pension Bureau, 1915.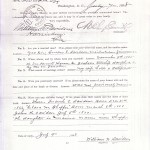 Personal information required in 1898 for original application.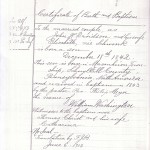 Certification of birth and baptism of William W. Davidson.
—————————–