Posted By Norman Gasbarro on August 14, 2015
In going through some obituaries that appeared in the Harrisburg Evening News in 1923, two centenarians were discovered.  One was an African American woman, supposedly born in slavery who escaped via the Underground Railroad, who has to be considered as one of the longest living persons ever; the other was said to be at the time of his death, the oldest Civil War veteran in the United States.
———————————
From the Harrisburg Evening News of 12 February 1923:
FORMER LANCASTER COUNTY NEGRESS, 117, DIES

Richmond, Vermont, 12 February 1923 — Mrs. Augusta Maxwell, formerly of Lancaster County [Pennsylvania}, and a slave in the South before the Civil War, died here at the age of 117.

She was one of the few survivors of Negroes who made their way to Canada by the "Underground Railroad," escaping slavery before emancipation.
For more information on Susanna Augusta [Stokes] Maxwell, see the Dictionary of Canadian Biography which deals with some of the conflicting information about her; see also The Underground Railroad – An Encyclopedia of People, Places and Operations, by Mary Ellen Snodgrass.
The path of escape that she made in 1851 from Lancaster County to New York State and eventually to Toronto, may have taken her through part of the Lykens Valley, as that was a known route on the Underground Railroad in the middle part of Pennsylvania.  See also prior posts on this blog:  Underground Railroad.
——————————
From the Harrisburg Evening News, 13 April 1923:
OLDEST CIVIL WAR VETERAN, 101, DIES

Corry, 13 April 1923– John Colter, 101 years old, the oldest Civil War veteran in the land, died at the home of his grandson, Elbert Alford.  He was born 10 January 1822 in Woodstock Township, Crawford County [Pennsylvania], and except for war service, lived there all his life.

Mr. Colter lived under twenty-one presidential administration, beginning with James Monroe.

He recalled as a lad of 6 years when John Quincy Adams broke ground for the building of the first steam railroad in the United States. He was 22 when Professor Morse sent his memorable message from Baltimore to Washington.  When 39 years old he enlisted with the 169th Pennsylvania Volunteers [169th Pennsylvania Infantry] and served throughout the Civil War with honor.  He loved to recall boyhood incidents, when wild game was no unusual sight in Crawford County.  He was greatly beloved by his numerous friends, who almost without exception called him Uncle John.  He is survived by one daughter, Mrs. Wilcox of Miller Station; two grandsons; eight great-grandchildren; and one great-great-grandchild.  He was a lifelong member of the Methodist Episcopal Church.
According to information found in Bates, John C. Coulter, was mustered into service on 16 October 1862 at Harrisburg as a Private.  However, Bates notes that at the muster-out of Company K, he was "absent sick."  However, the full dates of his service are noted on his Pension Index Card from Fold3, shown below: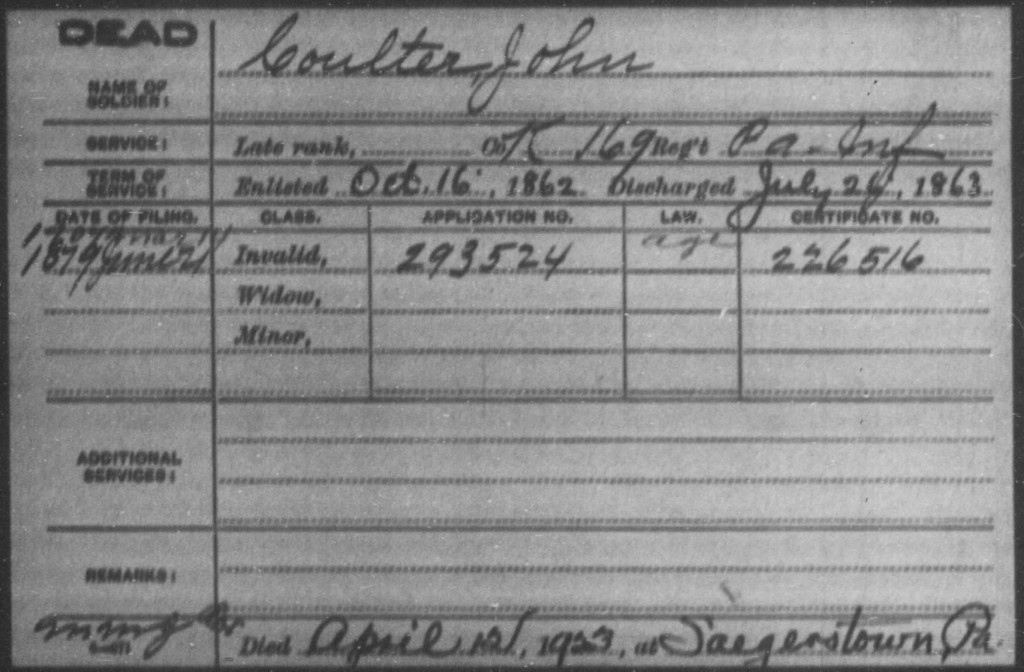 His discharge date is given as 26 July 1863, which meant that he served a full nine month term.  No other service is stated on the card – indicating that he did not serve "throughout the war" as mentioned in his obituary, but only for a nine month term as a draftee.
An incomplete Findagrave Memorial for John Coulter exists – buried at Gravel Run Cemetery, Woodcock, Crawford County.
————————————-
News stories are from Newspapers.com.