Posted By Norman Gasbarro on August 24, 2015
Two Civil War veterans with connections to the Lykens Valley celebrated long-term marriage anniversaries at the end of 1918 and the end of 1919.  Both anniversaries were reported in the newspapers of 1919.
Cloyd C. Bender was born in Perry County, Pennsylvania, but lived most of his life in Halifax where he first worked as a boatman and later was a conductor for the Pennsylvania Railroad.  He died in 1922 and is buried in Halifax United Methodist Church Cemetery.  His wife, the former Lydia Mary Fahnestock, was also from Perry County.  She died in 1930 after collecting a widow's pension for about 8 years.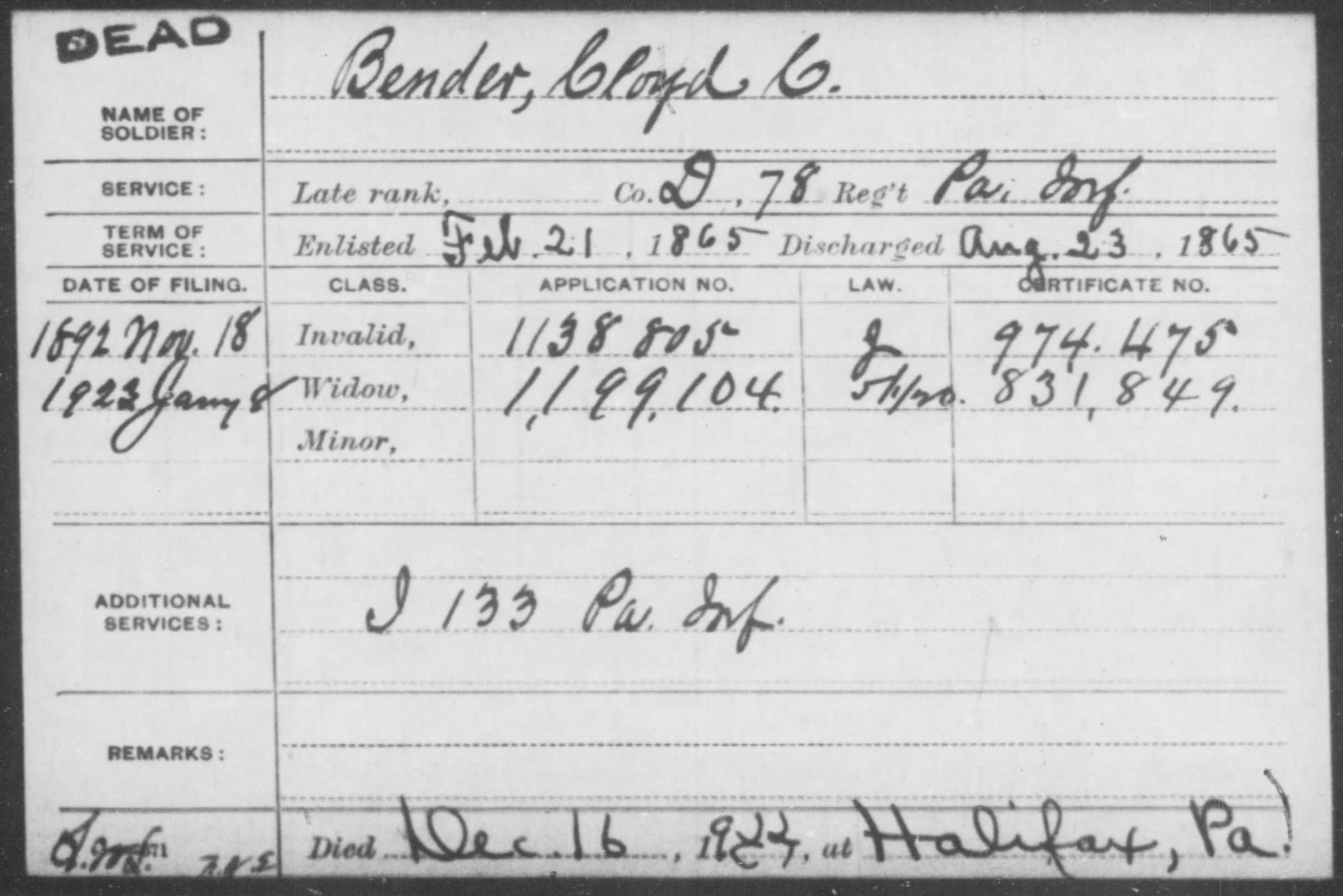 Bender's Pension Index Card (shown above) from Fold3, shows his service in the 78th Pennsylvania Infantry, Company D, and in the 133rd Pennsylvania Infantry, Company I.
From the Harrisburg Telegraph, 4 January 1919:
MARRIED FIFTY-FIVE YEARS

Halifax, Pennsylvania, 4 January, 1919 — On 25 December 1863, Cloyd C. Bender and Miss Mary Fahnestock, of near Newport, Perry County, were married on Christmas Day.  On 25 December 1918, at their home in South Second Street, Halifax, they celebrated their fifty-fifth wedding anniversary in a quiet way.  They have been residents of this place for more than thirty years, having moved here from Hagerstown, Maryland.  Mr. Bender is 76 years old and is a veteran of the Civil War and a retired Pennsylvania Railroad employee.  Mrs. Bender is 76 years old and in good health.  They have six children living as follows:  Byron Bender, of Hagerstown, Maryland; Sanford Bender, of Millersburg; Professor C. Ray Bender of Sacramento, California; and Mrs. E. F. Koppenheffer, Mrs. Suptapatt and Clarion A. Bender of town.
————————————–
Samuel Doan is an example of a veteran who had not been previously included in the Civil War Research Project, but now should be included.  He served in the 36th Pennsylvania Infantry (7th Pennsylvania Reserve), Company D, as a Private and was later promoted to Corporal.  Although he was born in Perry County, Pennsylvania, and spent the later years of his life in Harrisburg, he married Elizabeth Jane "Lizzie" Steever of the Steever family of Millersburg and Upper Paxton Township.  At least five Steever veterans have so far been identified from the Lykens Valley area, including three who are named on the Millersburg Soldier Monument.
The Pension Index Card, shown above (from Fold3), indicates that after Samuel Doan died, his wife applied for a widow's pension, which she received and collected until her death.
Samuel Doan died on 26 January 1921 and is buried in East Harrisburg Cemetery.
From the Harrisburg Telegraph, 30 December 1919:
MR. AND MRS. SAMUEL DOAN MARRIED FIFTY YEARS

The golden wedding anniversary of Mr. and Mrs. Samuel Doan, 1561 Vernon Street, who have resided in the city for many years, will be celebrated tomorrow evening at the home of their daughter, Mrs. Charles Warner, 68 North Sixteenth Street, with an informal gathering.

Miss Lizzie Steever, of Millersburg, and Samuel Doan, were married 31 December 1869, in Washington, D.C., with the Rev. Samuel Shannon, a Methodist minister officating.  Mr. Doan was an engineer for the Baltimore and Ohio Railroad at the time.  Later they lived in Lewistown and then came to Harrisburg for a permanent residence.  Of their eight children, seven survive and are all married.  There is but one grandson, Odin E. Carpenter, who served as a volunteer abroad and was both wounded and gassed.  Mr. Doan is a veteran of the Civil War and a member of Post 58, G.A.R.  Both he and Mrs. Doan are in good health.  They have been subscribers to the Telegraph since they located here.
——————————
News stories are from the on-line resources of the Library of Congress, Chronicling America.