Posted By Norman Gasbarro on August 17, 2015
Here is another strange case of Civil War battlefield artifacts found in an unusual, but somewhat believable place.  Hopefully, a reader of this blog can enlighten the rest of as to where these bullets are presently located.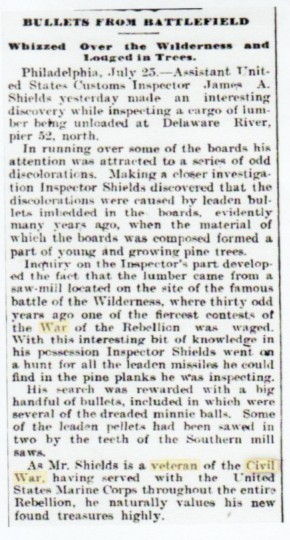 BULLETS FROM BATTLEFIELD

Whizzed Over the Wilderness and Lodged in Trees

Philadelphia, 25 July 1899 — Assistant United States Customs Inspector James A. Shields yesterday made an interesting discovery while inspecting a cargo of lumber being unloaded at Delaware River, Pier 52, North.

In running over some of the boards his attention was attracted to a series of old discolorations.  Making a closer investigation Inspector Shields discovered that the discolorations were caused by leaden bullets imbedded in the boards, evidently many years ago, when the material of which the boards was composed formed a part of young and growing pine trees.

Inquiry on the Inspector's part developed the fact that the lumber came from a saw mill located on the site of the famous Battle of the Wilderness, where thirty odd years ago one of the fiercest contests of the War of the Rebellion was waged.  With this interesting bit of knowledge in his possession Inspector Shields went on a hunt for all the leaden missiles he could find in the planks he was inspecting.

His search was rewarded with a big handful of bullets, included in which were several of the dreaded minnie balls.  Some of the leaden pellets had been sawed in two by the teeth of the Southern saws.

As Mr. Shield is a veteran of the Civil War, having served with the United States Marine Corps throughout the entire Rebellion, he naturally values his new-found treasures highly.

——————————–
The news clipping (above) from the Harrisburg Patriot, 25 July 1899, was found in an on-line search of the newspaper resources of the Free Library of Philadelphia.