Posted By Norman Gasbarro on July 27, 2015
In 1912, the Hon. James Martin Yeager wrote and published A Brief History of the Yeager, Buffington, Creighton, Jacobs, Lemon, Hoffman and Woodside Families and Their Collateral Kindred of Pennsylvania.  Yeager was formerly the President of Drew Seminary for Young Women of Carmel, New York as well as a former Member of the House of Representatives of Pennsylvania and a Marshal of the Middle District of Pennsylvania.  On pages 82-85, he presented a list of Pennsylvania soldiers he identified with the Yeager surname who had fought in the War of the Rebellion, 1861-1865.  In addition to the names of the soldiers, he named the regiment and company in which they fought.  Sixty-three veterans were thus identified.  A free download of Yeager's book can be obtained at the Internet Archive.
There is much information still to be discovered about each of the veterans.  Readers of this blog are urged to add information to what is provided below – particularly genealogical information about each of the men, including the names of their parents and their decent from the earliest Yeager's who arrived in Pennsylvania.  Additional stories about the Civil War service of these veterans is also sought, particularly if readers have access to the pension application files and military records from the National Archives.  Pictures are especially welcome!  Comments can be added to this post or sent by e-mail.
This post concludes a multi-part series on these Pennsylvanians with the Yeager surname who served in the Civil War.  In today's post several unconnected Yeager family members are featured in hope that a reader of this blog can make the required connection with a verified Civil War regiment and company.  It should be noted that none of the Yeager family members in this final post have yet been connected to the "list" presented in James Martin Yeager's book published 1912, but all were previously identified for inclusion in the Civil War Veterans' List of the the Lykens Valley area.
—————————-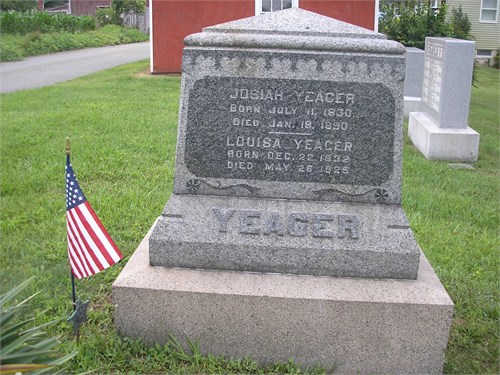 Josiah Yeager is buried at Peace Cemetery, Berrysburg, Dauphin County, Pennsylvania.  He was married to Louisa Enterline.  At his grave there is a Civil War marker (G.A.R. flag holder).  He was born on 11 July 1830 and died on 18 January 1890.  At his draft registration in July 1863, he was living in Mifflin Township, Dauphin County, and working as a saddler.  His name has not been located in any Civil War service records.
——————————
George Yeager, is named on the Willow Grove Monument at Lower Paxton Township, Dauphin County, as a Civil War soldier.  From information available about that monument, he appears to have served in the 3rd Pennsylvania Cavalry, but that has not been confirmed with other sources.
—————————–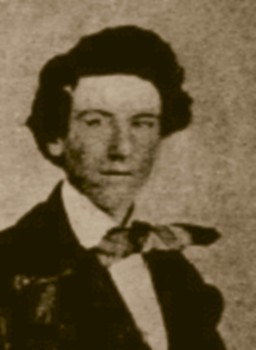 John Henry Yeager was born 14 January 1843 and died 24 June 1863.  He is buried in the Yeagerstown Lutheran Cemetery, Yeagerstown, Mifflin County, Pennsylvania.  His military records indicate that he died of chronic diarrhea at Alexandria, Virginia, 24 June 1865, while serving in the 1st Pennsylvania Cavalry, Company C, as a Private and Bugler.  At the time of his enrollment, he was living in Mifflin County.
—————————–
Andrew J. Yeager appears in the Dalmatia list of Civil War veterans.  However, to date, a specific regiment and company of service has not yet been determined.  There is a possibility that the Andrew Yeager who served in the 22nd Pennsylvania Infantry, Company K, from 23 April 1861, who deserted and was under arrest for court martial is the same person, but his residence was Juliann Furnace, Adams County, Pennsylvania, some distance from the Lykens Valley.
——————————
Joseph F. Yeager or Joseph F. Yerger, was born 22 November 1843 and died in Boone County, Iowa, on 18 December 1880 (or 1881).  He is buried at the Clark Cemetery, Luther, Boone County.  Three Civil War companies/regiments have been identified for him:  (1) On 13 September 1862, while a resident of Millersburg, he joined the 6th Pennsylvania Infantry (Emergency of 1862) and served through the end of the emergency on 27 September 1862;  (2) In June 1863 and July 1863, he served in the Emergency Force, 26th Pennsylvania Infantry, Company K, as a Private, and participated in the Battle of Gettysburg;  (3) On 16 September 1864, he was mustered into the 210th Pennsylvania Infantry, Company H, as a Private, then promoted to Corporal on 1 October 1864, where he served until 30 May 1865.  He married Edith Patterson.  After the war, he moved to Iowa.    Additional information about him can be found at his Findagrave Memorial.