Posted By Norman Gasbarro on July 24, 2015
In 1912, the Hon. James Martin Yeager wrote and published A Brief History of the Yeager, Buffington, Creighton, Jacobs, Lemon, Hoffman and Woodside Families and Their Collateral Kindred of Pennsylvania.  Yeager was formerly the President of Drew Seminary for Young Women of Carmel, New York as well as a former Member of the House of Representatives of Pennsylvania and a Marshal of the Middle District of Pennsylvania.  On pages 82-85, he presented a list of Pennsylvania soldiers he identified with the Yeager surname who had fought in the War of the Rebellion, 1861-1865.  In addition to the names of the soldiers, he named the regiment and company in which they fought.  Sixty-three veterans were thus identified.  A free download of Yeager's book can be obtained at the Internet Archive.
There is much information still to be discovered about each of the veterans.  Readers of this blog are urged to add information to what is provided below – particularly genealogical information about each of the men, including the names of their parents and their decent from the earliest Yeager's who arrived in Pennsylvania.  Additional stories about the Civil War service of these veterans is also sought, particularly if readers have access to the pension application files and military records from the National Archives.  Pictures are especially welcome!  Comments can be added to this post or sent by e-mail.
This post continues a multi-part series on these Pennsylvanians with the Yeager surname who served in the Civil War.  Today's post features Medal of Honor recipient Jacob Franklin Yeager, who was born in Pennsylvania, but served with an Ohio regiment.
—————————-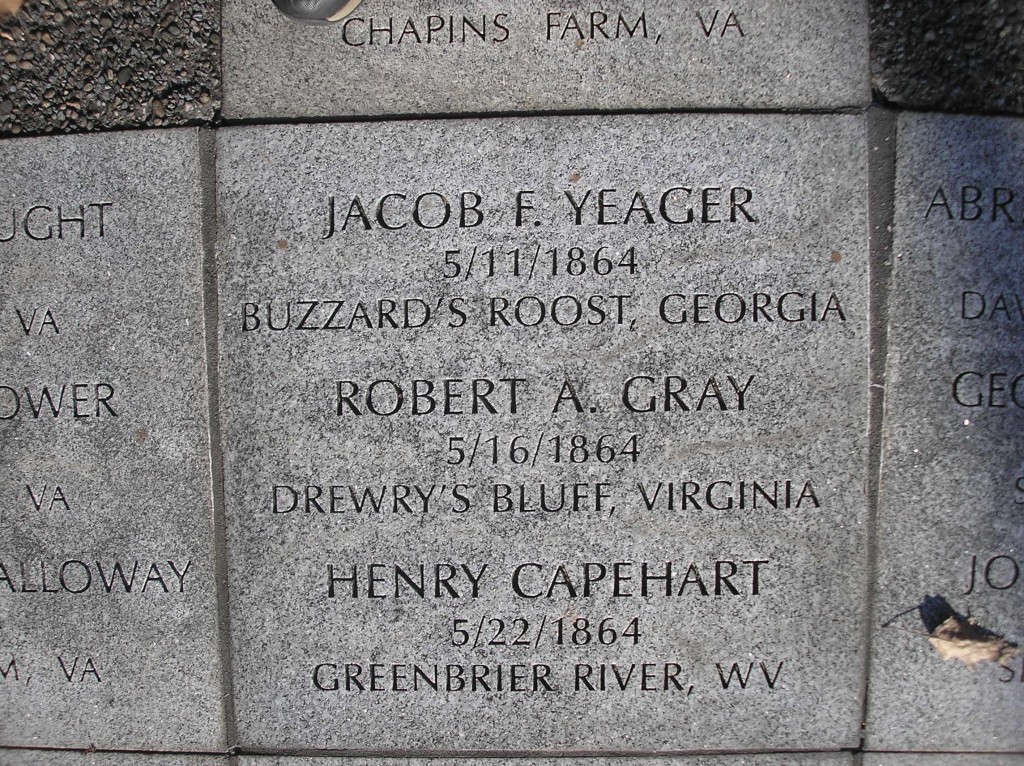 Jacob Franklin Yeager was born on 27 January 1841 in New Texas, Pennsylvania, the son of John Jacob Yeager and Susanne [Fenstermacher] Yeager; he died on 13 November 1909 in Tiffin, Seneca County, Ohio.  He is buried at the Greenlawn Cemetery in Tiffin.
During the Civil War, he served in the 101st Ohio Infantry, Company H, as a Private from 30 August 1862 through his transfer to the Veteran Reserve Corps on 15 March 1865.  At the time of his enlistment he gave his occupation as "real estate."
The following statement about his service is found in the Medal of Honor records:
During the action of 11 May 1864, at Buzzard's Roost, Georgia, a shell with a still-burning fuse fell among the ranks of the soldiers of Company H, 101st Ohio Infantry.  The deadly explosive threatened to kill or wound several soldiers within seconds, and would have, but for the action of one brave soldier.  Private Jacob Yeager, rather than seeking cover from the anticipated explosion, raced to the burning time-bomb and hurled it into a nearby stream, thereby saving his comrades from injury or death.
The Yeager-Buffington history (cited above), notes the following on page 85:
At this late day medals of honor, says Harper's Bazaar, 11 September 1907, for bravery in the Civil War have been presented to four soldiers – George N. Bliss, of Providence, Rhode Island; R. T. Irwin Shepard, of Winona, Minnesota; Chester Furman, of Bloomsburg, Pennsylvania; and Jacob Yeager, of Tiffin, Ohio.  Three of these distinguished themselves by leading forlorn hopes; but Yeager, who was a Private, won his medal by his heroic action in snatching up a shell with a burning fuse, which had fallen into the ranks of his company, and throwing it into a stream that flowed close by.
Jacob F. Yeager, because he was a Pennsylvanian by birth, is honored on the Pennsylvania Medal of Honor Memorial at Harrisburg (pictured above).
Jacob F. Yeager applied for a disability pension on 2 September 1865, which was awarded and he collected benefits until his death; his widow, Alice E. Yeager, applied on 29 November 1909, and she collected benefits until her death.
Additional information about Jacob F. Yeager and his family can be found at his Findagrave Memorial and on the Home of Heroes Web Site.