Posted By Norman Gasbarro on July 17, 2015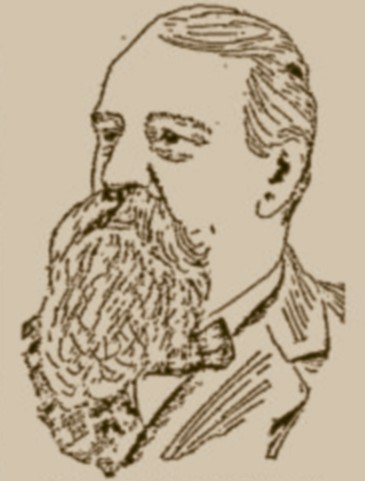 Harrisburg residents read of the death of Col. Thomas H. Rickert of Pottsville, in the Telegraph of 17 November 1899:
Col. Rickert Death

Pottsville, 16 November 1899 — Colonel Thomas H. Rickert, a well-known railroad businessman of this city, died at 1:20 this afternoon of disease contracted during the Civil War.  He was one of the contractors who built the Schuylkill Valley Branch of the Pennsylvania Railroad, the Buffalo extension of the Lehigh Valley Railroad, Cumberland Valley, and branches and extensions of the Philadelphia and Reading Railroad.  He is one of a syndicate who recently purchased the Schuykill Haven Iron Works.  He was Quartermaster of the 7th Pennsylvania Cavalry during the Civil War.
The Pennsylvania Veterans' Burial Card (below) from the Pennsylvania Archives was compiled in 1932 and contains an erroneous year of death and otherwise only gives the place of burial as Charles Baber Cemetery, Reading.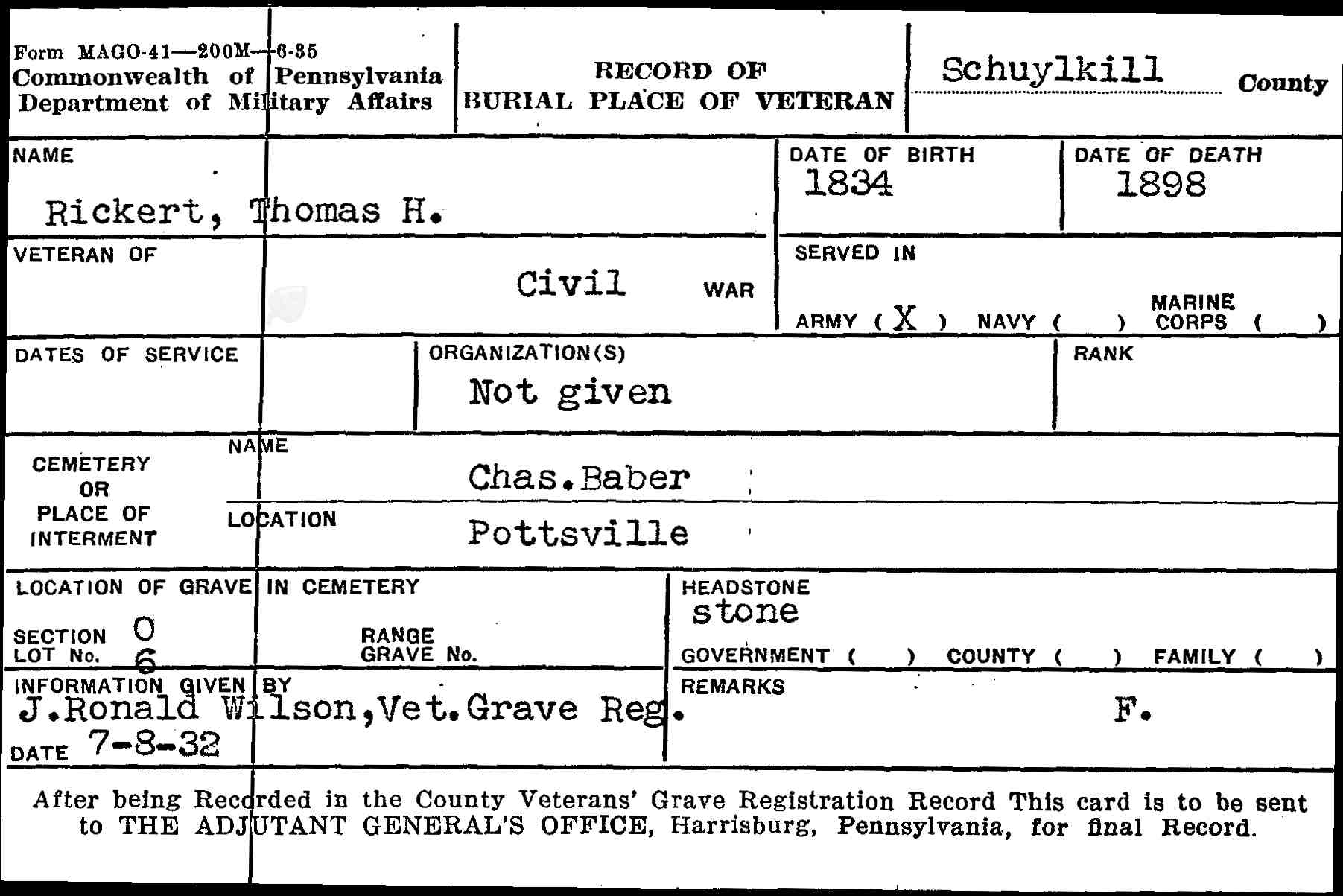 The Pennsylvania Veterans' File Card (below) notes that Thomas H. Rickert began his service in the 7th Pennsylvania Cavalry, Company A, and then provides a reference to a second card, for the Headquarters Staff (F & S).  The Bates reference is Volume 2, Page 1123.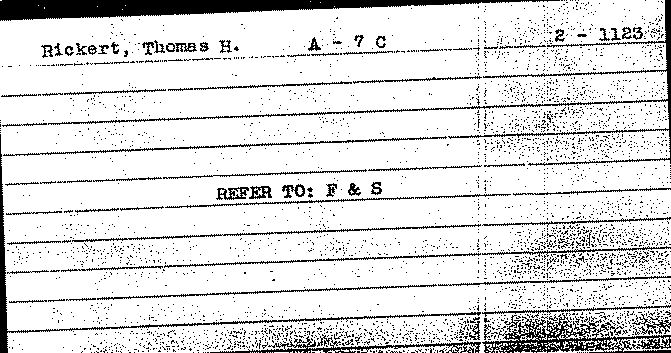 However, referring to the only card for Thomas H. Rickert for a regimental headquarters staff (below), in error, the card read that he served in the 79th Pennsylvania Infantry – obviously an incorrect regiment, because the Bates reference is for Volume 2, Page 1122, which names the 7th Pennsylvania Cavalry.
At the time of his enrollment at Harrisburg, 28 August 1861, Rickert gave his residence as Schuylkill County.  No other personal information about him is given on the card.  He was mustered into service at Harrisburg on 28 September 1861, as a 1st Lieutenant, and then on 5 November 1861, he was transferred from Company A to Headquarters with promotion to Quartermaster.
A Pension Index Card was located for him at both Fold3 (shown below) and Ancestry.com (not shown).  However, the cards show that he never did apply for a pension and his widow applied 13 years after his death.  Presumably, he was wealthy enough from his investments, that despite the fact that he suffered from a "disease contracted in the war," he did not ask the government to give him a pension for his war service.  However, the widow, Elizabeth [VanDusen] Rickert, may have had a need by 1913 to apply – which she did and subsequently received benefits until her death, which occurred in 1928.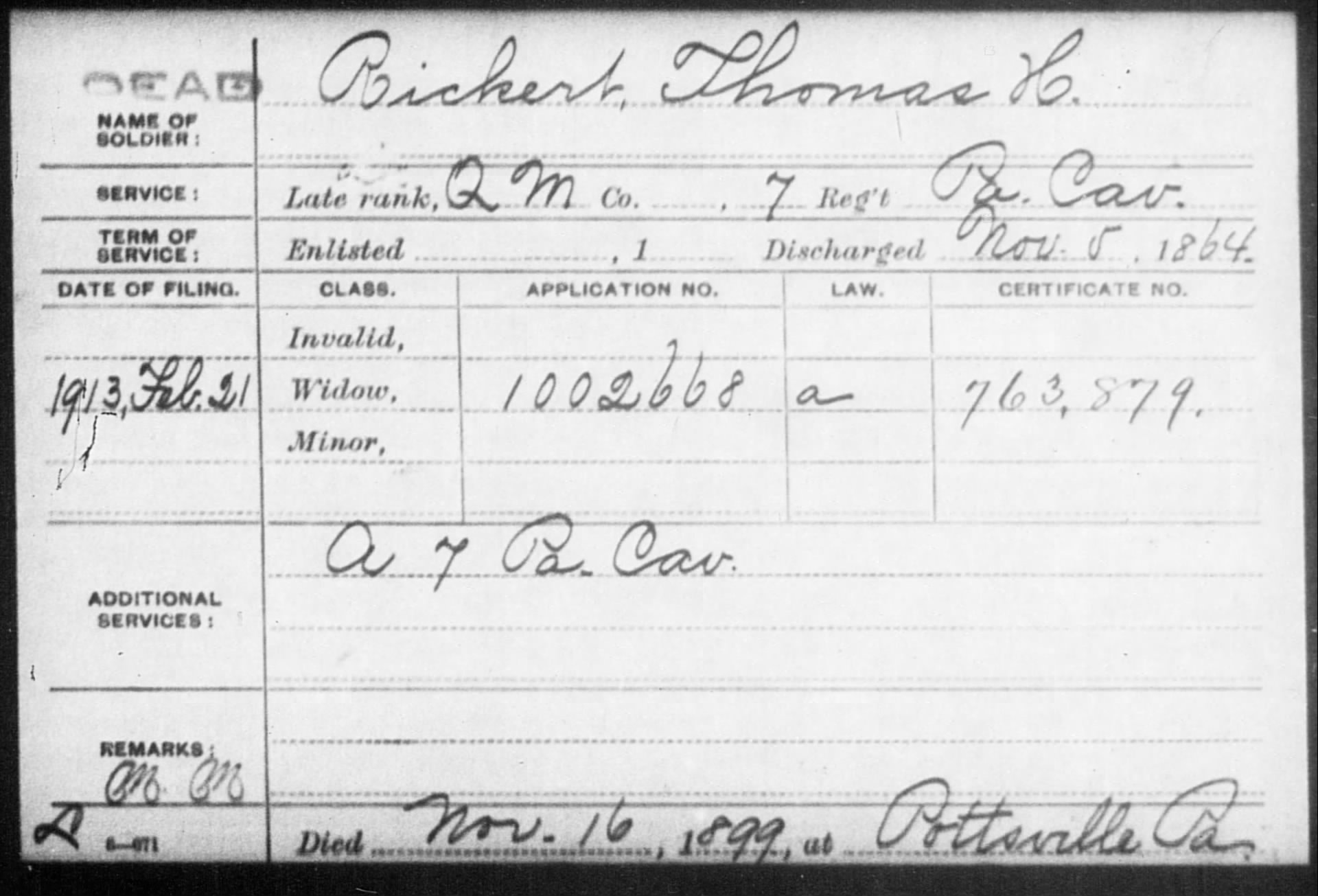 The Reading Eagle printed a more extensive obituary:
Death of Col. Rickert

Pottsville, 16 November 1899 — A deep gloom was cast over the community this afternoon when the death of Col. Thomas H. Rickert, one of Pottsville's foremost and highly respected citizens, which occurred at about 1:20 o'clock, was announced. The news of his death spread rapidly, and expressions of regret at his sudden taking away were heard on every hand.

Col. Rickert had been suffering from a systemic trouble for ten years or more, but had wonderful recuperative powers, and the disease did not take any serious effect until about six months ago when he began to fail. Despite his illness he was able to be up and about the greater part of the time, and on Thursday last was about town. On Friday he took a chill and was compelled to take to his bed. Nothing serious was feared, however, until Monday, when he took a second chill. His condition from this time on grew rapidly worse and despite the efforts of the attending physicians, who prescribed all that medical skill and science could provide, he sank rapidly, and at 1:20 o'clock, surrounded by his loving wife and children, passed peacefully away to the world beyond.

Col. Thomas H. Rickert was a son of the late George Rickert and Amelia [Hammer] Rickert and was born in North Manheim Township, near Schuylkill Haven, 8 April 1834. He was educated in the public schools of Pottsville and almost by heredity started life in the coal business, first with his father, and then independently. To his coal operations he added that of railroad contracting. His work of this nature was in connection with the Buffalo extension of the Lehigh Valley Rail Road, the Cumberland Valley, Schuylkill Valley, Pennsylvania and the P&R Railroad. Col. Rickert always supported the Republican party, though he never sought preferment at the hands of the party. At the beginning of the late Civil War in response to his patriotic convictions he enlisted in the service of his country. He served as quartermaster of the 7th Pennsylvania Cavalry and the different divisions and corps of the army of the Cumberland until the spring of 1865, when he resigned. He took part in most of the engagements of the army of the Cumberland, among which were Stone River, Chattanooga, Missionary Ridge, Chickamauga, thence to Atlanta and then returned to Frankfort and Nashville, and followed the leadership of General Thomas to Atlanta. On his return from the army he acted as chief clerk to Miller, Maize & Co., who conducted a large coal operation at the "Flour Barrel," afterward known as Maizeville. This colliery has been abandoned and a washery, operated by the Stoddart Coal Co. has been erected in its place.

He subsequently entered into partnership with M. F. Maize for a short time in another operation, but litigation on the part of the partners of the former company with M. F. Maize prevented its being a success. He then became a contractor.

Col. Rickert was united in marriage to Elizabeth, daughter of Henry VanDusen, of Pottsville, September 23, 1856, who with two children, Anna Rickert, wife of Dr. T. W. Swalm, and VanDusen Rickert survive. He was a member of Gowen Post No. 23, G.A.R., Loyal Legion and Encampment No. 19, Union Veteran Legion. He was president of the Schuylkill Haven Iron Company, recently organized; a director in the Safe Deposit Bank and Edison Electric Light Company. He was also interested in the Pottsville Soap Works.