Posted By Norman Gasbarro on July 10, 2015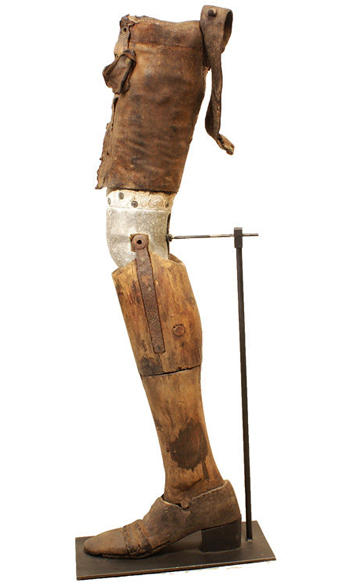 According to an article on the ASME web site, the Civil War created a great demand for prosthetic limbs.  That demand came about because of more destructive ammunition and the willingness of the government to pay for the replacement body parts.
Recognizing the alarming number of amputations resulting from combat, the U.S. government unveiled the "Great Civil War Benefaction," a commitment to provide prosthetics to all disabled veterans.

With the lure of government support, entrepreneurs began competing for a share of the growing prosthetics market. This new "arms race" was characterized by far-fetched advertising claims about the comfort and utility of the latest artificial limb…. [See:  The Civil War and the Birth of the American Prosthetics Industry, Michael MacRae, ASME]

The following story was widely circulated in newspapers throughout the country in 1899 – including the Harrisburg Telegraph of 30 August 1899.  Perhaps a reader can determine whether the story is true or just a sensational and slightly ridiculous, false allegation of government waste.  The man named in the story, Henry Curtin, has not been specifically located in any Civil War regiment, nor can he be located in the official pension records although there are several persons of similar name whose records do not quite match with the story.
HAS LOTS OF LEGS

Chicago Man Who Might be a Centipede If He Wishes

Henry Curtin,a veteran of the Civil War living on the West Side, has a room in his residence that impressed all his visitors as a veritable chamber of horrors.  This is because its most conspicuous decoration and ornament is a row of human legs suspended on the walls and entirely circling the room.  Mr. Curtin always laughs at the fright of strangers at the first sight of this room, and then explains that the legs are only artificial ones, ant there.s nothing to be afraid of there, says the Chicago Inter-Ocean.

"You see," says Mr. Curtin, "in '64 I was so foolish as to try to stop a cannon ball with my right leg.  Of course I wasn't one, two, three and the next thing I know, I was in a camp hospital with only one leg left.  That ended my soldering.  The government had me measured for an artificial leg as soon as I was able to be about, and I came home to Chicago.

"Well, I discovered that I couldn't wear the kind og leg the Government gives, owing to some reasons connected with the way my leg was amputated, and the only leg I can wear is this wooden stump that straps the thigh.  It was in '65 when I got my first leg.  In '66 and express package brought me another.  I sat down and wrote the War Department that the legs were of no use to me and therefore not to send them.  They didn't take a bit of notice of my letter, and in '67 another leg came.  I wrote again to Washington, told them I had three of their legs now that I couldn't use, and didn't want them to go on and bankrupt the Government buying me legs.

"They never noticed me. In '68 I got another leg.  They began to get in the way around the house, so then I started the labeling and dating of each one, and hanging them up on the walls of my den.  They came regularly – one each year.  There's 35 there now, and I guess I'll last long enough to see 50 or more if Uncle Sam doesn't get tired sending them."