Posted By Norman Gasbarro on June 2, 2015
In 1912, the Hon. James Martin Yeager wrote and published A Brief History of the Yeager, Buffington, Creighton, Jacobs, Lemon, Hoffman and Woodside Families and Their Collateral Kindred of Pennsylvania.  Yeager was formerly the President of Drew Seminary for Young Women of Carmel, New York as well as a former Member of the House of Representatives of Pennsylvania and a Marshal of the Middle District of Pennsylvania.  On pages 82-85, he presented a list of Pennsylvania soldiers he identified with the Yeager surname who had fought in the War of the Rebellion, 1861-1865.  In addition to the names of the soldiers, he named the regiment and company in which they fought.  Sixty-three veterans were thus identified.  A free download of Yeager's book can be obtained at the Internet Archive.
There is much information still to be discovered about each of the veterans.  Readers of this blog are urged to add information to what is provided below – particularly genealogical information about each of the men, including the names of their parents and their decent from the earliest Yeager's who arrived in Pennsylvania.  Additional stories about the Civil War service of these veterans is also sought, particularly if readers have access to the pension application files and military records from the National Archives.  Pictures are especially welcome!  Comments can be added to this post or sent by e-mail.
This post continues a multi-part series on these Pennsylvanians with the Yeager surname who served in the Civil War.
——————————-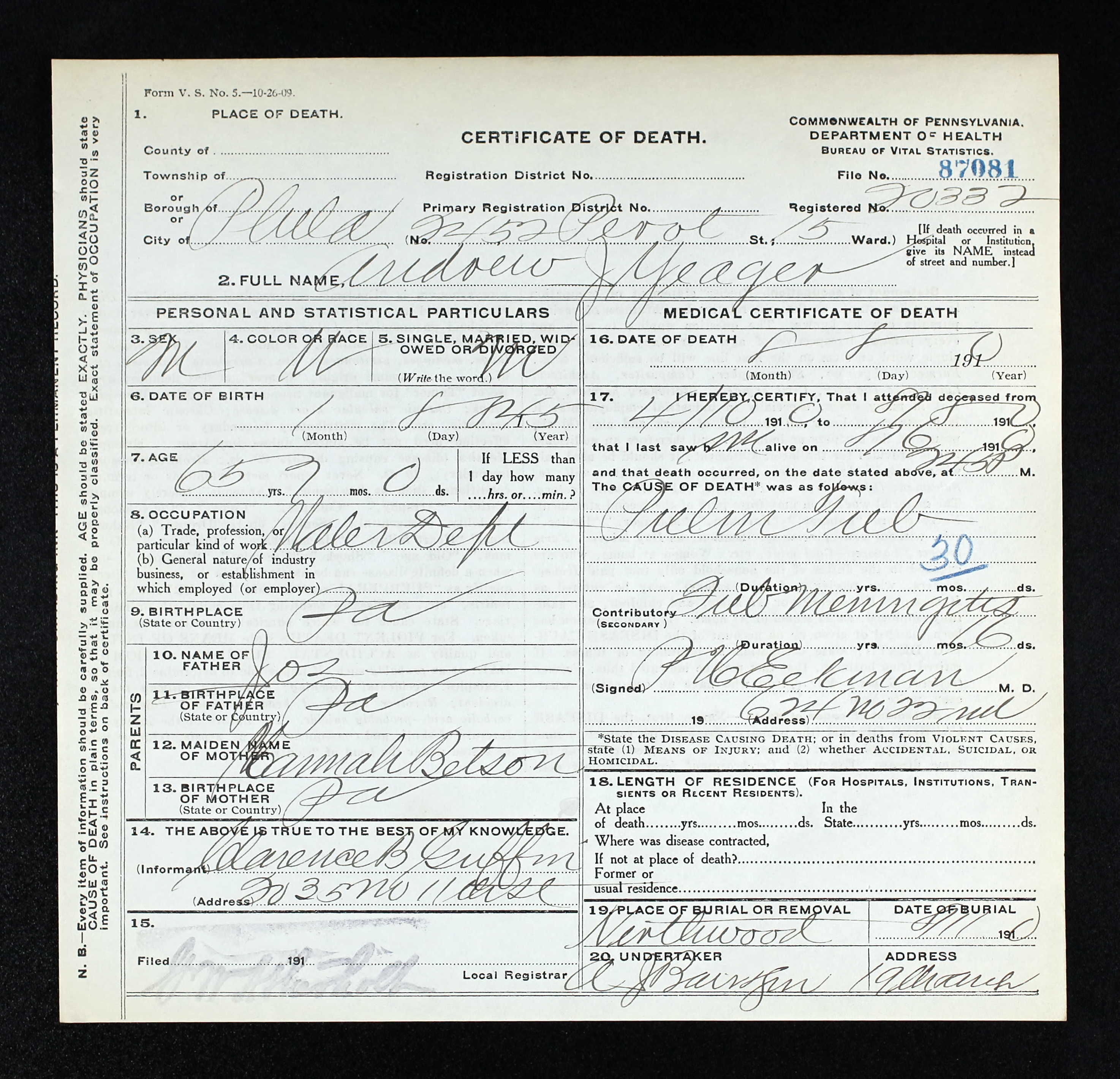 Jackson Yeager, also known as Andrew J. Yeager, was born on 8 August 1845 and died on 8 August 1910.  At the time of his enrollment in the 196th Pennsylvania Infantry, Company C, as a Private, he was 20 years old and was mustered into service at Philadelphia.  He served from 14 July 1864 through his discharge on 17 November 1864.  After the war, he worked for the Water Department in Philadelphia.  Jackson applied for a Civil War pension on 28 December 1891, which he collected until his death, and afterward, on 16 August 1910, his widow, Anna Eliza Yeager applied and received his benefits until her death.  The Death Certificate of Andrew J. Yeager, shown above, is from Ancestry.com.
——————————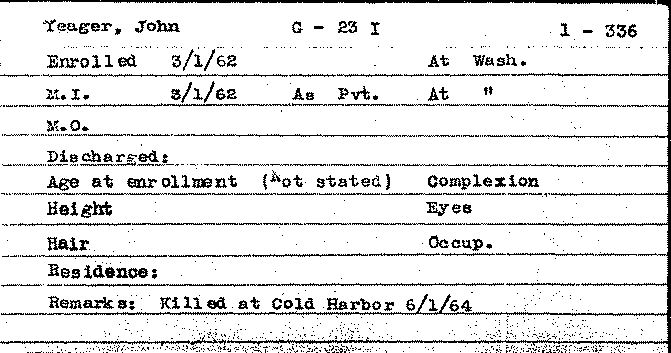 John Yeager was killed at Cold Harbor, Virginia, on 1 June 1864.  At the time, he was serving in the 23rd Pennsylvania Infantry, Company G, as a Private.  He enrolled in that company/regiment on 1 March 1862 at Washington, D.C., and was mustered into service at the same place.  His age at the time of his enlistment was not given in the records.  On 24 December 1867, John's mother, Marsha Yeager applied for pension benefits, which she received.  There are 27 pages of pension application documents now available in her file which can be downloaded at Fold3.
——————————
Leonard Yeager was born 25 December 1842 in Franklin County, Pennsylvania and died on 26 February 1921.  He is buried at St. Patrick Shrine Cemetery, Carlisle, Cumberland County, Pennsylvania.  Leonard first served in the 126th Pennsylvania Infantry, Company D, from 12 August 1862 through discharge on 20 May 1863.  He then served in the 2nd Pennsylvania Artillery, Battery C, as a Private, enrolling at Chambersburg around 17 February 1864 and serving through discharge on 29 January 1866.  Prior to the war he was working as a brewer.  After the war, he applied for a pension on 10 July 1891, which he received and collected until his death.  An extensive biographical sketch of him can be found at his Findagrave Memorial.
—————————–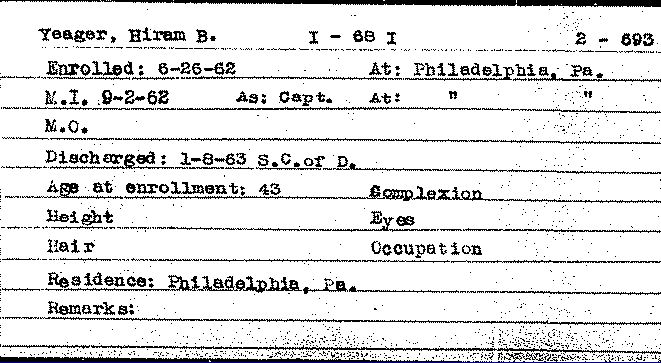 Hiram B. Yeager (1819-1864) died of exposure in Wayne, Indiana, after he resigned as Captain of Company I of the 68th Pennsylvania Infantry.  His first service was with the 20th Pennsylvania Infantry, Company G, as its Captain, from 30 April 1861 through 6 August 1861.  He then served with the 68th Pennsylvania Infantry from 2 September 1862 until he was no longer able to serve on 8 January 1863 while awaiting a Surgeon's Certificate of Disability.  He is buried at the Woodlands Cemetery in Philadelphia.  His widow, Fannie L. Young, applied for pension benefits on 19 December 1864, which she received and collected until her death.  Her pension application file is available (38 pages of documents) at Fold3.
——————————-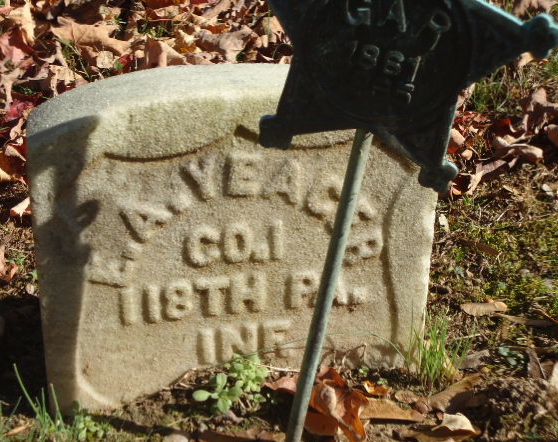 Edwin A. Yeager was born in the Philadelphia area around 1818.  He served in the 118th Pennsylvania Infantry, Company I, as a Private, from 14 August 1862 through his discharged on a Surgeon's Certificate of Disability on 20 September 1862, for wounds he received at Shepherdstown, West Virginia..  No pension record has been located for him.  He died on 16 November 1872 and is buried at Doylestown Cemetery, Bucks County, Pennsylvania.  Additional information about him can be found at his Findagrave Memorial.
—————————–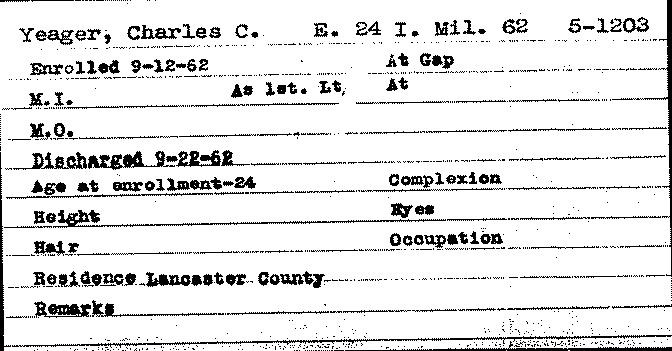 Charles C. Yeager served with the 24th Pennsylvania Infantry (Emergency of 1862), Company E, as a 1st Lieutenant, from about 12 September 1862 through the end of the emergency about 22 September 1862.  He was a resident of Lancaster County, Pennsylvania, and was about 24 years old when he served.
—————————–
Pennsylvania Veterans' Index Cards are from the Pennsylvania Archives.