Posted By Norman Gasbarro on June 1, 2015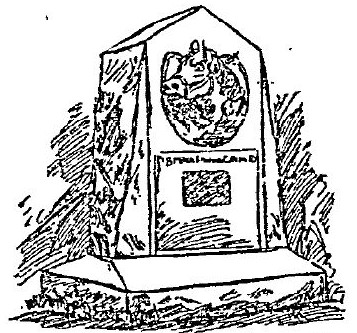 The 18th Pennsylvania Cavalry Monument at Gettysburg is located south of the town of Gettysburg on Confederate Avenue and was dedicated in 1889 by the Commonwealth of Pennsylvania.
The above drawing of the monument was included in the Philadelphia Inquirer articl1 of 11 September 1889.
A picture of the monument can be seen on Stephen Recker's Virtual Gettysburg Web Site which has more information about the monument and the 18th Pennsylvania Cavalry.
A full description of the monument, its GPS Coordinates, additional photographs, and some of the history of the 18th Pennsylvania Cavalry, can be found on the Stone Sentinels Web Site.
——————————
The Philadelphia Inquirer of 11 September 1889 said this of the 18th Pennsylvania Cavalry:
Know How to Fight In and Out.

The 18th Cavalry, as the inscription on the wine bottle sent to Colonel William P. Brinton put it, "knew how to fight into and how to fight out of a hard place."  On the second day at Gettysburg this regiment on the Union left, beyond Round Top, struck the enemy's right wing and was hotly engaged during the entire day.

The oration at the monument of the 18th will be delivered by John W. Phillips, formerly Lieutenant Colonel of the regiment.
——————————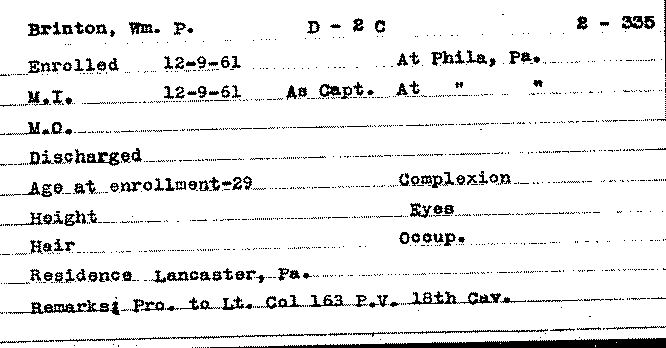 The commander of the 18th Pennsylvania Cavalry at Gettysburg was Lieutenant Colonel William Penn Brinton.
Brinton was from Lancaster County, Pennsylvania, and entered Civil War service as Captain of Company D of the 2nd Pennsylvania Cavalry on 1 October 1861, but was transferred to the headquarters of the 18th Pennsylvania Cavalry as Lieutenant Colonel on 9 December 1861. He was wounded twice while in the service, first on 31 May 1864 and second on 19 September 1864.  The second time, at Opequan, Virginia, he was captured and for a time held as a prisoner.  He was discharged with his regiment on 13 January 1865.
William P. Brinton died on 13 April 1888 and is buried in the Woodward Hill Cemetery, Lancaster, Lancaster County, Pennsylvania.  There is no evidence that he applied for a pension during his lifetime, but his widow applied on 21 August 1890 and collected benefits until her death.
A more complete biography of him can be found in the Biographical Annals of Lancaster County and his grave marker is pictured at his Findagrave Memorial.
——————————-
Around the base of the Pennsylvania Memorial at Gettysburg are a series of plaques which, by regiment and company, note the names of every soldier who was present at the Battle of Gettysburg.  The plaque for the 18th Pennsylvania Cavalry is pictured below.  By clicking on the plaque it should enlarge so the names can be more clearly read.  If a name does not appear, it could be that the soldier did serve in the 18th Pennsylvania Cavalry, but was not part of the regiment during its days at Gettysburg.  There could also be errors on the plaque.