Posted By Norman Gasbarro on May 18, 2015
The following story is from the Harrisburg Patriot of 22 June 1903. It describes the suicide of Civil War veteran Benjamin Urich who served in the 127th Pennsylvania Infantry, Company D, as a Private.
——————————-
BEN URICH DIED BY HIS OWN HAND

Familiar Character Cut His Throat at Daylight Yesterday

TORE WOUND WITH HIS HAND

Man Who Held Police Record for Arrests and Known to Thousands About the City

Ben Urich, a character familiar to men, women, and children in this city for a generation, committed suicide at daylight yesterday morning by cutting his throat with a razor.  The man was despondent and when his wife took the blood-stained razor from him, he tore the sinews from the gaping wound in his hands.  He died in the Harrisburg Hospital an hour later.

Ben Urich was a rag-man and made a fair living when he worked. His habits were not good, however, and he was a frequent occupant of the dock in the Police station charged with drunkenness and disorder, although his conduct was mostly of the nonsensical type, highly diverting to the children and amusing to the grown folks.  It is said that he has been arrested more than any man in Harrisburg, the dockets at the Police station showing that he had been before Mayors over one hundred times.  Probably not more than one-tenth of these times did he ever pay a fine, preferring to spend his time in prison.

Ben Was Despondent

It was said that Ben was despondent when he killed himself yesterday.  He had been pretty steady of late, not having been arrested for at least a month and it was when he threatened to kill his aged wife after one of his periods of inebriety.  When he went home on Saturday evening he was very morose and his wife noticed that he was wakeful during the night.  Yesterday morning at daylight he stole down stairs to the kitchen. His wife followed him at once, but not in time to keep him from slashing his throat with a razor.  He had cut himself once when she wrested the razor from him, but the frenzied man put his fingers into the wound and tore it wider.

The screams of the wife aroused the family, who ran to the kitchen, where they found Ben lying in a poo of blood.  He was taken to the hospital in the ambulance, but died without having said a word about his cause for suicide.

Fought in the War

Ben was a Private in Company D, One Hundred and Twenty-seventh Regiment of Pennsylvania Volunteers [127th Pennsylvania Infantry] in the Civil War and was in several engagements. He bore the scars of wounds and was a good story-teller about the war, having a fund of anecdotes about fights in Virginia.  When the Spanish War broke out, he wanted to enlist, but was turned down because of his age.

At his home Ben had a number of wartime pictures and battle scenes and his pleasure was to relate incidents of the engagements, for which he had a very good memory.

Ben was a quiet, orderly citizen when sober, but after he had drunk considerable liquor he was apt to cut up all kinds of capers.  He would walk quietly along the streets and some hurrying citizen would be surprised to see Ben bounced down on his knees and lift his hands in supplication. When youngsters were about he would flap his arms in imitation of a rooster  and emit sounds like a boastful chanticleer or else would play donkey and smoke his pipe with the bowl in his mouth.  Another famous trick of Ben's was to play Indian.  He would go along a crowded street and suddenly yell like a Comanche and seize hats from the heads of people who stopped to see what he was doing.  In the days of the old horse car line Ben delighted to jump on the platform and yell at the horses, which usually led to the summary ejection from the car.

Frequently Arrested

The dead man was a figure on the docket at the Police station away back in the early eighties when he was generally arrested about once a month for drunkenness and capers on the streets, but many times policemen only chased him home, tiring of arresting him. Within the past few years, Ben was profuse in promises to be good, but he frequently broke out and after these periods he became despondent.  At these time he threatened to kill himself and others and was once or twice arrested on the charges that he was trying to kill his wife, who refused to leave him even when he went on the warpath.

Ben was known to hundreds of people here and elsewhere and his antics caused laughter for many who will regret his terrible method of self-destruction.
—————————–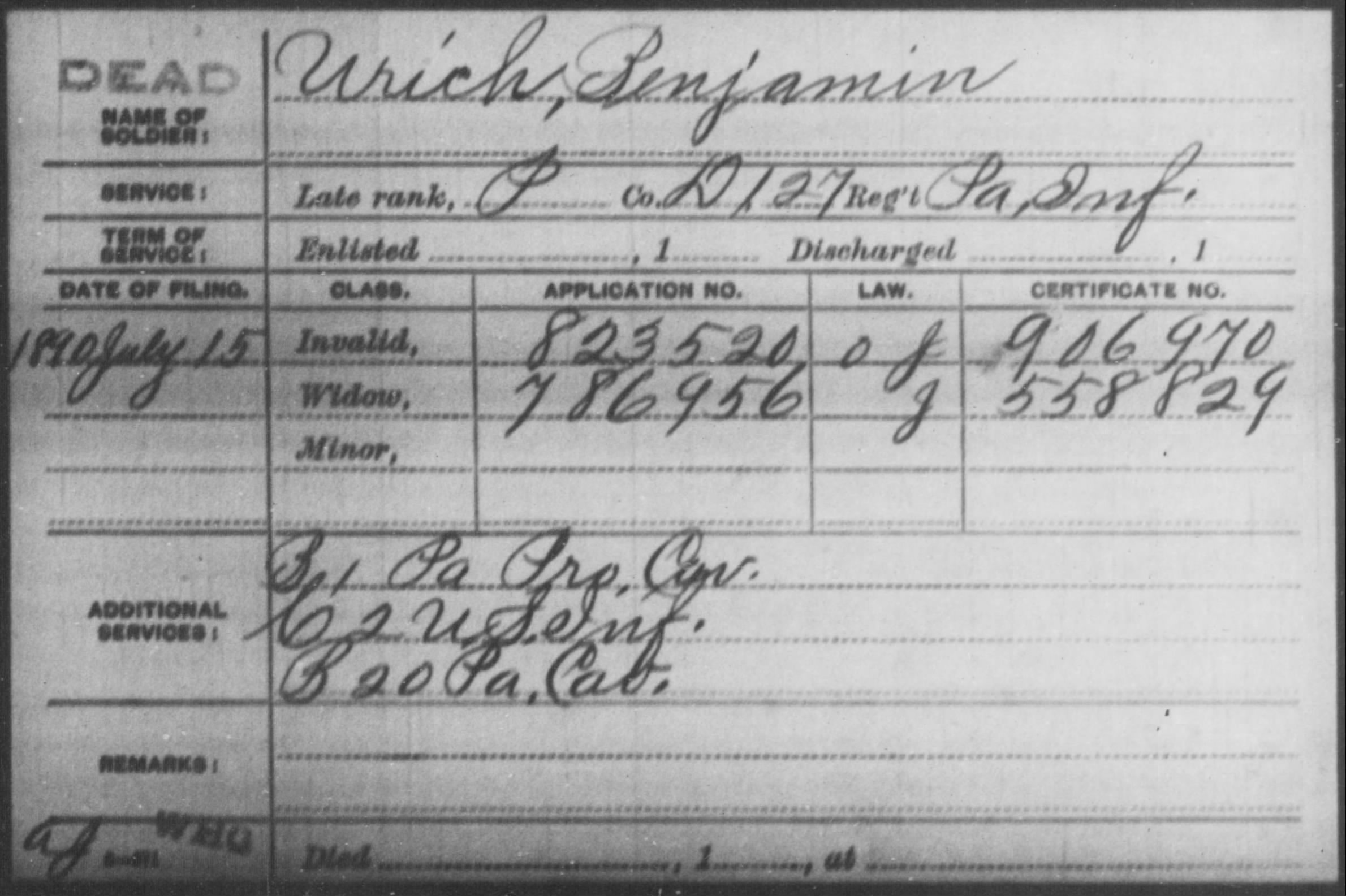 The above Pension Index Card from Fold3 shows that not only did Ben Urich serve in the 127th Pennsylvania Infantry, but he also served in the 1st Pennsylvania Provisional Cavalry, the 2nd U.S. Infantry, and the 20th Pennsylvania Cavalry.  It also show that his widow was able to apply and collect a pension for his war service.