Posted By Norman Gasbarro on May 25, 2015
For Memorial Day, 2015 —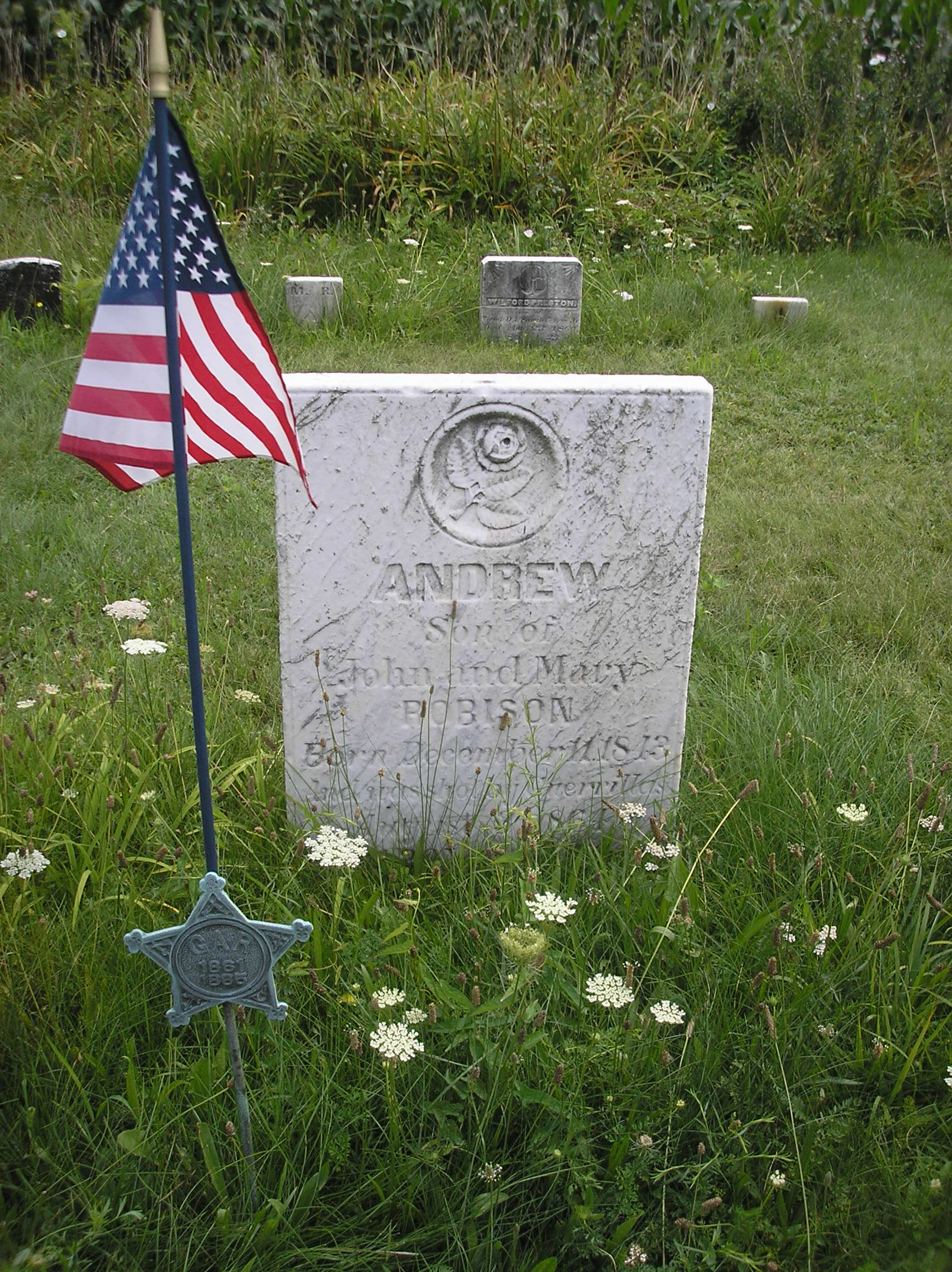 OVER THEIR GRAVES
Henry Jerome Stockard (1858-1914)
Over their graves rang once the bugle's call,
The searching shrapnel and the crashing ball;
The shriek, the shock of battle, and the neigh
Of horse; the cries of anguish and dismay;
And the loud cannon's thunders that appall.
Now through the years the brown pine-needles fall,
The vines run riot by the old stone wall,
By hedge, by meadow streamlet, far away,
Over their graves.
We love our dead where'er so held in thrall.
Than they no Greek more bravely died, nor Gaul—
A love that 's deathless!—but they look to-day
With no reproaches on us when we say,
"Come, let us clasp your hands, we 're brothers all,
Over their graves!"
—————————–
A SOLDIER'S GRAVE
John Albee (1833-1911)
Break not his sweet repose—
Thou whom chance brings to this sequestered ground,
The sacred yard his ashes close,
But go thy way in silence; here no sound
Is ever heard but from the murmuring pines,
Answering the sea's near murmur;
Nor ever here comes rumor
Of anxious world or war's foregathering signs.
The bleaching flag, the faded wreath,
Mark the dead soldier's dust beneath,
And show the death he chose;
Forgotten save by her who weeps alone,
And wrote his fameless name on this low stone:
Break not his sweet repose.
—————————–
ODE FOR DECORATION DAY
Henry Peterson (1818-1891)
Bring flowers, to strew again
With fragrant purple rain
Of lilacs, and of roses white and red,
The dwellings of our dead — our glorious dead!
Let the bells ring a solemn funeral chime,
And wild war-music bring anew the time
When they who sleep beneath
Were full of vigorous breath,
And in their lusty manhood sallied forth,
Holding in strong right hand
The fortunes of the land,
The pride and power and safety of the North!
It seems but yesterday
The long and proud array —
But yesterday when e'en the solid rock
Shook as with earthquake shock —
As North and South, like two huge icebergs, ground
Against each other with convulsive bound,
And the whole world stood still
To view the mighty war,
And hear the thunderous roar,
While sheeted lightnings wrapped each plain and hill.
Alas! how few came back
From battle and from wrack!
Alas! how many lie
Beneath a Southern sky.
Who never heard the fearful fight was done,
And all they fought for, won!
Sweeter, I think, their sleep,
More peaceful and more deep,
Could they but know their wounds were not in vain;
Could they but hear the grand triumphal strain,
And see their homes unmarred by hostile tread.
Ah! let us trust it is so with our dead —
That they the thrilling joy of triumph feel,
And in that joy disdain the foeman's steel.
We mourn for all, but each doth think of one
More precious to the heart than aught beside —
Some father, brother, husband, or some son,
Who came not back, or, coming, sank and died;
In him the whole sad list is glorified!
"He fell 'fore Richmond, in the seven long days
When battle raged from morn till blood-dewed eve,
And lies there," one pale widowed mourner says,
And knows not most to triumph or to grieve.
"My boy fell at Fair Oaks," another sighs;
"And mine at Gettysburg," his neighbor cries,
And that great name each sad-eyed listener thrills.
I think of one who vanished when the press
Of battle surged along the Wilderness,
And mourned the North upon her thousand hills.
O gallant brothers of the generous South!
Foes for a day, and brothers for all time,
I charge you by the memories of our youth,
By Yorktown's field and Montezuma's clime.
Hold our dead sacred; let them quietly rest
In your unnumbered vales, where God thought best!
Your vines and flowers learned long since to forgive,
And o'er their graves a broidered mantle weave;
Be you as kind as they are, and the word
Shall reach the Northland with each summer bird,
And thoughts as sweet as summer shall awake
Responsive to your kindness, and shall make
Our peace the peace of brothers once again.
And banish utterly the days of pain.
And ye, O Northmen! be ye not outdone
In generous thought and deed.
We all do need forgiveness, every one;
And they that give shall find it in their need.
Spare of your flowers to deck the stranger's grave,
Who died for a lost cause;
A soul more daring, resolute, and brave
Ne'er won a world's applause!
(A brave man's hatred pauses at the tomb.)
For him some Southern home was robed in gloom,
Some wife or mother looked, with longing eyes,
Through the sad days and nights, with tears and sighs-
Hope slowly hardening into gaunt Despair.
Then let your foeman's grave remembrance share;
Pity a higher charm to Valor lends,
And in the realms of Sorrow all are friends.
Yes, bring fresh flowers, and strew the soldier's grave,
Whether he proudly lies
Beneath our Northern skies,
Or where the Southern palms their branches wave.
Let the bells toll, and wild war-music swell,
And for one day the thought of all the past —
Full of those memories vast —
Come back and haunt us with its mighty spell!
Bring flowers then, once again,
And strew with fragrant rain
Of lilacs, and of roses white and red,
The dwellings of our dead.